A smarter way to give time-based access for your kid's mobile and tab devices is using Website Block and Parental Control in Mercusys WiFi Router. You can schedule internet access time and website access you wish to give on a certain schedule time using internet schedule settings.
Website Block and Parental Control settings in Mercusys wifi router
An earlier post already posted Mercusys MW325R Wireless router configuration. As the web interface is same for all Mercusys Wi-Fi routers so you can also use the configuration guide for Mercusys MW305R wifi router and any other models. As using a WiFi router also should be protected for home internet and kids as well. In this post, you get a complete user manual to enable parental control and content filtering setting to protect your child from cyber-crime and unusual sites. Before going to website block and Parental control in mercury wifi router see the brief specification of Mercusys MW305R 300Mbps wifi router.
MW305R having a 3-Omnidirectional antenna with a 3LAN port and 1WAN port for internet connection. WiFi router fully supports AP, Client, and Repeater mode to use as the range extender. This router is best for size of 1BHK and 2BHK home to cover the entire location with WiFI signals.
Using website block and Parental control in Mercusys wifi router you can set the schedule of internet access and restriction, according to free time at your home to avoid time-wasting on the internet during study time. Using this post you can easily monitor and schedule internet time for your kids' internet surfing time by blocking unusual sites during exam time such as Facebook, YouTube, and other social networks.
Parental control configuration in Mercusys 300Mbps WiFi router
To use Parental control and content filtering feature to block any website or schedule internet time router should be configured in gateway mode. If you are looking to configure you Mercusys wifi router configuration the first time please go through the user manual with below link to configure Mercusys Wifi router in Gateway mode.
How to configure Mercusys MW305R WiFi router using PPPoE and Static IP
Login Mercusys MW305R WiFi router
Now login to the WiFi router to configure parental control and time limit schedule for internet access.
1: Default IP: 192.168.1.l
Default username/ Password – NA (required to create on the first login)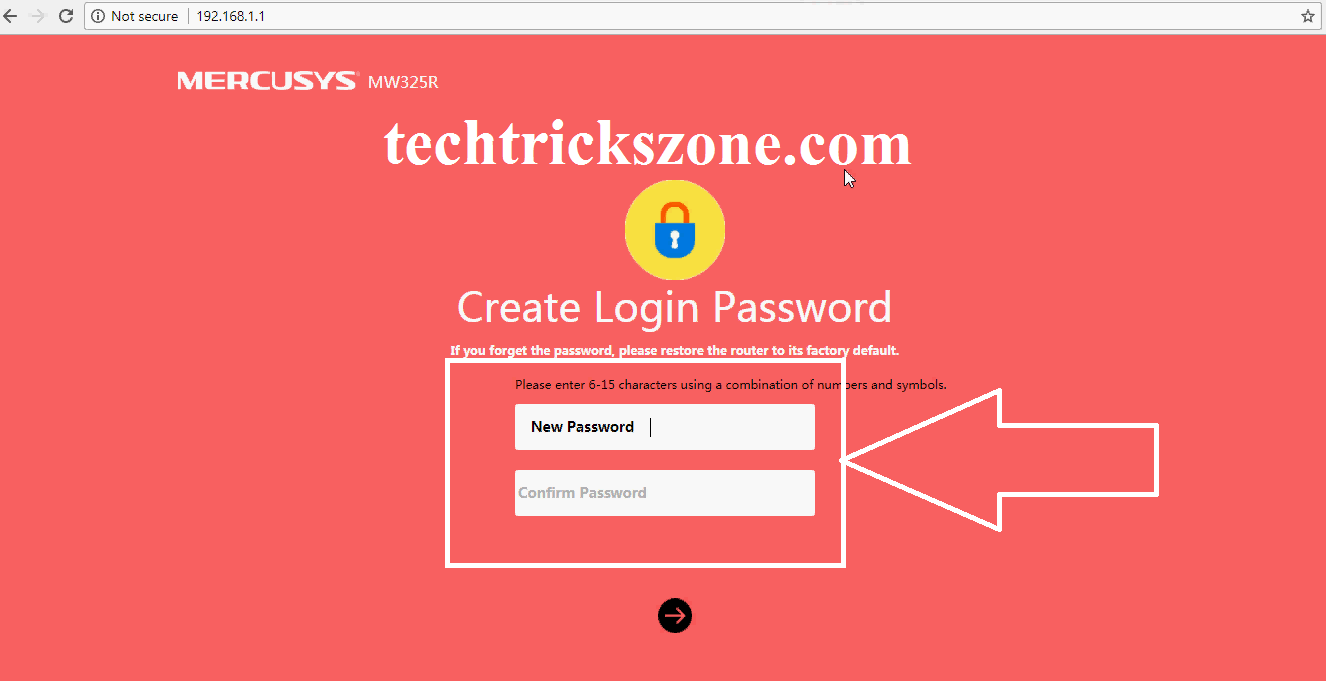 Once login the router see the below steps to configure parental control for your kids Mobile and PC internet.
---
Read More:
---
Steps website block and Parental control in Mercusys wifi router
1: Go to Advanced tab
2: Network Control—Parental Control
Parental Controls: OFF
Press Add button to add your kids mobile and Laptop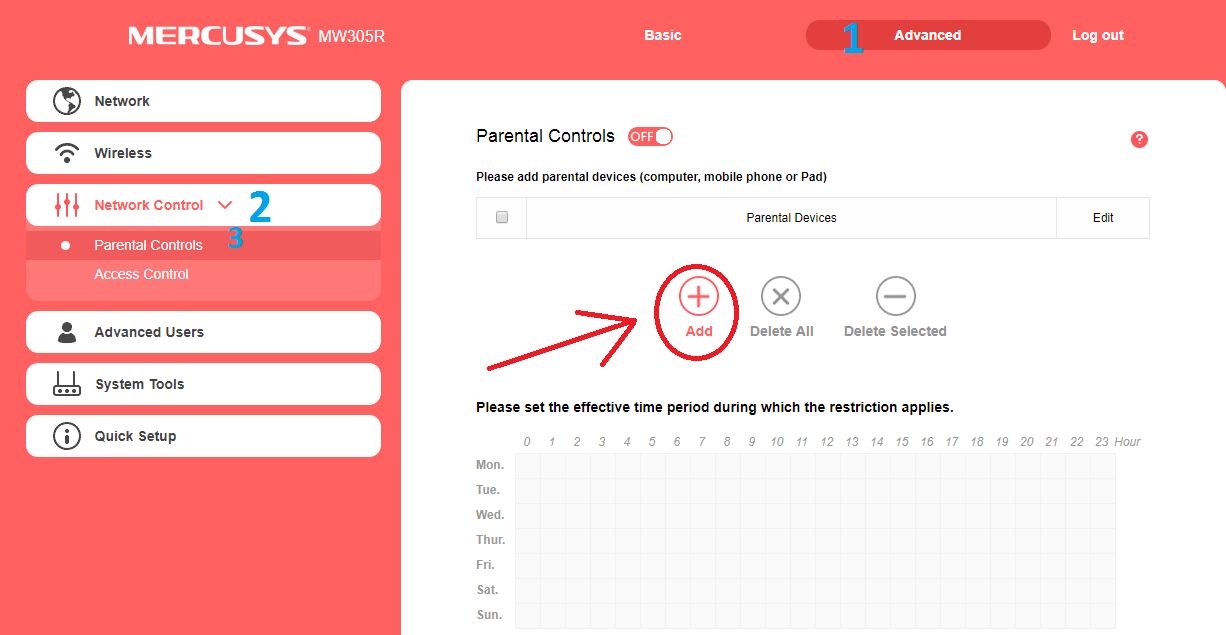 Choose the Mac address from the list of connected devices in the WiFi router.
(Check your kids mobile /PC mac address and select in the list)

Parental Control:  click the button to enable parental control in Mercusys router.
Please set the effective time period during which the restriction applies.
Choose the wee days and time when you want to give internet access to your kids Mobile and Laptop devise.
Selected Green box time only your kids can use the internet.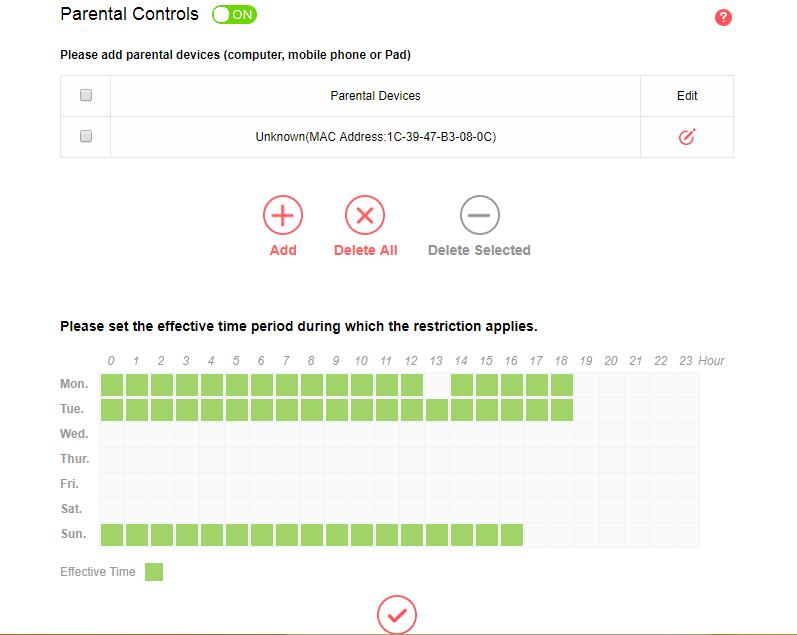 Press the save button to change settings.
How to remove Parental control in Mercusys MW305R WiFi Router
Parental Controls list
In this list, you can remove the kid's mobile when you wish to remove the restriction of internet access based on time and wee days.
Select the device Mac Address from the list and press the delete selected button to remove parental control settings for the same device.

How to block Facebook, YouTube in Mercusys MW305R WiFi Router
Content filtering is also an important part of parental control settings in-home Wi-Fi router. Using the content filtering feature we can restrict the certain website name, social network site, chat apps, and YouTube video site and many more. With the content filtering feature, you can control the website list which useful for your kids only access in your kids mobile and Desktop PC. Using content filtering you can also save your home Wi-Fi from the spammy website.
Using Access control also the best option to increase the productivity of your employees in the office to block unusual site to avoid wasting time when you are away.
Block Website in Mercusys MW305R Wireless Router
To block any website such as Facebook, WhatsApp, YouTube, Twitter, and any other social network apps and sites login your router and follow the steps below.
Access Control: ON (press the button to enable access control)
Rule:  Blacklist (select the blacklist option to block website)
Whitelist: to allow the website you want to only in your home wifi)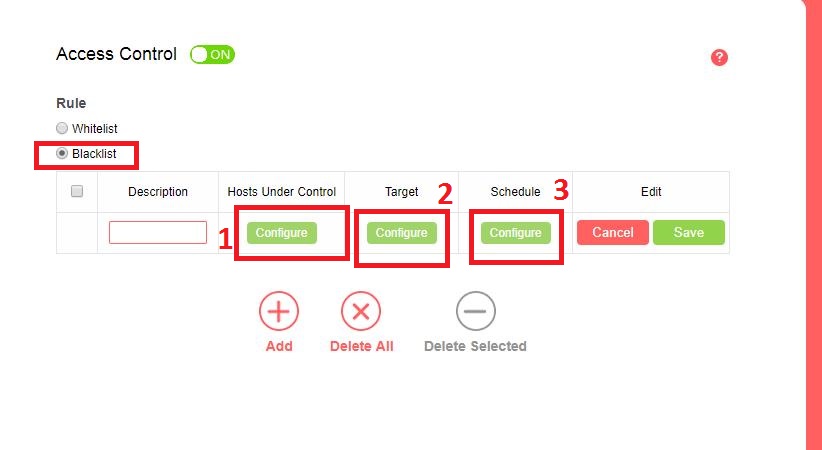 There is 3 part of configuring of content filtering in Mercusys WiFi router.
1: Hosts under Control
2: Target
3: Schedule
1: Hosts under Control
In this option, you need to add the Mac Address or IP address of your child Mobile, Desktop, Tablet PC or any other user you want to apply this rules.
Click the configure button
1: Host description – type the name of your child using this Device
2: Mode – choose the IP or Mac address of your device you want to add in this policy.
3: Mac Address/ IP Address- add the Mac address or IP address of your child or office device you want to give limited access as per configure in this rules.
Press Apply/ Save button to apply settings.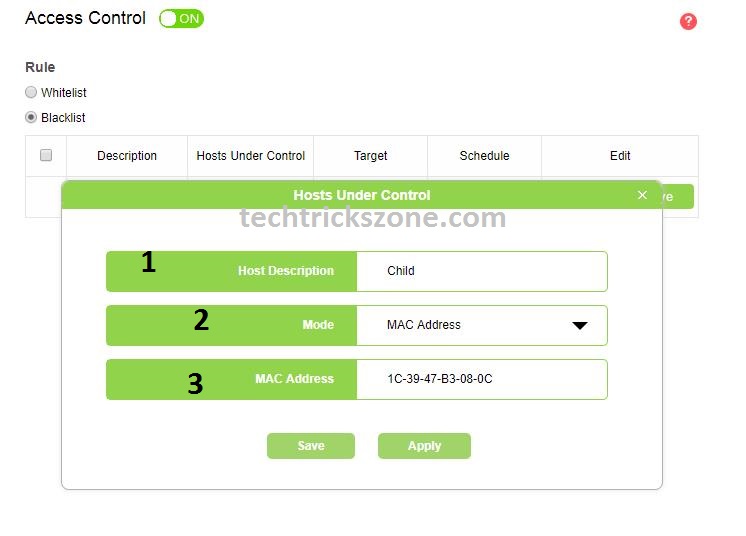 2: Target
In this option, you can choose the domain or Website type you want to block in your networks.
Click the Target button
Select the Website
Add the name of Policy (EXP social block)
Add the website name you want to block
Press save button to add website list to block.
3: Schedule
The schedule will fix the time of block a particular site when the user can use the site and restriction limit as per day and time schedule.
Any Time: this is the default schedule will full access.
Add: to use the schedule on days and time based us this option.
Select the Weekdays from the list and time of access the blocking website in your home and office wifi.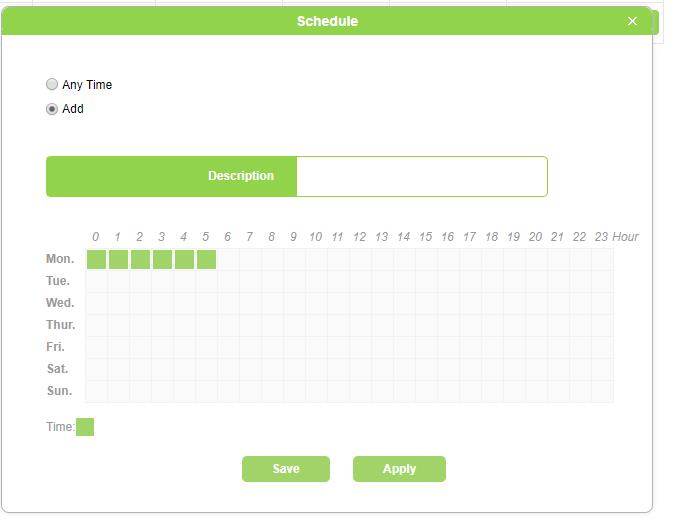 Press the Apply and Save button to configuration save changes.
Description: give the name of the Policy to identify of blocking in this list.
And press the saves button to apply blocking and schedule time on the internet for home wifi.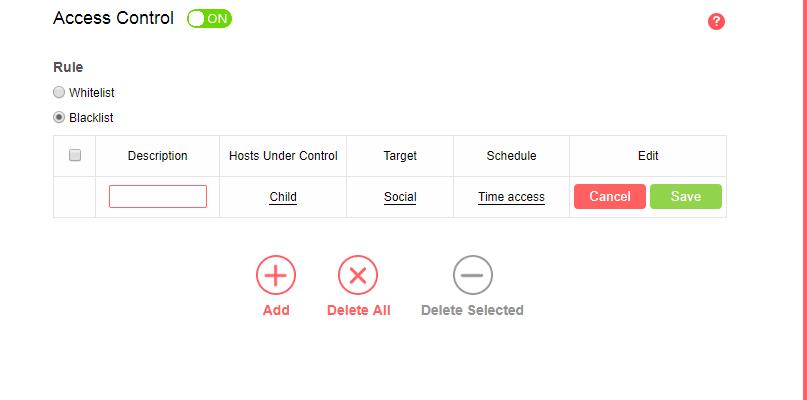 Unblock Facebook, YouTube, and any website in Mercusys Wifi router
To unblock the particular category of blocklist just Edit the button and delete the site name you want to access permanently in your home and office WiFi.
To complete delete select the Policy and press the delete selected button.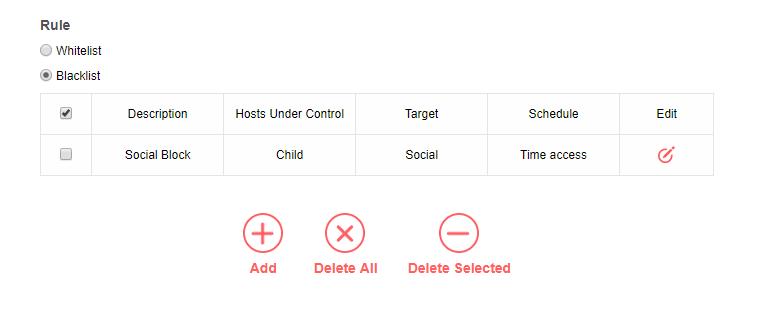 This the simple way to manage your home WiFi and protect your child study time to avoid unusual wasting of the internet.
Conclusion:
The best way to protect your kids from wasting time on the internet during study time. Your employment during working hours enables parental control and filtering in the home and office WiFi router. Every basic home router having a feature of content filtering and parental control so use the feature and protect your WiFi as well as time. If you are having a Mercusys router then just see the above post to know how to website block and Parental control in mercury wifi router.
Download Mercusys MW305R Datasheet and Firmware
Related Post