Tenda N301 wi-fi Repeater mode configuration
Before configuring Tenda n301 wi-fi repeater mode must know the hardware specification of the router. Tenda N301 is a double 5 dBi Omni antenna with 300Mbps wireless speed suitable for small size home and office use. Tenda N300 is a Wi-Fi Router with 1 Wan and 3 LAN physical ports for wired internet connection for PC or any network device. In the previous post, we already posted a tutorial for Tenda N301 WiFi router setup and Configuration first time in Static, and PPPoE internet connection. A wireless router can be used with multimode like Access point, WDS (wireless distribution system), WISP (Wireless Internet Service Provider) and Repeater mode (Wireless Extender).
Tenda N301 Wi-Fi Repeater mode for WiFi extender
In this post, you will get a basic and easy tutorial for Tenda N301 Wi-Fi  Repeater mode configuration for boost your week wireless signal up to 100% as –WI-Fi Extender. Every Wi-Fi router support repeater mode and almost configuration same for many different brand Wi-Fi router so after understanding this tutorial you can use any Wi-Fi router as a repeater mode and boost Wi-Fi signal.
You can get previous Tutorials here "How to Configure Tenda N301 Wi-Fi router first time"
See below the basic point to get ready for Wi-Fi router as a Repeater mode without any problem.
Open Tenda Router and connect with Power Adapter comes with box.
Configure your Laptop/Pc LAN IP address to Tenda Default IP series or Enable DHCP in LAN to configure LAN IP
Tenda Default IP 192.168.0.1 so you can use 192.168.0.2 to 254 any IP for Laptop LAN.
Tenda N301 WiFi router Connection Diagram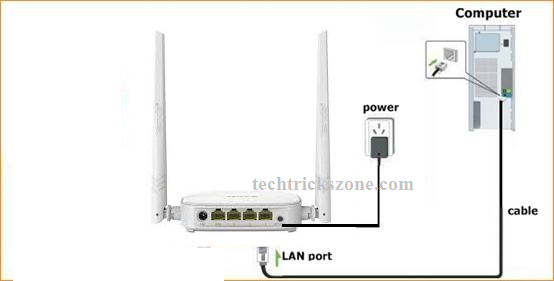 Connect Lan Cable to PC or Laptop Lan Port to start configuration of Tenda N301 in repeater mode.
Tenda N301 DUAL Antenna Repeater Mode Configuration
Once you have connected your Wi-Fi router as above network connection now Login router first time with Default IP address.
Tenda Default IP address is – 192.168.0.1
Username and password – NA
 Login Tenda N301 Wi-Fi Router First Time
Open your web browsers such as internet explorer, Firefox Mozilla or  Google Chrome and type the default IP http://192.168.0.1 in the URL bar and hit enter.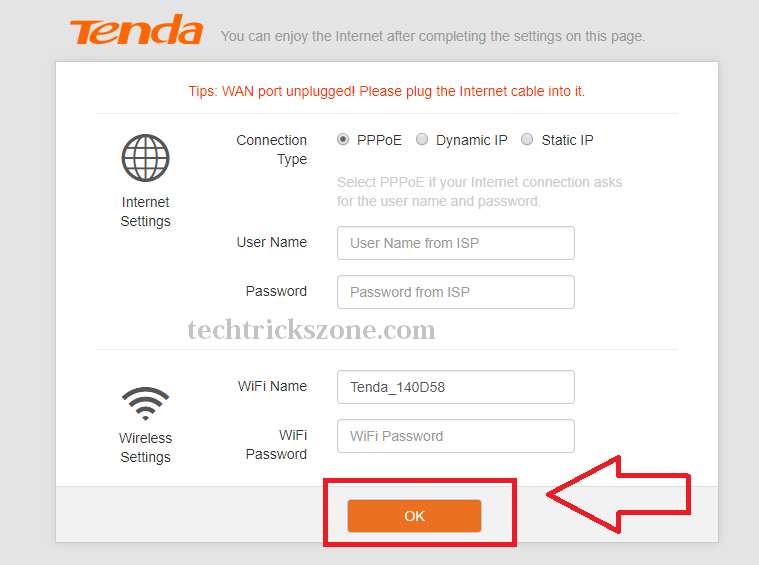 This Window will show you when the first-time login this is a wizard setup to configure your wireless router step to step. Select connection types Dynamic option and clicks Ok to enter Tenda device advanced settings page.
Tenda N301 Wi-Fi router  Language Change
As Tenda is a networking product manufacturer which is supply product many different countries so it also support multiple languages in Wi-Fi router. For changing Language you have to login to Tenda router and see the default language in the right side top corner.
Click the language and you will get the total supported language list to choose your language and it will apply to all settings.

See Also: How to design OTP Based Authentication Hotspot Solution for Coffee Shop
Tenda N301 300Mbps Router Change Repeater Mode
After the login device, you have to change Router mode to Repeater mode.
Go to the Repeating Wireless option and choose Universal Repeater
Universal Repeater means Tenda N301 Wi-Fi can connect in repeater mode with any brand Wi-Fi access Point without any issue.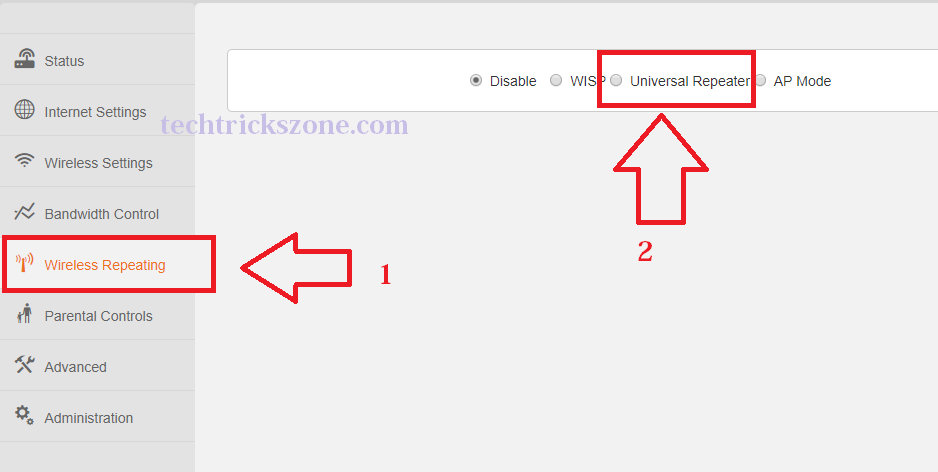 Tenda N301 Scan and Select You AP for Repeater Connection
When you will select the Universal Repeater option  Wi-Fi router will auto-start Scanning for Access Point. After 5-10 second, your will get the list of all AP name and Mac details.
If you did not get your WiFi router name you can rescan with a round arrow icon.
Choose your WiFi name from List to connect with the repeater device.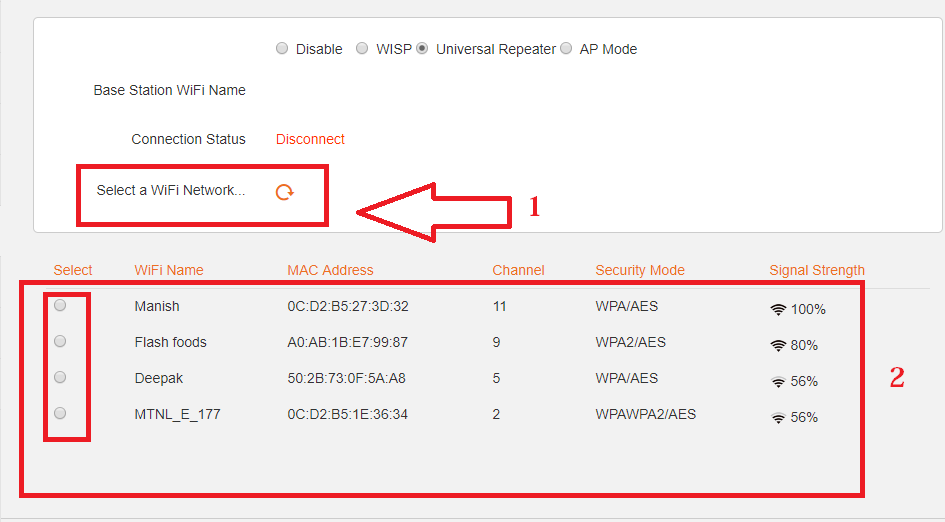 Tenda N301 WiFi router configure As Wi-Fi Extender
After select your Wi-Fi name you will get the option for the Wi-Fi password to join your repeater device with existing Wi-Fi AP
1: Click round ball in starting of WiFi name
2: Type your existing WiFi password in the box
3: Click OK to confirm the settings.
You will get the confirmation Popup to reboot the device and after rebooting your device will access "tendawifi.com" so click OK to confirm device rebooting in repeater mode.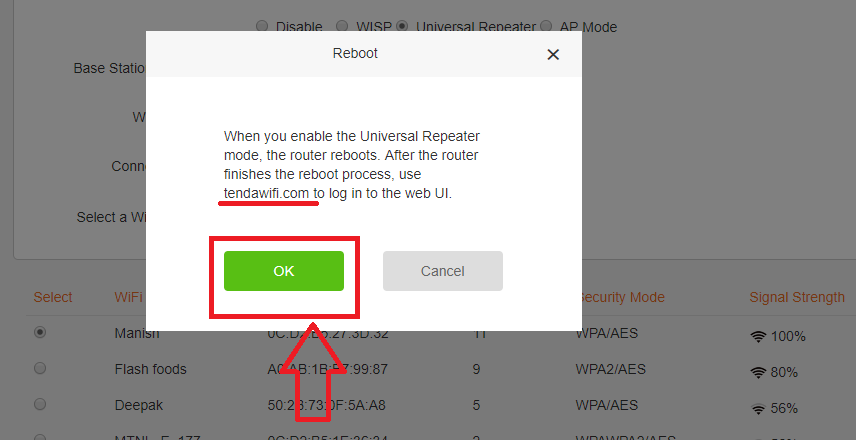 Tenda N301 WiFi Router Not Access after select Repeater Mode.
Cannot access your Tenda WiFi router with default IP address 192.168.0.1 because it will only access with Tendawifi.com web address after changing universal repeater mode.
To access Tenda N301 router in repeater mode go to your laptop or mobile WiFi connection and connect Tenda default SSID to access Tenda router again.
Tenda default SSID is Tenda_140D58 and Tenda default WiFi password is Blank (no password)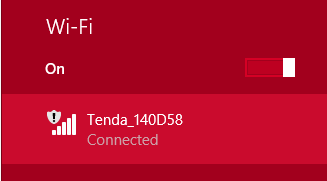 Once you connected to Tenda default WiFi name now open "tendawifi.com in your web browser URL bar and hit enter.
com (URL for access Tenda router in repeater mode)
Connection Status: Bridge Successfully in universal repeater mode.
This status means your Tenda N301 configure as a repeater device. Now you have to change default Wi-Fi name and password.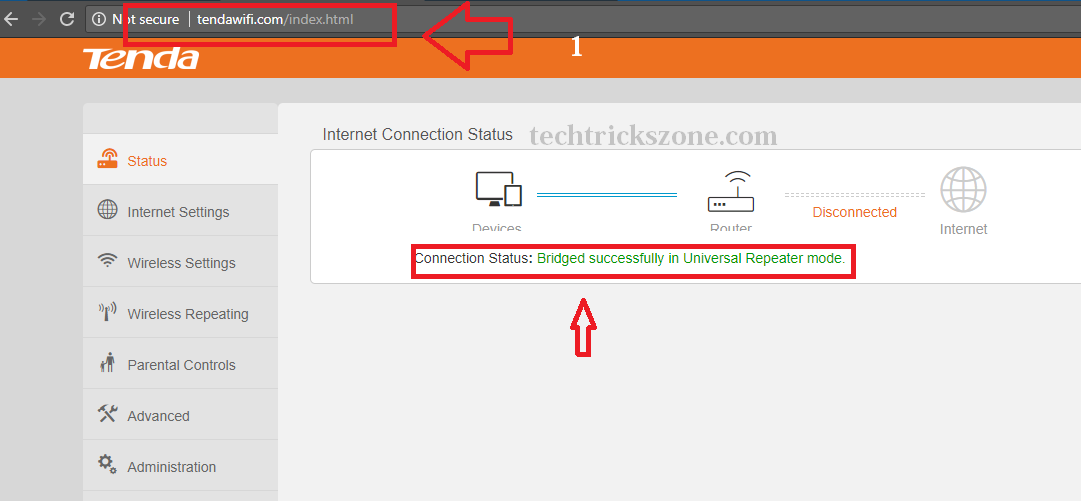 Tenda N301 Wi-Fi router Repeater Wi-Fi name and Password Configuration
If you are configuring your router the first time then for safety purposes never use the default Wi-Fi name and wireless password in your router. The default setting can easily get from the internet so it can be the reason of accessing your internet from an unknown person or hackers.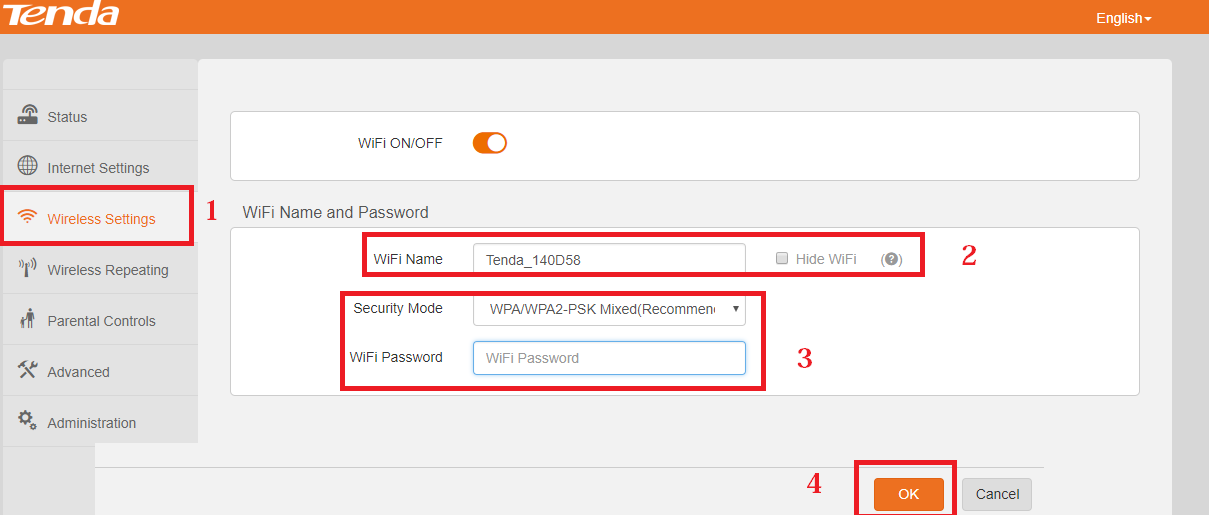 Click on Wireless Settings
WiFi name – this will be your Repeater wireless name to use connect from mobile and Laptop Wifi
Security mode- use WPA/WPA2-PSK password its an updated and stronger security type for you and highly recommended to use
WiFi password- type your Repeater WiFi password in this box and this will ask when you want to connect your mobile or laptop with a repeater Wi-Fi device.
Always use Alfa numeric key combination password with the mix of the special character to make a stronger wi-fi password.
4: once you have filled all the details click ok to save settings.

Click OK to confirm setting save and reboot the device.
Tenda N301 WiFi router Connect Laptop with Repeater Device.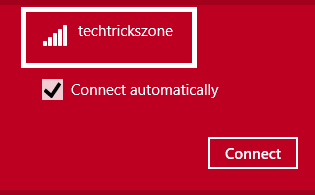 Tenda router will take 30-40 seconds to apply settings and reboot the device. Once the device rebooted you can search your repeater WiFi name from mobile and Laptop wifi click and put the password you set for your repeater device and with this repeater, your WiFi signal will increase up to 100%. Just put the Repeater device where you getting low signal connectivity from the main WiFi router and make your home and office full Wi-Fi without laying any cables.
We effort to make our tutorial easier for everyone so please if you like our post do not forget to subscribe and share the post.
You can also visit our YouTube channel here to get video tutorials for the same.
Related Post 
See Video for Tenda n301 wi-fi repeater mode
Download Tenda N301 Latest Firmware