First time setup & Login Tenda AC1200 AC5 dual band wireless router for internet and Wifi access.
How to Login Tenda AC1200 Dual-band Router??
Tenda Ac5 dual-band AC1200 wireless router for home and office internet connection. 3* 10/100 LAN port and 1*10/100 WAN port for internet connection. The router provides 1200 Mbps wifi speed with 2.4GH and 5.8GHz for high-speed wireless connectivity. Tenda AC1200 router loaded with security features such as Firewall, content filtering, port forwarding, and firmware upgrade from web interface to keep updated with the latest version.
However, to setup a Tenda router needs to login web interface from the browser either using a wired connection or wifi connection. Settings up Tenda AC5 router first time need to configure for a broadband WAN type such as PPPoE or static. Follow steps to login into the Tenda Ac1200 router to setup the first time.
Steps to Login Tenda AC-1200 WiFI Router
Connect Internet cable to WAN port of Tenda Router.
Connect the wired LAN cable to Tenda LAN port or default WiFi SSID for wireless connections.
Power ON router with DC adapter comes with the package.
Configure Desktop/Laptop LAN IP address settings to DHCP mode.
192.168.1.1 Login Technicolor Router
Default Tenda AC5 Login Settings
Login IP Address for Tenda Dual-band router- 192.168.0.1
Tenda Login Username– NA
Default Password- Need to create first-time login.
Login Web interface
Open Web browser and access http://192.168.o.1 or tendawifi.com to the URL bar.
For the first time setup, you will get the initial step to create a login and WiFi password for the router, and if you already setup then use a login password to login Tenda router.
After login now setup WAN settings as per your internet type such as PPPoE, Static or Dynamic.
Go to the Internet Settings option and choose your internet tye.
PPPoE, Static or Dynamic
Provide username password for PPPoE internet type and IP address, Gateway, DNS details for Static IP provided by your internet providers.
Change WiFi SSID network Name
Update dual Tenda SSID Name for 2.4G and 5.8G band to secure wifi network from unknown and unauthorized access.
Go to WiFi Settings–
WiFi Name & Password
1: 2.4 GHz Networks- enable
WiFi Name- Create New WiFI Name for 2.4Ghz
Encryption Mode: WPA/WPA2-PSK (recommended)
WIFi Password- Tenda -2.4G WiFi Password
Create a strong password and avid to use personal information for the Wifi password.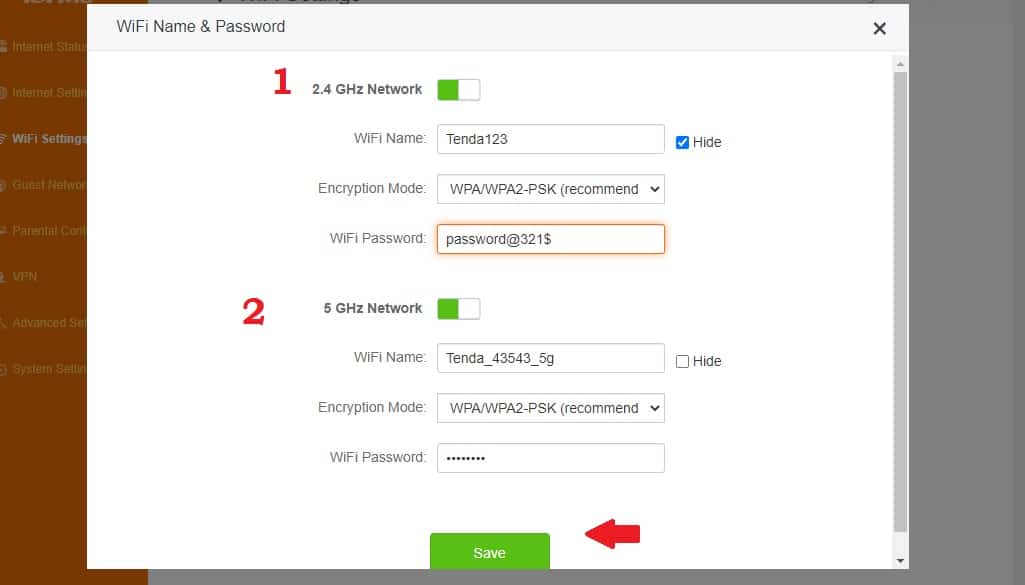 2: 5 GHz Network – Enable (drag button toward right-side)
WiFi Name– Tenda-43543_5G (change Wi-Fi name for 5Ghz network)
Encryption Mode: WPA/WPA2-PSK
WiFI Password– 5Ghz network wifi key.
Press Save button to save settings if you are using WiFi connection to connect Tenda router you will disconnect from the router, reconnect again with a new wifi name and password.
Create Login password for Tenda Dual-band router
In the latest 11ac dual-band router, there is no login password configured so its strongly recommended to create a login password during the first time setup.
Go to System settings–  Login password option from the list.
Old Password: Blank for the first time or if you already create use the same.
New Password: New Tenda login password
Confirm password: Create a new login password.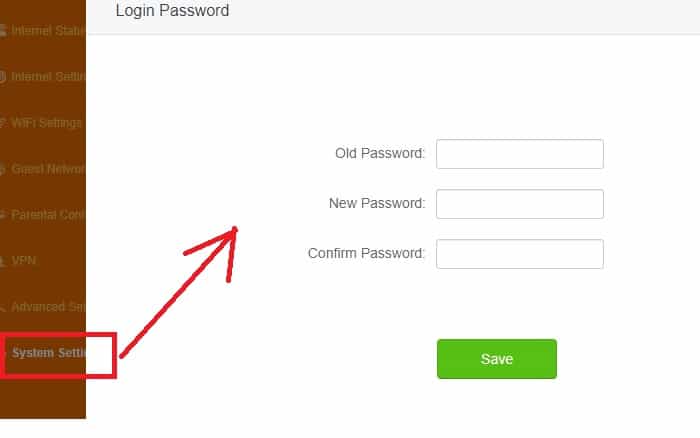 Press the Save button and log in again with the new password.
Related Post