Mercusys MW325R 300Mbps Wireless Router Repeater Mode configuration
Mercusys MW 325R is a 300Mbps wireless indoor router with 4 number 5dBi Omni direction antenna. Router specially designs for home Wi-Fi use to increase Wi-Fi range and speed connectivity.  MW325R router is a SOHO product so it can be used for office and home. It is having 4LAN and 1 WAN port for configuring in router mode with support PPPoE, Dynamic and Static IP configuration for an Internet service provider. Mercusys MW325R Repeater mode can be configured with any brand wireless access point without any trouble.
How to block a Website and Apps on basic WiFi Router
Mercusys MW325R router can be used for access point as well as repeater mode to extend signal strength on the dark area. In repeater, mode router connected the to the main router wirelessly and boost the signal with 100% coverage where the main router signal not reached.
Mercusys MW325R Default Setting
To configuration of any router, you must know the default settings of the router. If you are using new mercusys router than you can find the default setting in the backside sticker of the router .well you can also find default settings for mercusys MW325R, MW305R, MW155R, AC12.
Mercucsys MW325 Default IP – 192.168.1.1
Default username – NA
Default password- Not set
After getting the default setting you can proceed to the login router.
Mercusys MW325R Router Connection Diagram for Repeater Configuration
Connect router LAN port to Laptop/PC LAN port and power on the router with the included box 5V-0.6A power adapter. See the image below to connect the correct wired connection of Mw325R router.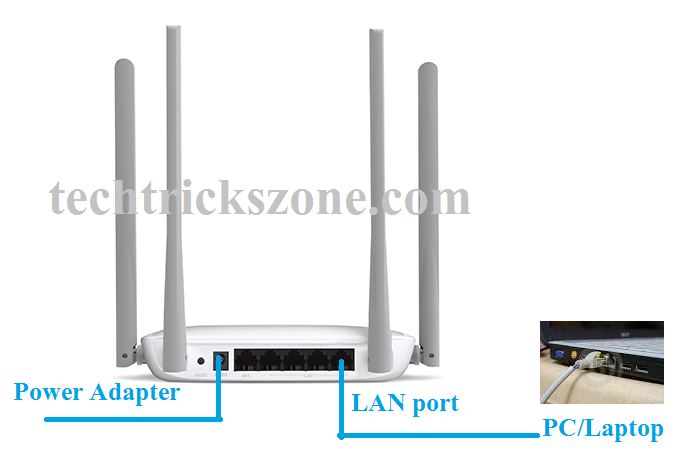 After the Physical connection of the router configure the PC/Laptop LAN ip address to the router default IP series. You can use 192.168.1.10 (192.168.1.2 to 254) and any other IP for a laptop or PC.
See how to configure LAN IP in Laptop here.
 Mercusys MW325R Router Login First time.
Open the web browser and type the default IP Address in the URL bar and hit enter. The first time there is no password set in Mercusys MW325 router in factory mode. The first login window will ask to create the login password to enter the router setting interface.
Create a new password and confirm the new password.
This password will use to log in router next time.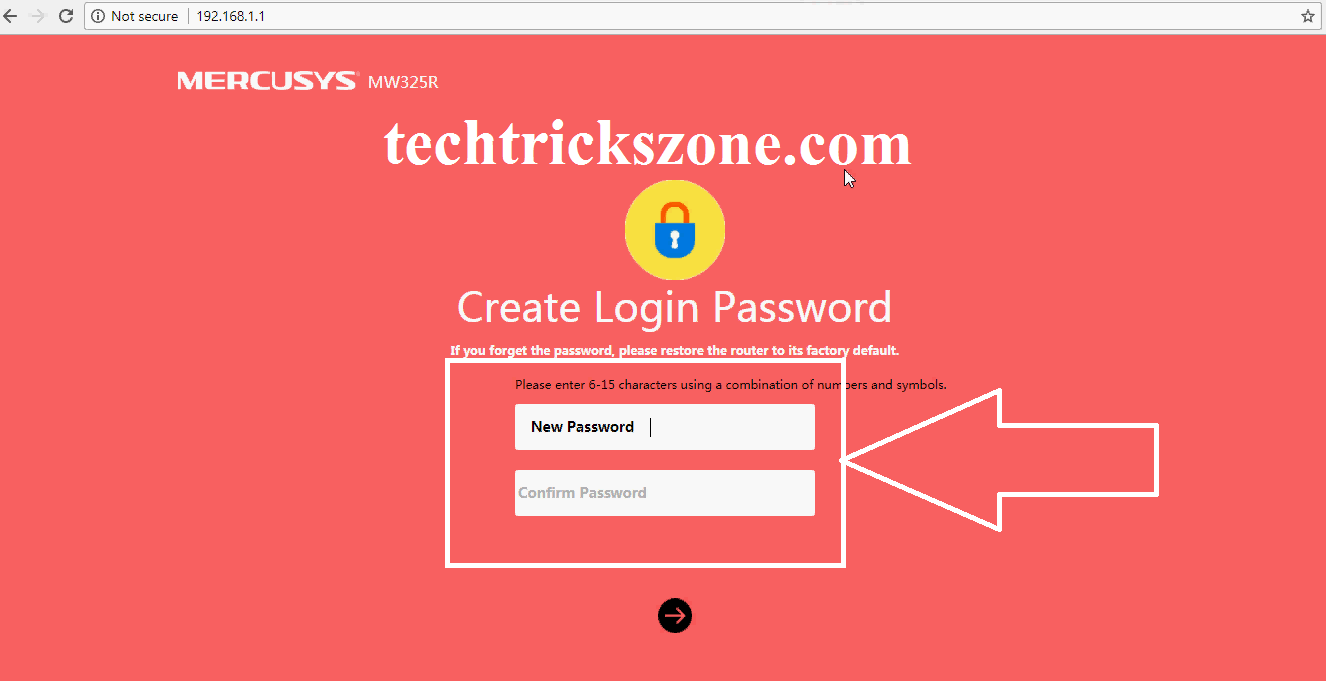 In the next window, you will wizard the option to the configuration for the WAN interface.
Click the Skip button in the right side corner to enter in router settings.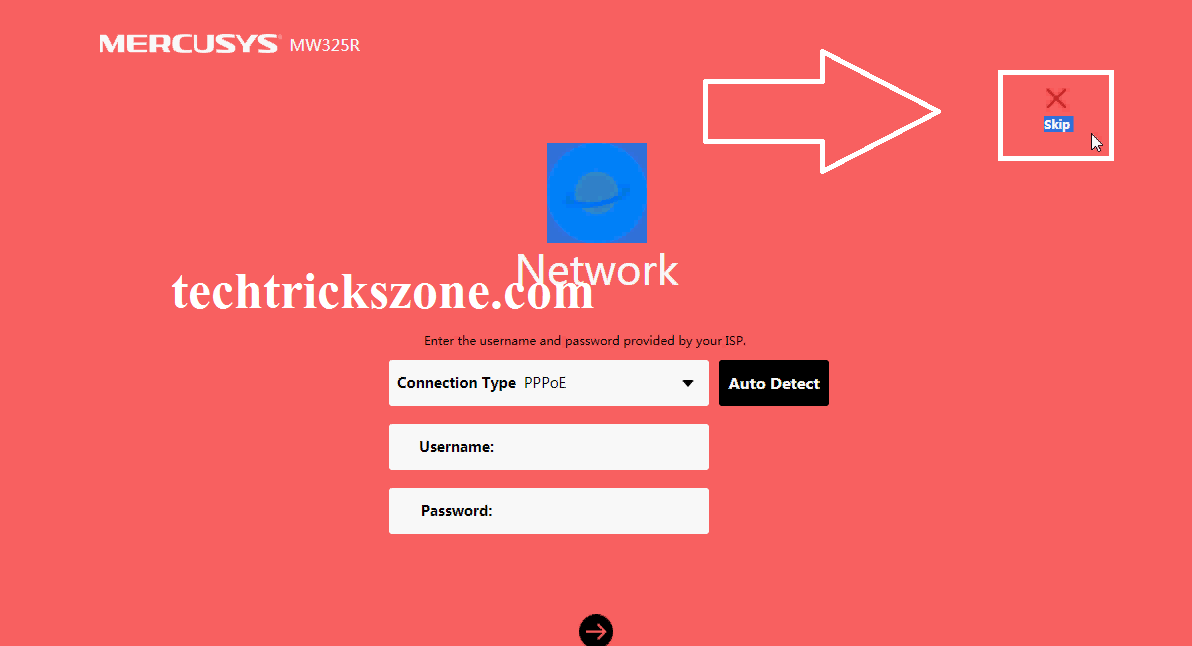 The router will open in the Status page but we are going to configure Mercusys MW325R in repeater mode so click in the Advanced tab from the top to enter settings.

To repeater, mode configuration has to enable router bridging mode. See the steps to enable mercusys mw325r repeater mode in WDS Bridging.
1:  Go to Wireless Tab
2: Select WDS Bridging to repeater mode configuration.
3: Click the Next button to start scanning for the main Access Point signal to join Mercusys MW325R  repeater mode connection.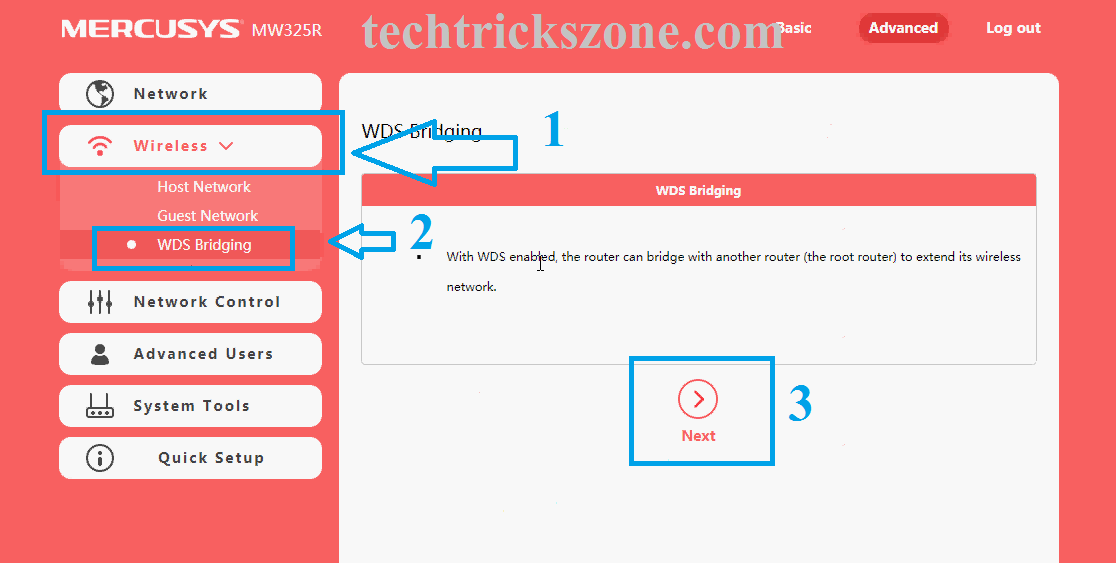 The router will take 5-10 seconds to get information all AP running on air. You will get the list of all AP broadcasting in the area so choose your main AP name to join for repeater mode.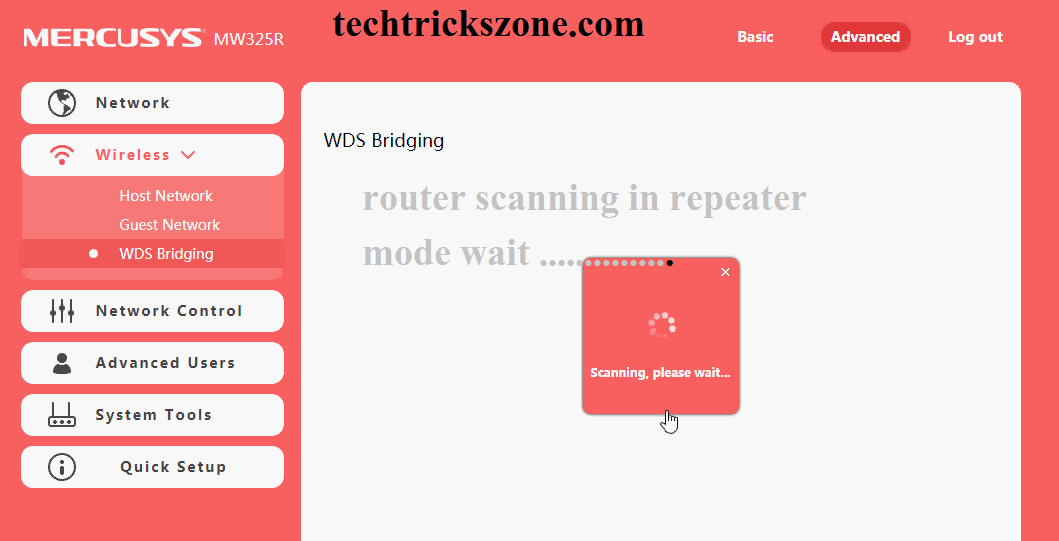 You will all AP SSID choose your ap name from the select option in last with the ball selection icon.
Select your main WiFi type password for connecting the main WiFi.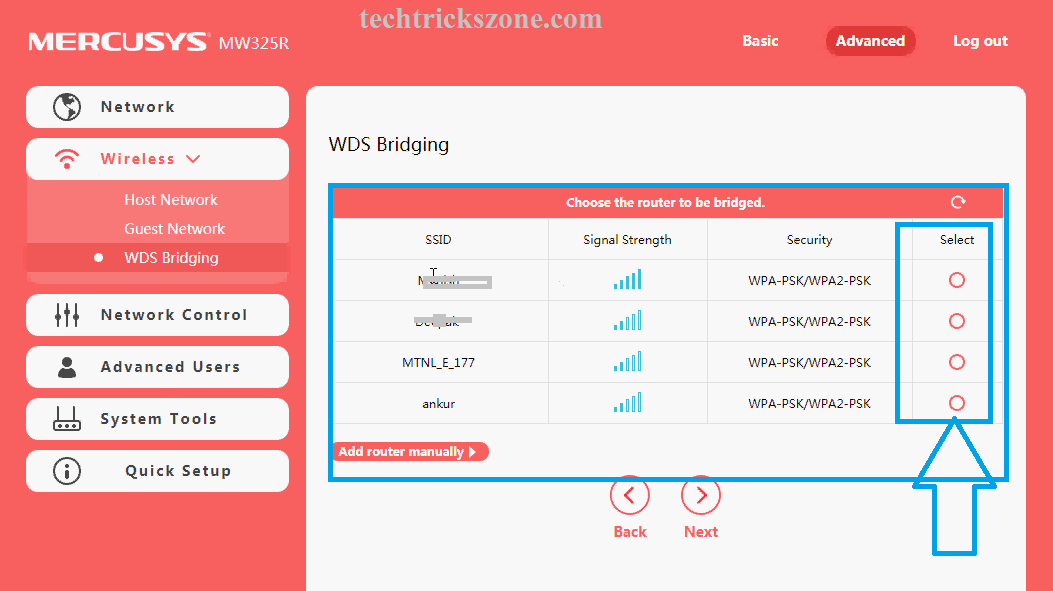 Type your Main W-Fi password to connect Mercusys MW325R repeater mode to boost signal strength.
Click Next button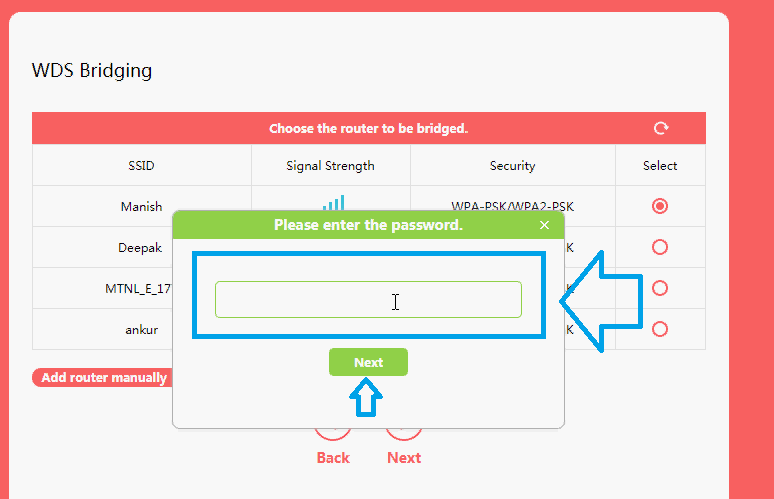 The router will take 20-30 seconds to connect in repeater mode with any brand wireless access point to increase your signal strength everywhere.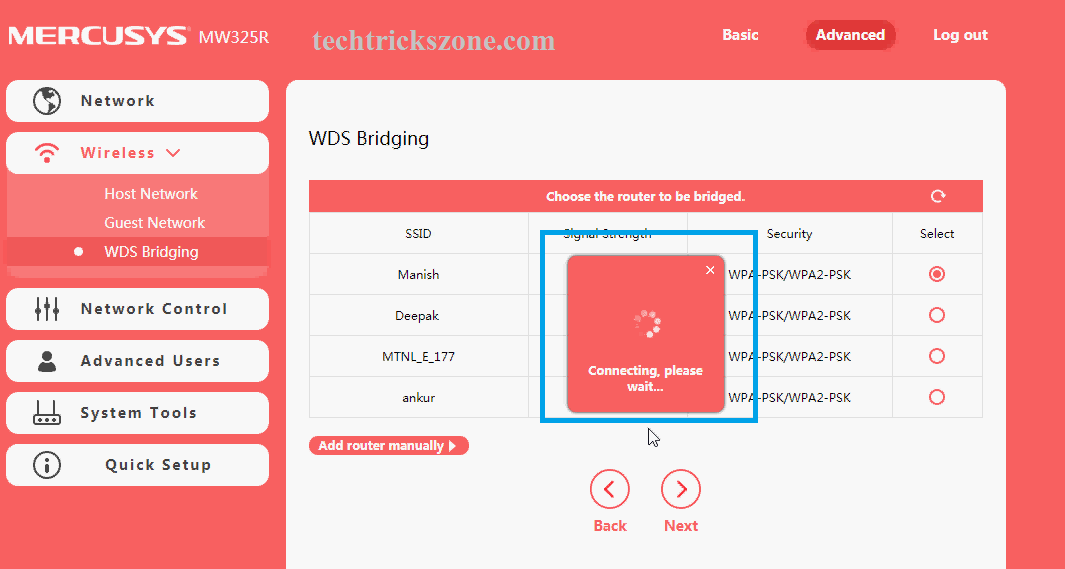 Mercusys MW325R Repeater Configuration
In these steps, you have to set a Wi-Fi name and WiFi password for Repeater SSID. This means this SSID will be used for connecting to the repeater device from mobile and Laptop.
You can use Different names and passwords for repeater Wi-Fi names from the main Wi-Fi name.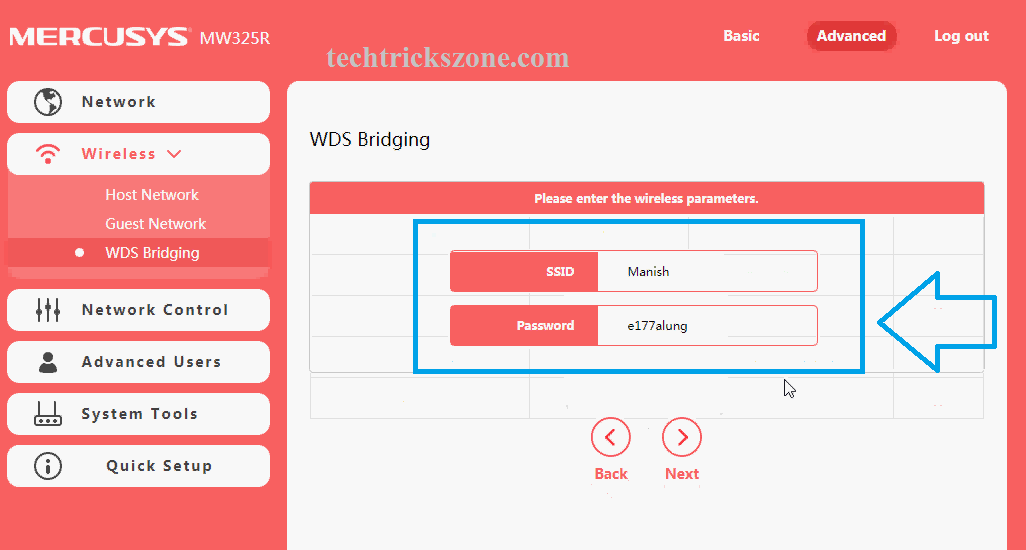 Click Next Button to proceed.
This is Step will ask for LAN IP configuration and its Important steps.
Please make sure if your main WiFi IP is 192.168.1.1 then change mercusys MW325 repeater device IP to any otherIPp. You can use 192.168.1.2 to 254 for any free IP Address.
Click Next button after.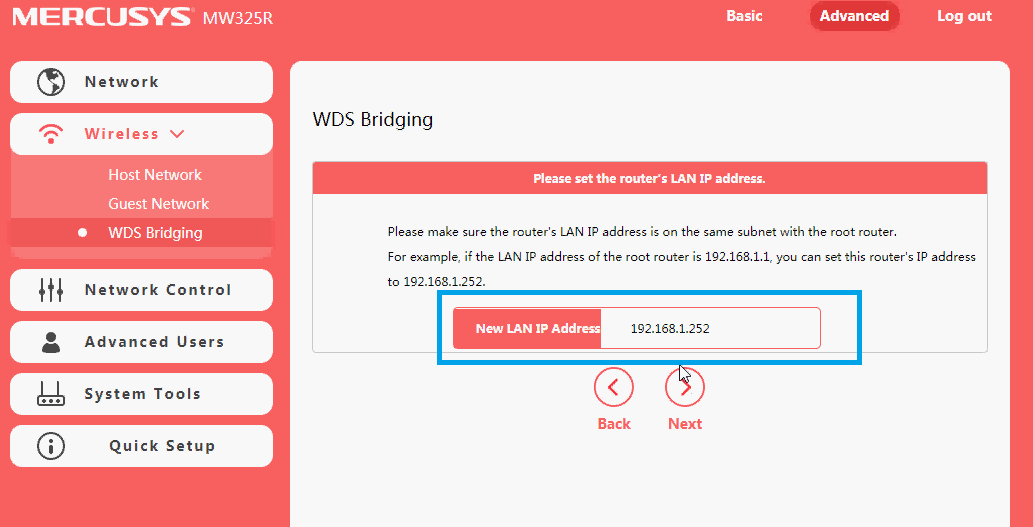 Wait router will take 30-40 seconds to save changes and your Mercusys MW325R repeater will be connected.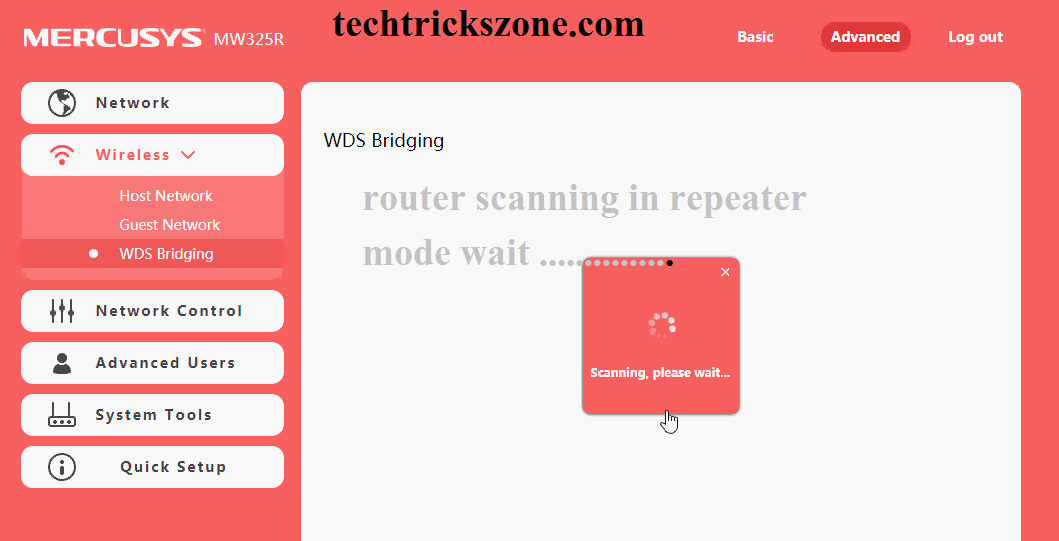 Mercusys MW325R Repeater Status Check.
After configuration checks the status of mercusys router it's connected or not with your main WiFi router.
Go to Wireless-> WDS bridging
See the repeater status connected with the Green checkmark.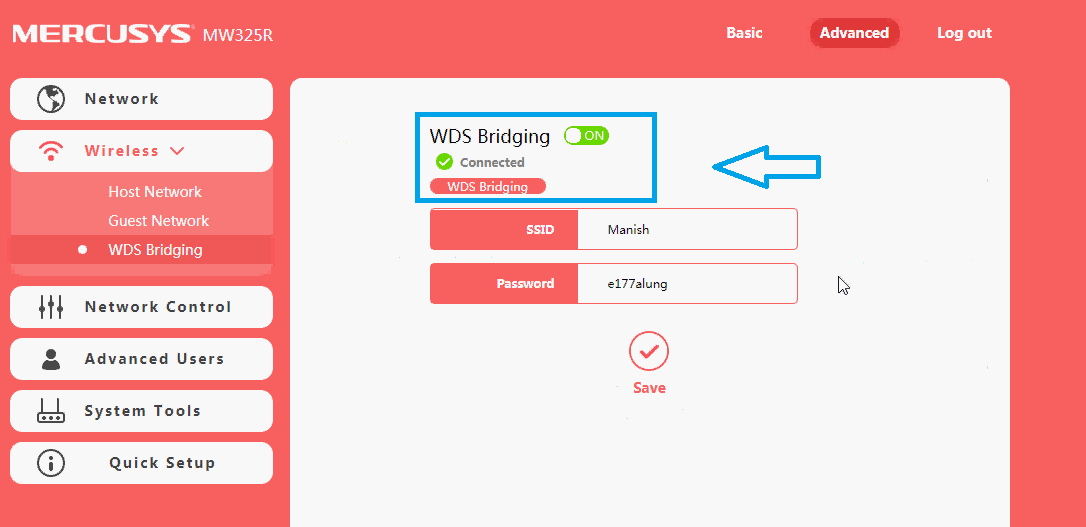 Mercusys MW325R Repeater mode connection from Mobile.
One your repeater mode configuration successfully is done now go to mobile or Laptop
Please after rebooting wait for 30 seconds to connect mobile or laptop to connect to the repeater device.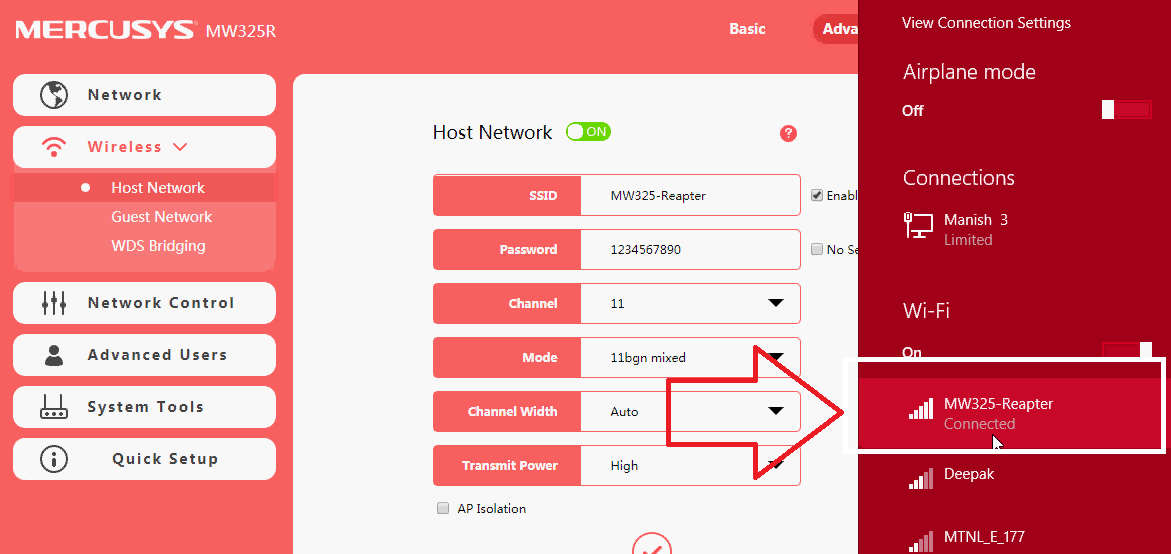 Enjoy the 100% signal strength and internet speed each and every corner of your home and office.
Mercusys MW325 Repeater Connected Client Status.
You can see your mobile and laptop Wi-Fi user connection in the status page.
Go to basic to see the status of connected devices with download upload speed.
1: Upstream: this option will show the upload speed of a connected user
2: Downstream: this option will show the download speed of connected Wi-Fi users.
3: Block: if you think anyone connected an unknown user then this option will block that user. Click a block to any user you want to disconnect from your Mercusys MW325R repeater device.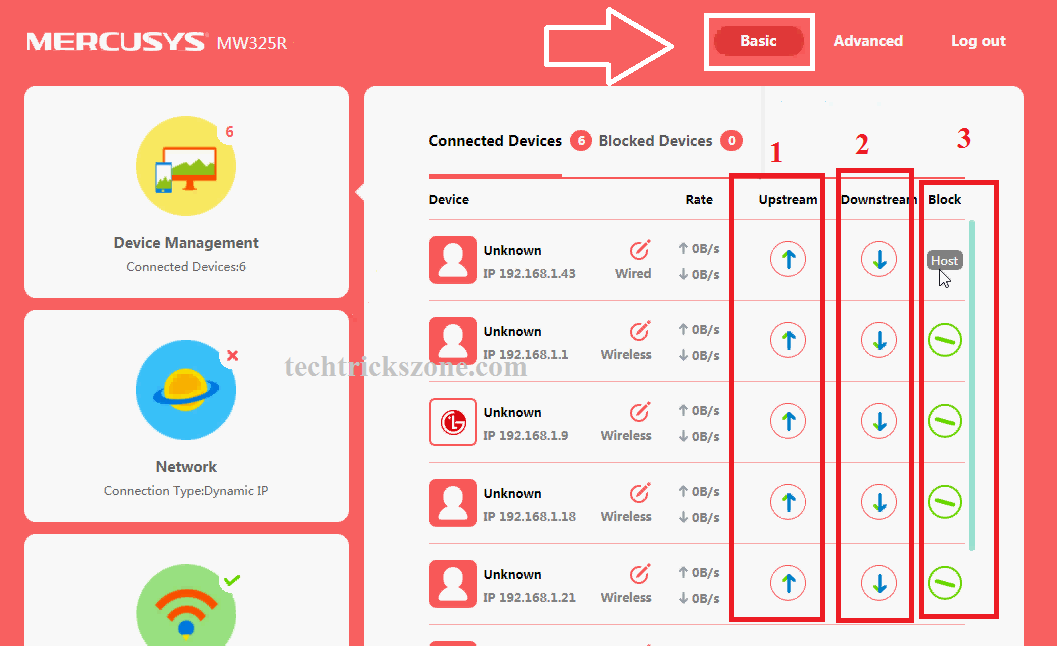 Mercusys  MW325R  Login Password Change.
Although Mercusys MW325R router doesn't have any default password for login. There is a simple step to change Mercusys MW325R wireless router login password change
1: Go to Advanced
2: System Tools
3: Click on Change Login Password
Old password:  type here your old login password
New password:  type here the new password you want to set for login
Confirm New password:  type a new password again to confirm.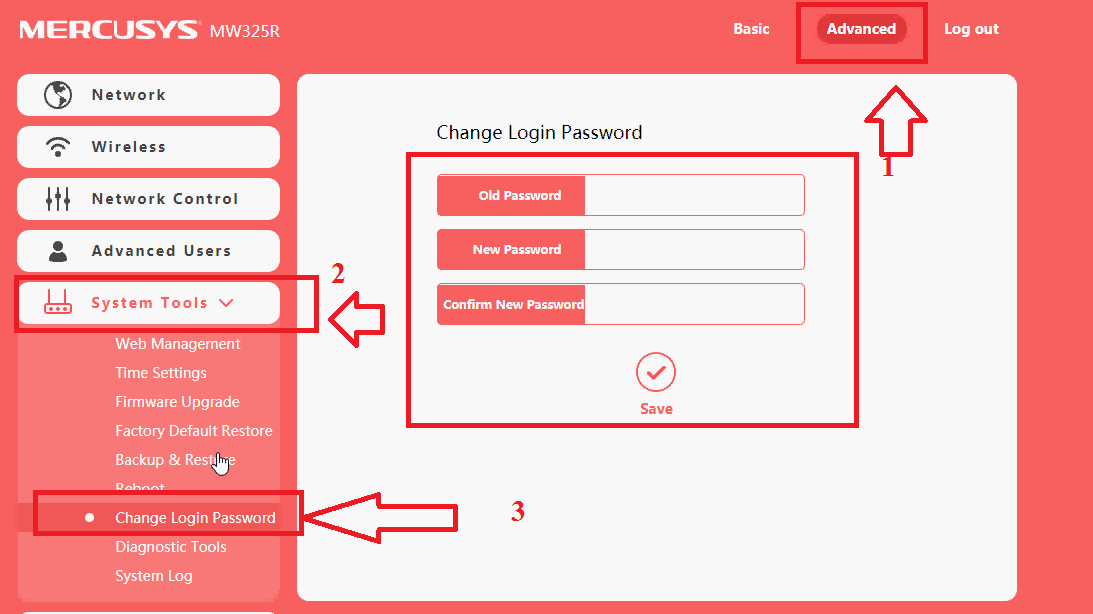 Click the Save button to apply setting and login with new password now.
Mercusys MW325R router can be used in repeater mode with any brand device so its not necessary to main AP should be the same mercusys brand.
Related Post:
Mercusys MW325R Repeater Mode Video