Tenda TE-D151 ADSL Modem WiFi Router configuration for multiple ISP with using PPPoE, Static and DHCP WAN type. see the user manual for Tenda TE-D151 ADSL WiFi Router configuration.
 Tenda TE-D151 ADSL WiFi Router configuration for Airtel and BSNL Internet
ADSL full form is Asymmetric digital subscriber line. ADSL is digital subscriber technology to transmit faster speed over the copper telephone line. In India major telecom companies use ADSL lines to provide internet connectivity to their client with telephone lines. As Airtel and BSNL both are the leader in ADSL and landline phone service so they used ADSL modem to convert their telephone line to the internet at the client end.
As already there are many companies providing ADSL modem + router such as Beetel, Binatone, Dlink and TP-Link and many others. In this post, you can get the complete setup and configuration of Tenda TE-D151 and TE-D152 ADSL2 + modem router. You can also setup the Tenda TE-D301 ADSL+ modem router and TENDA TE-D303Â Wireless N300 ADSL2+/3G Modem Router configuration with help of this post.  This user manual support all Tenda ADSL+ modem router configuration for Airtel, BSNL, MTNL and any other telecom internet line who provide internet over the telephone line.
Tenda TE-151 and TE152 ADSL2+ Modem router Specification
Tenda TE-D151 and TE-D152 both are 150 Mbps wireless modem router. As the TE-D151 & D152 is ADSL modem so it comes with one RJ11 jack for telephone line input and 4 Lan port for wired connection to PC or network switch to distribute internet. Tenda also having a similar ADSL modem with 300Mbps speed is TENDA TE-D300 and D301 with2 Omni antenna to provide 300mbps speed in wireless connectivity.
Tenda TE-D151/D152 and TE-D300/D301/D302 support all leading ISP such as BSNL, MTNL, Airtel, Tata Broadband, and reliance broadband.
Tenda TE-D151 ADSL WiFi Router configuration Connection Diagram
To connect Tenda TE-D151 ADSL2+ RJ11 port to the telephone line coming from your service provider use rj11 cable. Connect DSL port directly to the telephone line or use splitter to connect telephone and modem both.
Connect PC/Laptop to any Lan port out of 4 yellow port in the modem. Use the power adapter that comes with Tenda TE-D151 ADSL modem to power on the device. Switch on power button beside DC jack in the modem router.
r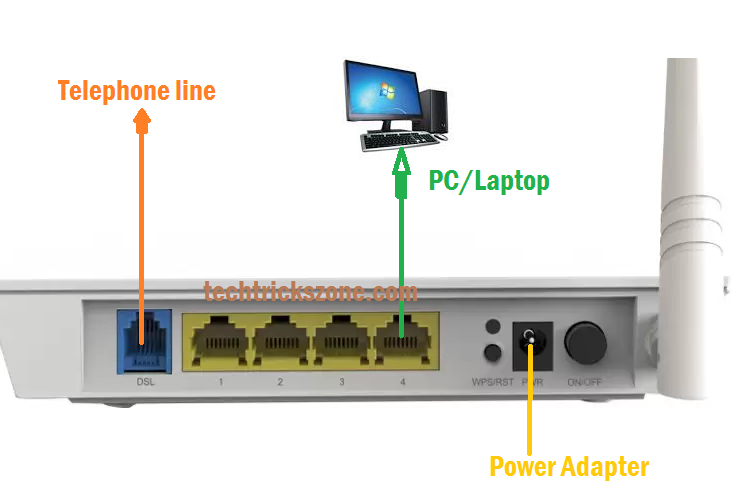 ---
Read More:
---
To login Tenda ADSL modem router you required default Tenda IP Address and username, password with you. If you are using Tenda ADSL modem router configuration with the new device you can find the default setting detail backside sticker of the router.  changed already default settings then use the new IP Address and username password you changed. If you forgot login details use the reset button to Factory default Tenda  ADSL mode router.
Tenda TE-D151/D152 ADSL Modem router default IP Address is 192.168.1.1
The default username and Password is admin/admin.
Type Tenda defaults IP http://192.168.l.1 in the browser and hit the enter key.

User Username- admin
Password- admin
Click Login button

Tenda TE-D151 ADSL Modem Router Setup Wizard Configuration
There are 2 methods for configuration of Tenda TE-D151 ADSL modem router. One is Setup Wizard and second is manual configuration. Setup wizard recommended for non-technical or if you are not familiar with networking concept. The setup wizard will show you only the required option to configure your ADSL line without making you confuse with many options. In this post we cover both methods for Tenda TE-D151 modem configuration.
1:- Tenda TE-D151 ADSL Setup Wizard
After login your Tenda TE-D151 ADSL modem you will get the setup Wizard page first. See the settings below to configure your Tenda TE-D152 ADSL modem router.
Tenda TE-D151 DSL  configuration
If you have connected telephone line to DSL port to your modem then follow the settings below to complete configuration of your Tenda ADSL2 Modem
DSL port should show green if Telephone line connected to DSL port as shown below image.
Primary setup
Link Type- Phone Cable
Connection type- PPPoE ( choose the connection type supported by your service providers.EX- pppoe, PPTP.etc)
Country- Choose your country
ISP– Choose your ISP from List in India Airtel, BSNL, MTNL, Tata, Reliance.
Username – use the username provided by your service provider. (Contact customer care if you don't know about your username password details.
Password- use your password provide by your ISP.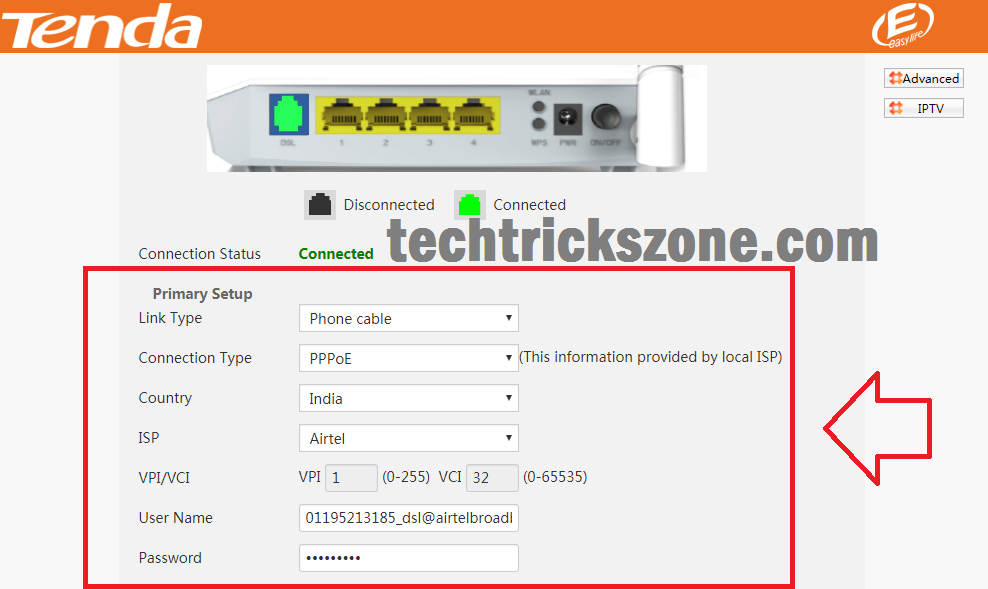 Wireless Setup-2.4G
In setup Wizard, you will also get the wireless setting on the same page.
Wireless Enable-  check box to enable Wireless
The Wireless SSID– Type your Wi-Fi name in this box
Wireless Key- Type your Wi-Fi password on this box
After finish, all settings click  OK button to save changes.

IF your username and password and other configuration are correct then you can see the ADSL modem status to connect.
Connection Status- Connected

2:- Tenda TE-D152 ADSL Wireless Modem Router Configuration Manually.
This method will manual configuration of Tenda ADSL modem with the advanced option.
Related Post: