Do not forget TP-Link M7350 4G Mobile WiFi Configuration while buying a new device for home and office. Changing default WIFi name and password settings strongly recommended.
TP-Link M7350 4G Mobile WiFi Configuration [TP-Link 4G MiFi]
TP-Link M7350 4G MiFi router for traveling purposes to keep connected with WiFi internet. M7350 4G LTE mobile router supports the SMS feature to send and receive SMS directly from TP-Link M7350 4G hotspot router. This 4G MiFi router loaded with all the latest security features. It is the best small portable 4G hotspot router with battery backup suitable for professionals who often travel for a business trip. This 4G LTE router support 4G sim and MMC memory card to store and share files directly from the router and create local cloud storage. You can also have a look best dual band wifi router for Home & Office 100Mbps internet plans.
TPLink M7450 Mobile MiFi router also best for the family to share single internet plans without using each mobile internet at home and during holiday trips. TP-Link Pocket mobile wifi router has a classic look with an LED display to view the status of internet speed, battery status, and network status as well. TP-Link M7350 Pocket Mobile WiFi router having Internal 2000mAh Rechargeable Battery to provide up to 8 hours non-stop internet connectivity. You can fully set internet speed and blacklist with TP-Link mobile router to balance speed and user properly.
However, TP-Link M7350 Hotspot router comes with a default TP-Link WiFi name and password which is highly recommended to charge before use. This post will guide you step by step TP-Lin M7350 4G mobile WiFi router Configuration in simple steps.
TP-Link M7350 4G LTE MiFi Router Default Settings
To Change TP-Link M7350 default WiFi name and password required default factory settings to access the router web interface. How to get TP-Link M7350 Mobile Hotspot router default WiFi password and name follow the steps below.
Take Hotspot Router in hand and remove Backside cover.
Remove the Battery from the router and see the sticker for Login username and password.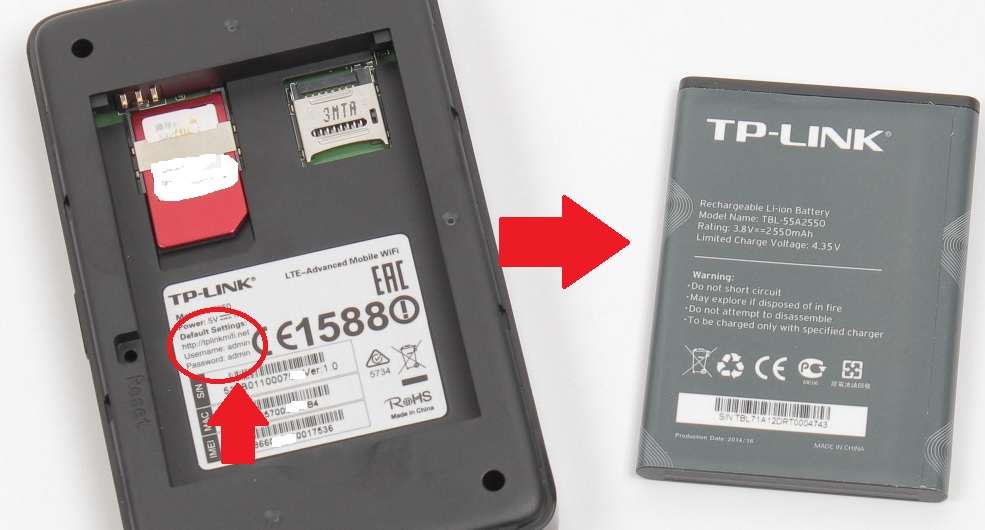 To get TP-Link WiFi Default password to turn back cover and see a small sticker for SSID and Password.
Right down the WiFi Password and Login details to setup Mobile Hotspot router.
Login TPLink M7350 Mobile 4G WiFi Router from Laptop
As M7350 is a pocket MiFi router without LAN port so need WiFi connection to access the web interface.
Power ON 4G router and Connect from WiFi.
Open Web browser and type TP-Link M7350 default IP – http://192.168.0.1
The login page will open.
Use the admin password to login TPLink 4G hotspot router.

TP-Link M7350 4G Hotspot Router Enable Roaming and Mobile Data
By default Mobile data enabled and Roaming disabled in 4G mobile wifi router. While moving to another place required to enable roaming feature to keep data on while in the non-home network.
Go to Advanced– Dial-up settings
Mobile Data– Move button toward the right to enable mobile data.
Data Roaming– Enable roaming to keep internet work while not in home networks.

Setup 4G/3G/2G Network settings
Network settings contain Network mode to choose the preferred network and Network search mode.
Network Mode– 4G Preferred (use this option to keep switch network while 4G network not available and 3G available.
4G only– in this option if the 4G network is not available mobile internet will be disconnected until 4G network not found.
3G only– only will work when 3G network available.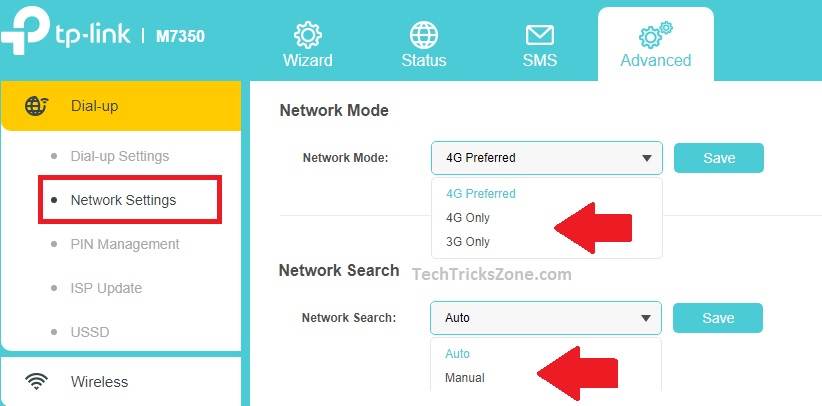 Network Search– Auto (use auto mode to auto select mode)
TP-Link M7350 Wireless Setting Configuration
It is highly recommended to change WiFi Name and password in 4G hotspot router before use to avoid UN-authorize access. To change default TP-link SSID and Wireless password follow steps.
Go to Advanced settings from the top menu.
1: Wireless– Basic Settings
2: Basic Wireless Setting–
Wireless Network Name (SSID)- change WIFI Name here.
3: Channel– use Auto mode or select the 1,6,11 anyone.
Wireless security– Choose the WPA-PSK/WPA2-PSK (recommended)
Wireless Password– Type WiFi password here.
4: click the save button once all settings are done.

Check Connected WiFi Device in TP-Link 4G Mobile WiFi Router
To check who is connected to your 4G hotspot router get the details inside wireless settings.
Wireless – Online Clients
See the list of a connected device with name and Mac address and IP address assigned to the client.

Enable Power saving mode in 4G hotspot Mobile WiFi Router
A portable pocket hotspot 4g wifi router comes with limited battery backup capacity. To increase the power backup use the energy-saving mode feature.
Go to Power Saving option from left side vertical menu.
Power Saving Mode: Enable button
Wi-Fi Range– use the low range if you keep 4G hotspot router near your working place to increase battery backup.
Wi-Fi Auto disable Time: 10 minutes (if no users connected to Mobile hotspot router than WiFi will disable after a set time to avoid battery usage while not in use.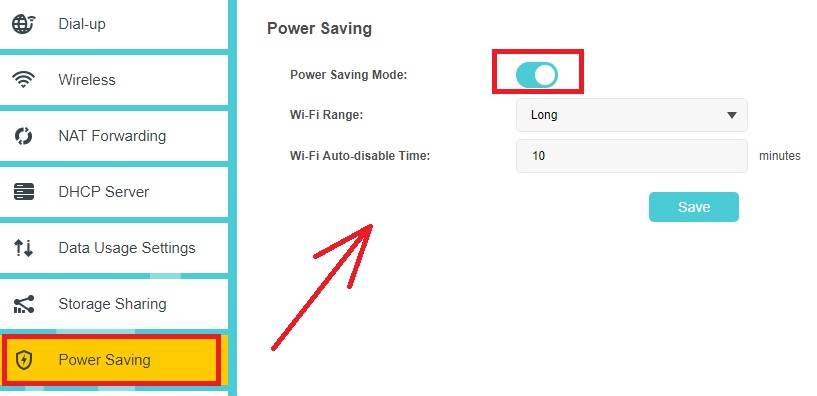 Send and Received SMS in TP-Link 4G Hotspot Router
M7350 LTE router support sends and receives text SMS directly from the router without using an external application.
Go to SMS tab
1: Inbox: inside the inbox, you will receive msg.
2: New Message- to compose new SMS go to New SMS tab and type the phone number and send SMS.
Outbox- sent SMS  will store in the outbox.
Press Send button to send SMS.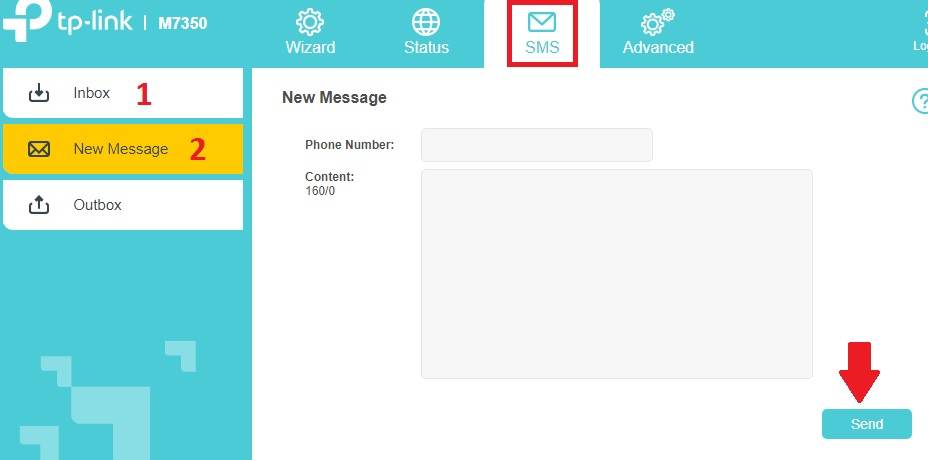 Final Word
Setup TP-Link 4G LTE Mobile from Mobile and Laptop in simple steps. It is recommended to change all the default settings to keep protect your hotspot 4G router. Use power saving mode to increase battery power backup and keep connected with the internet while going a long trip. M7350 4G router having a larger LED display where you can check notification of SMS, Network status, Time, and internet speed. It is the best 4G hotspot router with battery backup up to 8 hours of internetworking.
Related Post