Login and Setup TP-Link AX6000 WiFi6 Router
TP-Link Archer AX6000 Dual-band WiFi 6 Router for high-speed internet speed and gaming experience. AX6000 is a Next-Gen Wi-Fi Router with Gigabit Ethernet and delivers astonishing wireless speed up to 5952 Mbps: 4804 Mbps (5 GHz) and 1148 Mbps (2.4 GHz) for seamless wifi experience. TPLink Archer Ax6000 is an 802.11ax WiFi standard with Fast High Efficiency for Gaming and 4K/8K streaming without buffering problems. If you own this router for your home and office internet then you must configure and setup it to deliver maximum WiFi speed and performance. AX6000 wifi router is one of the best tp link wifi 6 gaming router.
This article contains a simple user manual to login and Setup TP-Link Archer AX6000 WiFi 6 dual-band wireless router for broadband internet supported, PPPoE, Static or dynamic internet type. You must setup a wireless band to get high speed and stability.
Steps to Setup TPLink WiFi 6 Router
TPLink AX6000 support configuration using TP Link tether apps as well as web interface from the computer.
You have both way to set up your tp-link wifi router either using a mobile phone or a computer.
AX 6000 router support multiple Gigabit Ethernet port for wired connection and default WiFi Name and password printed to router backside sticker.
Connect WiFi router using a wired cable from any LAN port to Computer/laptop LAN port for Setup from the web interface.
To setup from Mobile Download TP-link Tether Apps from Play store first.
Go to mobile wi-fi settings and connect Router with default SSID and password as printed to router backside sticker
Go to computer/laptop LAN settings and make sure LAN IP settings in DHCP mode as DHCP server enabled in TP-link WiFi router.
Internet cable coming from an internet provider or Modem should connect to TP-link WAN port.

Default Login settings for TP-Link AX6000
Although you can get default login credential detail with router sticker as well as Quick user guide comes with router box.
However find default login details for TPlink below.
Default Login IP Address: 192.168.o.1
Login username– admin
Default password– admin
Login Router Web interface from Computer
This tutorial show login TP Link Ax6000 from the computer using a web interface.
Open a web browser such as Google Chrome, Firefox, or Microsoft edge and access http://tplinkwifi.net, or http://192.168.0.1
After a few seconds, you will get a router login page asking to create a new password during the first time setup.
Create a new login password and enter the router settings page.
Once you successfully login to the router control panel now setup WAN internet settings first.
Setup Archer 6000 WAN Internet settings
Go to Internet settings from the left side menu and keep ready.
AX6000 supports WAN internet connection type, PPPoE, Static IP, Dynamic, L2TP, and others.
Select your internet type from internet connection type option and provider username and password for PPPoE and IP Address gateway and DNS details for Static IP mode.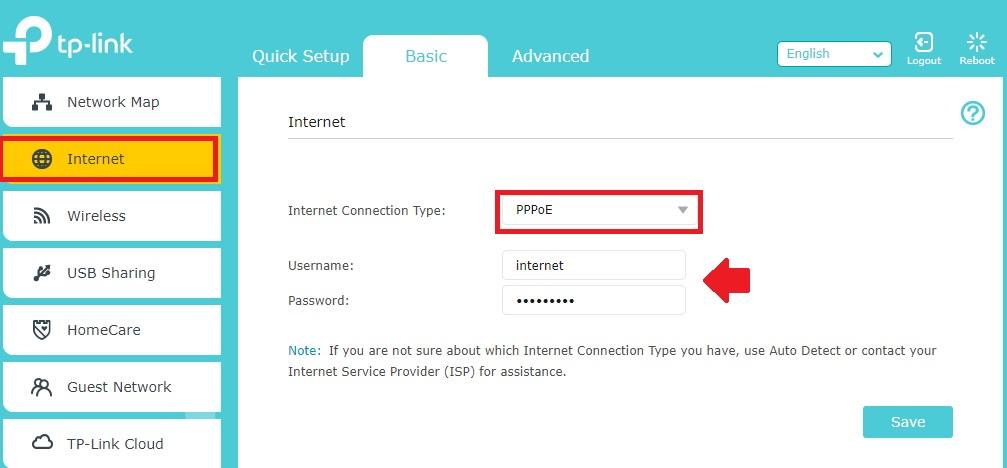 Save settings and follow Wireless configuration.
WiFi SSID name and Password configuration
Default WiFi SSID and password printed to router sticker so it's highly recommended to update default SSID and password.
Go to Wireless-Basic
Wireless Settings– 2.4GHZ Wireless
Network name (SSID)- AX6000-2G wifi name (change this name for 2.4 GHz band.
Password–  WiFi 2.4G Password (create a new wifi password for your TPLink router)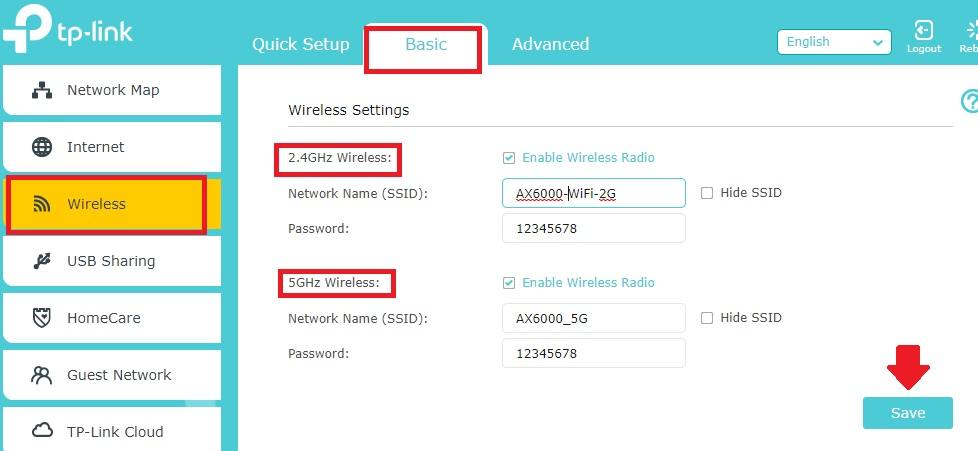 5GHz Wireless:
Network Name(SSID):  create new wifi SSID for 5.8Ghz wifi band.
Password– create a new password for 5G wifi.
Save settings and your all device will disconnect from wifi so connect again with new wifi name and password.
Apart from WiFi security, you can enable the Homecare feature to add extra layer security in your home Wifi network using TP-link WiFi6 Dual-band router.
Setup Homecare in TP-link Archer AX6000
Homecare is an inbuilt security feature available in TP-link 11ac dual-band wireless router to protect the network from attacks, manage bandwidth, and set up parental control to secure you, child, from inappropriate internet surfing.
Parental control– Parental control feature gives you to power to enable and disable websites not useful for your kids and restricted to PC/laptop/mobile belongs to your kids.
Parental control and Antivirus Configuration on TP-Link AC WiFi router
QoS– QoS full form is quality of service. You can manage your internet pack as per user priority and non-priority to ensure proper internet speed management.
How to setup QoS to set internet Speed limit for WiFi User
Antivirus– enabling antivirus will protect your network from malicious activity and stop any attacks before reaching your device.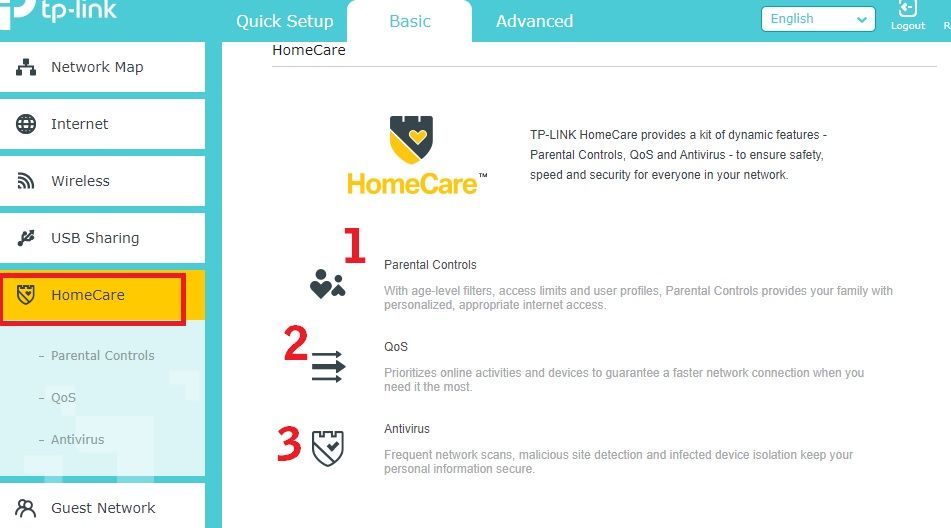 Enable all the security features and keep protect always and enjoy a secure wifi internet experience.
There are a lot of many features available in AX6000 that are useful for security purposes such as the Mac access list, Wi-Fi user Blocklist, Guest network, and many others.
This configuration guide also supports tp-link wifi 6 ax3000 as well as other TP-link Wi-Fi 6 dual-band router to setup for the first time. To advance Setup TP-Link Archer AX6000 you can download the user manual in pdf.
Related Post