How to Disable Twitter Video Auto Play-Off/On with 3 Steps
"Turn Off Auto-Playing Videos on Twitter"
Twitter also a leader in social network platforms which delivered more than 100 Million messages per day. Since Twitter launched there are many features up-gradation done day by day to provide a better quality of social network platform to use. With up-gradation, the user gets many new features and fast speed to connect every time with your loved ones.
In this post, we also talking about a feature called Video autoplay when scrolling a page. Twitter provides you by default any video posted and shared by your followers will auto play when you scrolling down your Twitter page to see new posts. But Twitter Video Auto Play becomes very expensive when we have Data plan limited and Video autoplay consumes most of the data packet for unusual video. If you are new in Twitter and do not very aware of twitter settings that you are on the right place now because in this video you will get the complete guide of How to Disable and Enable Twitter Video Auto-Play on Mobile and Computer.
Twitter Video Auto Playoff and On Settings.
For Making Disable and Enable Twitter Video AutoPlay settings you must be Login to your Twitter Accounts. Click below to Login Twitter Account and follow the steps given below to make Twitter Video Auto Play on and Off.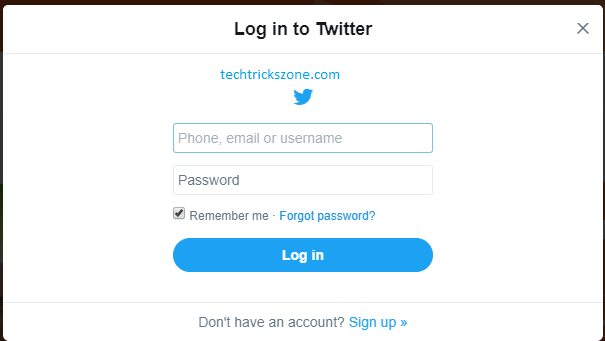 Tips: to make your online social network and other accounts never click remember me an option in a computer and mobile device you do not own. Save password can be unhiding from browser settings and can hack your account to use unauthorized access.
Twitter Video Auto Play-Off Settings.
Doing Twitter video autoplay a very simple task if we know about Twitter account settings. But it's become very difficult to off Video Auto Play when we are not much aware of Account settings. After reading this post you will feel it's very easy to make any settings in your Twitter account.
See the Profile Picture In the left side of Twitter Account click on Picture and you will get a settings menu downside.
Click Settings and privacy option from Twitter Drop Down setting menu.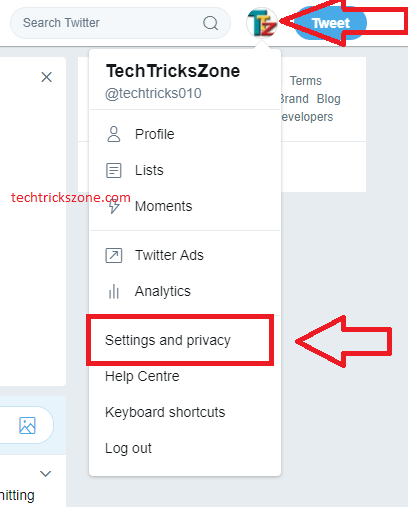 You can also disable video autoplay from Twitter mobile application. You get a Twitter mobile application for all platforms like Android, iOS, Windows.
How to turn off auto-play video on Twitter.
After click on Settings and Privacy, you will get the left side full Twitter Account settings list.
Find the Option in bottom Accessibility and click on the option.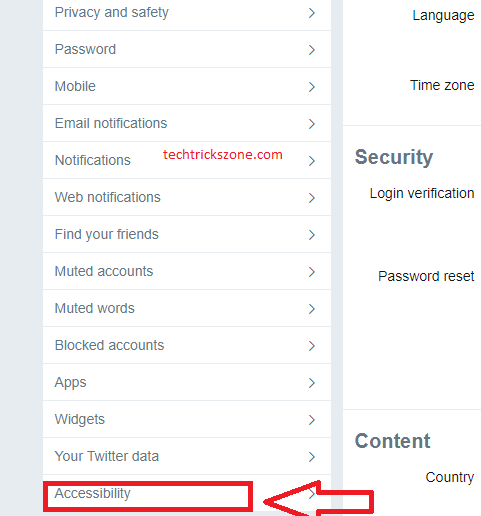 Disable Video Tweets Auto Play off and off.
One you will Click the Accessibility Option from the left side menu you will get an option to  Disable Video Tweets.
Un-check the Box Video autoplay and click  Save changes.
After doing this Settings your Twitter Video Tweets Auto Play will off and you can play the only video you like in your wall post. It will save your approximately 40% data every month avoiding auto-play video in twitters.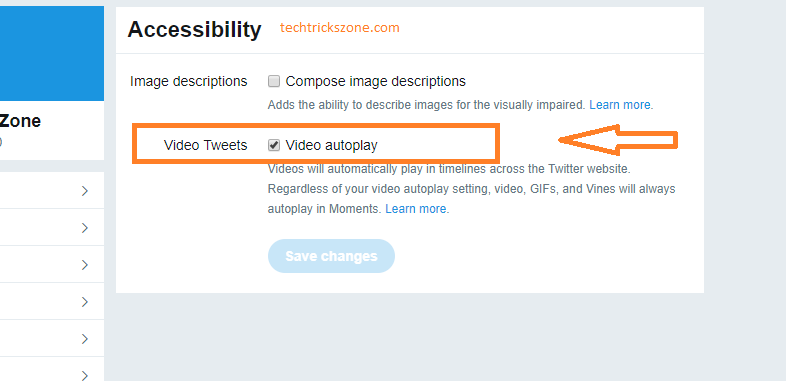 Once you disable auto play of video in your Twitter news feed than you have to click every video to play it. Disabling autoplay video also will disable for mobile apps so click the video you want to play every time. Save money and your internet data with disabling auto play videos.
How to turn off autoplay videos on Twitter in Android
How to enable Night mode in Twitter Account.

Although we are talking about video autoplay on to save battery and data. Twitter also launched the best feature called "night mode". Night mode is nothing but turns your profile into the dark color mode to use at night and browse your twitter in less display light.
Enable Twitter Night mode.
To enable night mode feature in Twitter account simple. Twitter night mode auto-detect the day and night light in official Twitter apps and turn accordingly day or night. But if you want to enable night mode in your computer for web browser follow the steps given below.
Go to Profile picture before Tweet option to explore settings.
Find the setting Night mode in the last option from the setting menu
Once you will click on the Night Mode option your profile turn into dark color and it will save your data and battery both when you use in the night.
1: Setting Menu
2: Night mode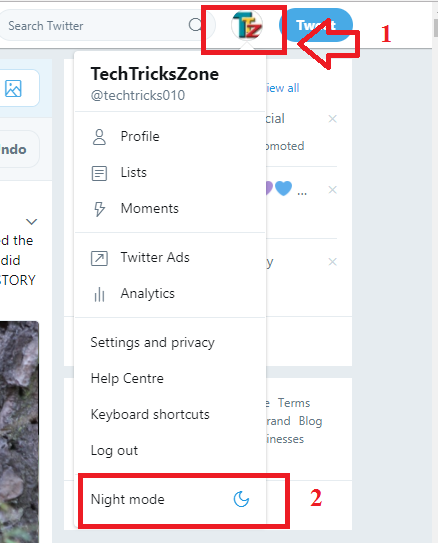 How to Disable Night Mode on Twitter
Night mode one of the best option on Twitter to save battery in the night. You can disable night mode in the day as per your choice.
To disable night mode in twitter follow the steps given below see the picture.
1: click on profile picture to explorer setting menu
2: click night mode
Profile color will turn into normal mode and you can do it also from mobile and web browsers.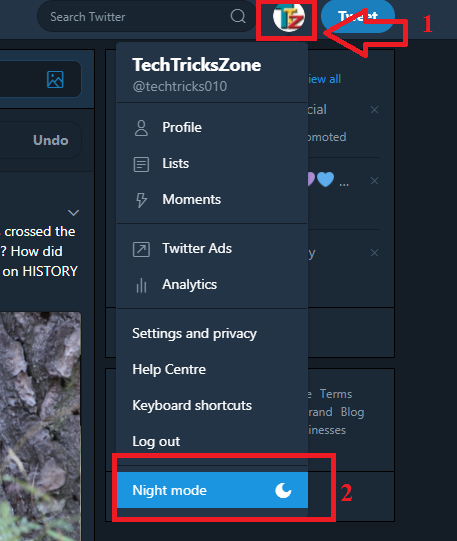 Save your mobile battery and reduce the side effect for eyes continue using mobile with night mode. In night mode light will not attract your eye more in the night.
Related Post