How to Delete Twitter Account permanently from mobile and PC
Twitter a name which don't require any introduction in the social network. Are you twitter user and want to take the break with twitter so looking for delete your twitter account? If you are a student and addicted to the social network such as Facebook, Twitter, Instagram, Snapchat. But In every year you have to stop your social network engagement when exam near and study important. But you can't control your mind to stop using twitter account Couse of addiction. So in this post, you will see steps to remove your twitter account until the exam got finished. Apart from the deletion of the Twitter profile, you can deactivate twitter account for some time. I am sure you have tried to find much time Delete Twitter Account permanently from mobile and PC but not get the right answer.
If you are tired and bored with the Twitter social network site that you no need to delete twitter account permanently without waiting 30 days while you can deactivate twitter for some time. Deactivation of twitter account will treat like deleted twitter profile because on deactivation mode no one can search you, and you will disappear from follower list unit your twitter account reactivate again.  Now enjoy the post to the alternate of twitter delete option on twitter account settings.
Popular Post: How to use WhatsApp without Phone Number with Tricks (2018)
How do I Delete twitter account on iPhone (simple way)
You are looking delete option on Twitter or searching a twitter account delete link in support page of twitter like Facebook delete option. Just take a break and just think your twitter account deleted until you don't require it again. See the setting to delete your twitter profile.
To Close your Twitter Account Login profile first.
Now click on Profile Picture next to "search twitter option" and choose the option settings and privacy from the menu list.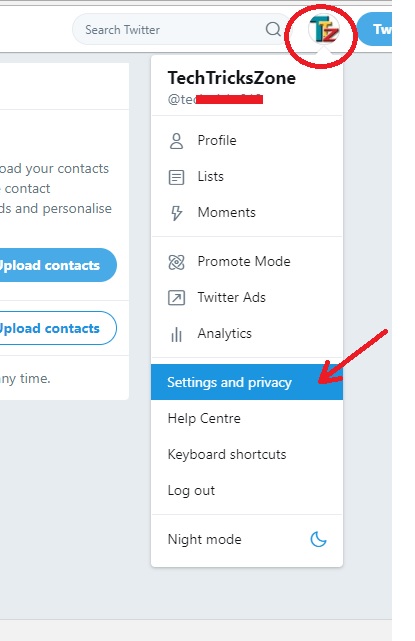 After click settings and privacy, you will enter in Account settings.
Drag account settings page now to see more option.
Before delete or deactivation of your twitter profile please take the backup of all twits.
Your Tweet archive –  with this option your all twitter will Archive.
Click Save changes to save.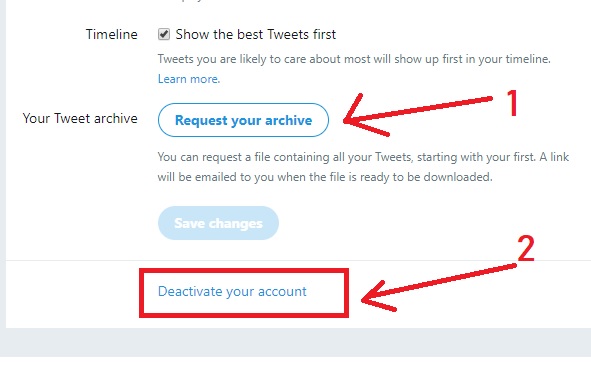 2:- Deactivation your Account-
It's true that no direct twitter delete option available in twitter currently, but you and deactivate your twitter account with below option.
Press option "Deactivate your account"
---
In the next step, you have to confirm again. Read the all term condition and press deactivate button.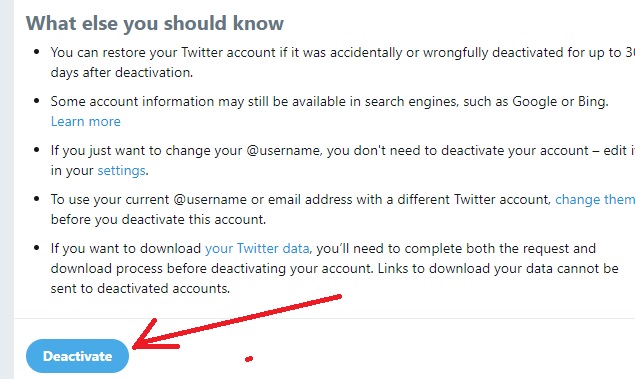 Deactivate account:  Re-enter your Twitter password to deactivate @account
Press Deactivate account now.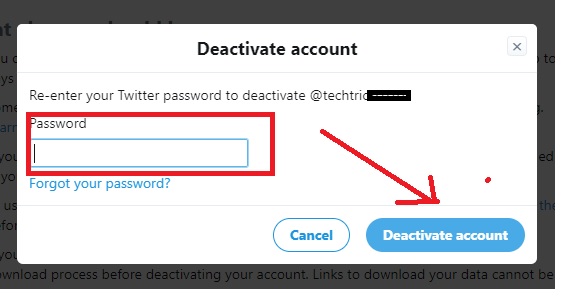 Your Twitter account is now deactivated – sorry to see you go #GoodBye.
This is the last message you will get after deactivation of twitter profile.

You have 30 days to reactivate your twitter account again. After 30 days your twitter account will delete permanently and you cant reactivate it again.so you have to wait 30 days to delete your account permanently from twitter server. if you wish to cancel deletion of your Twitter profile just re-login to cancel delete request.
How to Close Twitter Account from Twitter Apps.
If you only use Twitter on your iPhone and Android phone then you can also close your twitter account from the mobile application with simple steps.
Open Twitter Apps on I Phone or Android.
Click on profile picture on expend setting menu.
Click now Settings and privacy option.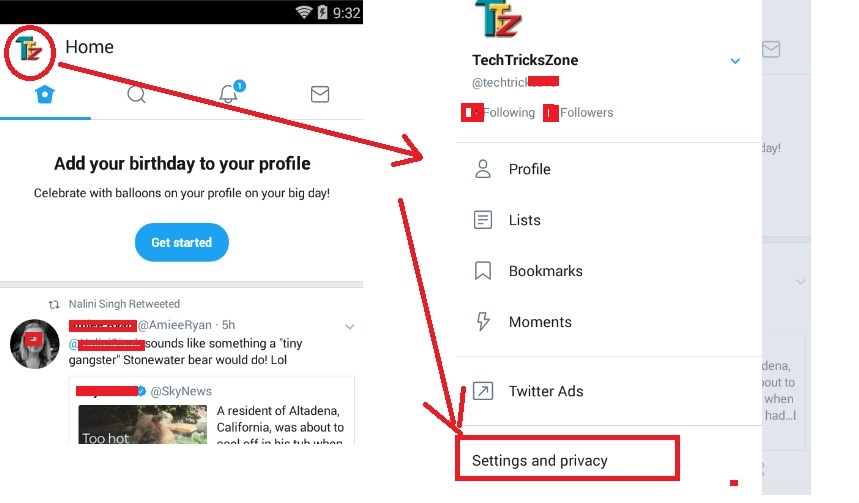 Inside settings and privacy, you will get another sub menu.
Choose the Account option.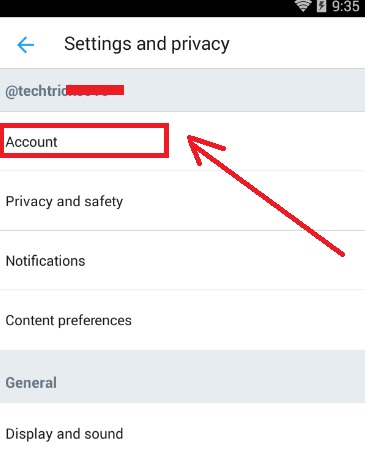 In the last option press "Deactivate your account"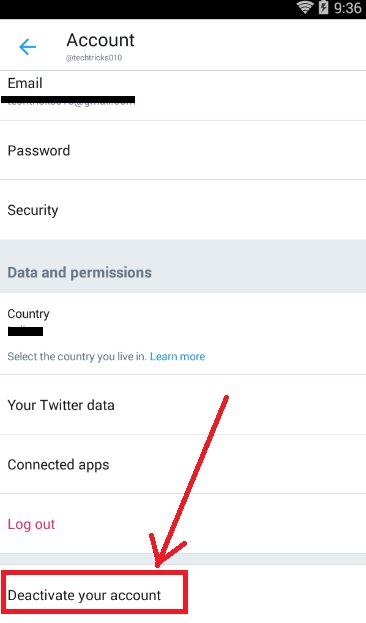 Confirm your password- type your twitter account password to authorize apps to deactivate your profile.
Press the Deactivate button after type password.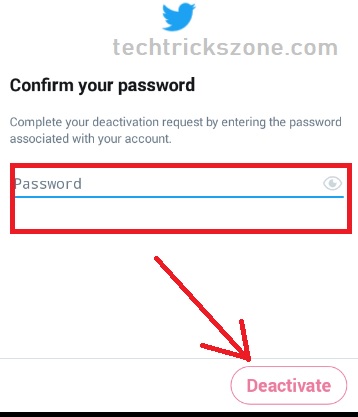 Read all the option what happened after deactivating your twitter account. What you can access and not access after account deactivation. Once your confirm press deactivate button your account will deactivate until next login.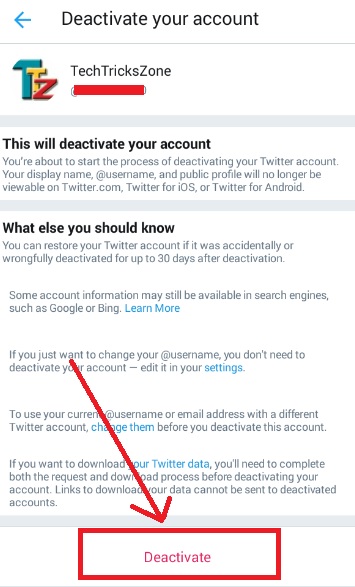 Instead of deleting twitter permanently deactivation is the better option because it can reactivate at any time and you will never lose your twitter and followers. If you change your mind and looking to option how to reactivate twitter account than not to worry simple login your twitter account and it will be reactivated automatically.hope this post useful for you to get the right solution for "Delete Twitter Account permanently from mobile and PC"
Related Post-