The smart way to protect your hotspot using the guest network access. Enable UniFi Controller Captive Portal Setup with social login and other authentication methods.
UBNT UniFi Controller Captive Portal with Facebook Login
In the latest UBNT UniFi series device configurable through UniFi Controller. While using UniFi LR and any other UniFi Access Point in the network need to set up a Wireless name and password. You may enable the guest access network to avoid sharing your main WiFi password to prevent guest access to any private PC. Before setup, the captive portal, follow the UniFi controller install and setup. Using the Captive portal login page best and smart way to promote your company and brands with hotspot visitors. UniFi controller having Guest access and Captive portal option with multiple login options. You can link your official Facebook page with UniFi captive portal social login to increase online popularity.
Enable the Captive Portal Login Page in UniFi
To enable guest access the captive portal with simple password option, and Captive portal with social page need to access controller control panel.
Login UniFi Controller and follow step by step guide to setting up the guest network captive portal.
Use the username and password you have set during controller installation to login.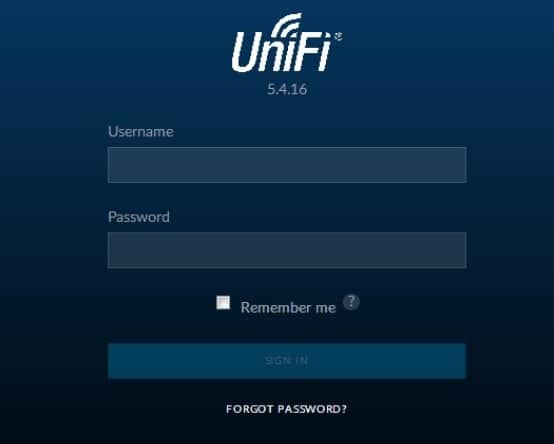 Go to Settings gear in left side menu bottom and click Guest Control option.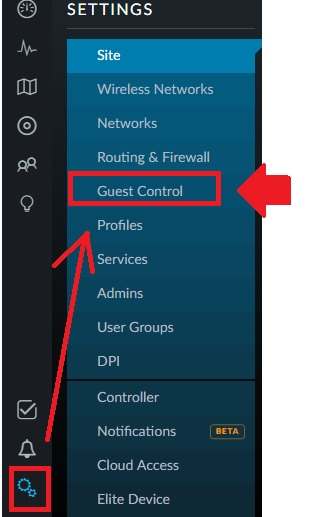 Guest Control
Guest Portal- Check the box to enable Guest Portal
[To Enable Guest Access Network Choose the Simple Password option and create the Password for Guest network]
Choose the "Hotspot" option to use different login methods such as a voucher, radius authentication, and social login as well.
Default Expiration- Select the Time of Expiration.
Landing Page: Redirect to the original URL. If you want to add your company or any other web page for promotion purpose user the option Promotion URL.

Redirections: Use Secure Portal
Now After Settings up the captive portal in the Unifi Controller now design captive portal with your own logo and details.
UniFi Captive Portal Customization
Design your own logo and company details using the Portal Customization option available in the controller.
Portal Customization
Template Engine- Use the AngularJS for the latest Template type.
Title– Type your Title you want to give captive portal.
Welcome Test– If you want to enable a Welcome message then check the box and type your Welcome Message.

Term of Service– You can also enable terms and conditions to use your WiFi while login to a captive portal.
Enable terms of service– Edit to add your condition.
Language- as the UBNT product most popular worldwide so it supports all popular country languages. You can use specific language use in your country from the list for captive portal language.
Add logo and Color Customization in UniFi captive Portal
After setting up and customizing the Unifi Captive Portal in the Unifi Controller you can add your own logo and background picture in Hotspot Captive portal. You can fully customize the color of captive portal text, button and other option in this option.
The captive portal Desktop Preview active in the below image.
Now change the color and size of the captive portal.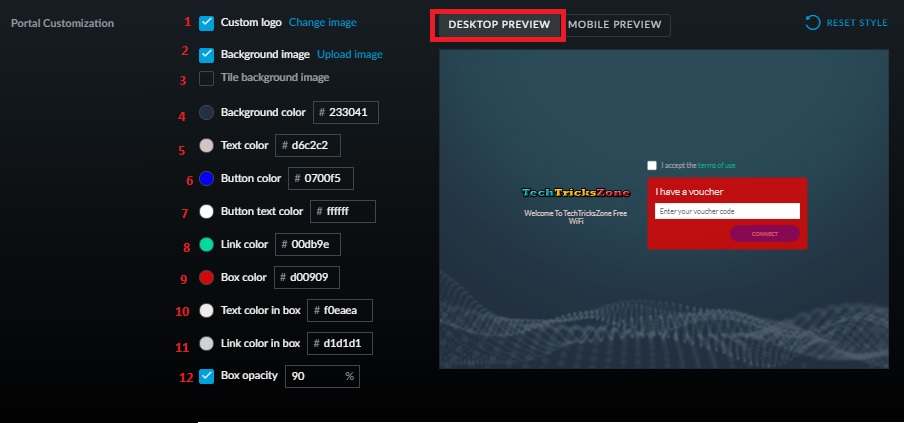 1: Custom Logo- Change the UBNT default logo and add your logo using this option.
2: Background Image- Replace the background image with your new BG image.
3: The Background image- to enable Background image Check this box.
4: Background Color- You can change the background color if not using any picture in the background.
5: Text Color- Change the Text color in this option.
6: Button Color- Captive portal connect button color.
7: Button Text color- change button text color.
8: Link Color- If you have added any Link (your Website) this color you can change here.
9: Box Color- change the Login box color.
10: Text color in the box- Change the Login box text color.
11- Link color in the box- If added any link color in login box change color here.
12: Box Opacity- this will be set the box visibility.
The Unifi Captive portal setup and customization finish. The next step is to enable the payment and login method you want to add in the hotspot captive login portal.
Hotspot
Enable the Login method in the captive portal with the multi-login option available in the UniFi Router.
The Login method supported by the UniFi Hotspot Captive portal.
• Voucher-based authorization
• Payment-based authorization
• RADIUS-based authorization
• Facebook-based authorization
• Google-based authorization
Setup Voucher Based Authentication
Enable Voucher-based authorization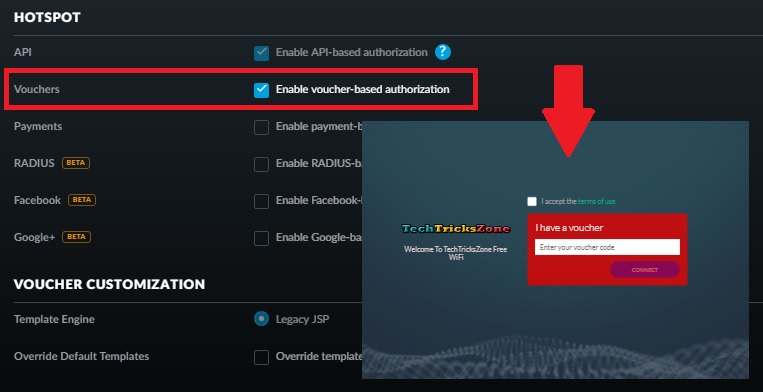 Voucher Customization: Customize the voucher in this option.
You can view the voucher preview.
Enable Social Login in UniFi Captive Portal
This is the most popular login option to provide hotspot access to WiFi users. Everyone using Facebook social page to promote their product and brand name.Using the Facebook Login option you can increase more Likes while any user accesses WiFi from your hotspot. Now follow the simple steps for UBNT UniFi Controller Captive Portal Setup using Facebook page.

Enable Facebook-based authorization
You need to create App ID and App Secret to link and authenticate your social page for the captive portal login.
After all, settings click the Apply settings to change save.

There are also other authentication methods you can use for UniFi Controller Captive Portal Setup to provide a managed and protect hotspot access to guest users. You can design the captive portal in the Unifi controller for providing free WiFi access in your Coffee shop, Hotel, Pizza shop, and other public places.
Related Post