Frontier Router Login 192.168.254.254
Frontier communication a multi-service provider for residential, small businesses, and enterprises. The Frontier telecommunication provider solution for TV, Phone, and High-speed internet solution with a single line. A single gateway for your multiple services whether using the internet, TV or telephone line. Frontier also a popular telecommunication and service provider like Comcast Xfinity. If you are a subscriber of frontier service then a frontier router gateway installed at your home and business line. The supported frontier router brands are Arris router, Actiontec, Netgear, D-link, Greenwave, and many more.
Frontier line connected to one of the residential gateways those supported frontier services installed at your home. You required to log in Frontier router to change the password and other configurations. Steps to login Arris frontier router and any of the supported models are the same. Login router control panel gives you the power to change the Default frontier WiFi name, updated login password, Port forward to the frontier router, and other useful settings.
Step to Access Frontier Router Settings
The first step of login into Frontier router is a physical connection or Wifi connection from a computer/Laptop or Mobile.
Use RJ 45 LAN cable to connect your router LAN port to the Computer LAN port.
You need Frontier router default Login settings to access the web interface the first time from the browser.
Default Login IP Frontier Router is 192.168.254.254
Frontier Login default username: admin
Default password: admin   or password 
[Default Login IP address and password may change for different frontier supported routers such as Arris NVG589 (http://192.168.1.254), Actiontec GT784WNV (192.168.1.1), Comcast Xfinity.
Check the router manuals or printed over router stickers for default login details.]
Desktop/ Laptop LAN settings
Make sure your computer LAN settings configured with DHCP mode.
Login into Frontier router Web interface
Now access Frontier router settings page using a web browser.
Access http://192.168.254.254 to the browser URL bar and press enter key.
Within a few second router username and password pop-up windows comes.
Use admin for both username and password to login router settings.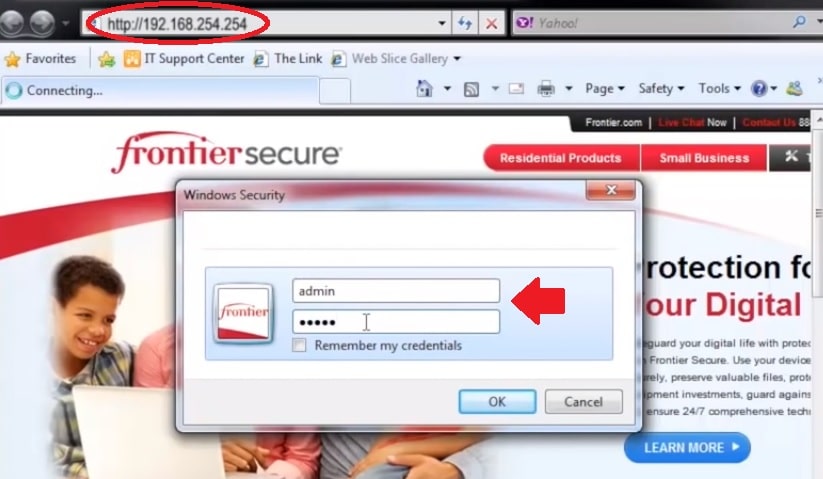 If everything looks fine you will login to router control settings. If anything miss-match like wrong password or username error then confirm login credential again or mind typing mistake.
Change Frontier WiFI SSID and Password
It is always recommended to change the default frontier WiFi name and password to protect your home Wifi internet and unauthorized access.
Logged in users can see Wireless settings. Firewall settings, management, and other network settings to manage Frontier router.
Update SSID name, will use to connect mobile and laptop using Wifi.
Go to Wireless Settings – you will land on the wireless main page.
Go to Basic Settings to change the Wireless name.
Wireless: On (make sure wireless should in ON option)
SSID: frontier8563 (change this default Wi-Fi name with the new name you wish to create for your wi-fi network).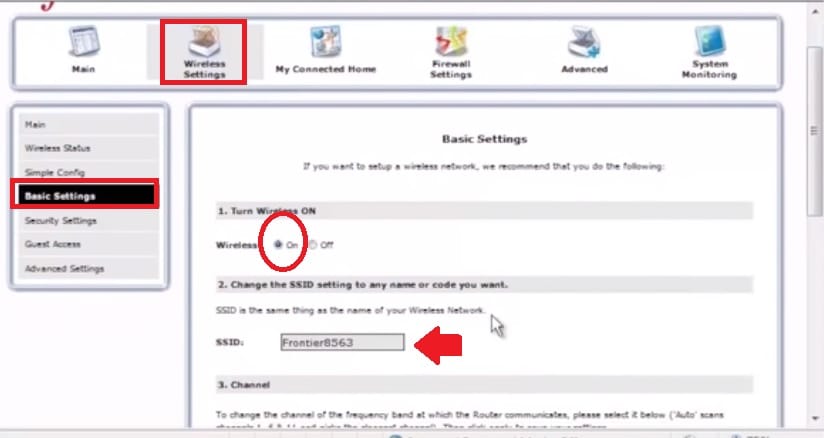 Drag the wireless settings page to the bottom and press the Apply button to configure settings.
Change Frontier Wi-Fi Security Key
Don't forget to change the default WiFi security key.
Go to Wireless settings- Security Settings
Wireless Security: WPA
WPA Type: WPA Any
Data Encryption: TKIP+AES
WPA Shared key: frontierpassword (set Wifi password in this box)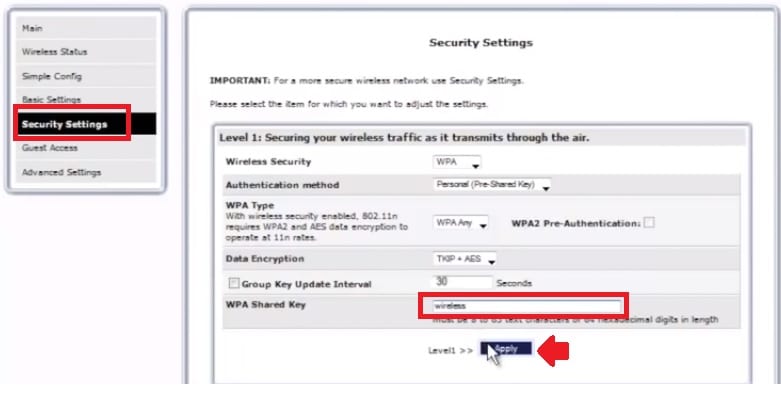 Tips to set Wi-Fi Password:
Use a strong Wifi password Easy to remember and hard to guess.
Don't use personal information such as birth date, address, and phone number.
Make a mix combination password with an alphanumeric and special character.
Change Frontier Login Password
The login password should be changed from the default frontier password to ensure the security of your home router and internet access.
Go to the Advanced option from the top menu.
Find the Password change option.
Old password: admin/password (use the default password you used for login in the field of old password)
New Password: Set strong Alfa numeric and special character combination login password.
Confirm password: confirm the password again to confirm and avoid miss typing.
Press Apply button save settings and log in again with the new password.
Related Post