Simple user guide of Unifi Controller installation in Windows and Mac PC. see step by step how to install UniFi Controller and Wireless configuration with AP discover.
UBNT Unifi Controller Software Installation and Setup
Unifi controller is a UBNT Proprietary software controller for Wireless Device configuration and managing for the centralizing point. This Unifi Software controller free available in UBNT official site. If you using UAP Series already or you are planning to buy UAP device then you required this controller software which allows you to configure and manage Unifi AP for single point, this software also provides feature such firmware up gradation, cloud access, real-time user statics monitoring, real-time data monitoring, currently Unifi 5.4.16 version available for Windows Mac, Debian, Ubuntu, Linux, Android, and IOS. UniFi Controller Setup and Configuration Manual you can also download from UBNT Website.
If you are stuck with no technical knowledge about UBNT product configuration start-up then after reading this post you will become an expert of UBNT product. This post will guide you step to step on how to install UniFi Controller software 5.4.16 for windows, mac, Linux and androids platforms.
UniFi Software Controller 5.4.16 Free Download
As I already mention Unifi Controllers is free of cost available on UBNT official website. This Unifi Software controller only works with UBNt product so do not was your time trying with any third-party Wireless products.
Click Link Below to Free Download UniFI 5.4.16 Now
1 UniFi 5.4.16 Controller for Mac
2 UniFi 5.4.16 Controller for Windows
3 UniFi 5.4.16 Controller for Debian/Ubuntu Linux
4 UniFi EDU for iOS
5 UniFi EDU for Android

Ubiquiti AP Controller Setup & Installation in Windows
After Downloading UniFi 5.4.16 from UBNT website double click on the software to start the installation.
Click the Install button to start the process.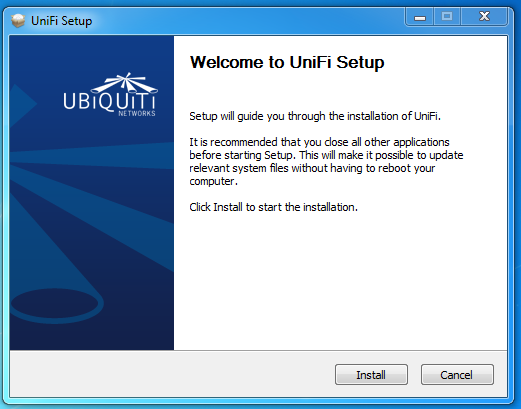 Wait to finish Process until you get Finish option.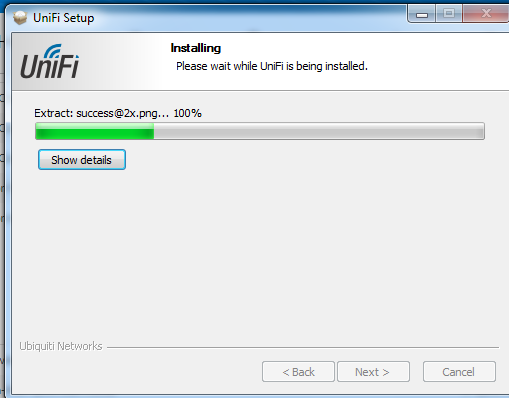 Click Finish Option  After Finish this option Unifi Controller software will install in your PC /laptop.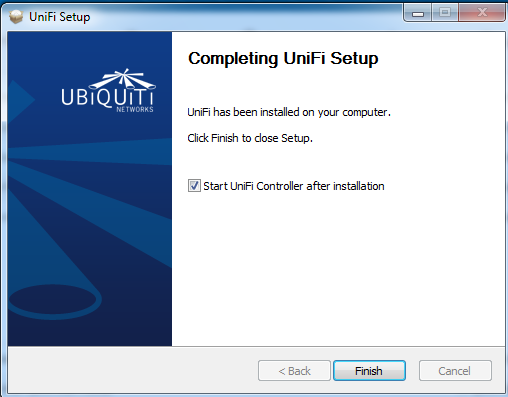 UniFi Wireless Controller Set up and Configuration in Windows
After installation, open Unifi software windows will ask you to allow network access permission click "Allow access" button to process controller software for proper open. If you click Cancel then windows firewall will block your unifi controller software.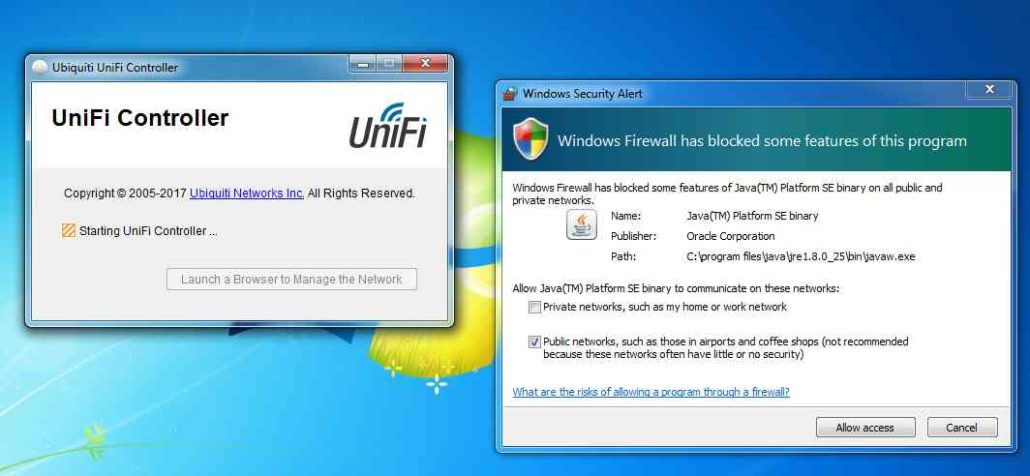 Click Launch a Browser to Manage the Network in UniFi Controller 5.4.16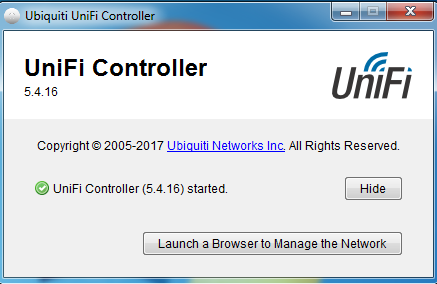 UniFi Controller 5.4.16  Your Connection is Not Secure error (Solved)
If you get uses an invalid security certificate error (SEC_ERROR_UNKNOWN_ISSUER) in your web browser when launching UniFi controller software then you have to add a confirm Exception in the browser setting
click on the Advanced button
Click Add Exception button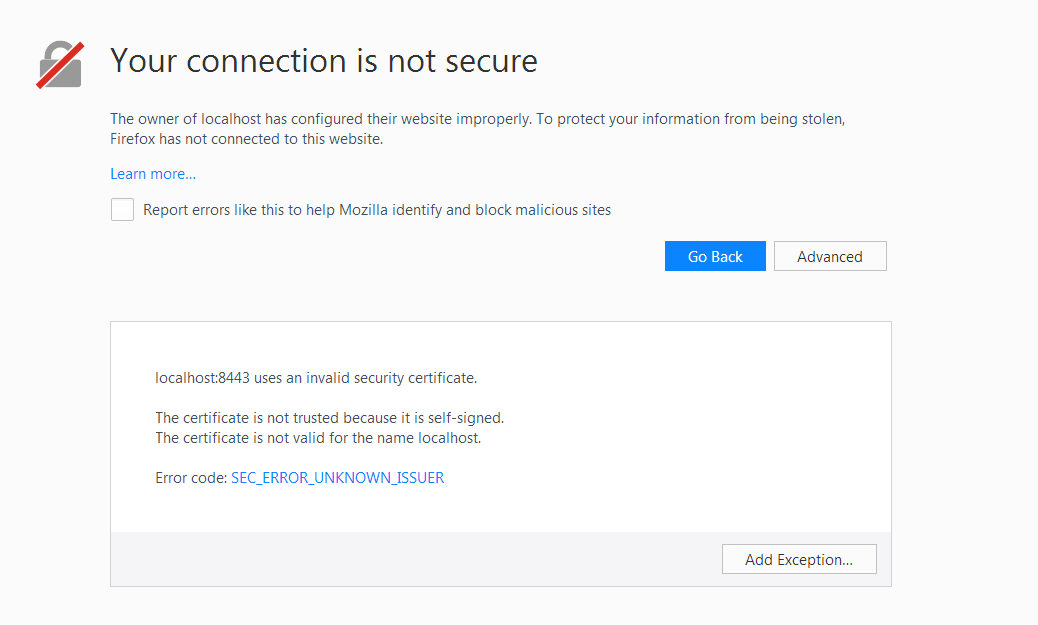 You will get pop-up windows for Security to confirm Exception Click Confirm Security Exception button in the bottom.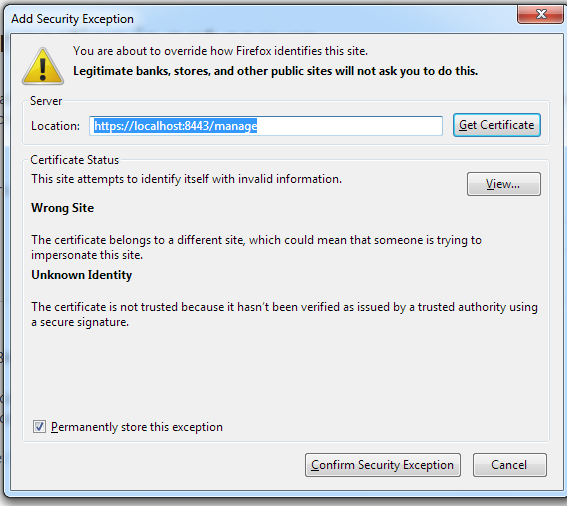 UniFi Controller Access Setup Wizard and Configuration
On first time installation, you have to configure controller software with the given setup wizard.
UBNT Controller software Country and Time Zone Setting
Select your country and time zone from the given list and click the Next button in the bottom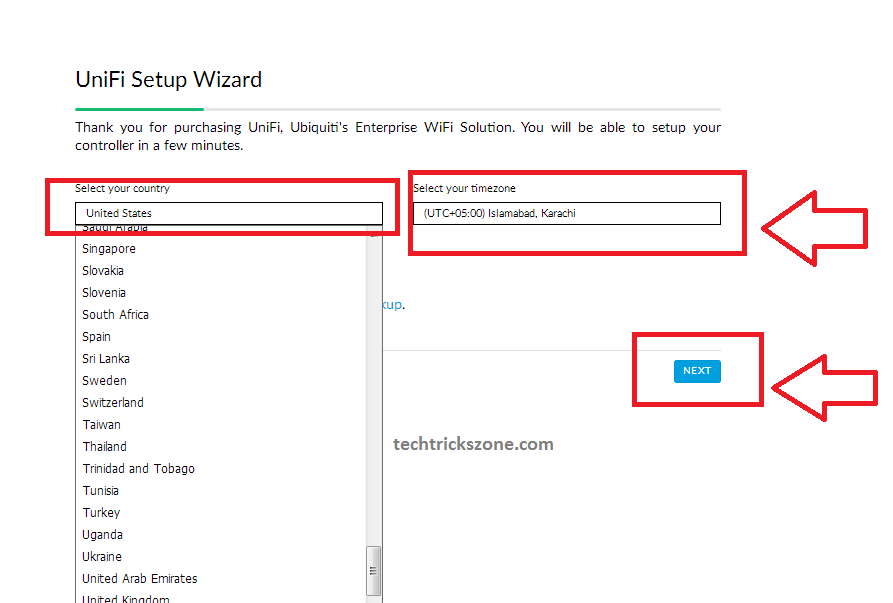 UniFi Controller AP Discover Status
If you UniFi Devices Connected during your UniFi controller setup wizard then the controller will detect your AP, if you plan to connect device later then click Next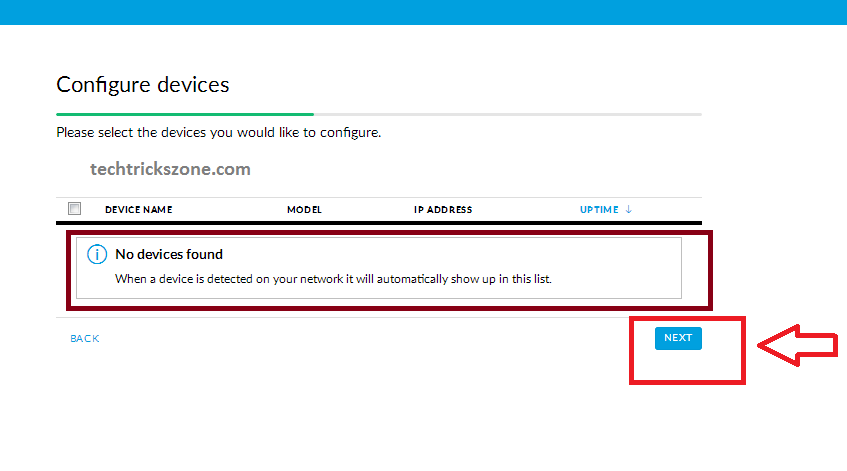 Setup Wireless Settings in UniFi Controller
You can skip this option if you want to configure later.
Type your Network Name in SSID box and password in the security box.
Enable Guest Access: if you want to add option id for Guest Access then click on Enable Guest Access and put SSID name for your guest network and click Next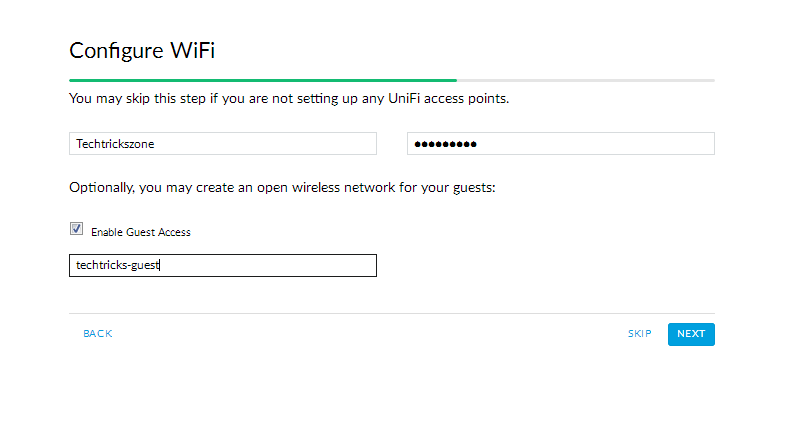 Ubiquiti Network Controller Access Username and Password settings
You must configure the Administrator username and password to secure your controller software from an-authorize access. Follow option given below to set UniFi Controller software username and password configuration.
Admin Name: This will be the username for login UniFi controller Software
Admin Email: This Email will use for password recovery if you forgot the password.
Password: UniFi Controller Login Password.
Confirm Password: Confirm UniFi Login password.
Click Next after Fill-up all details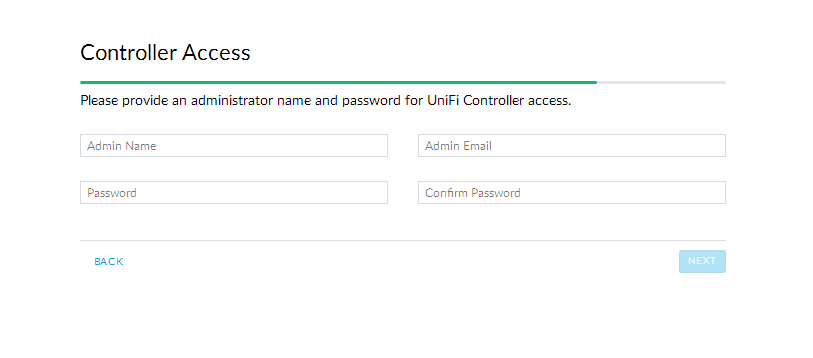 If all details correct as per your configuration after verifying click finish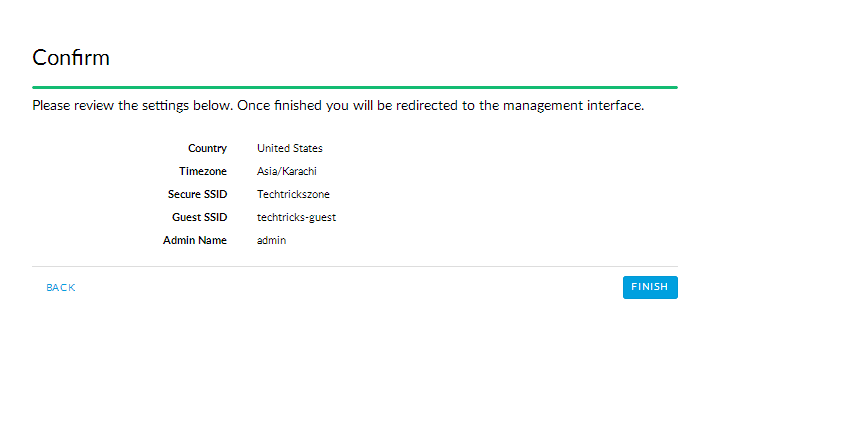 UniFi 5.4.16 Cloud  Login Credential
Please enter your UBNT.com Account Credentials
If you do not want to configure UniFi Cloud Access you can Skip this option and Proceed to UniFi Controller Login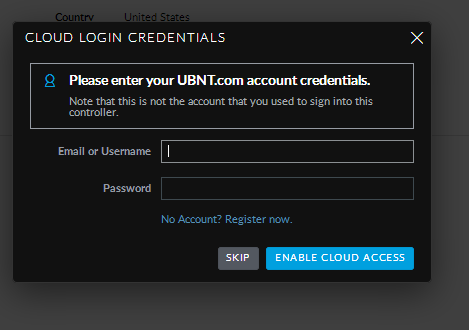 UniFi Controller Software Login First Time:
Enter Username and password you have configured in UniFi Access Wizard and Click Sign-in button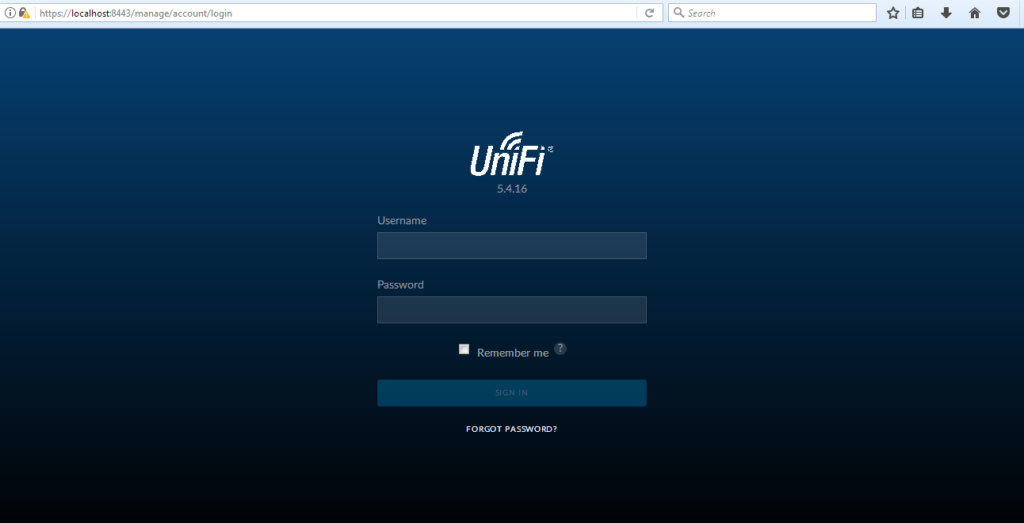 UBNT Network Controller Software Dashboard Status
Under Dashboard, you can check the all device connected status in Unifi Controller. The Connected Unifi AP will Show Green color Active status. IF UniFi controller setup no devices found in the network will show gray disabled status with 0 number.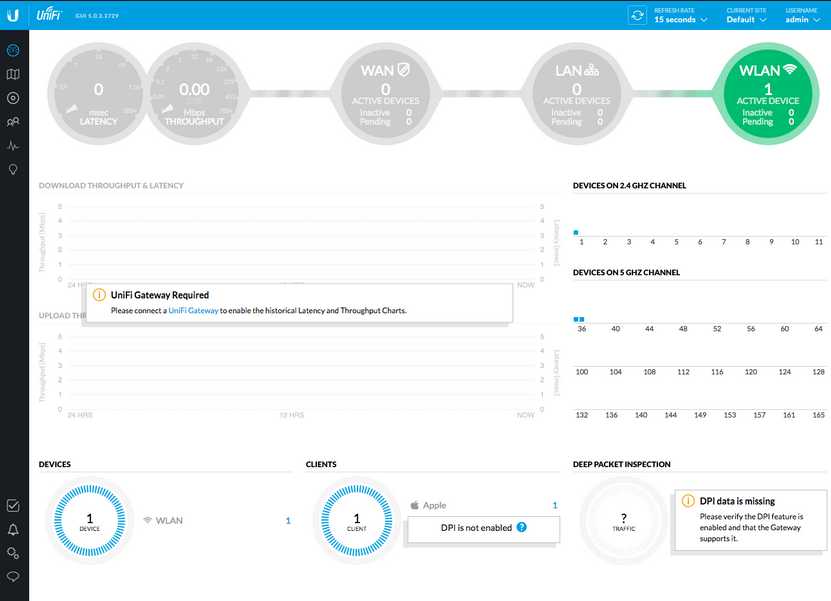 In Unifi Dashboard you will get all the information about connected APs, Active APs, Dead APs, and Packet real-time statics monitoring. Connect client on each APs, Download and Upload statics.you can export reports from the settings menu. Or you can wait for our next post How to Export UniFi Controller Settings and Report.
Related Post: