Binatone WR1505 n3 Parental Control Configuration
Parental control one the useful feature to make a safe internet browser for your children. Today internet most needed the thing at home and it's also a way to miss leading your children when you cannot monitor them always. Every home router comes with a firewall and parental control feature to restricted unusual and un-protective internet activity using by your children. We always try to keep updated with the latest and cost-effective technology which can afford by everyone. This post most useful and protective guard for your family from internet activity even if you cannot monitor them. see Binatone wr1505 n3 Parental control configuration and configure your router for safe internet browsing.
What is Parental control of the Internet?
The parental control means restriction of any website which not use full for children or we can say parents can decide the schedule for access of any website as per weekdays and time to avoid miss-use of internet activity by the children. Visiting unusual website can waste time and money, its distracts children from study so parental control are the best option to restricted and schedule access to the internet at home.  For parental control no need to invest more money in the home. Every small home indoor Wi-Fi router supports the parental control feature. By reading this you can understand and learn how you can parental control configuration on your home Wi-Fi router with simple steps. After Binatone wr1505 n3 Parental control configuration you can configure any brand Wi-Fi router.
Parental Control Configuration on a Wi-Fi Router
Parental control setting only works in router mode. It means your Wi-Fi router should configure in router mode and your internet cable coming from ISP should connect to the WAN port.
Router Must be Configuration in standard Router mode- See: how to configure in router mode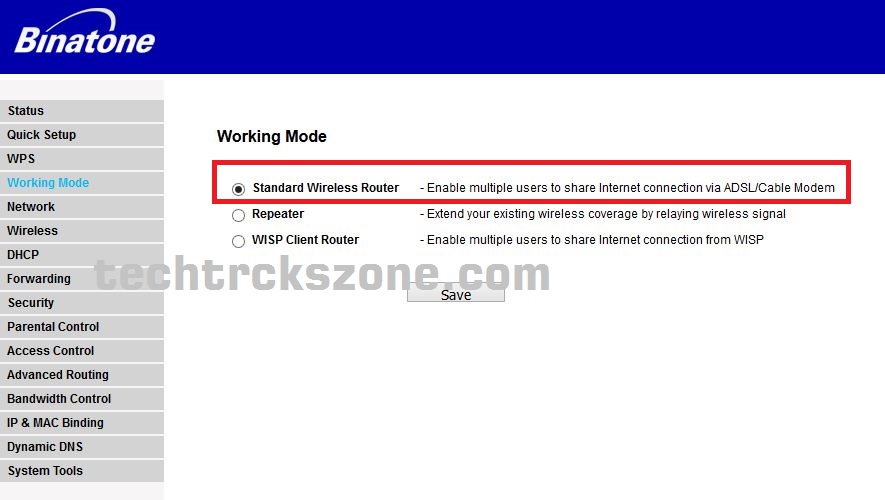 This Tutorial Support Given Brand and Model No Configuration
This tutorial will support given models number with different brands. If you are having one of any brand Wi-Fi router given below in list then you can configure parental control in your router with help of this tutorials. If you own any other brand Wi-Fi router you can comments brand name with the full model number to get a tutorial for the same router you wish to configure for your home.
Binatone  : WR1505N3, WR1500N, WR3005,WR3000N,WR1500N3
TP-Link: TL-WR701, TL-WR841ND, TL-WR1043ND, TL-WR743ND v1, WR743NDv2,….all TP-Link  WiFi Models
I-Ball: iBall 300M WRB300N MIMO Wireless-N Router, iBall iB-WRB150N 150M Wireless N Broadband Router, iBall Speed 300 Mbps Router – iB-WRB300N
Binatone wr1505 N3 Parental control configuration.
To configuration, you required default settings of the router. you can find details of all brand default setting here.
Binatone Wi-Fi Router Default Settings
Default IP: 192.168.0.1
Default username: admin
Default password: admin
Router Connection: Router Lan port Should Be Connected Laptop and WAN port should be connected to the internet cable coming from your internet service providers.
Refer to connection Diagram: Router Connection  
Open 192.168.0.1 Internet Browser and login with given default settings or if you have changed router settings you can log in with your settings.
Go to Parental Settings from the Left side menu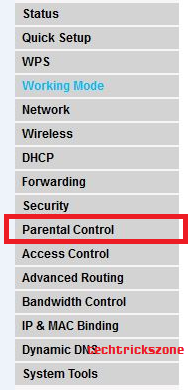 Enable parental settings: Parental Control Settings


---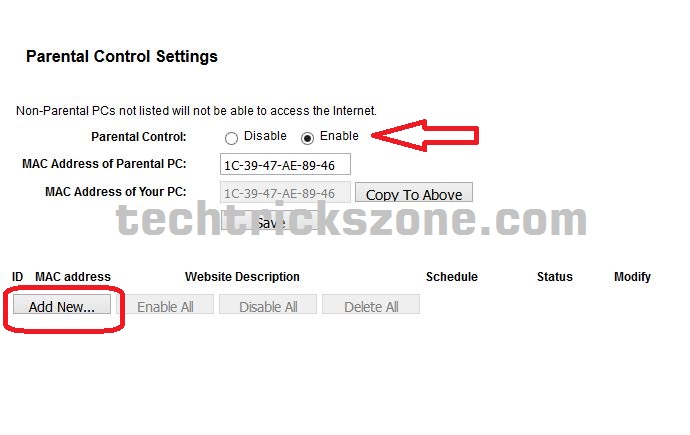 MAC Address of Parental PC: put your PC/Laptop or Mobile Device Mac address to access bypass parental control settings.
Parental Control – for parental control we have to create Rules for website Allowed and disallow Schedule to limit the internet Access As per Schedule Rule.
Click Add New…  And fill up the website name and MAC address of your child's PC/Laptop/Mobile.
Website Block Configuration in Binatone WR1505N3
How to find Mobile, Laptop, and Computer MAC address
To blocking any website you must be required use the PC correct MAC address to add it in the restriction list as per policy. If you are a non-technical person then the first question comes to mind how to find my mobile and Laptop MAC address. Don't worry about MAC detail in mobile and laptop just see the below steps to check your MAC ID.
MAC ID check in Mobile – Every android and smartphone must have a MAC ID if its Wi-Fi enabled. MAC Id is a physical address of Ethernet and WLAN card. MAC id full form is Media Access Control.
To check mobile WLAN Mac go to settings and about the phone.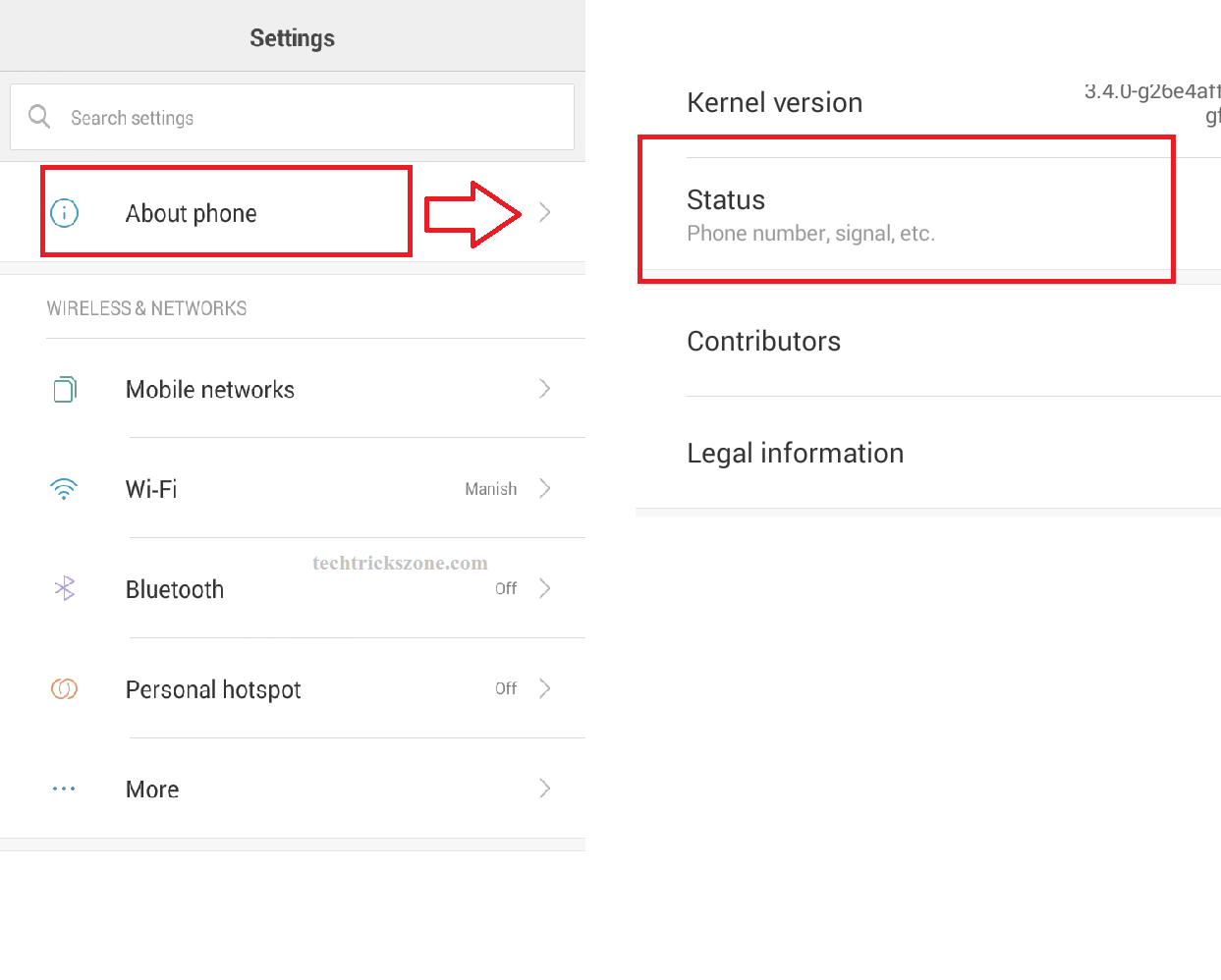 In about phone to status option and find the option Wi-Fi MAC address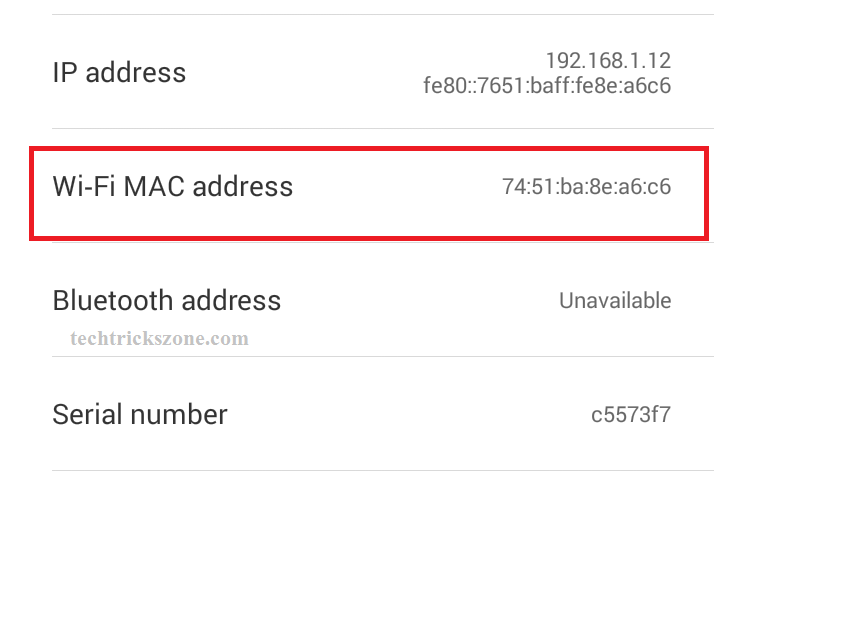 How to Find PC/Laptop MAC Details.
Finding Laptop or Computer MAC id details is simple with using the command prompt.
Go to Run and open CMD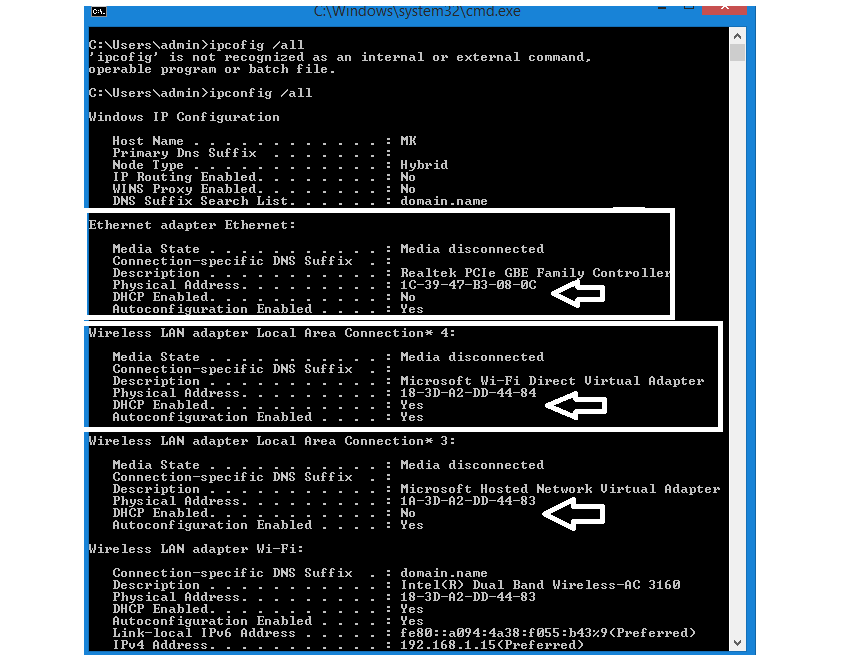 Website Block Configuration in Binatone WR1505N3
After collect all MAC address details start adding in the access list to the restricted website for your child in the restrict time schedule.
MAC Address of Children's PC – if you have MAC details type in this box
ALL MAC Address in current LAN– you can pick all mac address details from this option
Website Description- Type website category to identify blocked website type.
Allowed Website Name – type website name only you want to allow work to blocked mac address. Exp – educational site, school site..etc
Effective Time – set the time you want to apply this policy.
Staus – Enable for apply policy and Disable to not apply this policy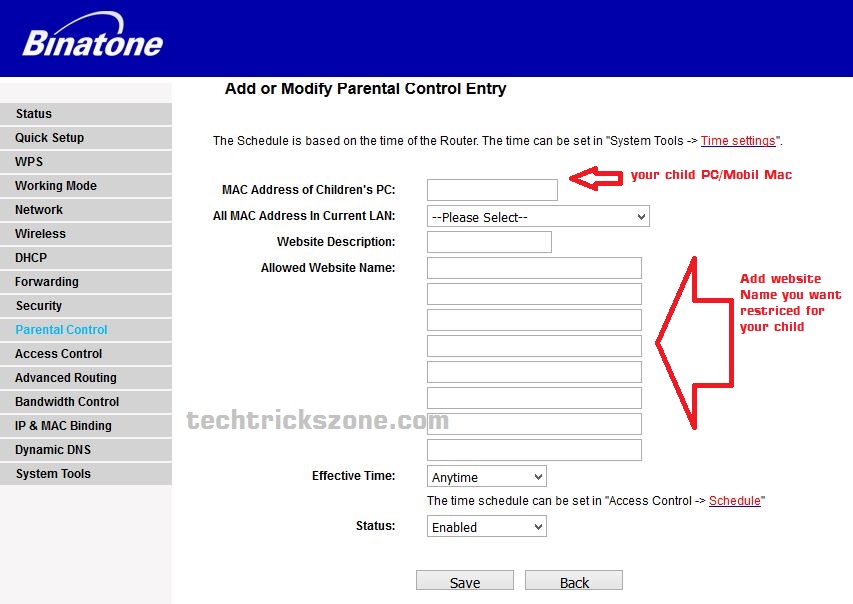 Website Block Access Schedule Rule Configuration.
In these steps, you have to add the website you want to only access in a scheduled time according to your settings. You will get the option to choose the weekday and alternate day with the time setting. You can open the website on holidays and time you feel your children finish the homework and other school activity.
Click Schedule and fill the option as you want to create the rule for your child's internet access.
Schedule Description: give the name you want to.
Day: choose Website Access Days
Time: Set Time to Access Website  24Hour
Start time: custom  Time to start website access
Stop Time: custom  Time to Stop website access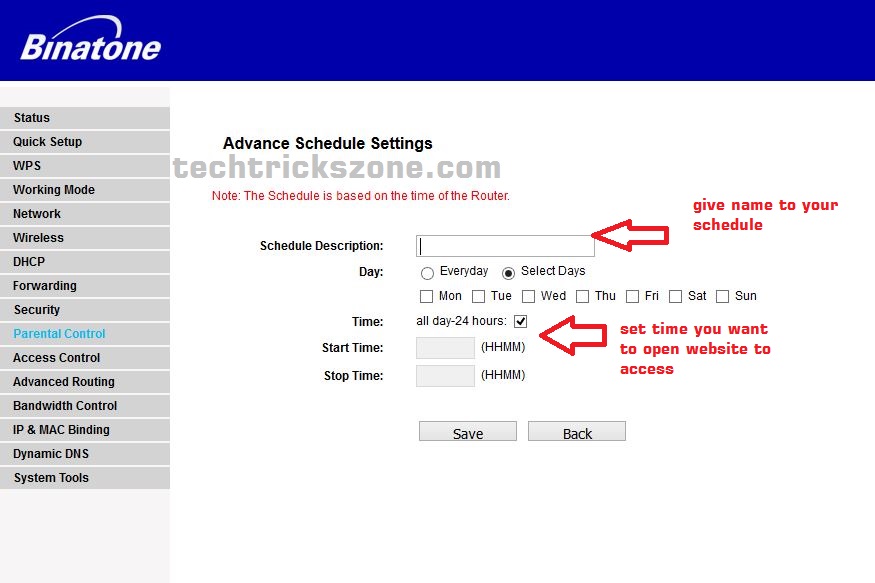 Click Save!
Enjoy now without any worry about your children's internet access.
If you want to see the live video tutorial for same parental control on your home Wi-Fi router then click below link to open video tutorial for parental control.
Video| binatone wr1505 n3 Parental control configuration
Binatone WR1505N3 WiFi Router Firmware 
Related Post