Set Download and Upload Speed in Tenda DualBand WIFI router
A router is a device that connects different devices, like your home's computers, printers, and TVs, to the internet. A router is a necessity in any home because it allows you to connect all of your devices to the internet and share files and information. But what if you want to limit the bandwidth usage on your router? You can do this by setting a bandwidth cap on your router. You may use a Tenda router, TP-link router, Arris Wifi modem, or any other brand and if you wish to control download and upload speed as per user usage then this article helps you to set the download and upload speed in the Tenda Dual-band router. follow the complete guide to setup Tenda AC10 AC1200 Bandwidth Control to limit download upload speed.
Many people often ask what can they do to limit the bandwidth in the router. There are two options that are commonly used to limit bandwidth on the router. The first is to use the QoS to limit upstream and downstream bandwidth. The second is to use the bandwidth limiting option in the parental controls. In the legacy router model, you get the QoS option to set download and upload speed for each user based on Mac address or using IP address. With now latest Tenda Ac10 dual-band router or any other dual-band router you get the bandwidth
control option where you can set a fixed limit for download and upload.
You need to access Tenda AC10 router settings either using wired or wireless to enable bandwidth control settings for each user connected to the internet. Default login IP Address username and password details printed to router sticker or if you created a new password use same to login Tenda router from a web browser.
Enable Bandwidth Control settings in Tenda Router
Tenda AC10 AC1200 Bandwidth Control settings let you set download upload speed for each user which helps to manage a smaller internet plan with multiple users. You set the download and upload speed for each mobile, desktop, or smart TV to manage internet speed as per the usage of users. Follow the steps to set a speed limit for every user.
Connect Tenda router using Wireless or wired from the computer, laptop or mobile.
Open a web browser and access Tenda wifi router default login IP 192.168.0.1 or see the printed on the sticker.
Use the login password as the created first time for your router. If you login to the router the first time need to create a login and wifi password for Tenda AC10 or Tenda Ac1200 dual-band router.
After login into router settings, you will get access to the Tenda router admin control panel where you can find all settings.
Follow the steps below to set the download speed for mobile or wifi users
How to Set Internet Speed Limit per IP in Mikrotik from Winbox
Set Download and Upload speed for WiFI and Wired User
You can assign specific Download and upload speeds for each user connected to the Tenda AC10 AC1200 Bandwidth Control. Limit download and upload speed help you to manage a small internet plan with multiple users based on priority.
Go to Advanced Settings- Bandwidth Control
You will get all the connected and Active users to the Tenda router using a wired or wireless network.
Bandwidth Control   Upload limit and Download limit.
Select the user you want to set Download and UP load speed as given image.
iPhone   Upload Limit- 20mbps  download limit– 30Mbps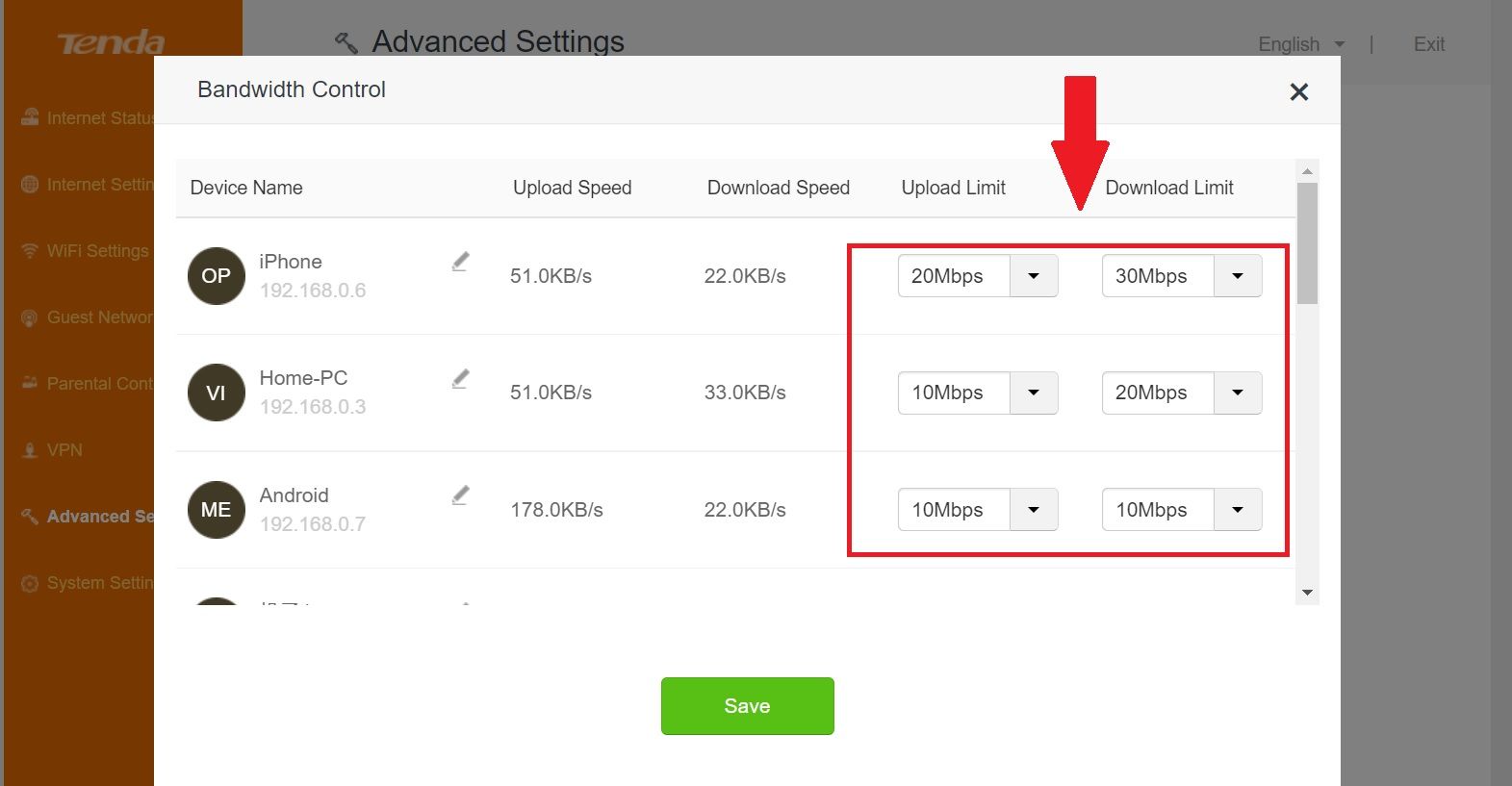 You can set download and upload speed for each user as per user importance and usage-based. Just like you can increase download speed for smart tv and user need high speed to download files but the user only needs to browse the internet can be set with less download speed.
Bandwidth control or QoS (quality of service) are both re same and the purpose of both settings is to manage the internet plan for the different users so you can utilize the internet plan in a smart way and you don't face download and upload issues.
If you using an old Tenda N301 or N300 Wifi router you may get bandwidth control settings under QoS or Parental control. You can set internet speed for each user based on the Mac address or static IP address.
Related Post