How to Turn Your Windows Laptop into a Wi-Fi Hotspot
How to turn your Laptop/PC into a Wi-Fi Router.
Wi-Fi most important for everyone today because it's give you freedom from sitting one place to use your internet connection. Initial stage of internet connection  comes with wired connection and use only with LAN port of PC and Laptop, but after discovering of Wi-Fi or Wireless network technology its more easy to internet in every corner of home without bonding in a particular place. Wi-Fi become well known and most popular technology after discover of smart phone and android because in today Wi-Fi and internet user growing day by day in multiple growing speed.
Smart phone gives you inbuilt feature to turn your mobile phone as a Wi-Fi hotspot router and its also called a portable hotspot Wi-Fi router with power backup because you can carry your mobile phone everywhere and there is no power required to use it for hotspot router. In this post we are talking about "how to use any Laptop or Computer as a Wi-Fi router" so some simple steps can be  Turn your Laptop into WiFi Hotspot router and share your wired internet connection for mobile and tablet within minute.
How to Enable Wi-Fi Hotspot in Laptop
If you are using a Laptop than every Laptop comes with a Wi-Fi interface but if you using Computer and want to use your computer as a Wi-Fi router to share your wired internet connection for mobile so you require a Wi-Fi card or USB dongle for use your PC as a Hotspot Router.
Configuration process will be same for PC and Laptop just follow the given steps to turn your Laptop into a hotspot Wi-Fi router.
For Turn Laptop into Wi-Fi Router you should have given working hardware in your Computer and Laptop
1. In Laptop Working WLAN Adapter
2. For Desktop PC you can use USB WLAN dongle or PCI WLAN Card.
If you have ready WLAN in Laptop and Computer now proceed to installation of virtual router software.
Download Virtual Hotspot Software Free Now
Open Download folder and run setup file.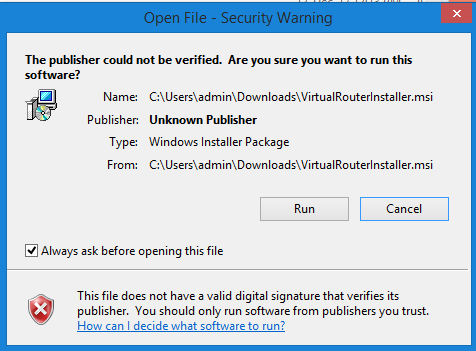 Click Next button to process installation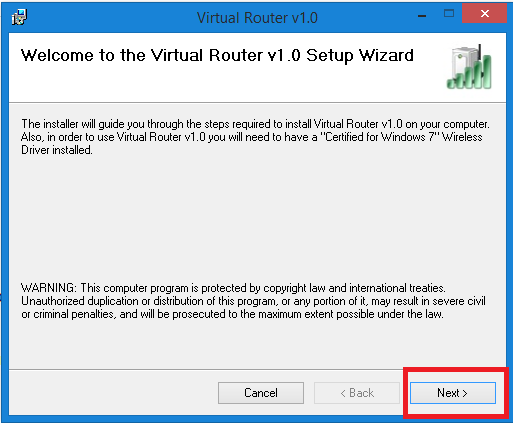 You can change installation location from folder option browse and choose folder you want to install.
Choose Everyone option if you want to use this software work on every user created in your Laptop or computer.
Choose Just me for only use on your current user
Click next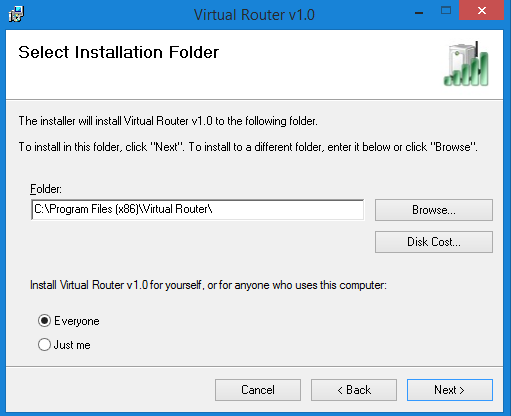 Wait for installation process  finish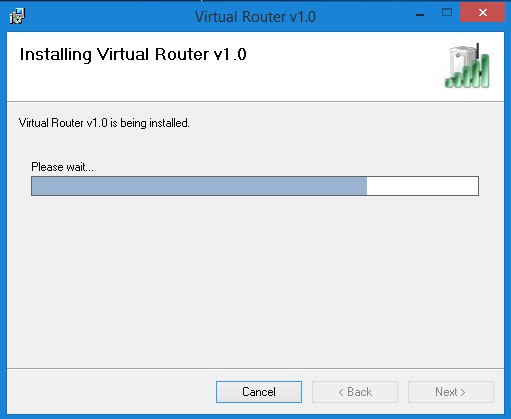 Click Close button to Finish the  installation process.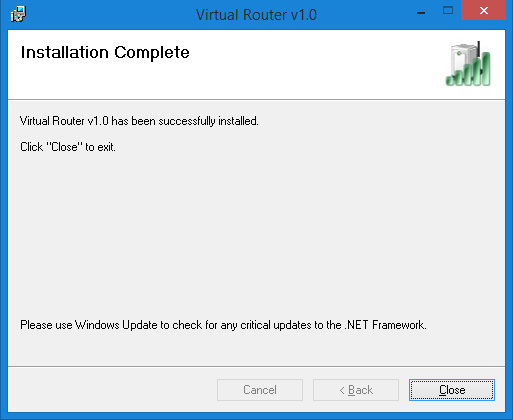 Now go to start menu and option Virtual Router Software and configuration for Virtual router to make it secure and faster access.
Network Name (SSID) = Set your Wi-Fi Name here
This Name will show in Wi-Fi network to connect your virtual hotshot router from mobile and any Wi-Fi supported device.
Password = Set your Wi-Fi password here
Use strong password for secure your Hotspot. Use Alfa numeric with special character to make it stronger.
Shared Connection = Select your WLAN Ethernet
Choose the WLAN adapter in Laptop to make it shareable with Virtual router which will share your wired internet connection from your Laptop or computer with Mobile and Tablet device
---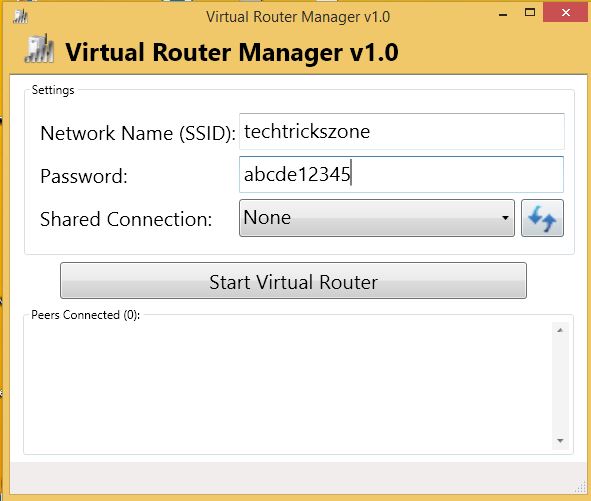 Once you have done all the configuration you can start your Virtual router now.
Click Start Virtual Router

Peers Connected – in this option you can see the total number of Mobile, tablet or any Wi-Fi enabled device connected with your Virtual router.
Status will Change to "Stop Virtual Router if virtual router configured properly
---
How To Connect Virtual Wi-Fi Router ?
1.Open Mobile or Laptop WiFi connection
2.Scan Wi-Fi.
3. you will get your virtual wifi Router ssid(name).
Connect and put password when popup for authentication
How to Enable Portable Hotspot in Smart Phone
As we already discusses about Virtual hotspot configuration in Laptop and PC in above steps. So now we will see how can enable a portable hotspot in any android or smart phone device.
Go to Mobile Settings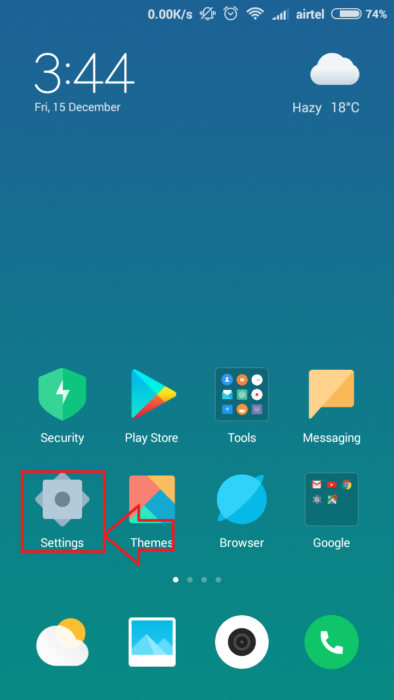 Click on Portable hotspot or some android phone its inside More option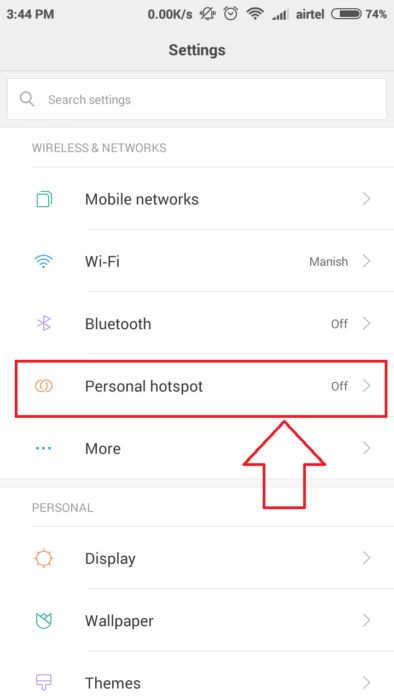 Move button to enable Hotspot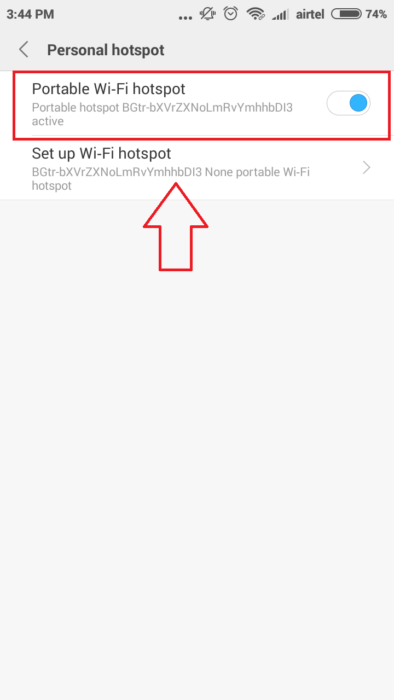 Configure your hotspot Wi-Fi password and Wi-Fi Name
Network SSID: Type your Wi-Fi name in this box
Password: choose WPA2PSK and type password for your Wi-Fi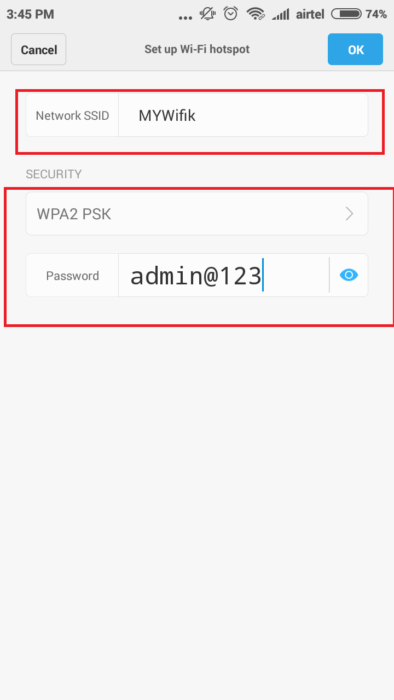 After Configuration portable hotspot only require enable disable for next time when you want to use your mobile hotspot.