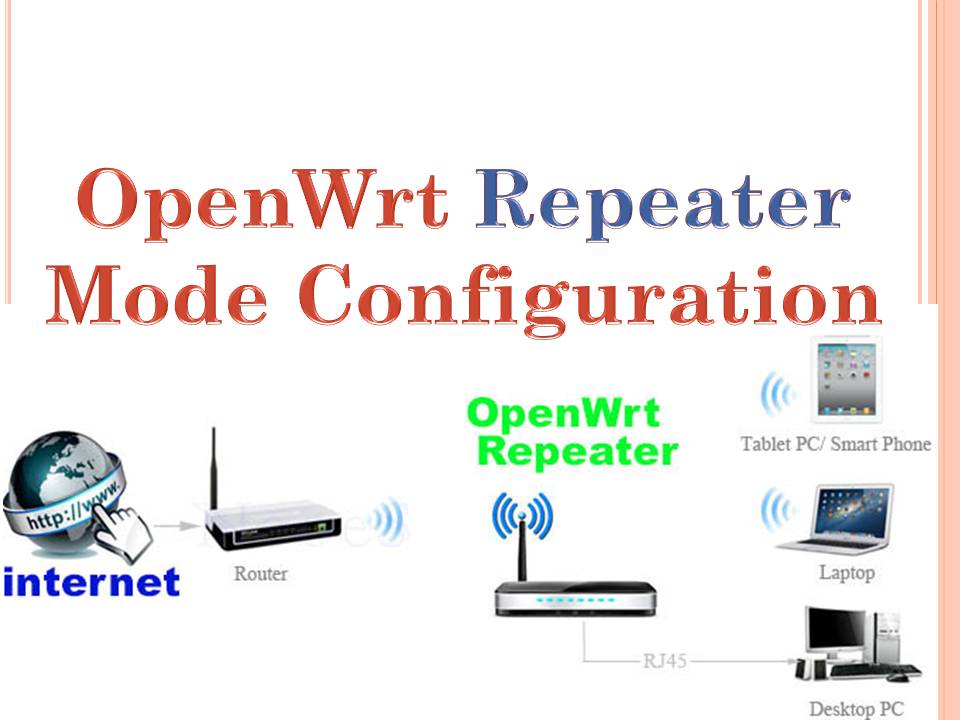 OpenWrt Repeater Mode Configuration !
First Question is why OpenWrt Repeater Mode Configuration required and why use repeater mode ? simple answer is repeat Your existing WiFi signal to dark area to get strong signal in every corner.There is Many way to configure OpenWrt Powered device in Repeater mode . Other word its  call Client+AP mode, means it will work client and AP mode in same time client will receive data from AP and AP mode will broadcast wifi signal to boost signal strength on dark area.
OpenWrt open source firmware will boost your existing network strength to 100% where you are not getting proper wireless connectivity. Every internet provider gives you a desktop router which can cover only your 1-2 room area but if you have 2BHK ,3 BHK or more than 200gaj house  than this router cannot  give you signal coverage in every corner. Openwrt powered router will give you mode for repeating your exiting router Wi-Fi signal you just required configuration repeater router to you internet router.
PC LAN IP configuration
To access Openwrt router you have to configure your PC /Laptop IP address in same series.
Note: if your main internet router IP address is 192.168.1.1 than please before connecting repeater device change the default IP address from 192.168.1.1 to any other ip address otherwise network can conflict after repeater connection.
For PC IP configuration goes to Network connection and right click on Lan Ethernet and click on TCP/IP 4 properties.
Click  here  for Step to step IP Configuration for Windows 7,8,10
Change the IP address from Obtain IP address to use static IP address option and use 192.168.1.10 r any free IP address from same series.
Default IP- Address is 192.168.1.1
Put Same Series IP-Address in PC/Laptop (Ex :192.168.1.x)
Open Internet Browser and type 192.168.1.1 in address Bar .
Default Username : root
Password : blank(no password)

Recommended Set Password on first Login
When you login first time to any Openwrt router you will get a color notification  " No password set!"
This notification because there is no default password in Openwrt router so strongly recommended set password with click "Go to password configuration"
You will get two box for set Login password and confirm Login password put the password for both box and when you will re-login you need to use same password for login your repeater device.
---
Repeater Mode (Client+AP) Configuration
---
Go to Network –> WiFi

Click Scan Button

Find Your Network Name (SSID) and Click Join Network
Note:- if you are using UBNT device as access point please make sure Airmax setting should disabled to connect openwrt device.
For Mikrotik Access point disabled  NStream option to connect Openwrt repeater device.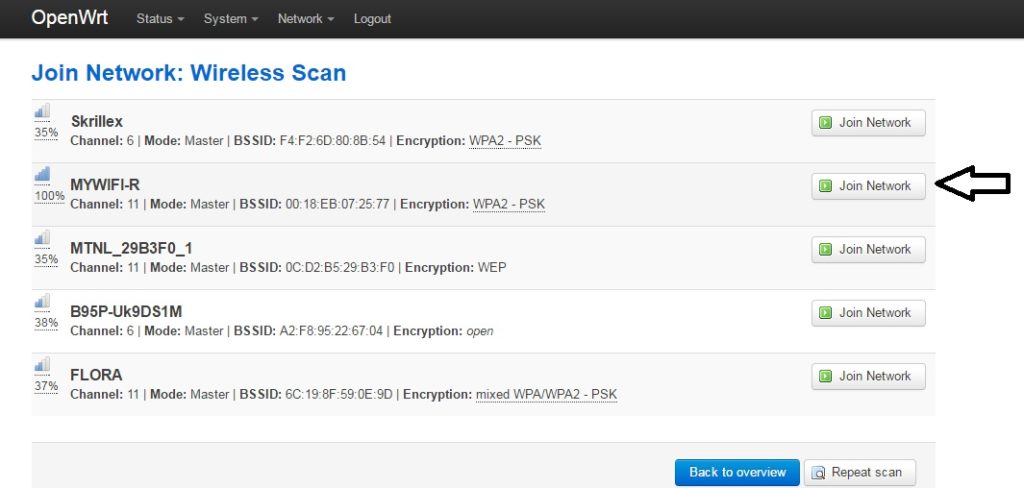 If  your AP configured without password than you will not get any WPA Passphrase box. So highly recommended set Wireless stronger password to avoid spy or miss use of your Wi-Fi network.
Use Any Name For New Network Name (Ex: in picture I am using wwan) and Click Submit
WAN (Red Colour) should be selected on round circle.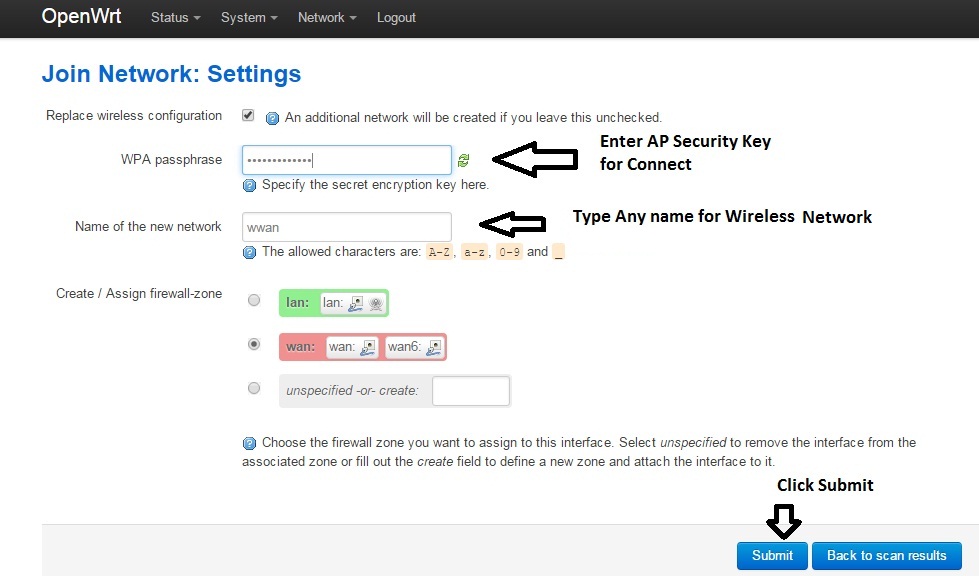 Click Submit button to proceed next option for Wireless configuration
For Repeater device do not change Channel because its auto selected from Access Point.
Wan should checked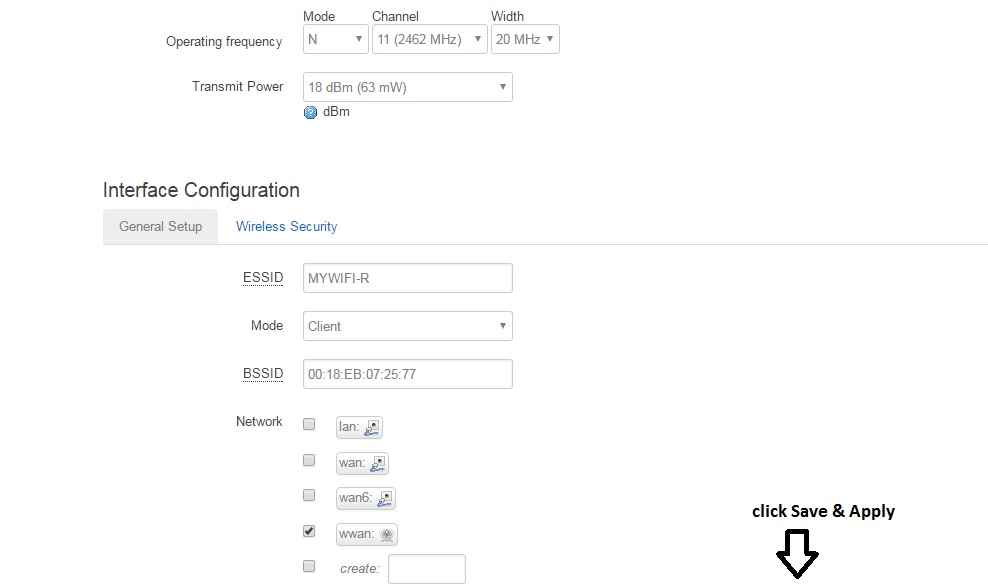 Click Save & Apply For Settings Changes .

Add OpenWrt Repeater Network Now
In above steps Router configured as a client device but for extending Wi-Fi signal you have to add a Virtual AP in same OpenWrt device. You can also say repeater wireless configuration or virtual access point configuration for boosting Wi-Fi signal
Go to Network –> Wi-Fi
Click Add

Repeater SSID and mode settings
Channel setting will be locked in repeater option because its already connected to AP device.
Essid – Type Repeater Ssid whatever you want to
Mode: Repeater Mode will be Access Point
Check LAN and Wwan (Whatever you create new networks name) for bridging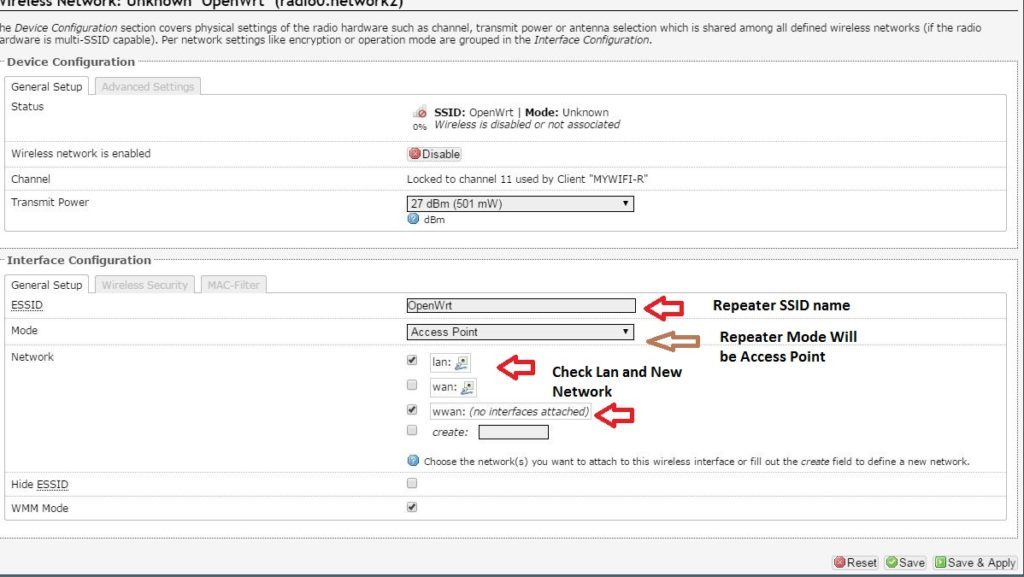 After Made all Setting click Save & Apply button

PC Connection with Repeater LAN-  if you have a Desktop or you want to connect with wired connection than use Repeater device LAN port with  LAN cable to connect your PC.
Wireless Repeater USE –
You can convert your LAN wired IP camera to wireless with using repeater device with camera. You can turn any TCP IP support device into a wireless connection without laying LAN cable from your modem or internet router like  Network Printer, Network storage, thin client and many more devices.
Note: – For getting better coverage and internet connectivity use proper location to mount repeater device where it can get at-least 40% signal of Access point and can give you 100% speed after boosting your weak signal strength.
Check Your Laptop/Mobile Wi-Fi signal for Repeater Status.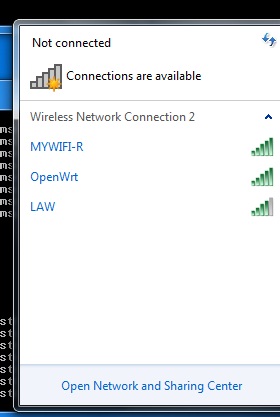 See Video Tutorial