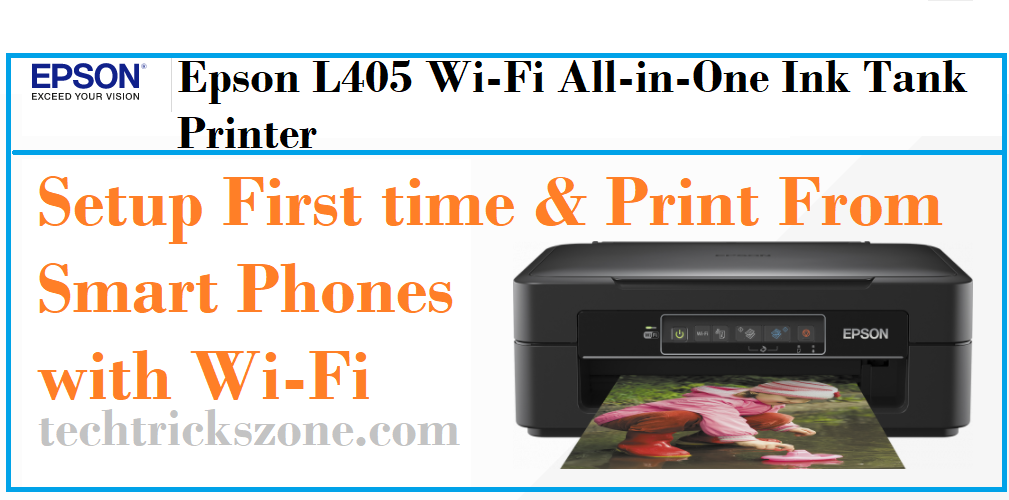 (Last Updated On: May 1, 2018)
How to Print From Android and I Phone to Epson L405 Wi-Fi Printer.
Everyone know technology growing fast and we are living life with finger tips only. When we can do all the thing just with one finger and a smart phone than why print only from wired and old technology. Yes Epson L405 Wi-Fi printer with ink tank give you freedom of printing from every corner of home and feel free from changing regular cartridge after few prints. After buying Wi-Fi printer first question is how to setup and print from Epson L405 Wi-Fi printer. The answer is here for Epson L405 print from smart phone quick user manual.
Before start guide about how to print from mobile phone with Epson Wi-Fi print I would like to discuss basic advantage and use of Wi-Fi printer with ink tank technology. The first difference is you never worry about dry your regular cartridge if you don't use 2-3 months. Ink tank technology gives you freedom of taking print in limit because cartridge end quickly.  As the Epson L405 is a Wi-Fi printer with ink tank doesn't mean it's don't have USB connection to connect with desktop. With USB connection Wi-Fi advance connection type so you cannot bond on a single place to use printer.
Epson L405 Wi-Fi All-in-One Ink Tank Printer Setup First time
First time Epson L405 unboxing carefully so avoid any damage due to wrong unboxing. After taking out from the box follow the steps given to properly setup Epson l405 all in one printer.
1: Remove all the tap using for packing purpose before installation of Epson L405.
2: Fill the ink in ink tank. Match the ink color with tank bottle color. After filling ink do not forget to close bottle cap.
3: connect printer to USB cable and power cable comes with Epson L405 box accessories.
4: use CD for software and drive installation of Epson printer to printing from computer and laptop.
Epson L405 Wi-Fi Printer Ink installation first time
When you start software installation you will get step to step instruction. First time you have to do also ink movement calibration with a steps.
Press 10 Second red button on control panel of Epson L405 Wi-Fi printer.
This steps take up to 20 minute to finish process red light will off once process finish and you can start software installation. Before finish this process you may get printer busy error on Epson L405 Wi-Fi printer.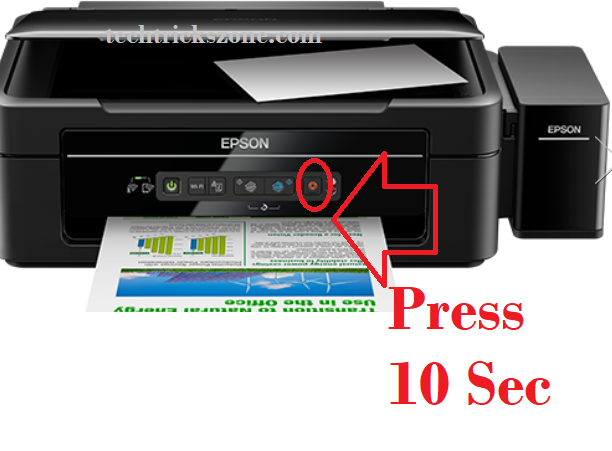 Epson L405 Wi-Fi Printer USB connection setup
Epson L405 printer give you two type connectivity option.
1: USB cable (wired) connection
2: Wireless Connection 
 1: USB Cable connection – Connect USB cable and power cable to printer. Install software and driver CD comes with box.  After completion of setup you will get successfully installed and Test print page
Epson L405 Wi-Fi Printer Wi-Fi connection from smart phone.
As the post title is Epson L405 Wi-Fi printer print from android and I Phones so we will describe step to step process for it. To print form Wi-Fi Epson L405 support direct connect wireless and Wi-Fi direct methods.
Connect Epson L405 All in one printer with Wi-Fi direct methods.
How to enable Wi-Fi direct in Epson L405 ink tank printer.
To enable Wi-Fi direct press the Wi-Fi button + LAN button together for 10 sec to broadcast SSID. See the image below to follow
After enable Wi-Fi direct you will get Wi-Fi name "Direct-0030430" like this. But before connecting Epson L405 printer download the I Print apps to printing from android and I Phones.

After installing iprint apps connect the "Direct-0303030" SSID and open iPrint apps to select printer.
Epson L405 ink tank Wi-Fi printer default Wi-Fi password for connect from mobile
To print default password of your Epson printer follow the steps.
Print the network status sheet with press LAN button up to 10 second. See how to print network status sheet on Epson ink tank Wi-Fi printer.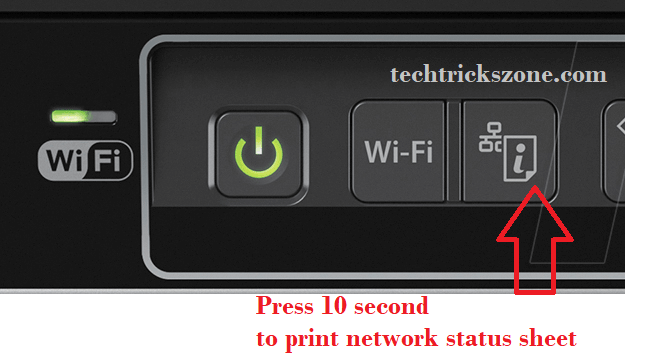 You will get a network status sheet with printer hardware and Wireless configuration details. See the sample network status sheet below to find your Wi-Fi direct password to connect from mobile.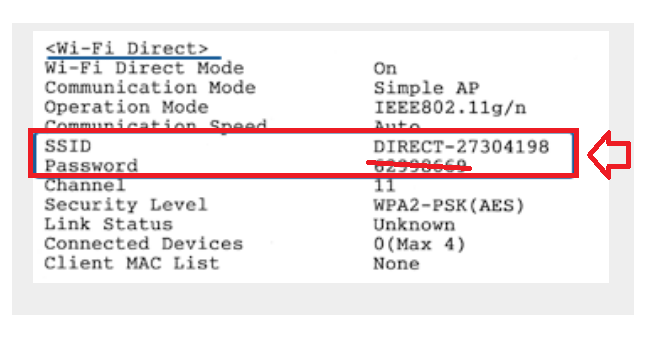 SSID- DIRECT-27304198
Password-23253354 (this is password for connect EPSON L405 from mobile) please this is a example sheet only print your printer network status sheet to get your Wi-Fi password to connect from android and I phones.
Once you got you Epson L405 or any other model number Wi-Fi password as follow above steps now connect mobile phone and open iprint apps to start print from mobile phones.
How to Select Wi-Fi printer in iPrint Apps in android and I Phone?
After successfully connected your Epson printer with your I phone and Android smart phone not open iPrint and see the option to choose printer.
See the settings gear (icon) click  and you will get printer slection settings.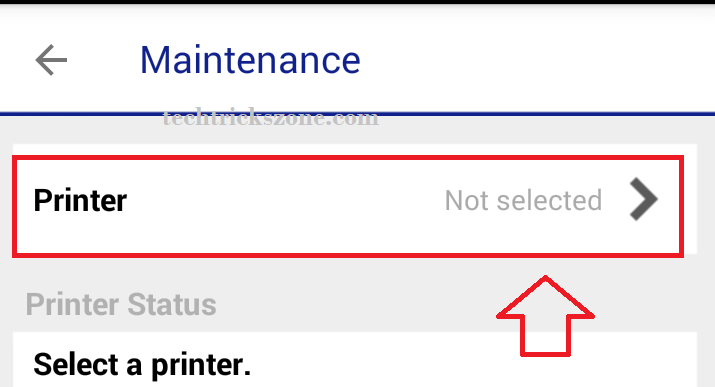 Click select button you will get your "Direct-3828302" printer name-
Choose and click done button to start printing.
Epson L405 Wi-Fi ink Tank printer Print from Android and I Phone device.
Now go to main page of apps and choose the document type you want to print.
Select the document or picture and click print button.
If you want to change size you will get size option to change.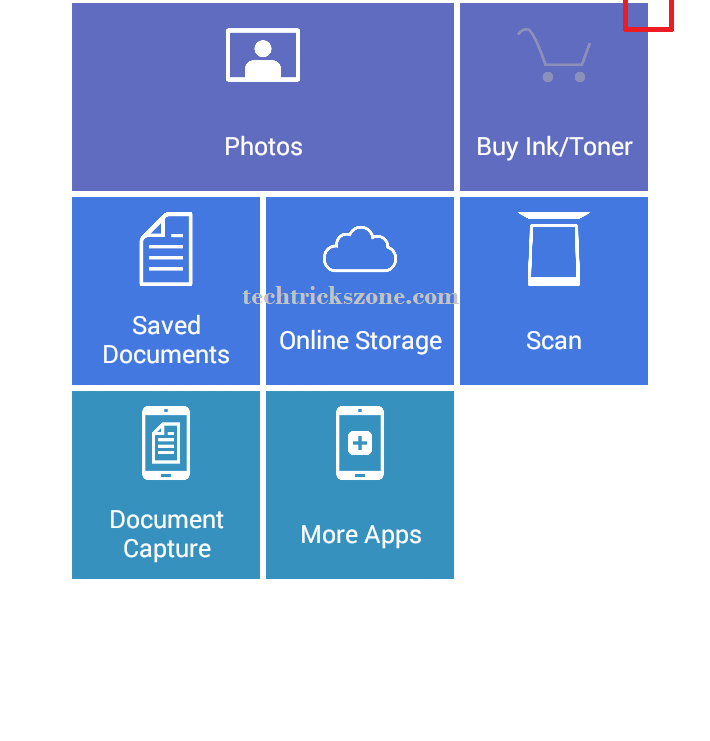 See Related Post