Any Full-featured YouTube Downloader? Solved here!
It is often the case that many video fans find it hard to download loved videos/music from YouTube. What a spoilsport to watch videos or listen to music merely online! Why cannot I download YouTube videos? Is there any way to enjoy YouTube videos or music offline whenever and wherever possible? This article introduces you to an expert download tool for YouTube to troubleshoot your problems.
Why Fail to Download YouTube Videos/music
There might be occasions when most people cannot download videos/music from YouTube. What are the true reasons behind this frustrating situation? Possible answers are as follows.
Paid videos are forbidden to be downloaded because of copyright issues.
Given URL cannot be recognized.
YouTube downloader has not been updated.
Normally, you can do nothing to change a) and b) except for c). It can be intolerable to find your paid software does not work because of an outdated version. No worries! You will never encounter such an embarrassing matter when you resort to YouTube Downloader, a powerful YouTube downloader that will give you a stunning video/audio experience.
Why DVDFab Downloader
As an inimitable YouTube downloader, DVDFab Downloader has irresistible features that contribute to boosting customer loyalty and reaching potential users.
Download videos/music from 1000+ sites including YouTube, Facebook, Vimeo, Twitter and Instagram.
Playlist and multi-task download with Turbo-speed option.
Download HD/4K/8K videos of original format and up to 320 kbps music in MP3 format.
Auto-update playlists and download metadata of video/music.
Built-in player to online playback during download.
Cloud sync playlists and favorites.
Background playback and download.
Maybe you cannot wait to figure out how to use this striking YouTube download software to gain your preferred videos/music from YouTube without the hitch. The following tips will probably help you out.
How to Download YouTube Video/Music
Step 1: launch up DVDFab Downloader and click the YouTube icon from the Explorer section
Step 2: Select the video/music to be downloaded.
Note that you can enter the video/song name in the search box or copy & paste the URL of your wanted video/music in the search bar. Press ENTER,
a window 'analyzing the video, please wait…' will pop up.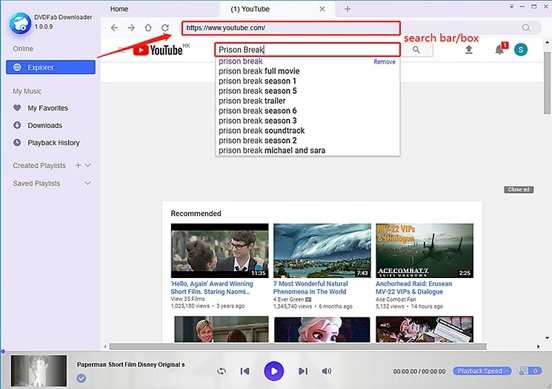 Step 3: tab 'Download', option for 'Video' or 'Audio only'
When the downloader finishes video/music analysis, choose 'Settings' with an inverted triangle icon in the upper-right corner to identify output parameters such as 'Audio/Video Directory', 'Download Audio/Video', and 'What to do When Close Window'. Above all, you can press '+Add to' button to add the video/music to 'My Favorites' or use 'Play', the built-in player, to play the downloading video/music. Through the 'Download' icon, you can choose 'Audio only' or 'Video' to get the resulting file.
Here, this YouTube video downloader outputs video in accordance with the original file in both size and format, which applies to Windows/Mac OS and Android mobile.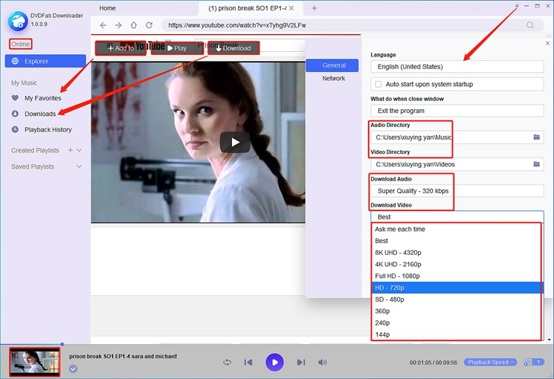 Here, DVDFab Downloader allows for multi-task download, up to five files at one go, with Turbo-speed option to accelerate the process with 10X faster than normal speed.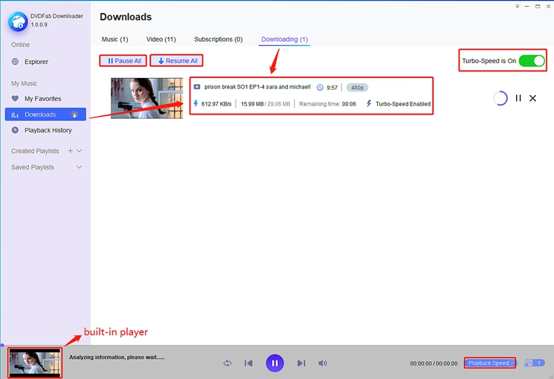 Nevertheless, if you need MP3 music only, YouTube to MP3 will come in handy, available for Windows/Mac OS and Android smartphones, which acts as a YouTube music downloader and YouTube to MP3 converter.
In conclusion, this YouTube video downloader kills three birds with one stone. Equipped with the features of YouTube video downloader, music downloader, and YouTube to MP3 Converter, DVDFab Downloader provides easy access to offline videos/music, instead of enduring online buffering for streaming. With the above guideline, you must have got the hang of this professional download software for YouTube, with a view to saving time and money considerably.
Related Post