Binatone Managed Switch Configuration with picture
Binatone SW-GE1008F VLAN Switch is 8 Port 10/100/1000Mbps Gigabit Ethernet Switch with 2 fiber SFP ports for fiber connectivity.  The SW-GE1008F switch having a dedicated console port for switch configuration. It supported Web interface as well as CLI management for switch configuration. Binatone SW-GE1008F comes with RPS (Reserve Power Supply) Power- 12V battery. Its best for a small network up to 20 Gbps backplane speed.
Binatone SW-GE1008F fully is L2 managed switch with supported important features like RSTP, STP, Generic storm controllers for flooded broadcast, flooded multicast which will save your network from unwanted packet hits.
Port Segmentation (VLAN) Configuration
 VLAN stands for Virtual Local Area Network. Its basically used for managing any small and large network to make it reliable and lag-free. Today VLAN is the most important feature used in any network. It also makes a secure network for two different clients connected in the same switch to make protect client data share to all client connections to the same switch.
Step: 1 Binatone SW-GE1008F VLAN Switch Configuration Steps
Login to Binatone SW-GE1008F switches with default IP address and default username password. Binatone SW-GE1008F switch Default IP address and username password mention in the backside of the switch. After login, you will get the status page on login.
See the left side menu and find Aggregation Option and click. You have to create a group here with the port number. Here we have chosen the port number for creating the group.
Go to Aggregation – Create Group -1 with port
Select port number and click Apply to create the group.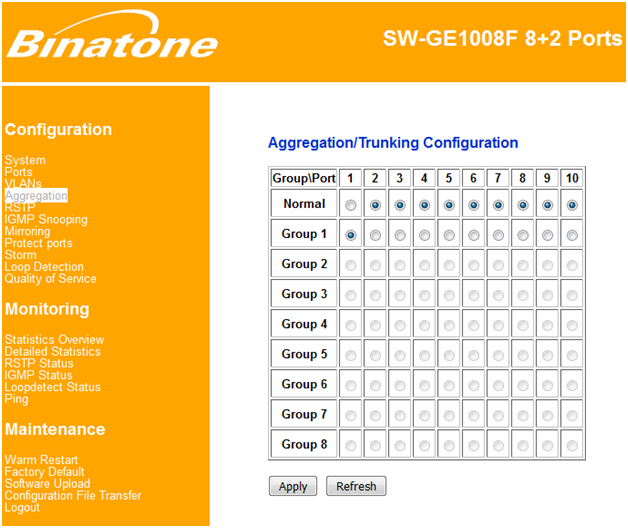 Step: 2
After Create group required to add VLAN ID see the VLAN option left side menu and click the option to enter VLAN settings. You can use VLAN ID digit as per your choice within supported VLAN range.
Go to VLAN create new VLAN with any id (Exp-200)
Port Segmentation (VLAN) Configuration
Add a VLAN  –  Enter the VLAN ID in this box and click the add button.
VLAN Configuration List: If VLAN successfully added you can see in VLAN configuration list given below. To modify and delete select the VLAN number and use button given below.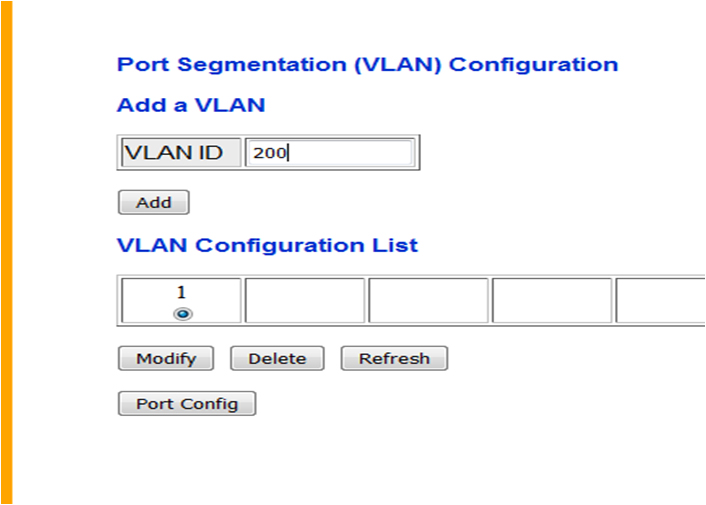 Step : 3
For Add same VLAN id select the port number you want to join the VLAN id with the same port.
EXP: if you want to add VLAN 200 port number 1 and port 2 select the post number from the list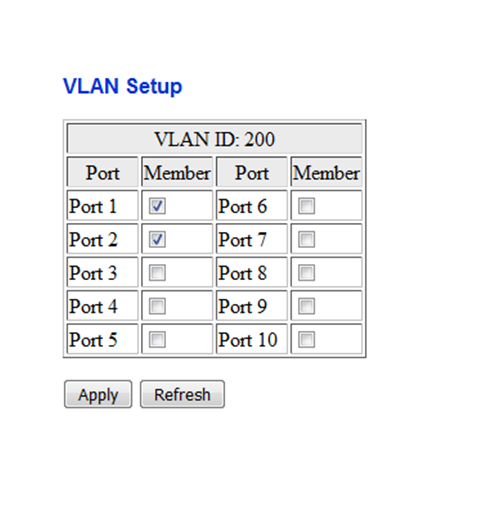 Port 1 and Port to selected with VLAN ID 200, it means both port numbers are in same VLAN id so port no. 1 can ping port number and port number 2 can ping port number 1.
Step: 4
VLAN per Port Configuration:  VLAN per port configuration you can do with port config button in VLAN option.

Step: 5
  PVID (Port VLAN ID)
In this step, you have to choose the PVID for each port. see the Port list and select PVID from last option choose from drop list you will see all VLAN ID added.
Packet Type: ALL and Tagged Only.
If you want to accept all type packet tagged and un-tagged than choose All but if you want to accept only Tagged Packet than you need to choose Tagged the only option from the list.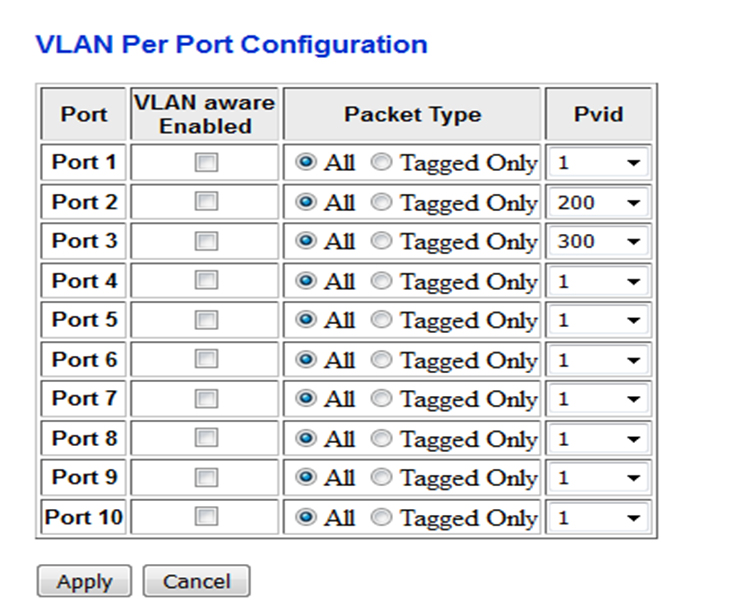 Step: 6
Test Configuration:
For testing, VLAN configuration connects PC/Laptop to port number 1 and connect any device or Pc to port number 2 and port number 3.
Test 1:  If are able to ping from port number 1 to port number 2 and port number.
Test 2:  now ping from port number 2 to port number 3. Port number 2 to port number 3 should not ping because both are in different VLAN.
IF this post helpful for you please share the post to your Facebook, Twitter and other social networks.
Related Pot:
Video | Binatone SW-GE1008F VLAN Switch Configurations