CCTV Camera only showing black and white Video Feed
CCTV a most demanded and safety gadget trending today. Security requires everyone for home, office, street, road, park in every place where we want to capture all the movement.  If you are doing first time CCTV camera installation or you made your DVR factory reset and now your CCTV Camera only showing black and white Video Feed. Don't worry, nothing wrong with DVR and CCTV dome camera only show black & white images.  Displaying Black and white video can be with DVR and NVR also. To solve CCTV DVR and NVR black and White video problem you have to understand first why CCTV camera show black and White video in the day also. Also, read way to connect CCTV camera with Fiber network.
Showing black and White video in the night is normal because camera support night vision and IR turn your image into black & white even when no light and completely dark area. But if you facing no color video or black and white video only in DVR and NVR in daylight than this is setting which can fix easily.
To Fix CCTV Camera only showing black and white Video Feed issue read the post step to step.
Fix Black and White video on CCTV dome camera from DVR
If your DVR only show black and white video and you have tried all the color setting but can't fix camera color issue. Before solving CCTV color problem just read why CCTV camera show black and white images only.
In CCTV security camera for home and office, all support different signal type.  And DVR also supports multiple video format with signal type for the home security system with various camera types.
CCTV camera supported signal type
AHD, TVI, CVBS and CVI.
These are the different type of camera video signal type support by security CCTV camera. So when CCTV camera and DVR signal type should be supported. If the camera selected with different signal type than you get black and white camera problem on video. See now how to change CCTV camera AHD, TVI, CVBS and CVI signal type from DVR and camera itself.
Here I am using CP Plus CP-VRA-1E0404 DVR and cosmic IR dome analog camera. So if you are facing black and white video problem with CP Plus CP-VRA-1E0404 DVR using dome and bullet outdoor camera than follow the steps.
 Read more:
Fix Black and white video issue from Camera
Now first I will show you how to solve security camera stuck in night mode problem from the camera. To solve Video displaying in black and white only check your camera having a reset button.
BNC connector for video
DC socket for Power
Reset button for mode switch and factory default camera.
Steps:  now see the video in DVR and press button for 3 seconds and check when your video show color than release button.
You can switch TVi, CVI, CVBS mode for the camera as supported by DVR will show video properly.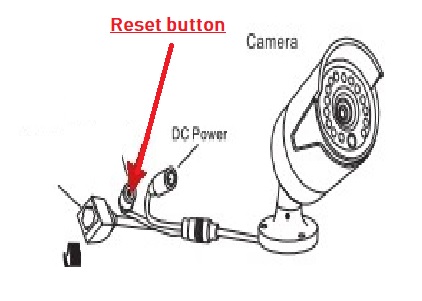 Fix Black and white video issue from DVR.
If there is no reset button in your CCTV camera then don't worry you can also change setting from DVR also.
Connect Display to DVR.
Right-click the mouse to open the settings menu
Click the Signal Type from List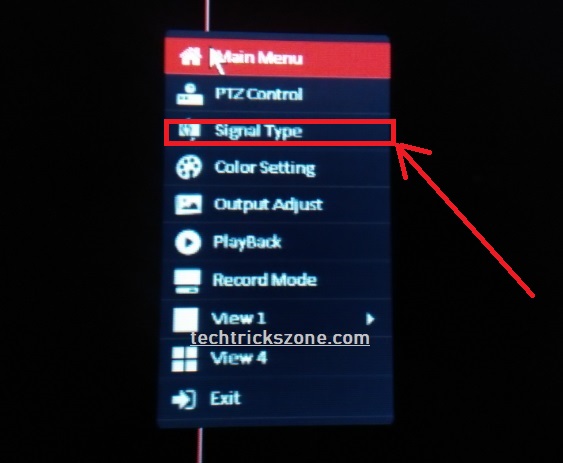 Choose AHD and click OK check your video if its color now than keep it.
TVi- try this option for your camera and check the color
CVBS – Try now this setting and check the color
CVI- for cosmic analog camera try this setting.
Auto- if you don't know about camera signal type just click auto and let camera DVR detect signal from the camera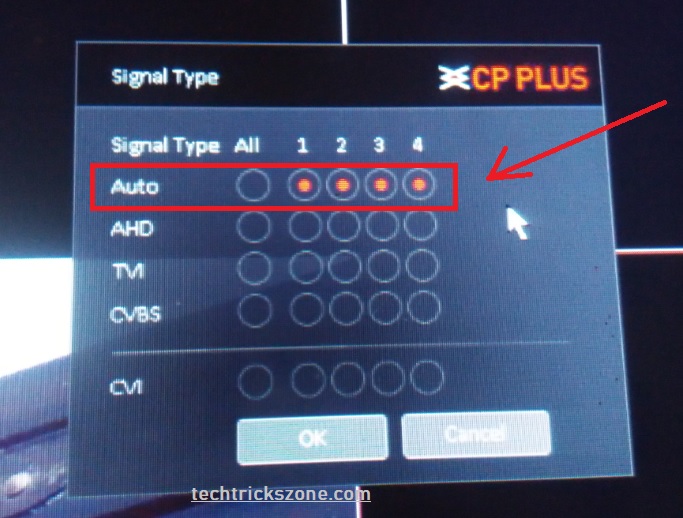 I have described all the signal type because I don't know which camera your using when facing color problem on DVR. so simple way to fix the black and white video issue try all the option and keep right one.
I hope your home security camera systems color problem fix with this post. You can comment if still, the problem persists to get more solution. You can share and like our page to encourage us to post more informative tutorials.
Related Post