EnGenius EAP2200 Tri-Band 11ac Indoor Wireless AP Configuration
EnGenius is a networking product Manufacture Company. Its produce wireless as well as wired networking product like a wireless access point, networking switch, and other network accessories. As the post included a complete configuration guide for EnGenius EAP2200 indoor Wireless access point, so I would like to give brief hardware and software specification for EAP2200.
EnGenius EAP2200 is a turbo engine series indoor access point with 2.4 GHz and 5 GHz dual wireless radio. Dual Wireless radio gives you the highest speed on both the network with seamless connectivity. As today 100Mbps speed is the normal plan for home users but wireless access points should also to capable of delivering same speed to the wireless user. With EnGenius EAP2200 AP gives you the true and complete internet speed to LAN as well as a wireless network.
EnGenius EAP2200 Tri-Band Indoor Wireless AP Specification
To understand the power of the EnGenius EAP2200 Wireless access point we should look into the hardware and software specifications of the device. EAP2200 is a home and commercial product range that can be used to provide stronger wireless connectivity with maximum internet speed.
Hardware Specification-
When we look into the hardware side of EnGenius EAP2200  we get maximum hardware option to use for the various function.
EAP2200 having 2 10/100/1000 LAN interface with LAN1 and LAN2 with 802.3af PoE input. Inbuilt 2*2.4 Omni antenna and 4*5GHz Omni direction antenna to provide you better signal coverage. Additional DC 12Volt socket gives you one more option to power on EAP2200 when you can connect directly to the power socket. 1 reset button to reset device in case of forgotten IP Address and login detail of EnGenius EAP2200 AP.
The classic and universal design gives you the freedom to mount in the wall as well as ceiling according to your choice.
Software Specification
Engenius EAP2200 supports Wireless AP, WDS Bridge, WISP and Client Router mode. Multiple mode operations can be utilized as per requirement. The device supports the main SSID as well as guest SSID to provide wireless connectivity with limitations to the guest. EAP2200 supports the latest wireless security type to ensure your network protection from hackers. Engenius EAP2200 turbo Series AP support VLAN and other routing feature when using in gateway mode.
EnGenius EAP2200 Tri Band Indoor Wireless AP Connection Diagram
To start any device configuration first step is always coming physical connection of the product to access from mobile and laptop.
EAP2200 LAN 1 supports 48 Volt PoE input so if you are using PoE for power connect PoE Adapter PoE out port to EnGenius LAN1 and PoE Adapter LAN to Laptop/computer LAN. see the network diagram for more detail and understand.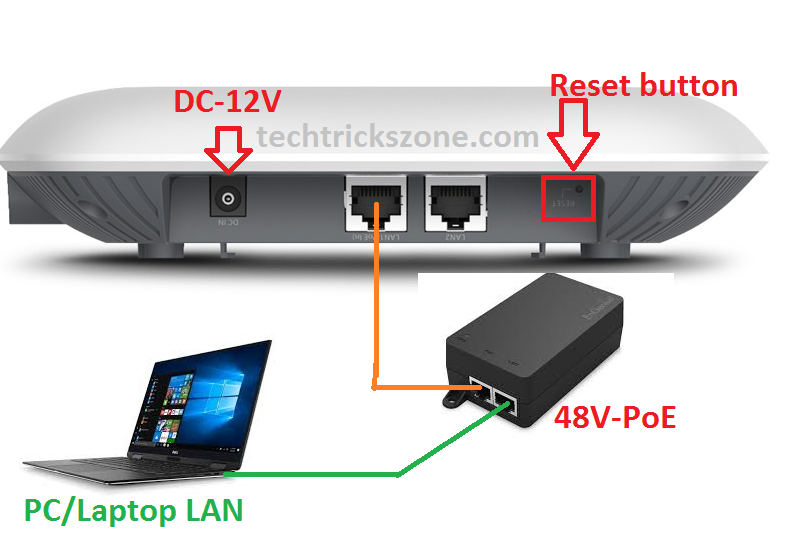 Once you have physically connected Engenius wireless AP to your PC/Laptop then the next steps required configure Laptop/PC LAN IP address to Engenius default IP series to access the Engenius device.
PC/Laptop  LAN Configuration
1. Go to Laptop or PC LAN settings.
Right-click on LAN properties
go to TCP/IPv4 properties
Choose Static IP address
EnGenius Default IP is 192.168.1.1 so use the 192.168.1.10 in your PC/Laptop Lan to access device's web interface.
See Laptop/PC LAN configuration Manual here
Engenius EAP2200 Indoor Wireless Access Point Default settings.
To access EnGenius device in Laptop or PC required default settings. You can the default settings details also from the box of products or Engenius quick user guide comes with the product.
EnGenius Default IP address is 192.168.l.1
Default username / password- admin/admin
Engenius EAP 2200 Wireless Access Point Login First time
To Login EnGenius EAP 2200 Access point open Browser such as internet explorer, Firefox Mozilla, Google chrome or any other.
acess http:// 192.168.l.l and hit enter.

Type admin/admin username and password to log in.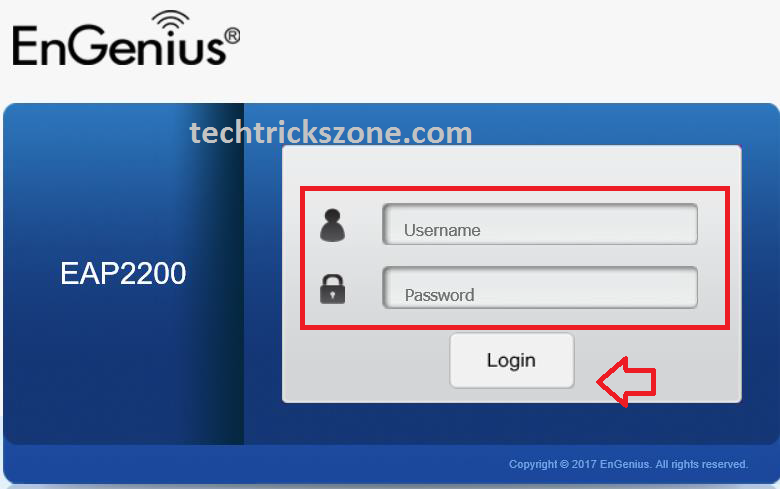 The device will open with an overview page after click the login button.
Overview page shows the device information such as wireless information, MAC details, system uptime, firmware version and country with time.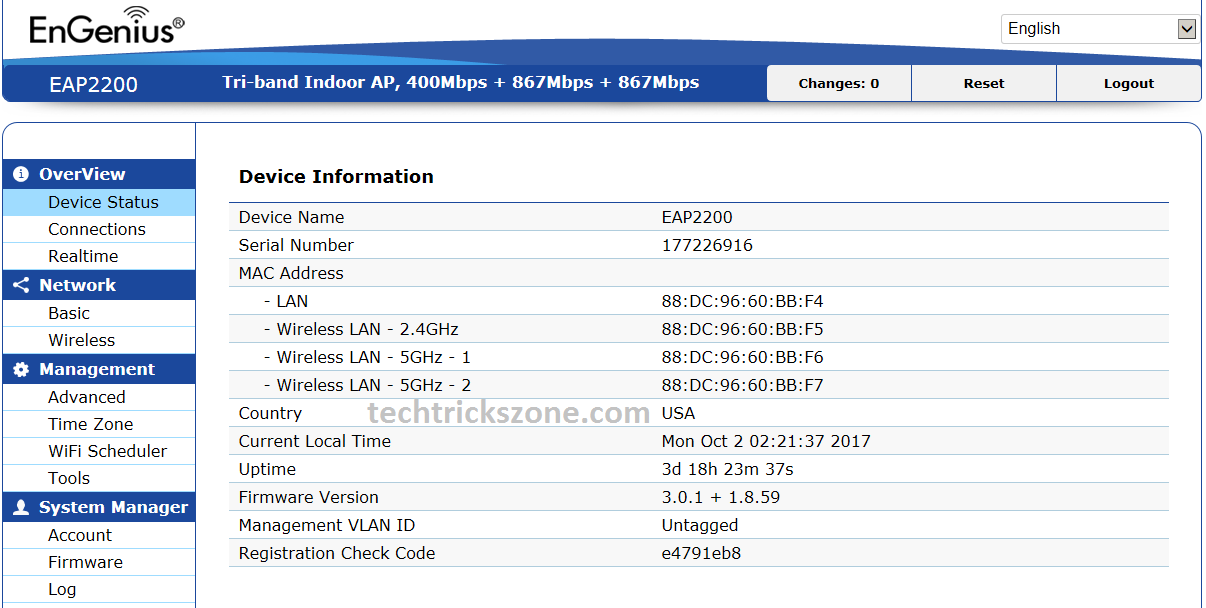 EnGenius EAP2200 Tri Band Wireless Mode settings.
To configuration of any brand access point, first steps is choosing the wireless mode we want to use for device. As the Engenius EAP2200 support multiple mode so in this steps we have to choose the Access Point mode to configure the device as an AP mode.
To choose Operation mode
Go to Network-Wireless
2.4 GHZ
Operation mode-  Access Point,
Wireless Mode – 802.11 B/G/N
Channel HT mode – default 20MHz ( can be changed to 40 and 80 as per bandwidth required on wireless)
Channel – Default Auto (please use the 1,6,11 channel number if you are using more than one AP at the same location to avoid channel override issue.
2: 5GHz-1 – use the Mode Access Point
3:  5GHz -2 – choose Mode Access Point also in both band to configure as Access Point mode.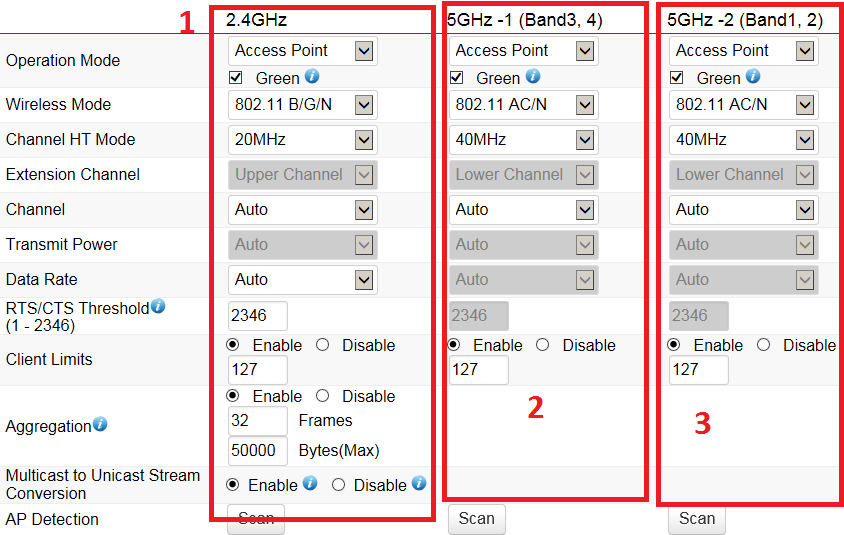 EnGenius EAP2200 Tri Band Wireless AP 2.4GHz Configuration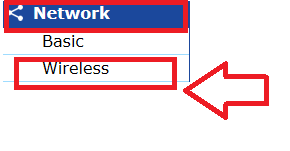 EnGenius eap2200 is a three-band wireless AP with 2.4GHz and 5GHZ radio. first, we will configure 2.4GHz band SSID and wireless security.
Wireless Settings-2.4GHz
Check the box to enable SSID and change the Wireless name in the SSID box.
Edit the button to change the Wireless name and password configuration for the wireless network.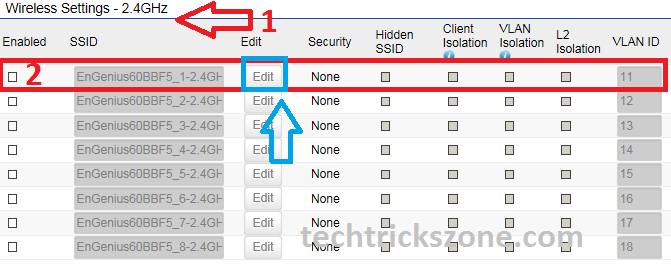 EnGenius EAP2200 Tri Band Wireless Security Configuration
After click the Edit button you will get the options to change the wireless name as well as security settings.
Security mode – WPA2-PSK Mixed (use the WPA2-PSK security mode recommended to stronger wireless security.
Passphrase – type your 2.4GHz wireless password in this box.

EnGenius EAP2200 Tri Band Wireless AP 5GHz Configuration
EAP2200 is a turbo series with a 2, 5GHz band wireless access point. Here you can see the 5GHz wireless configuration and can apply for both bands accordingly.
Wireless settings – 5GHz-1
 Check the box to enable SSID for the 5GHz band
Edit button to configure wireless security as shown above steps.

To configuration of 5GHz security please check the abov steps of 2.4GHz security.
EnGenius EAP2200 Tri-Band Wireless AP LAN settings
LAN settings are the most important steps when we are using multiple wireless devices in the same networks. We always recommend changing the default IP address to any other IP Address to avoid conflict and network slow down issues due to default settings for all devices.
To LAN settings go to Network – Basic.
1:- IP Network Settings – use Static IP
2:- IP Address– change the IP Address here
Subnet Mask– use the as per IP series
Gateway – use the internet gateway.

Click Save and Apply to effect settings.
How to change EnGenius EAP2200 Wireless AP Login password
Make the habit to change the default password always when buying a new Wi-Fi router or doing any hotspot project. Default settings easily can get from the company website so always change the login details first to keep protected your wireless network.
1 – To change admin password go to System Manager – Account
2: Administrator username – admin
Current Password– use the current password in this box
New password– type the new password for AP
Verify password– type new password again to confirm new password.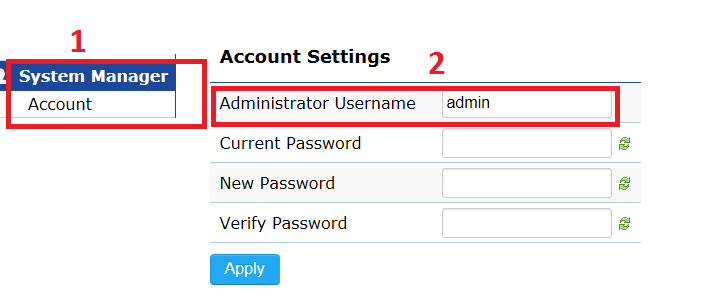 Download EnGenius Wireless Access Point Latest firmware and User Guide in PDF
Related Post