How To Factory Reset Samsung Tablet Soft/Hard
Probably you need to perform a Samsung tab factory reset if stuck and a black screen appearing and the touch stops responding. There are two ways to factory reset the Samsung tab one is soft reset and the second Is hard reset. A soft reset is a method to restart your tab without erasing data and a hard reset will erase all data and restore the tablet into factory mode. If you frequent face hanging issue with your Samsung galaxy tab A or any other model then you should perform a hard reset after taking your data backup to external storage.
Hard reset will restore tab to factory settings mode and fix all bugs that occur due to installing third-party apps and any other reasons. Follow the steps to factory reset the Samsung tablet when the screen not responding or stuck.
 Samsung Tab Soft Reset
A soft reset is a safe way to restart your tablet in case not responding or stuck and the touch not working. In the soft reset, the method tab will reboot without erasing any data and the hang issue will fix. Follow the steps to resetare the Samsung tab.
Method- Press and hold the power button + volume down button simultaneously for 15 seconds until the tablet screen goes black and restarting.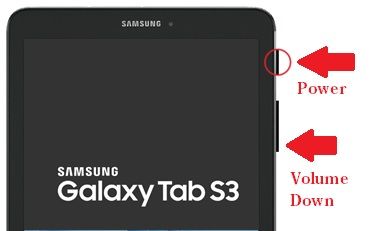 After reboot tab will open normally but if you getting's screen freez issue frequently you should take backup and try the hard reset method.
Hard reset Sumsung Galay tab
There is two methods of making ard reset from the phone startup menu as well as reset from phone settings. If your Samsung tab stuck and you not able to operate then the startup reset method will work for you.
Samsung Hard reset from Startup
Startup reset method to use in tablet power-off mode. So you can try reset your tab its not getting proper on or stuck during starting android. Follow the steps to reset the Samsung tab from startup.
In the tablet power-off state, press and hold the Power button + Volume UP button simultaneously.
Release button when recovery screen appears with multiple options.
Use the Volume button to Navigate options and select the Wipe data/ Factory reset option and press the power button to choose an option.
Select Data Factory reset
After reset chooses Reboot system now from the main menu.
Tab will reboot and take restore into factory mode and set up for the first time. The next method is to factory reset the tablet from settings before taking backup.
Hard Reset from Software
If you are facing a hang issue or the application working slow then you can make resetting Samsung Galaxy tablet from the software menu.
Go to the Settings option from your Galaxy Tab S7. Either from the notification bar or, open "Settings" from the menu.
Go to  "General management".
Choose the "Reset"option from the menu.
Now Tap "Factory data reset". Option.
Again now Tap "Reset ".
Press  "Delete all".
The reset option may be different for each Samsung model depends on the android version. Some reset options come under the back and reset option.
Tips:  Making Samsung tab factory restore will delete all data saved in internal storage so before process reset command remove the SD card and data back from internet storage such as pictures, video, and contact details using apps or using data cable.
Related Post