Login and Reset Netgear CM600 Cable Modem
Netgear CM600 cable modem used in many internet service providers such as Xfinity by Comcast, TWC, Centurylink's, and many others. Netgear CM 600 high speed third party coaxial cable modem supported by internet services across the world. If your internet providers installed Netgear cable modem in your internet connection and want to log in or facing any login issue then read the full article. It does not matter your internet provider is Cox, Spectrum or Time Warner, while NETGEAR Cable Modem CM600 Compatible with all leading service providers and you can use login manual for any internet connections.
This post will give you a simple user manual to login and reset Netgear nighthawk cm-600 Docsis 3.0 modem to change configuration such as WiFI SSID name, Password, Login password.
Steps to Login Netgear Docsis Cable modem
You required to connect broadband modem either using wifi or wired connection to access the web interface from a web browser.
Use LAN cable to connect from cable modem Ethernet port to computer LAN port. Use default WiFi SSID name and password printed to router stickers.
Coxial port will be connected to the cable coming from the internet provider side so keep it as it is.
Computer/Laptop LAN network IP settings should be in DHCP mode or use 192.168.l00.l0 static IP address.
192.168.1.1 Login Spectrum Sagemcom Wave2 Router
Default Login settings for CM600 NAS100 Cable modem
Default Login IP address: 192.168.100.l
Username: admin
Password: password.
Access Web interface to the browser
Open a Web browser and access IP http://192.168.loo.1 and wait for few seconds to load the login page asking for a login username and password.
Use default login credentials printed to router stickers and access to router settings.
Change WiFi SSID and  password
If you access first time your modem settings page then you must change default wifi SSID and password to secure wifi access.
Go to Wireless settings
Change WiFi SSID network name- create your own wifi name.
Change Security – WPA2/PSK- AES
WIFI Key-  set a new wifi password.
Change Web Login Password
Go ADVANCED > Administration > Set Password.
Old Password- admin or use if you already changed the default.
Set password- create a new login password.
Repeat New password- Confirm new password again to avoid mistakes.

Press the Apply button and login router again with a newly changed password.
How to Factory Reset Netgear CM 600 Cable modem
You can use a factory reset option if you are facing any issue while login modem default IP address or Login IP address not working or you may forget username and password after change first time.
Note: Making modem reset will erase all configuration saved in the device so only use reset option if you are able to set up again or you have configuration backup to restore settings.
Steps to Hard reset Netgear Cable modem
Making hard reset using the reset button need to physically access the router to proceed.
Locate a small reset button beside cable ports.
Press and hold the reset button for 10-15 seconds until modem lights blinking.
After some time all led lights will blink and router rebooting start.
This process may take 3-4 minutes to complete the resetting process so wait.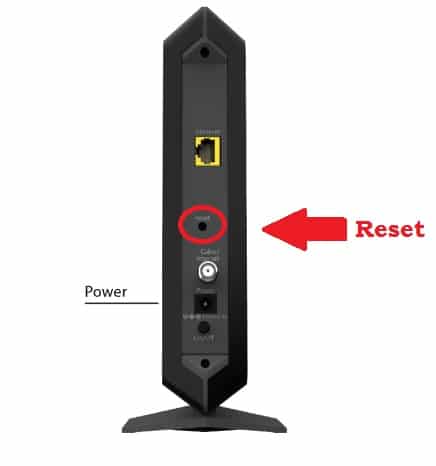 Resetting is the best option to fix a lot of internet wifi and routers problem occur due to running a long time without maintenance modems. If you are facing a disconnection issue, unstable issue, and internet drop issue in your modem then make a factory reset to fix such time errors.
Troubleshooting using Netgear Modem LED lights
 All LEDs off
check the DC power adapter cable properly connected and power socket working.
All LED lights Stay ON
If your Modem all LEDs light ON then make a factory reset and clear configuration. If still the same problem its seem a hardware issue contact your providers to replace the modem.
Ethernet cable connected but Ethernet LED off
Make sure Ethernet cable connects to the WiFi router/ Computer or Switch connected to the other side. Change LAN cable and check the connection again.
Power LED is RED
Make sure the Modem installed at a cool place with a good ventilation area.
Disconnect the power cable and leave for 10-15 minutes to let cable modem cool down.
If still, power led red color contact technical support of your internet providers.
Internet LED off but cable connected to Coaxial port
Make sure your internet cable properly connected to the modem port and wall socket side.
Check if any splitter using to extend cable mode breakdown or disconnected.
It seems cable disconnection from ISP side or coaxial cable signal loss or damage.
Contact Technical support to replace the cable.
Download Cable Modem Manual in PDF
Related Post