best and free online watermark removal for different file and document types. remove any type of watermarks from your document and pictures. see here How to Remove Watermarks from Images and document online and offline both methods.
How to Remove Watermarks from Images without Software
Watermark is the seal of protecting any document, Video, an image for brand stamping or protection against copyrights. Photographers use a photography watermark on their images to make them easy to identify. It's a great way to let everyone know the image is copyrighted. Watermark also used in image, video, document, pdf consider as the sample file for testing purposes. Sometimes removing a watermark from a copyright image might be illegal and against copyright policy. While using any watermarked image make sure it is not a copyrighted image. You may find an image for school or official project purpose but the image comes with the watermark which we like to use. Do not worry here I am going to share the clean way to quickly remove a watermark from an image, gif, pdf and many more. If you are a graphic designer you may use Photoshop to erase watermarks on pictures manually but it might take a lot of time.
There are many free watermark removal software available with Windows, Mac OS, iOS, Android and web-based as well. Watermark tools don't support an extra feature like Photoshop and GIMP but it can remove the unwanted watermark from Picture faster than Photoshop.                                                                            
Types of watermark removal tools
Watermark tools available with installation and web-based. Installation-based watermark software required to nee to install in Windows or any other operating system as per support. Web-based watermark tools don't require any installation but required an internet connection to be used. The benefit of using web-based watermark tools is the Clean Ways to Remove a Watermark from an Image without worry about system hardware minimum requirement to run the software. See both ways to know How to Remove Watermarks from Images and stamp from photographs quickly.
Watermark removal Software
Web-based watermark removal
---
Read More
---
Remove Watermark with Software from Windows, Mac OS
Watermark removal tools are the clean background behind the watermark without tempering image quality and taking too much time. Here you will get simple and faster ways of removing watermarks from photos without an internet connection.
Download Watermark Removal Free Now
Download the watermark tools setup file as per your PC operating system and install the software first. Once software installation is done open the software and follows the instruction below to edit out unwanted watermarks manually faster than Photoshop and Gimp.
Open watermark removal and upload the picture you want to remove the stamp mark.
Press the Top left corner Folder icon to upload an image from drive to delete watermark stamp.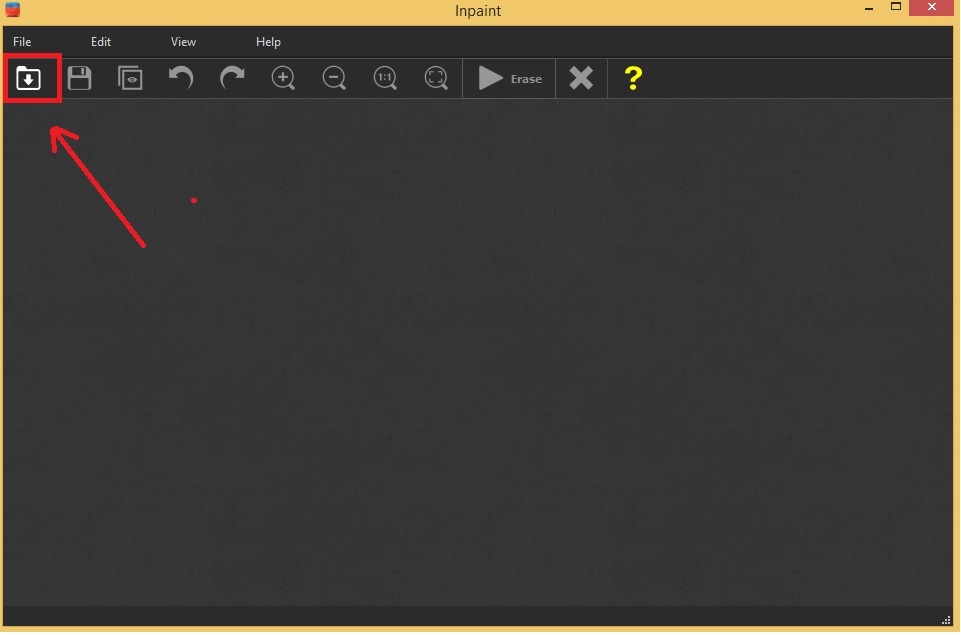 Once the image uploaded now follow the steps below.
Click the selector tools and adjust size.
Select the watermark as shown below image.
Click the Erase button from the top menu.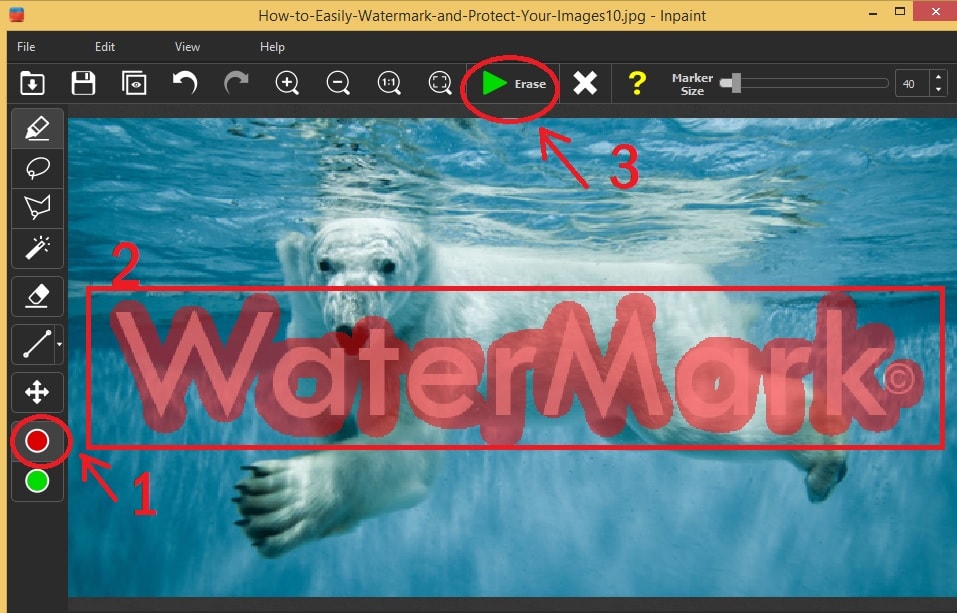 Wait until progress going to removing watermarks.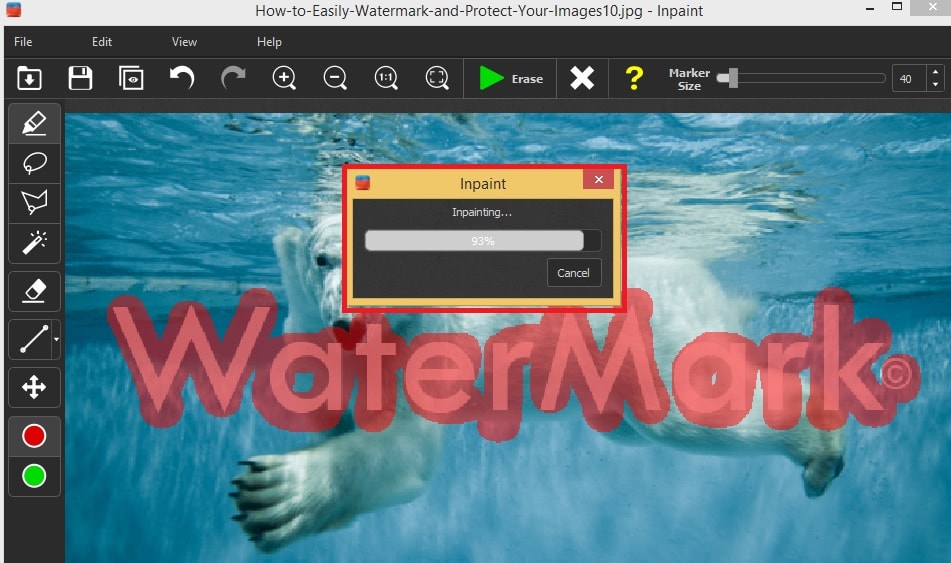 Once process finish you will get the watermark clear image.
Click the floppy icon to save the new image without watermark in your drive.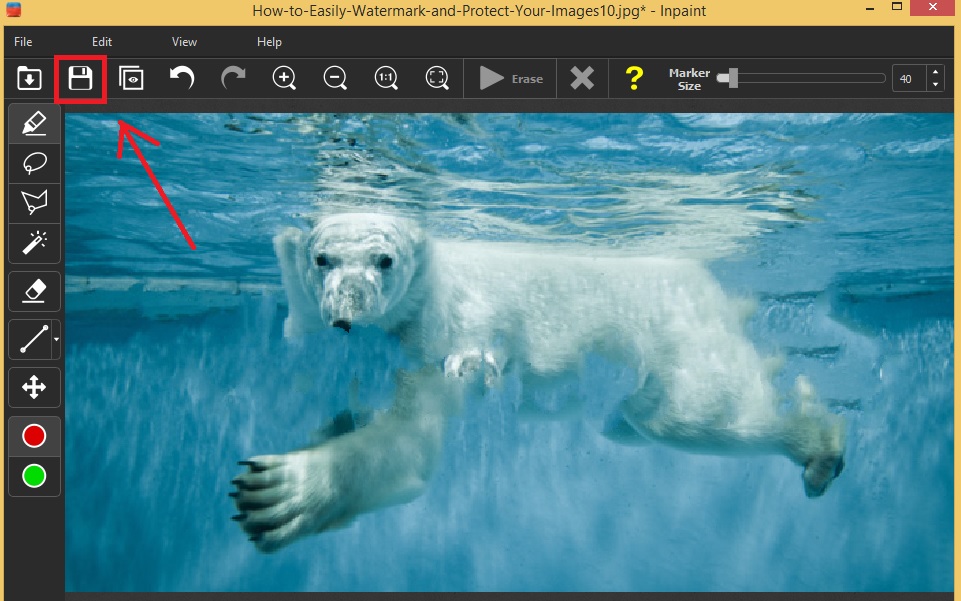 This method is a bit simple to erase watermark quickly without the internet using your computer and laptop. Now see the web-based method without installing watermark removal tools in your PC.
How to clean Watermark from the image online
Another best and faster method is web-based watermark removing tools that no installation required. Connect your PC/Laptop to the internet and follow the below steps and clean any type watermark quickly.
Click to open online Watermark remover tools
You will get the online tools with the upload image option as shown below image.
Click the upload button and browse the image you want to remove watermarks.

You will get all the tools in the next windows with your image.
Click the watermark selector tools.
Select the watermark area you want to clear unwanted stamp from the picture.
Click Erase button and wait until process finish.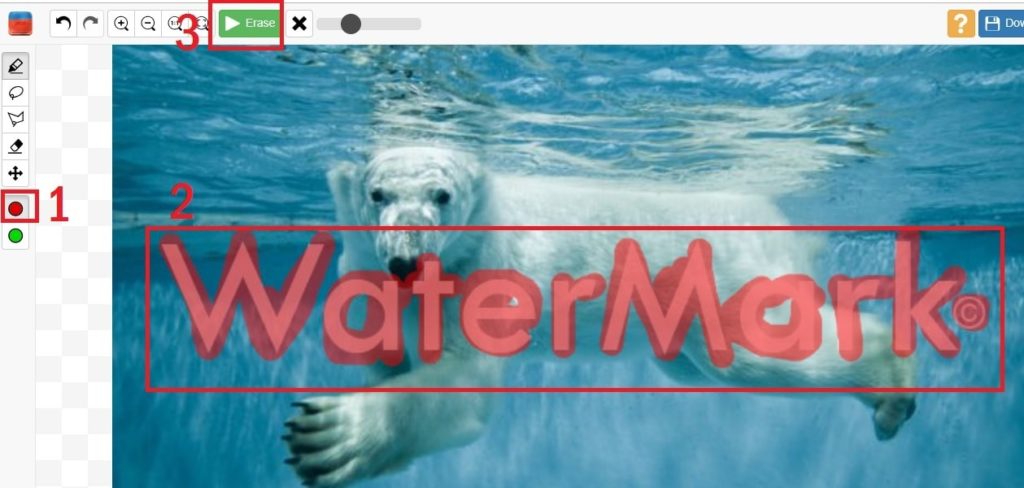 Your picture will clear with no watermark now see click the download button from right side top bar to save an image.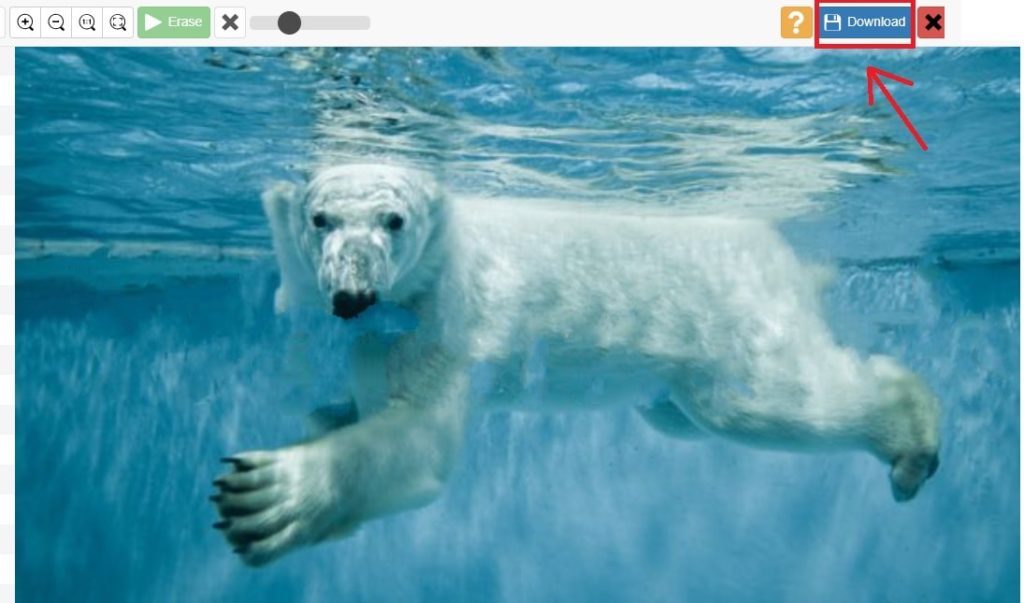 Hope you enjoy the faster way to remove any type of watermark from you pictures without wasting too much time.
Conclusion
You can get many other tools to remove the watermark from pdf, word, excel, and images with multiple formats support. Using Photoshop and any photo editor software to delete watermark may take expertise as well as too much time. Online water remover tools don't need any professional skill about photo design just upload and remove the watermark easily. a simple and quick user guide to know How to Remove Watermarks from Images with a different format.
Related Post