Login EnGenius EAP1300 Wave 2 11ac WiFi Router
Engenius EAP1300 Wave2 dual band ceiling band wireless router with high-end hardware configurations.
EAP1300 supports 2.4Ghz and 5.8 GHz WiFI band with up to 1300 Mbps combine wireless speed.  Engines wave ceiling mount access point classic looks and best fit with home interior. You need to login and setup the Engenius ceiling mount access point as per your network and change default configurations. The configuration of Engenius EAP1300, EAP1750, EAP750, and other models are the same so you can use this manual to login Enginius eap wave 2 wifi access point.
The first time setup required to connect the access point using a wired connection to log in with default settings.
Default Login Settings for EnGenius Ceiling Mount AP
EAP1300 Default Login IP Address- 192.688.1.1
Default login Username– admin
Default password– admin
The default credential also printed to AP backside sticker and a Quick installation guide comes with a device.
Steps to Login EnGenius Ceiling Mount Access point
Unbox Engenius AP with all accessories comes with box. EAP1300 supports two-way power option one is directly using PoE port and the second is with DC adapter.
Power ON Acess point with DC adapter comes with box.
                          Or
Connect EnGenius PoE port to PoE Switch or PoE Injector.
Connect PC/Laptop LAN port to AP LAN port direct or if using PoE switch connect to Switch UP link port.
Go to Computer/Laptop TCP/IPv4 settings from Network and sharing center and change IP address to Static IP -192.168.1.l00 click on subnet mask box and press OK to save settings.
Once all set now follows steps to the login web interface.
Login EnGenius Dual-band Ceiling mount AP
Open a web browser such as Chrome, Firefox, Opera and access http://192.168.1.1
With a few seconds, you will get a login page asking for username and password from Enginius AP.
use the default username and password "admin"  or if you already change use the same to login settings.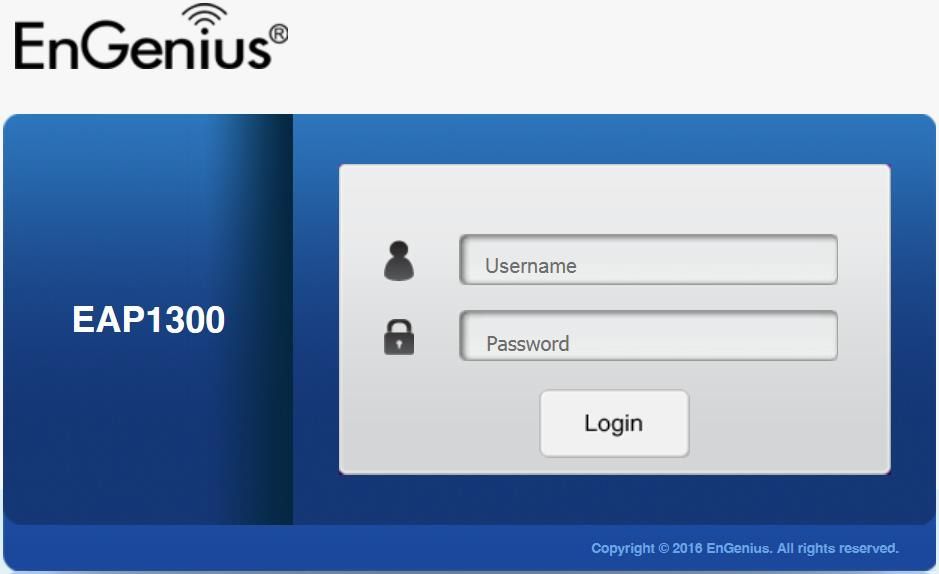 Once you successfully login to Engineus 11ac access point now you can setup a wireless SSID, password, and other parameters.
Change WiFi SSID and Password
Change the WiFi name and password for your access point from wireless options.
Go to Network- Wireless
You will get 2.4G and 5.8G Wireless settings as shown below image.
1: 2.4 GHz Wireless Basic Settings
Operation Mode- Access Point
Channel- Click Configuration button and choose Channel number 2.4G and 5G band.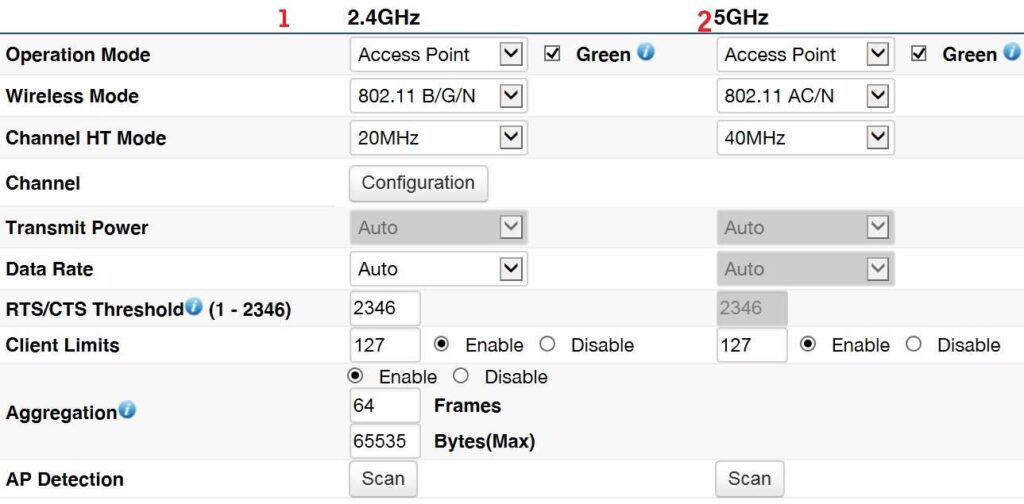 Scroll page and change SSID and WiFi password
SSID- Engenius05B069 (change this name to new wifi name as per your choice.

Press the Edit button to configure the WiFi password.
Choose WPA2-PSK
Encryption– both(TKIP+AES
Passphrase– WiFi Password for 2.4G (make a stronger wifi password.

Save settings and repeat the same steps for changing the WiFi name and password 5Ghz Wireless band.
Change Default Login Password
Do not forget to change the login password during the first time setup to protect unauthorized access of your Access Point.
Go to System- Account
Account settings
Administrator Username– admin
Current password – admin for default (if you already change use same as current)
New password– Create a new login password
Verify password– confirm a new login password again.
Save settings and login AP with changed new passwords.
Engenius Ceiling mount AP Login issue Troubleshooting
If you facing any login error while access your AP using LAN port it may network issue and configuration problems. Follow the steps below to fix login error.
 EnGenius Login IP Not working
If you using Enginius AP stand-alone with the controller you and cant access login IP follow seps to solve issue.
Make sure your Computer/Laptop LAN network settings not configured with different series IP address that not belongs to Engenius login IP.
PC LAN settings should not be in DHCP mode as Enginuis AP works as bridge mode so DHCP server is disabled.
Use 192.168.l.l0 to manual IP configuration in computer.
Make sure you did not change the default login IP address during first time login.
IF you are still unable to access login IP address you may reset Enginius AP to restore factory settings.
How to Factory reset Enginues Ceiling Mount Access Point
Factory reset will erase all configuration saved in AP so make sure you have configuration backup before restoring access point.
Locate reset switch in Enginius AP.
Press and hold reset button for 15 seconds.
Power LED will blink and AP will reboot.
Wait until AP restarting and check the default login IP address should start ping and follow the above steps.