How to Login Arris Router to Change Password
Are you a user of Arris Surfboard cable modem router and looking to update arris router Wi-Fi password. Arris Wifi router and cable modem used to provide internet to end-user and comes with multiple technologies such as Arris DSL modem, Arris DSL WiFi modem, and Arris Surfboard DOCSIS cable wifi modem. We have made a simple manual to change the Arris wifi router password from Mobile and computer. arris modem login needs to physical connection with the router to access the web interface settings page. also know the ways to boost wifi speed for home and office wifi internet. you need to login router if you want to change arris password, upgrade arris router firmware block website in arris and other settings updates.
To setup arris router first time connect your router to the computer or Laptop LAN port and follow steps to access arris router login page.
Connect Arris router LAN port to Computer LAN port using cat6 cable.
The arris default login IP address is 192.168.0.1.
Arris login username is "admin"
Arris router default password is "password"
Arris Router Connection to Computer
Connect LAN cable to arris router LAN port and other side connect a desktop or laptop LAN port to access the settings page.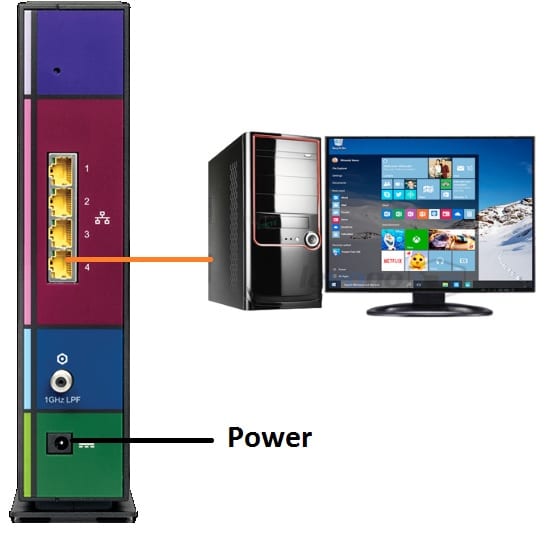 Computer/Laptop LAN IP Configuration
To access arris router ip address need to configure PC LAN IP to DHCP or Static IP address to the same series of Arris modem router Default IP.
Open Network and Sharing Center option from the control panel.
Go to change adapter settings and go to Ethernet properties.
Go to TCP/IPv4 properties and select the option to obtain the IP address automatically.
Or use static IP Address 192.168.0.10   if your arris default IP 192.168.0.1
If your arris default IP address 192.168.l00.1 use 192.168.100.2 in computer LAN.
Login Arris WiFi router from the web browser
To set up arris routers open a web browser such as internet explorer, Google Chrome or Firefox and type http:// 192.168.o.1 to the URL bar and hit the enter key.
 Use login username "admin"  and password "password"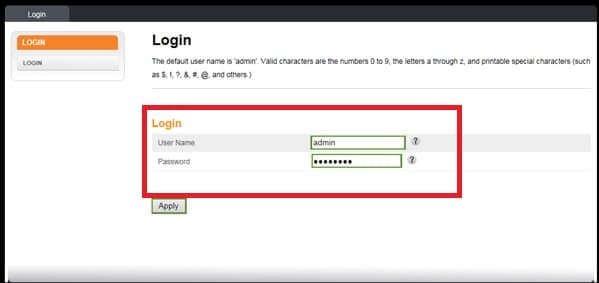 After login go to the wireless tab to access WiFi settings.
Change Arris Wi-Fi router Password and name
Always change Arris router default Wi-Fi password before connecting to the network to avoid access from unauthorized devices. Once arris surfboard login router and find the wireless tab or go to the quick setup tab.
Basis setup: Language ( select your country language you wish to use in arris router language.
Hostname: ArrisRouter( use any name to the router to identify. This option will use while using multiple arris router at the client-side to give the customer name.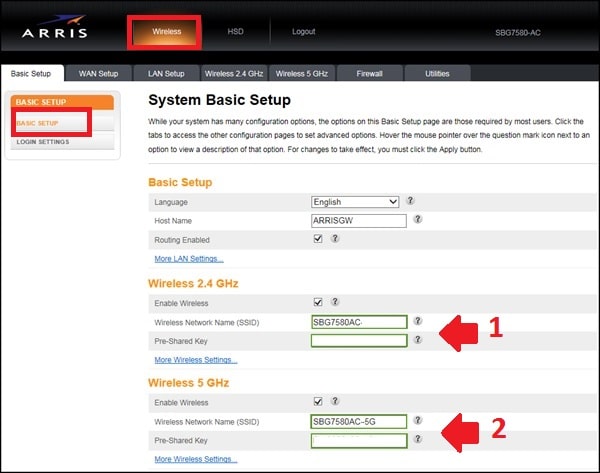 1: Wireless 2.4 GHz
Arris SBG7580AC is a dual-band wifi router so both band WiFi name and password should change.
Enable Wireless: Check the box to enable the 2.4Ghz wireless band.
Wireless Network Name (SSID): Arris-2.4G WiFi (type wifi name for 2.4Ghz band)
Pre-Shared Key: arrispassword ( type wifi password for 2.4Ghz)
To change the channel and other wireless settings click More wireless setting options to get advanced wireless settings.
Channel: use 1 to 11 number channel if using multiple wifi routers in the same location. You can use auto channel selection of only arris router running in your home and office.
2: Wireless 5GHz Settings
Change 5G wifi name and password to secure your arris wifi router.
Enable Wireless: Check the box to enable 5 GHz wireless band.
Wireless Network Name (SSID): Arris-5 G WiFi (type wifi name for 5 GHz band)
Pre-Shared Key: arrispassword (type wifi password for 5 GHz)
To change the channel and other wireless settings click more wireless setting options to get advanced wireless settings.
Save all the settings and connect mobile and laptop using a new arris wifi password configured for both bands.
How to Change arris router login password
It is highly recommended to change all the default password in the router before using to network. Every brand router comes with a default setting which is available on brand support website and manuals. Always change the login password and wifi password to protect your wifi internet from accessing an unknown person.
To change arris router login password follow steps.
Connect arris router using wired or wifi from Laptop or mobile.
Open web browser and access http://192.168.0.1
User default arris username and password is "admin" and "password"
Go to Login settings under the basic settings option.
Change Password –
Old password: use old password
New password: set a new arris login password here.
Repeater new password: type again new password to avoid mistyping and lose login details.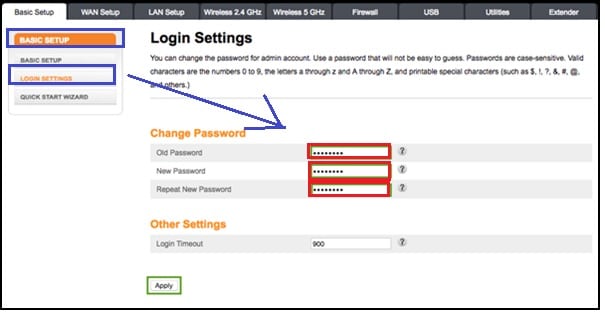 Other settings
Login timeout: 100 (in second)set the login out time for arris router while router settings page open in idle mode and no activities going. After a certain time period, you configured in login timeout will auto logout arris router.
Settings up login timeout also a security feature to block unauthorized access in case you forgot to log out router after configuration.
Press Apply button
This configuration steps to change the password in arris wifi router can use for below arris router models.
Download arris router manual in pdf.
Related Post