TDS Router Login Guide to Change Password
TDS Telecommunication is a US-based service that provides Internet, Voice, and TV services. TDS internet and TV service is available on many states and delivers thousands of subscriber internet or telephone services. If you are a TDS router service user or using TDS TV entertainment or phone services then there is a WiFi router or cable modem must be installed at your internet connection. This TDS Router login manual will help you to change your Wireless default settings and create new password.
If you looking to change your default WIFI name or password for your TDS wifi router or you may want to update your old password then you are required to access the TDS web interface. TDS service uses different brands of Wi-Fi routers and cable modems for last-mile connectivity and your modem can be Arris brands, Netgear, Motorola, or Eero so login details might be different for each brand.
TSD router's default login Ip address used 192.168.0.1 and the default username and password were printed to every router and modem sticker. Default TSD router username "admin" and default password "password used for most of the TDS router if the default password has already not changed.
TDS Router Default Login Settings
Default Login router login IP address username and password available on the router backside label. Find your router IP address printed on the sticker used for login for first-time access web interface.
Default Login IP address – 192.168.0.1
Username-admin
Password-password
Login to TDS Router settings from a Web browser
You need to access the router using a wired or wireless connection to log in ds router login v1000h or T2200h or any other router web interface from mobile or computer to set up or change any configuration.
Connect your TDS router using a LAN cable from the LAN port for a Wired connection from a desktop/laptop.
Use TDS wifi SSID or password to connect using wireless.
Open the web browser and access http://192.168.0.1 from the browser and use the TDS modem default login username and password "admin" and "password" in default mode.
Once you log in to the TDS router you can change your Wireless name and password as well as other configurations such as MAC access list, change admin password, and other security features.
How to Connect Any Wi-Fi without Password from Mobile?
Change TSD Router Wireless SSID and Password
To change the wireless SSID network name and password you need to navigate the wireless settings page by following the below option. TDS T2200h and TDS v1000h router manufactured by Actiontec brands so you can also use this manual if you have Actiontec V1000h and another model number.
Go to the Wireless Setup option from the top menu
Wireless Setup- Basic Wireless
Under wireless, you will get SSID and Password settings.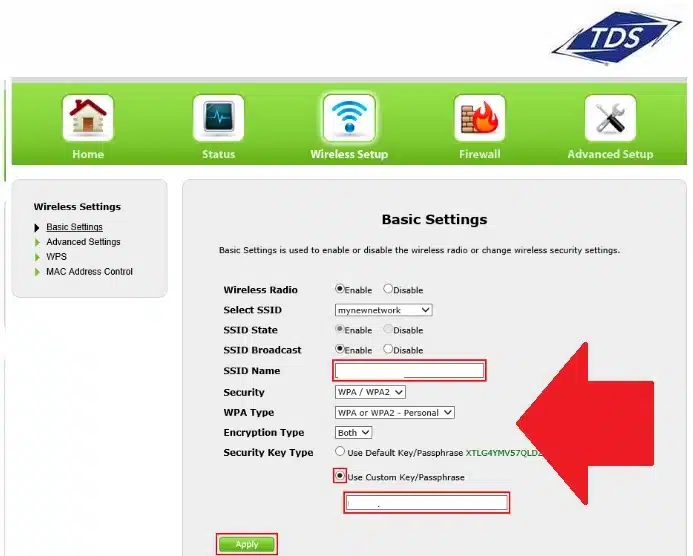 Wireless Network name (SSID)- change Wifi name here
Wireless Channel- Auto
Wireless bandwidth- Auto
Wireless security- WPA/WPA2_PSk_AES
Passphrase- set new wifi password here.
 Save settings and connect your device with a new WIFI name and password. If you facing any issues or the TDS router login not working to login web interface or it may already be configured with a different login IP address and password.
TDS Router Login Not Working
If your TDS Router login not working or you may be unable to access it due to a wrong username and password error or IP address taking too long time to respond while trying to access from the browser can fix with a few steps.
Make sure you are using a LAN port to access the TDS Router Login IP address.
Make sure the default IP address is not changed or use the correct IP address that is printed on the router sticker.
The default login IP address is 192.168.0.1 so use in proper format http://192.168.0.1 instead of using the wrong IP address http//192.168.0.1, 192.168.o.1 or 192.168.0.1, 192.168.O.l.
If forget your login password or username and password then follow the steps below to reset the TDS router using the Reset button.
How to Reset TDS Router using the Reset button
Resetting the TDS router will reset and erase all configurations and need to set up again as per your internet settings and internet type. Follow steps to factory Reset to restore configurations.
Power on the TDS router using a DC adapter.
Find the reset button beside ethernet ports.
Press and hold the reset button for 10 seconds and release.
The router LED will turn off automatically and ON again.
The router will restore into default settings and can access using default settings and setup again.
Use the default login credential printed to the router sticker configure WAN internet settings and change the Wireless name and password by following the above steps.
Related post