Setup Telus Actiontec V1000H or V2000H VDSL modem router using simple steps. you need to login Actiontec V1000H VDSL Modem to access web interface and settings.
How to login Actiontec V1000H VDSL Modem to Change Password?
Telus Actiontec V1000H VDLS modem router with WAN and LAN Ethernet port as well as RJ11 port. While setup and configure Telus router need to login and access settings. Actiontec V1000H or Actiontec V2000H VDSL modem used for the internet at the home.
V1000H modem router having 1 WAN port 1 RJ11 port and 4 LAN port for wired connection. Router support 1 USB port for an attached flash drive for network storage and a physical reset button to factory reset modem. If you have installed Actiontec V1000H modem in your home and looking to change IP Address, WiFi password, firmware upgrade than this post help you to login Actiontec v1000h modem settings. Physical connection required to access V1000H VDSL modem settings from the web browser.
Telus V1000H Modem Connection!
Use Desktop or Laptop to access the ADSL modem settings page.
Connect Actiontec V1000H lan port to computer lan port using LAN cable.
Power ON Modem device and follow steps to the log in the configuration page.
Actiontec Default Login Settings
To access settings page default IP address and username password need to the login web interface.
V1000H Default IP Address – 192.168.o.1   or  http//192.168.1.254
Default username: admin  and default password: admin
Login Telus Actiontec Modem
Open Web browsers such as Mozilla, Google Chrome or Internet explorer.
Type http://192.168.0.1 in the URL bar and press enter key.
The modem router's first screen will appear.
Click on the Manual setup option to configure manually instead of using the quick setup wizard.
Actiontec V1000H or V2000H Wireless setup
Once router control panel access now you can change WIFI name and password from Wireless options.
To change Wireless settings go to the Wireless setup option from Top menu.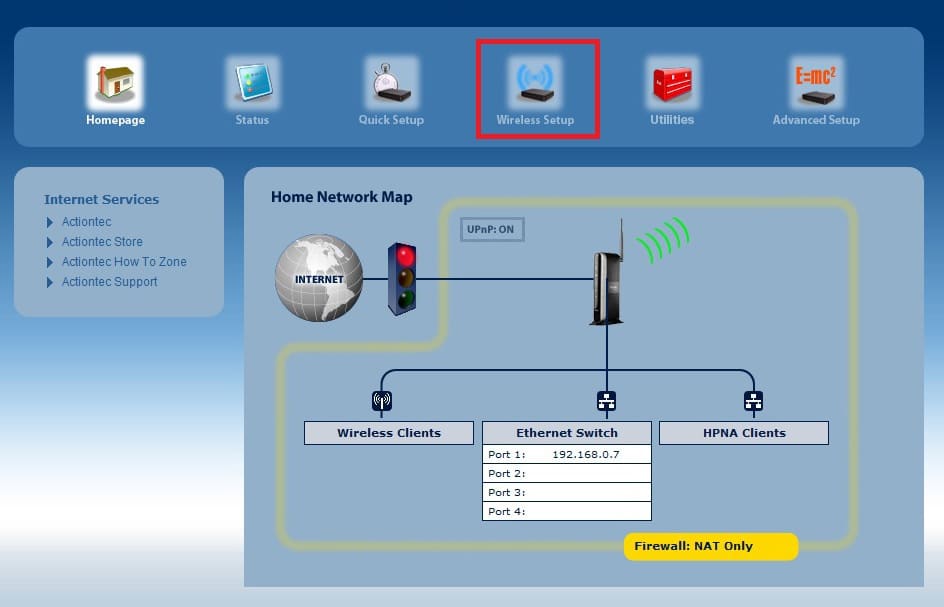 Wireless Basic Settings
Under wireless basic settings, you can change SSID (WiFi name), Password, and Wireless channels.
Wireless Radio: Enable
1: Change the Network Name: 
Network Name (SSID): set the WiFI name for your V1000H modem.
Channel: Keep auto option if only one WiFi router using in-network. Select 1,6,11 channel number if multiple AP device using.
2: Wireless WPA/WPA2 Security
Set Actiontec V1000H wifi password to protect Wireless internet.
Select WPA/WPA2:
Pre-shared: wifipassword (type password for WiFi)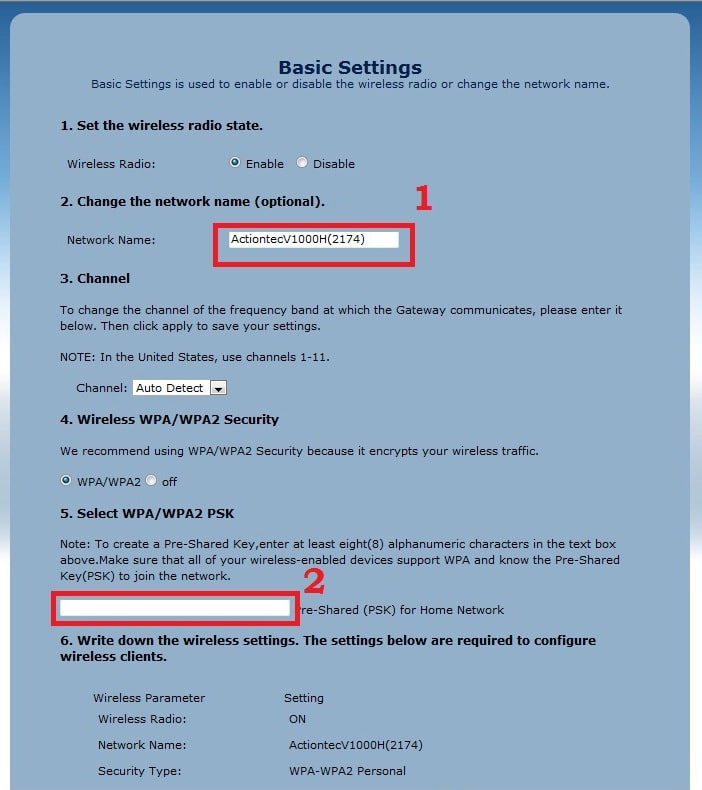 Confirm all settings and press the Apply button at the bottom to save configuration settings.
Always use Alfa numeric key combination to create a strong password that can not guess easily.
After setup WiFi password do not forget to change default Login password to protect accessing ADSL modem settings.
To change the Actiontec login password go to Advanced Setup.
Advance Setup-Admin Password
Enter an Admin username and password.
Admin username: admin (change username here)
Admin Password: admin (set new password here)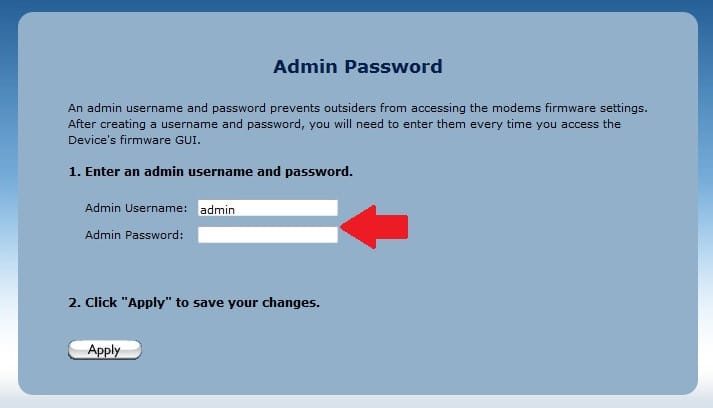 Press the Apply button to save settings. Re-login Modem router with a new username and password.
If you are unable to login Actiontec V1000H VDSL Modem router you may read the below tips to solve the problem.
Q: Actiontec V1000H login IP 192.168.0.1 Not Working
A: if you cant access the 192.168.0.1 IP Address from a web browser it seems your modem IP address changed or PC configuration, not in the same networks.
Go to PC LAN settings and make TCP/IPv4 to DHCP mode (obtain IP Address automatically ) or use 192.168.0.10 IP address as using the static IP address.
If still not open Actiontec ADSL modem Default IP  you may factory reset the routers.
Q: How to Factory Reset Actiontec V1000H Telus ADSL Modem Router?
Actiontec V1000H modem can be reset using hard reset from the reset button and soft reset from the web interface. To make soft factory reset need to access modem settings. But if you forget the Actiontec VDSL modem default login username password use the reset button.
Reset your Actiontec V1000H/V2000H to its original factory settings
Locate the Reset button backside modem.
Use the needle to press the reset button.
Press and hold the reset button for 30 seconds and release until the Internet light turns red.
Related Post