How to Factory Reset UBNT PowerBeam if forget Password?
Ubiquity power beam long-range point to point and point to a multipoint device for wireless connectivity. The power beam device comes with different models based on distance and link throughput speed. In an earlier article, we have cover ubnt Powerbeam 5ac point to point setup for long-distance connectivity. UBNT power beam, airgrid, and other wireless devices used for internet and IP camera connection for remote site up to 50Km where laying physical cable not possible.
This article provides a simple way to access UBNT power beam if forget login password or device not working properly or facing issue in point to point connection. A power beam wireless device can factory reset either from a web browser or reset button. Factory reset option useful if unable to login IP address or facing link connectivity stability or point to point link frequent disconnection or request time out after some time. Follow the step to reset ubnt wireless device.
Steps to Factory Default UBNT Power Beam 5AC
There are 3 ways to factory reset power beam PTP wireless device.
Soft Reset from Web interface required login
Hard reset from PoE adapter.
Hard reset from power beam device.
1: Factory reset Power beam from the Web interface
Making reset devices from web interface required to login device with login credentials.
If you are facing power beam connectivity issues and link connectivity dropping frequently this can happen when the device running from a long time and required refresh software. Factory reset will erase all configuration and log generated to the device and will fix a lot of connectivity issues.
Note: Making Factory Restore configuration will remove all save the configuration and you need to set up device again if it's connected with other devices.
Do not forget to download the configuration backup file before making settings to restore.
Steps to Soft Reset UBNT
Connect UBNT device with PoE adapter comes with the device and connect LAN port to PC/laptop LAN port.
If the UBNT device in default settings mode uses 192.168.l.100 to PC LAN settings.
Open a web browser and access 192.168.l.20 and wait for login page load.
Use ubnt for login username and password to login device.
Go to System tab from Top menu and drag settings toward down and find device maintenance option.
Device Maintenance- Reset to Factory Default

Press reset to factory default option and you will get confirm pop-up windows asking for OK and cancel.
Press the OK button and wait until the reset process finishes.
2: Hard Reset UBNT using PoE Adapter
Hard reset is a physical process to restore settings to default. You need to access the reset button to make the factory default.
Factory reset button in PoE adapter best feature of UBNT products that help you to reset device while it mounted to high mast tower without climbing.
UBNT hard reset from PoE adapter
You can only reset the power beam from PoE adapter if you are using UBNT original PoE adapter that comes with device accessory. the best and simple way to remotely reset UBNT rocket m2, bullet, or any other device.
Power ON UBNT wireless device with genuine UBNT PoE adapter and wait a few seconds until the device turning the power on.
Locate a small reset button available on PoE adapter beside sticker.
Use a needle and press and hold the reset button for 10-15 seconds to reset the device remotely.
It take 3-5 minutes to finish the process so keep calm until the process not done. Try login again with Ubiquiti default login IP 192.168.l.20 with a default username password.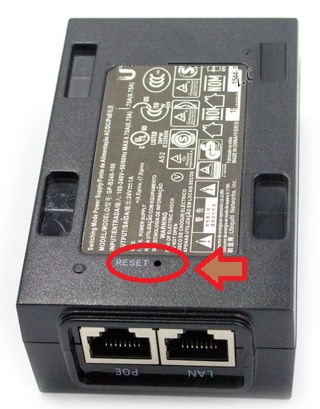 This way best for reset UBNT wireless device without removing from installation pole or tower.
Factory reset Power Beam from Device
If you are looking to reset your power beam from the device then you have to reach near the device to press the reset button. this method also same for Unifi AP-LR factory reset from reset button.
Remove antenna feed cap and Locate a small reset button under power beam feed near Ethernet port.
Press and hold the reset button for 10-15 seconds and release when power led blinking and device restart.
Wait until device rebooting and check default login settings again.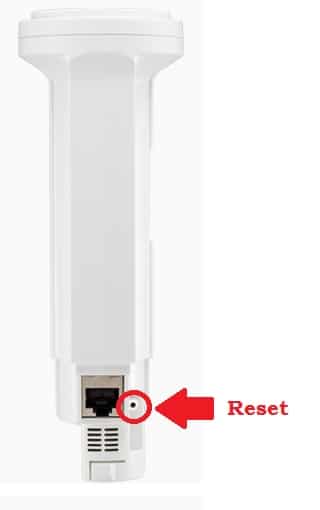 If you cant access UBNT login IP or forget username or password after changed than you can use hard reset option. If you getting disconnection or link fluctuation issues in point to point bridge connection than better to use software reset from the web interface.
Related Post