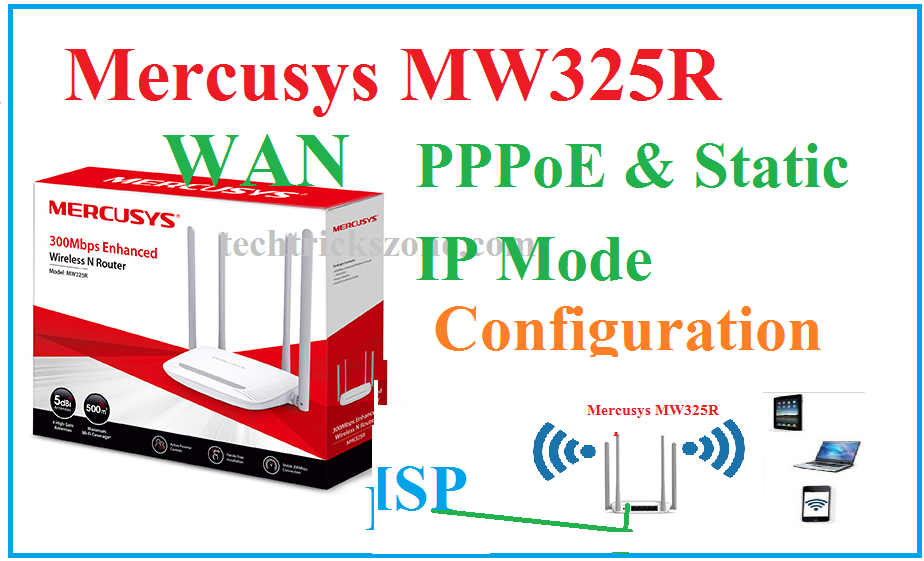 In earlier post we see mercusys mw325r in repeater mode with different brand access point. Mercusys MW325 is a 4 Omni direction antenna with 4Lan and 1Wan port specially designs for ISP. So this post we will see how to configure mercusys mw325r wireless router configuration in pppoe and static mode for different internet service provider's exp nextra, hatchway, act, you broadband and many more.
To configuration of any wireless router you must know the default settings first. To get default settings of wireless router see the backside sticker of device.if you looking for any other brand default setting please click here
Mercusys MW325R 300Mbps Wireless Router connection
Connect the MW325R power adapter comes with box to avoid router burn due to wrong power adapter. Connect your Laptop/PC LAN to LAN port and change Laptop IP setting to DHCP mode. See here how to configure laptop IP.
WAN port will be connected to internet cable comes from your ISP (internet service provider) side.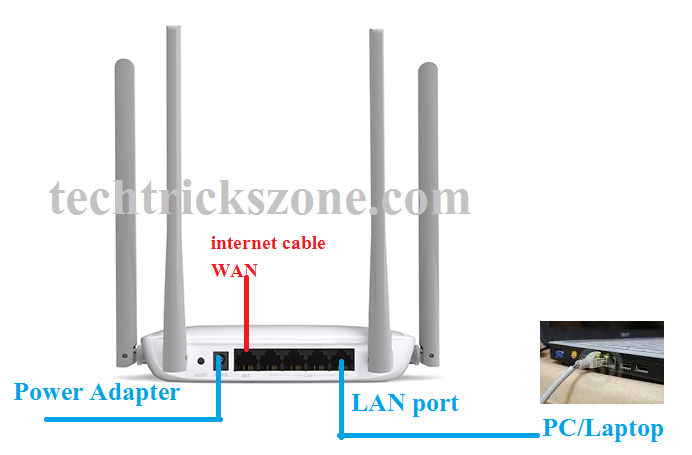 Mercusys MW325R Login First time from Mobile
Once you connected all connection as shown above network diagram than see the default login detail for mercusys router.
Default Login – http://mwlogin. net
You can also login with this URL  for mercusys MW325R router.
Other way you can also login with default IP 192.168.1.1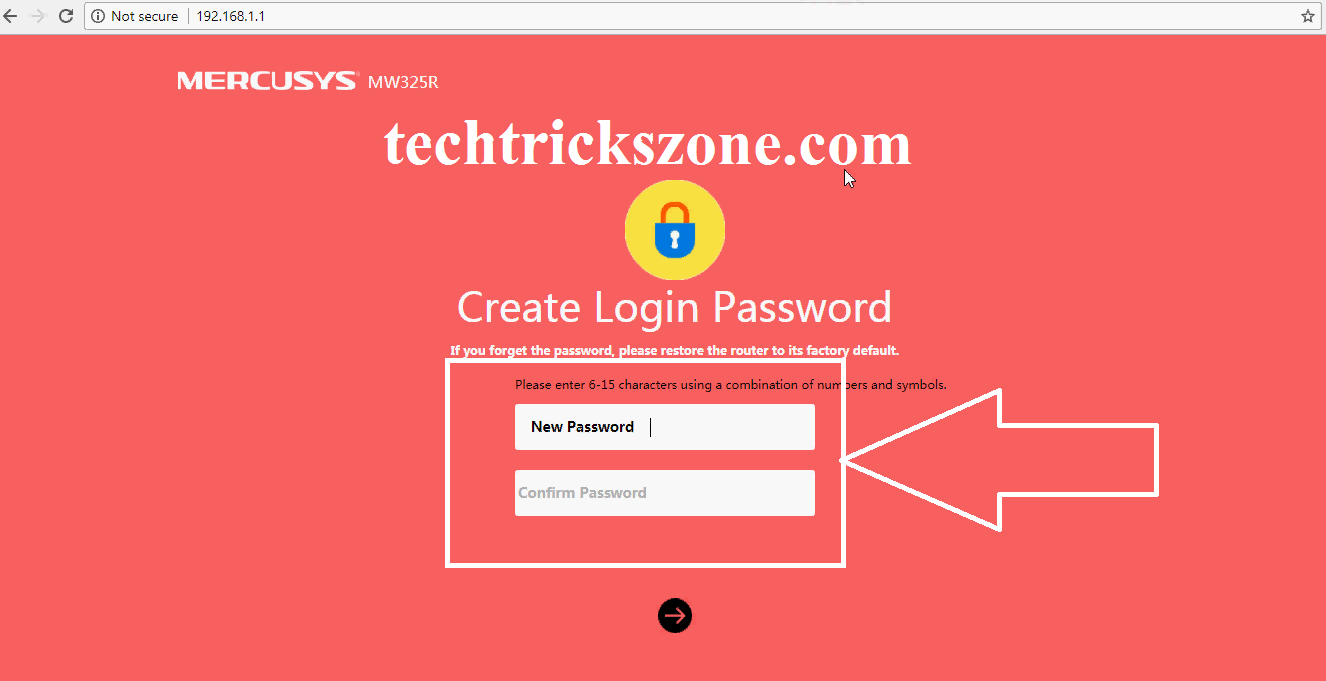 Mercusys MW325R wireless router no password set on default mode so you have to set new password first time.
New Password – set password for login
Confirm Password- repeater password to confirmation.
Mercusys MW325R Wireless router PPPoE mode configuration.
As per TRIA regulation all ISP use PPPoE mode to provide internet service to home users.so when you buy new internet connection your ISP must give you username and password for pppoe login from your router or laptop. For pppoe mode configuration you must have pppoe login username and password with you. If your ISP didn't gives you please ask them to proceed Mercusys MW325R wireless router configuration in pppoe mode.
Click Skip option to  skip configuration wizard and enter direct in advance settings.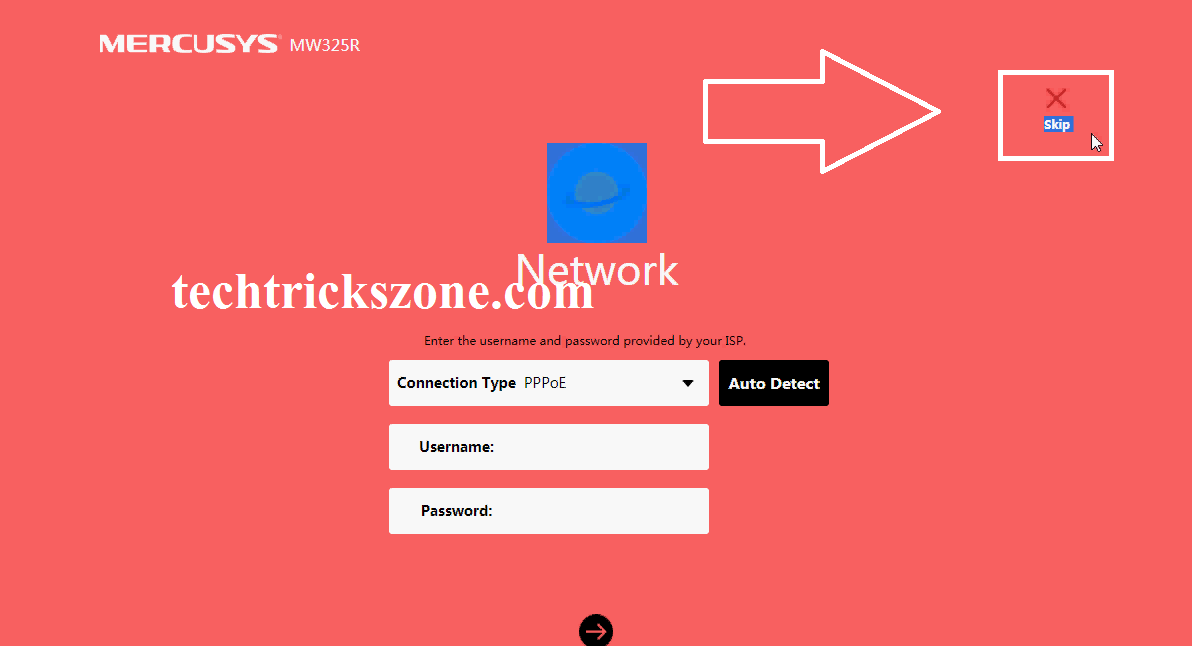 After login in basic main page click advance option for enter in LAN and wireless settings.

Mercusys MW325R PPPoE settings
Now click on network – WAN option from setting menu
Click Connection type and choose PPPoE  for PPPoE settings and Static IP if your internet work with static IP mode. Please make sure what type your internet working.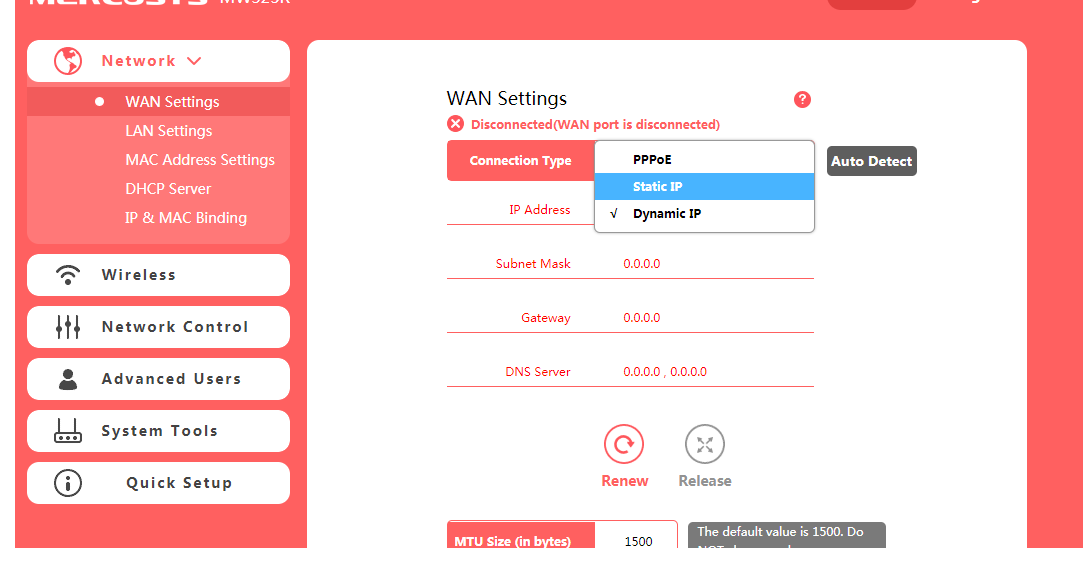 Now PPPoE username and password should have with you to configuration.
Username – type pppoe username given by your internet service provider
Password – type pppoe password given by same your ISP.
WAN Rate Settings – use Auto negotiation to auto change speed as per internet bandwidth plan.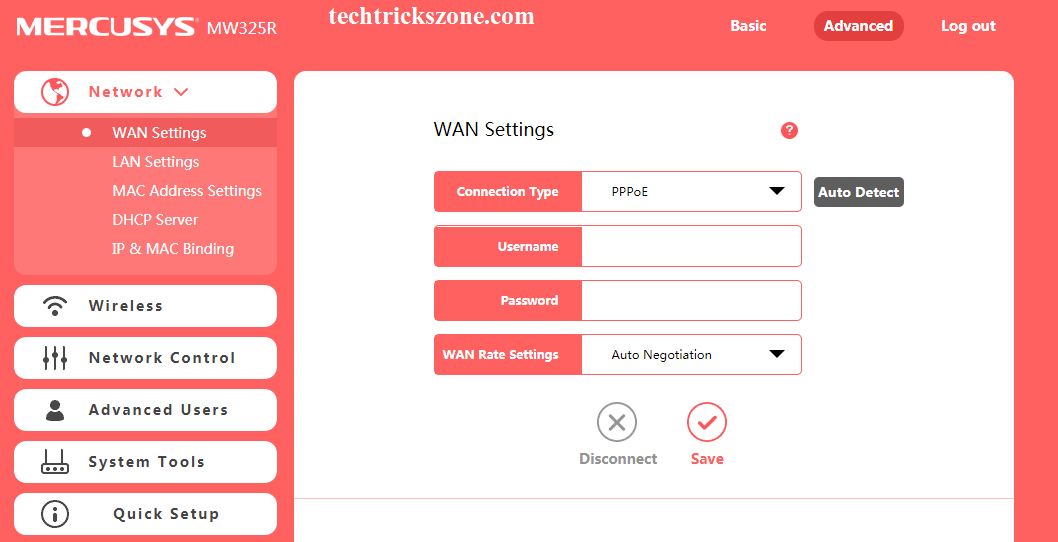 Click Save button to Apply WAN settings.
Mercusys MW325R Wireless Router Static Mode Configuration
If you internet work with Static IP configuration than ask your internet provider for static IP and gateway detail to configuration MW325R in Static mode.
Choose Connection Type – Static IP from List
IP Address– type IP address given by your internet provider
Subnet Mask – Subnet mask also will provide by your ISP
Gateway– Same given by ISP
Primary DNS/Secondary DNS – both will provide by internet providers.
WAN Rate – keep auto negotiation to auto select speed as per internet plan.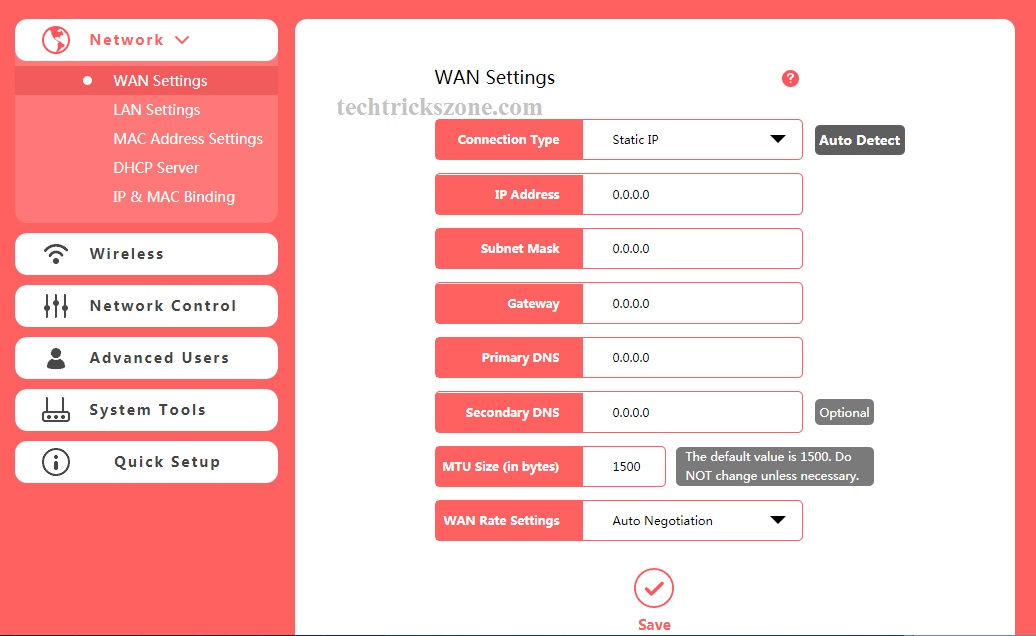 Click Save to apply settings
Mercusys MW325R Wireless Router LAN Configuration
LAN settings consider IP address of router which use for configuration purpose. If you want to change default IP address to any other series follow the steps below.
Go to Network –LAN Settings
In LAN settings you will get the information of current LAN IP address in router.
LAN IP Settings – Manual / DHCP (use this Manual to keep same ip address always)
IP Address – change IP address here if you wish to change other series. If you are using more than one same brand router or other brand router also with 192.168.1.1 than please change the default IP to other IP series.
Subnet Mask – Use the subnet mask for your IP series as per class.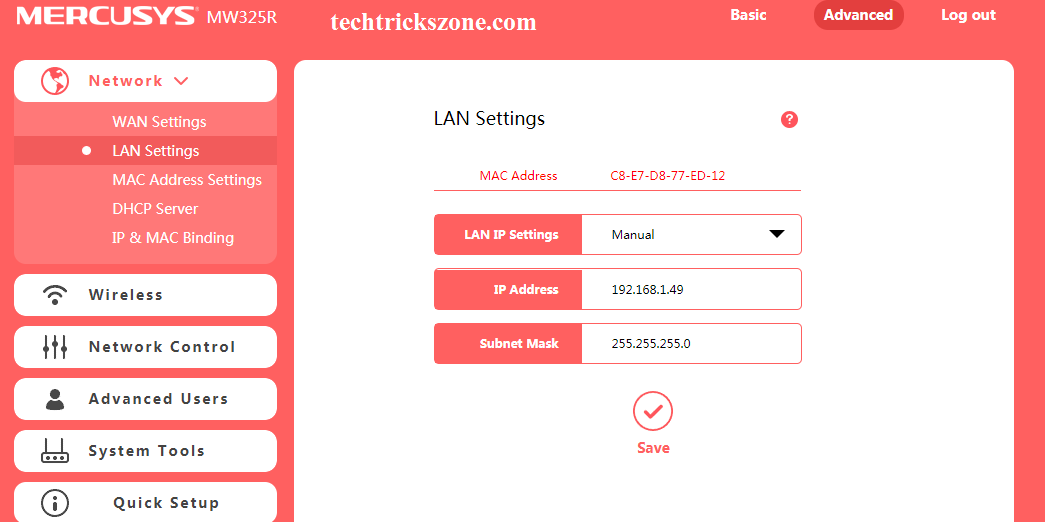 Click Save for apply LAN IP settings
After change Default IP you must re-login router with new changed IP address.
Mercusys MW325R Wireless Router DHCP server Configuraiton.
Well by default DHCP server is enabled so when you will change LAN IP server auto matic changed the DHCP server IP series. But you are using mercusys mw325R wireless router in office and you wish to use static IP configuration in office desktop so you must disable DHCP server from router.
1:  DHCP Server – This button will enable and disable DHCP server.
Start IP Address – this IP will start IP number provide to user like mobile and Laptop we connected to router for internet.
End IP Address- This will be last IP Address provide to client.
Address Lease Time– lease time will be for renew ip address in user device.
Gateway – Router IP will gateway address
Primary DNS– If you want to use any custom DNS you can use here to provide all users.
Secondary DNS – use secondary dns in this box.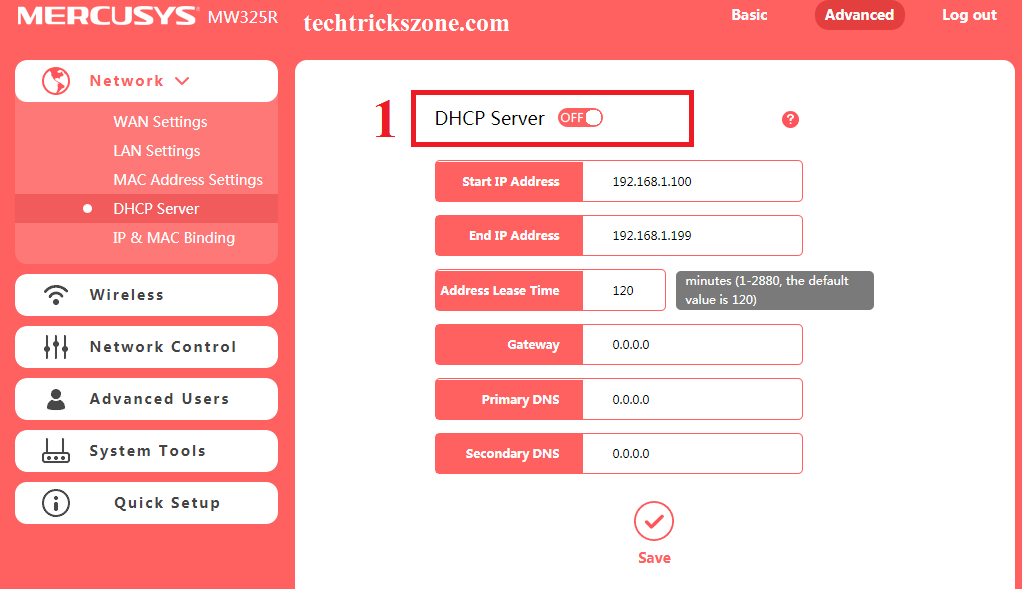 Click Save button to apply DHCP server configuration.
Mercusys MW325 Wireless Router Wi-Fi Configuration
Wireless configuration is most important step to make protect your Wi-Fi from unknown and unauthorized attackers. Always change default WiFi name and password in your wi-fi router and safe your internet.
For Wireless configuration in Mercusys MW325R Wireless router
Go to Wireless- Host Network
Host Network – Switch should ON mode
SSID– Type Name for your Wi-Fi ( this name will use for connect Internet from Mobile and Laptop )
Password– this will be Wi-Fi password ( please use Alfa numeric and combination password for make stronger Wi-Fi password.
Channel- If you are using only one Wi-Fi router in same place use any channel but if you are using more than 2 Wi-Fi router please use 1, 6 , 11 Number channel to avoid overlapping and cause of interference.
Mode- BGN (keep it bgn mixed )
Channel Width – Auto
Transmit Power– if your area is smaller you can reduce TX power but if your area is larger keep it to High only.
AP Isolation- if you are using this router in office and think your data is sensitive than you can enable AP isolation option. AP isolation will not allow Wi-Fi user to communication with each other.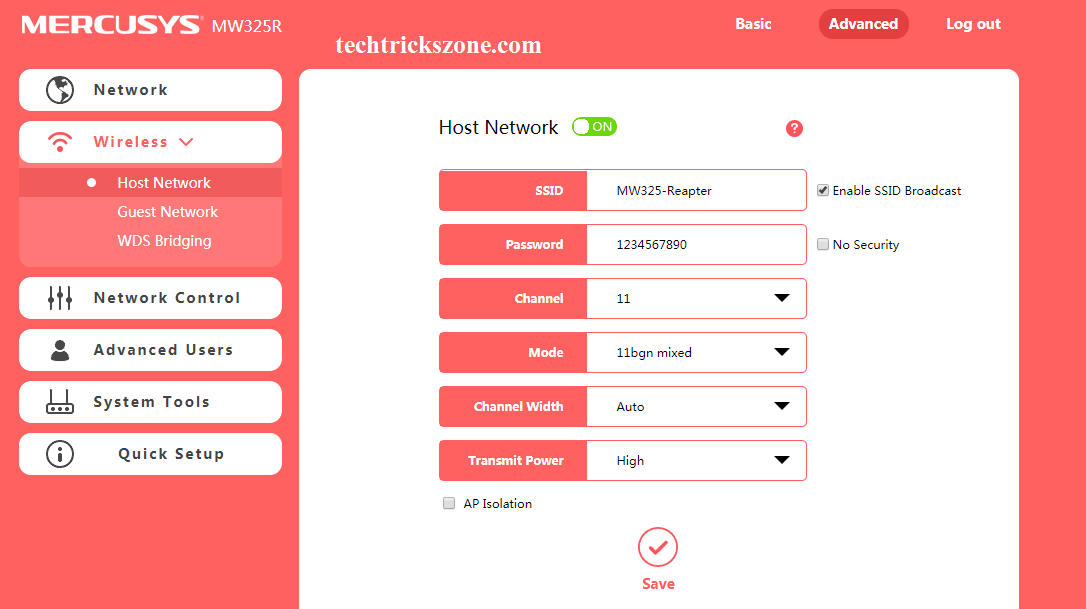 After All setting click Save button to apply settings.
Guest mode will allow temporary user provide internet with time and speed limit.
Download Mercusys MW325R 300Mbps Wireless Router Manual and Firmware