TPLink CPE 220 and CPE210 AP mode configuration
TPLink CPE220 and CPE210 both are similar wireless Access Point with 9dBi and 12dBi antenna gain. CPE-220 is a 300Mbps Wireless device supported multi-mode such as Access point, Repeater, WISP, and AP Router. TP-Link Wireless product comes with the same and user-friendly GUI interface. Both devices can be used for outdoor Access Point as well as point to point connectivity. CPE220 supports the 2X2 Mimo antenna which gives 300Mbps wireless speed and 27dBm Transmit power to increase the signal coverage area for an outdoor hotspot. In this post, we try to make a user-friendly and easy tutorial for TPLink CPE 220 and CPE210 ap mode configuration with the picture.
If we look at physical hardware than TP-Link TL-CPE220 has 12dBi Mimo antenna and 2 Lan port. Device support 24Volt passive PoE from Lan 0. CPE210 fully weatherproof IPX5 waterproof Certification and pole mounting back clamp.
TPLink 2.4Ghz High Power Outdoor CPE Connection Diagram
TP-Link Outdoor CPE device having 2 LAN port but PoE enabled only LAN 0. Connect LAN 0 to PoE Out Port in PoE adapter comes with Device. PoE adapter LAN port will connect to Laptop or Computer Lan port.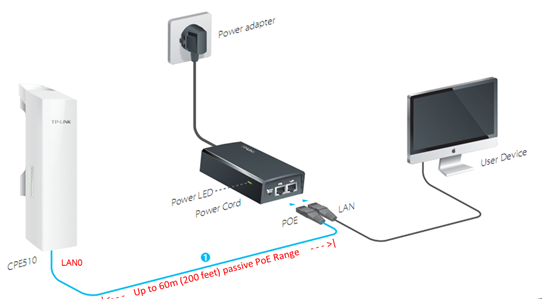 TP-Link CPE220/CPE210 300Mbps Outdoor CPE Login First time
Before Starting Configuration TPLink CPE220 you should know the default settings first. You can also find default settings in device cap and the manual comes with the device. well, you can also find TP-Link CPE220 Default settings here.
TP-Link CPE Default IP address is 192.168.o.254
TP-Link CPE DeviceDefault username – admin
Default password – admin
Use the 192.168.0.X series IP address in your PC/Laptop LAN IP. Exp- 192.168.0.10 you can use in your laptop or computer LAN IP address.
Type http://192.168.0.254 in a web browser and press enter.

After Login your will Licenses agreement and option the first time and have to accept it to the login process.
1: Username: admin (Default username)
Password: admin (Default password)
Language: choose your country language
2: I agree to these terms – check this option
3: click Login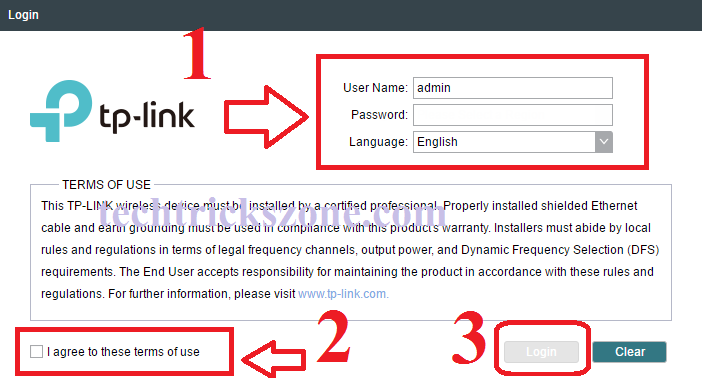 The next Steps will ask to change the default password and username first.
1: New User Name: Type a new username if you want to change the default username.
New Password: Type a new password in this box
Confirm Password: type again new password to confirm a match
2: Click the Finish button (press this button once you have confirmed all settings correctly)

After changes username and password you will be logged out and have to login again with a new username and password you changed.
Type change the password and click the Login button to enter in the web interface.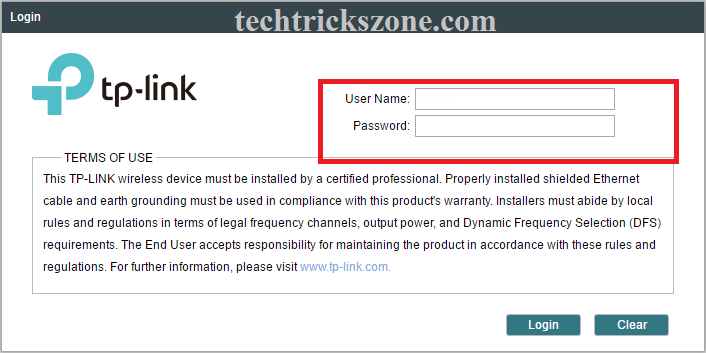 TP-Link 300Mbps Outdoor CPE Configuration Status
TP-Link outdoor 5Ghz and 2.4Ghz CPE Wireless CPE landing page is the status page. In the status page, you can see all the configuration detail and CPU and Memory usage status. You will get a Wireless setting as well as connected client, Network, and Hardware information in the status page.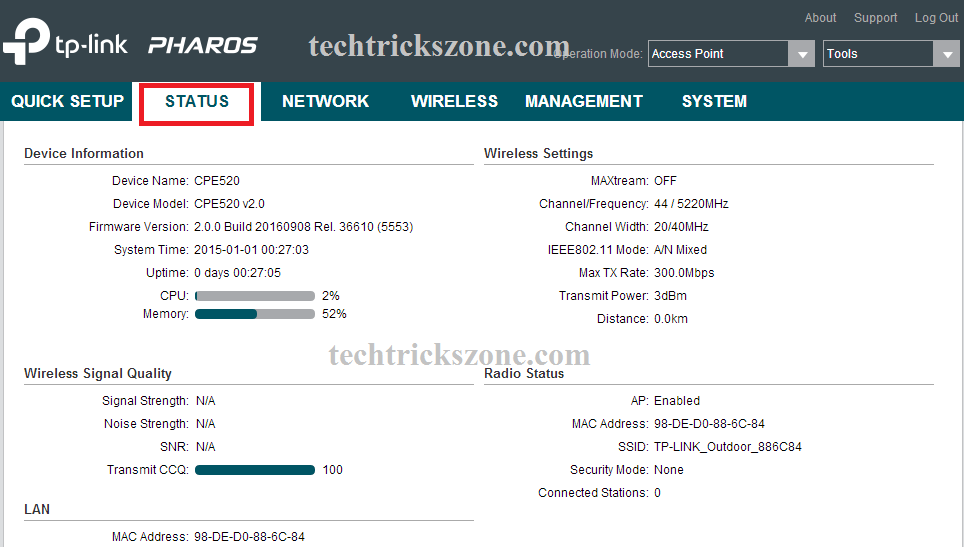 TP-Link 5G and 2.4G CPE 300Mbps Outdoor CPE Quick Setup
TP-Link all device software comes with the Quick Setup option to make the step to step configuration for the non-technical person. Quick Setup wizard assists you to step by step configuration with wireless, Network, and other configuration. But in this post, we will see TP-Link outdoor AP/CPE device configuration in manual mode without quick setup.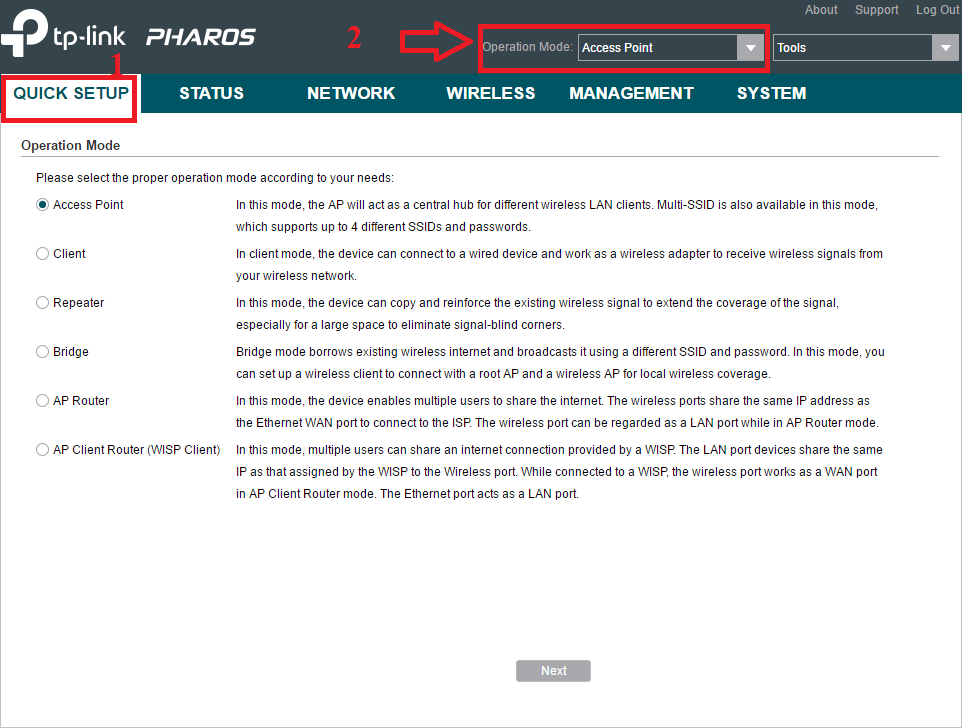 In Manual mode first, you have to choose router mode from operation option in the top. In this post, we are going to configure TP-link CPE220 in AP mode so we choose Access Point mode.
Operation Mode – Access Point Mode

TP-Link  Outdoor CPE Device Wireless Configuration
Once you have chosen Access Point in operation mode now you have to set SSID and the wireless password.
Go to Wireless Tab to open wireless settings.
2:   Basic Wireless Settings.
Mode:  802.11 a/n for 5G device and b/g/n for 2.4 GHz device.
Channel Width: choose 20/40 mix to auto speed
Max TX Rate: keep it with maximum speed.
Channel/Frequency: in 2.4 GHz choose 1,6,11 channel no and in 5Ghz use the spectrum analyzer to see free and less interference channel.
Antenna gain – use the device antenna in this box (if you are using CPE220 use 12 and for CPE210 use 9dBi)
Transmit power: use the transmit power as per area size to reduce interference
Max-Stream: Enable it only if you are using both sides' TP-Link device.
Apply Setting after all done.
3: Wireless Settings
Wireless Radio: enable (it should enable)
SSID– use SSID (This will be Wi-Fi network name)
Enable Broadcast – Make sure this option should checkmark otherwise you cannot see your Wi-Fi name.
Security Mode- Choose the WPA2/PSK security mode to make your Wi-Fi protect from others.
Radius Mac Authentication– if you are using the Radius server for authentication you can enable this option.
Multi SSID– you can also use multi SSID by adding virtual SSID in this option.
Apply Setting after all configurations are done and make save changes.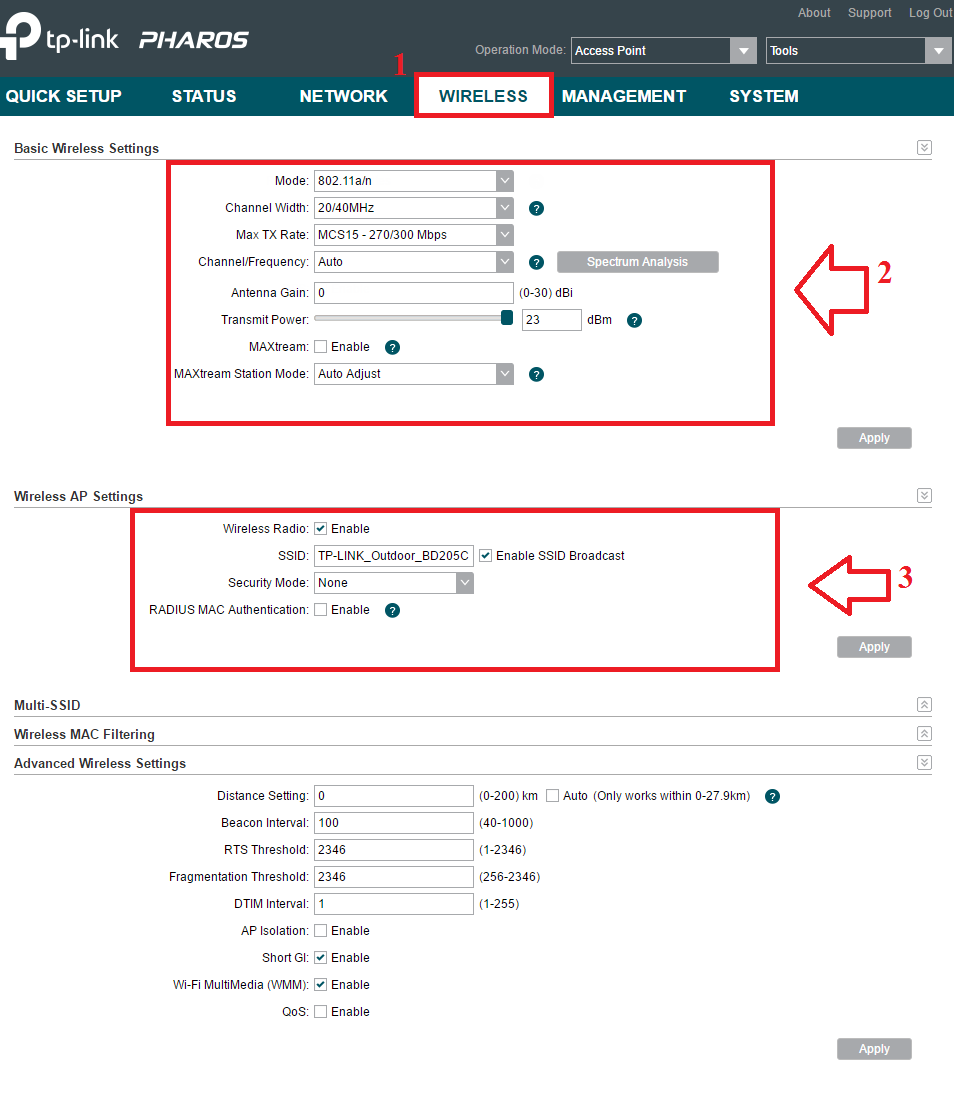 TP-Link  300Mbps Outdoor AP/CPE LAN IP Configuration.
Every device comes with a default IP address of OEM series so always recommended to change the default IP address in the first login. Using default IP can be slow down your network if you use more than one same access point due to IP conflict issues.
To change TP-Link  C500 and CPE220 IP Address is quite easy.
Go to the Network tab to enter in LAN configuration.
Connection Type: choose Static
IP Address: change this IP address to any other IP you wish to use
Netmask– use netmask as a changed IP series.
Gateway and DNS: you can leave it blank or can use your internet gateway and DNS.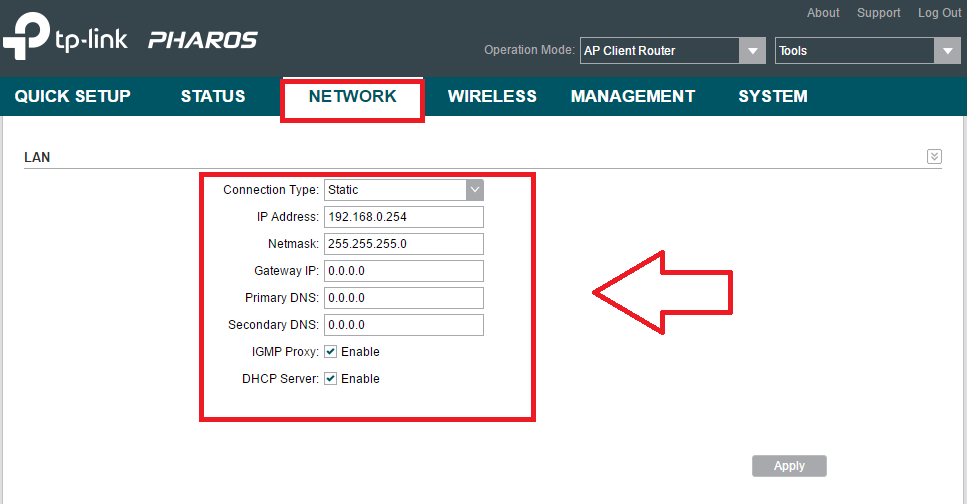 TP-Link  Outdoor 2.4Ghz CPE Remote Access Setting
To access remotely outdoor CPE you have to enable web remote login option in management settings.
Go to the Management-Web server option in the last of the page.
Secure Connection (HTTPS)- Enable this option
Server Port– use the Port number here to access remotely with this port.
Remote Login IP Address– gives IP Address for Remote access of CPE device
Session Timeout- you can set the session timeout for safety purposes.
Mac Authentication- This option will more security for your remote access session with only allows MAC you can access TP-Link CPE210 from remote.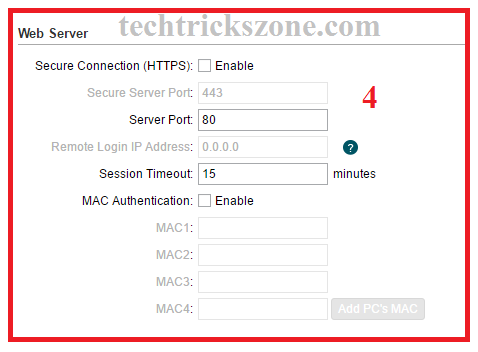 After All, Settings made you will get a pop-up for to apply all changes and the device will reboot to save changes.
Click the Save button.

Related Post