Do you buy a new Airtel 4g Router for internet access using a portable hotspot device? don't forget to configure the airtel router before using it in default company settings. this post will show you a simple user guide for Airtel 4G hotspot router configuration first time from your mobile.
How to configure Airtel 4G hotspot Wi-Fi router
Airtel 4G device is a portable Wi-Fi router for carrying with a pocket and create hotspot everywhere. This device powered by Huawei  E5573S-606 Mobile Wi-Fi model design for the Airtel network, It's a portable 4G Wi-Fi router with battery backup to best fit for traveling purposes to get connected every time with Wi-Fi hotspot and can do an official conference and work over the internet. It supports 2G/3G/4G network type so whenever you are moving from one place to another place its auto switch network if there is no 4g connection. Changing 4G to 3G and 2G only will slow down the speed but you will always connect to the internet.
It is strictly recommended always before use doesn't forget Airtel wifi password change to protect you hotspot wifi.
When you buy the Airtel 4G hotspot device from Airtel then it's locked with Airtel network only you cannot use any other sim such as Idea, Vodafone, Jio, Reliance, etc.. Card until it's not unlocked for other Networks. It is highly recommended if you just buy a new Airtel 4G Wi-Fi hotspot than change the default setting always. see the complete manual for Airtel 4G hotspot router configuration first time from mobile and Laptop. If you are using Wifi in your home you can also use your Airtel hotspot router as the range extender.
Popular Post 
In this post, the title is How to unlock Airtel 4G hotspot router for all networks but this post will give you a complete guide How you can change the default Wi-Fi name and password for your Airtel 4G Wi-Fi router and Airtel 4G Mobile Wi-Fi router for home. originally airtel 4G LTE WiFi Device is Huawei 4g LTE wifi hotspot router which is locked with Airtel network sim only.
Airtel 4G Hotspot Router Configuration First Time
Before proceeding to the configuration of your Airtel 4G WiFi Hotspot router make sure your router charge at least 30%-40% .you can use Mobile or Laptop for changing Wi-Fi name in your router. So follow the below step to airtel 4g hotspot configuration.
How to Login Airtel 4G Hotspot
Airtel 4G Mobile Wi-Fi Router Default Setting use to access the airtel 4g hotspot login page. Airtel 4G hotspot WiFi password change needs to be login router settings with admin privileges so you should no default factory settings of your 4G hotspot router.
For configuration fo any router you should know the default factory settings of the particular router to access for making changes. so see below steps on how to see default settings in your Airtel 4G router mention in Device sticker.
To know how to use airtel 4g hotspot with own wifi name and password first step is Open Back cover of your 4G router.  Remove the battery and see the sticker with Model No. Default IP address and the default login username and password for Airtel 4G router.
Take a picture of the backside or you can write down information in the paper. The sticker contains airtel router login IP and other settings.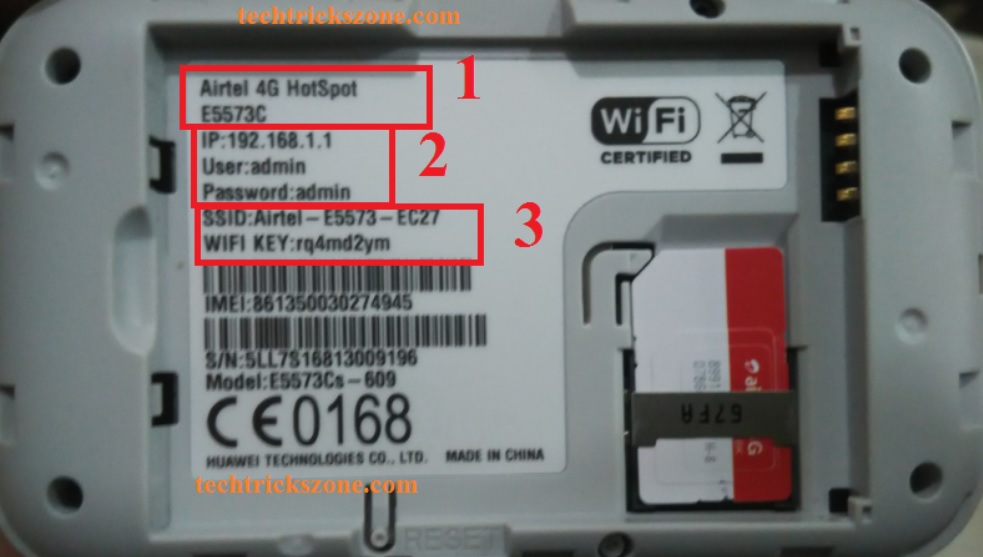 Model No: – Airtel 4G Hotspot E5573C
Default IP: 192.168.1.l
username: admin
Default Password: admin
 Wi-Fi Name: Airtel-E5573-EC27
Wi-Fi password :rq4md2ym
Airtel 4G hotspot Wi-Fi router Wireless Connection with Mobile and Laptop
Now  On your 4G hotspot router and go to Mobile or Laptop WiFi signal and Find the WiFi name
"Airtel-E5573-EC27" click connect and put default password " rq4md2ym".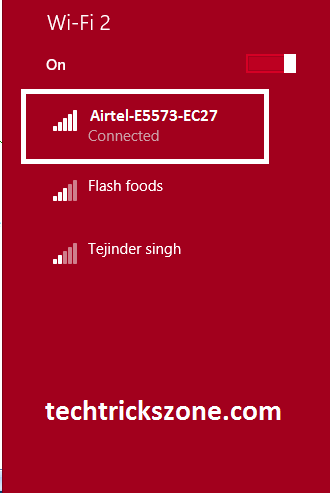 Login Airtel 4G hotspot Wi-Fi router.
Once your Mobile or Laptop is connected to Airtel 4G Hotspot WIFI  router now open your browser and open "https://192.168.1.1" in the browser.  use http://192.168.8.1 for airtel Alcatel 4G router login
Use admin for username and password admin for login router.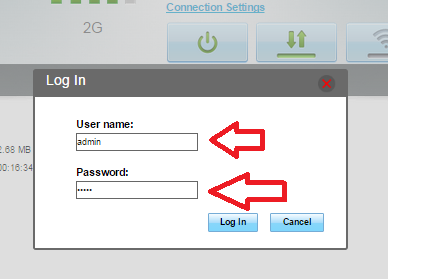 After Login Device will open on the Homepage where you will get the status of the Mobile network and WiFi router connection.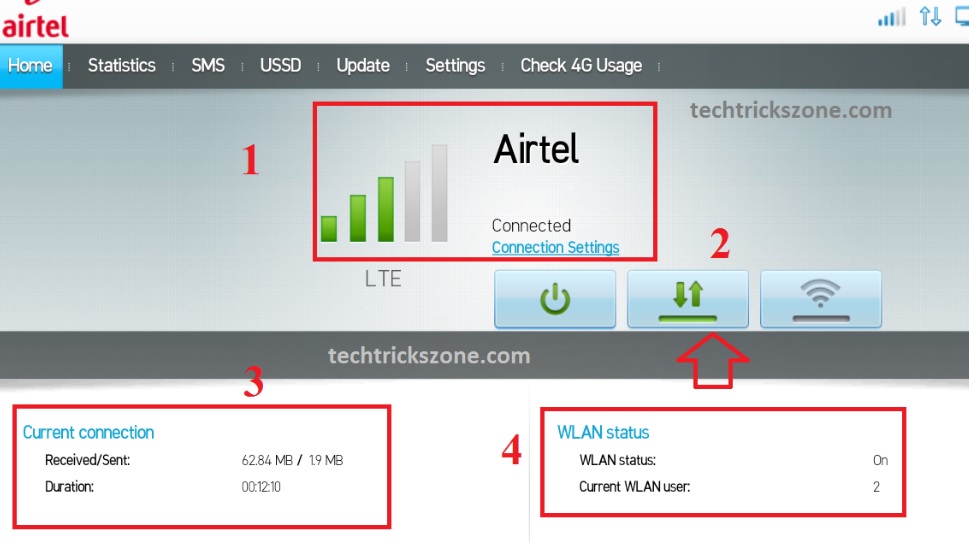 Network Signal and Connectivity status connected or Disconnected to the network.
Mobile Data Enable Disable Button: From this button, you can Disable or Enable your Mobile data when you do not want to use the internet.
Current Connection: This option will show real-time Received and Sent data by Mobile network.
WlanStatus: WLAN status show the status of WiFi router On/Off and the user connected to the Wi-Fi router.
---
Airtel 4G hotspot Mobile Wi-Fi Router Profile Settings
Profile settings by default configured with Airtel Company so recommended not to change any settings in the profile. Changing any settings can be disconnected from the network.
for profile settings go to Settings top from top menu see below Default Profile settings for Airtel 4G hotspot device.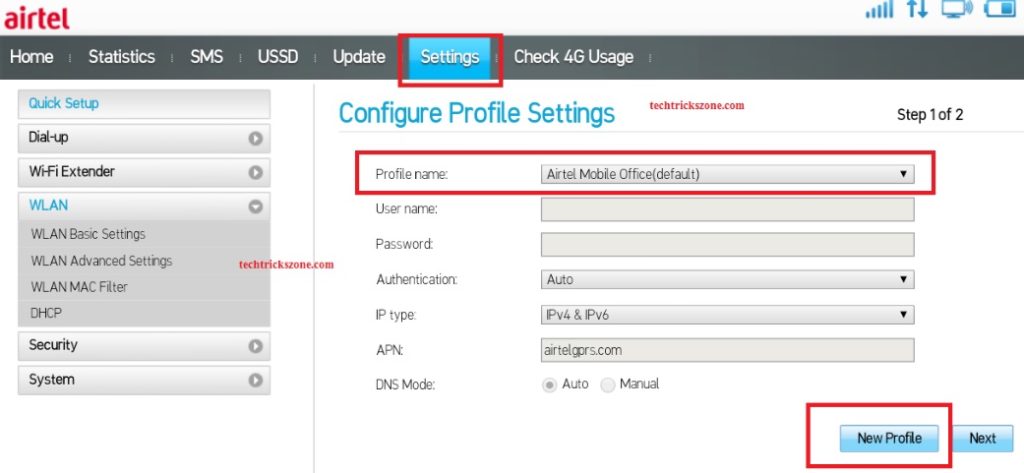 Profile Name – Airtel Mobile office (default)
Username: blank
Password: blank
Authentication:  Auto
IP type: IPv4 & IPv6
APN: airtelgprs.com
DNS Mode: Auto
Click Apply Save
Airtel 4G hotspot Mobile Network Selection 2G/3G/4G and Auto
Although everyone knows 4G is always faster than 2G and 3G. Fixing a network in 4G can disconnect the internet when moving from one place to another place because if there is no connectivity of 4G in any particular place then the internet goes down so Auto Network Selection is always benefited when moving one place to another place. In auto mode, the 4G router will auto-select the available network at the location you will always get connected only speed will slow down according to network 2G or 3G speed.  don't forget to set the Airtel 4G hotspot router configuration first time for Auto network Selection.
Go to Settings—Dial-up–Network Settings
Network – Preferred Mode: 2G/3G/4G/Auto choose here mode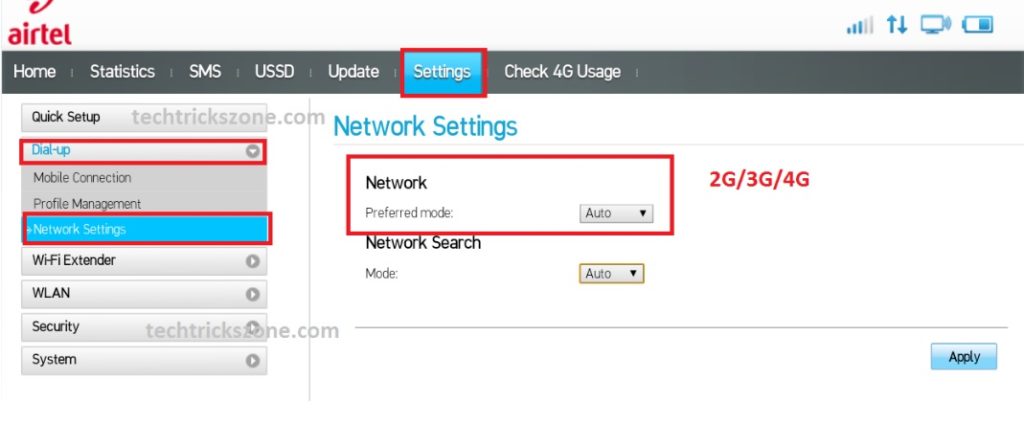 Airtel 4G hotspot Router  Wi-Fi Configuration
Airtel 4G router preconfigured with default Airtel said and the Default password for WiFi connection. Default settings are always highly recommended to change to be safe from hackers. Any WiFi router default settings easily can get from the internet so change always default settings. see step to step how to change 4G router default Wi-Fi name and Password.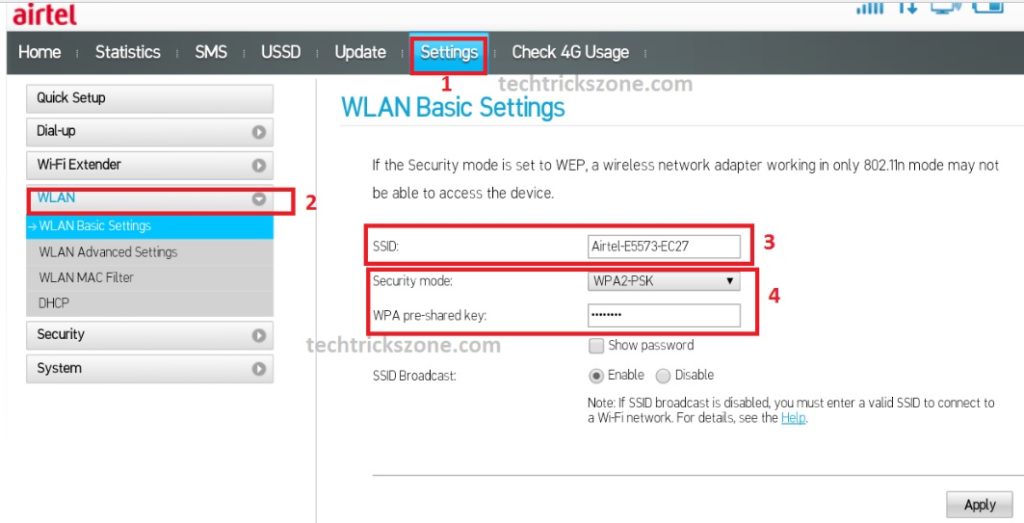 Go to Settings – Wlan
SSID: Airtel-E5573-EC27 ( Delete this name and Type new Wi-Fi name here)
Security mode: WPA2-PSK  (choose this security type recommended )
WPA pre-shared Key: Type your new Wi-Fi password here
SSID Broadcast: Enable  ( Keep this enable to unhide your Wi-Fi Name)
Apply Settings to save changes
Airtel Portable hotspot Router Wi-Fi Advanced Configuration to speed up 4G speed
WLAN Advance settings are always important to avoid Wi-Fi speed issues due to wrong channel selection and wrong settings. See how to configure Hotspot 4G Wi-Fi router Advance settings.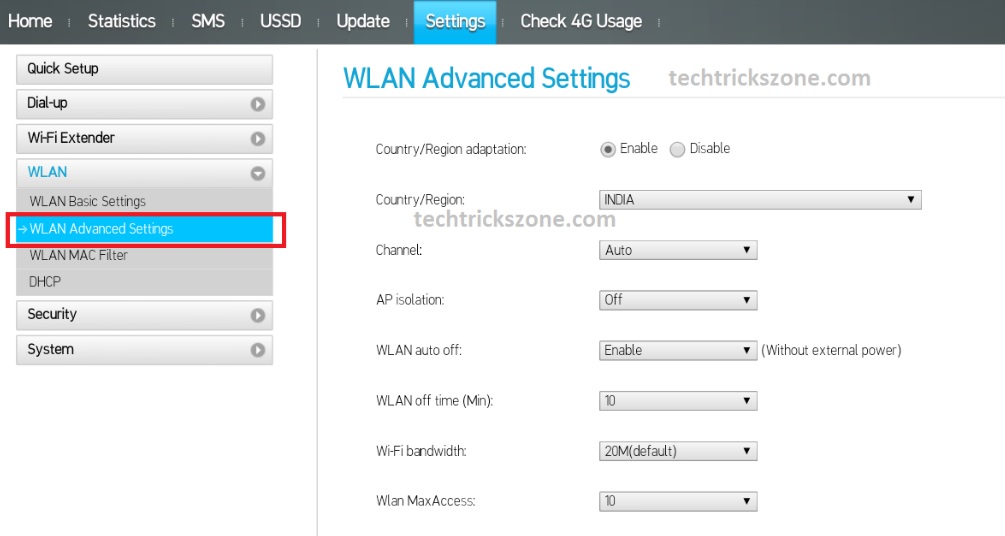 Settings –WLAN—WLAN Advanced Settings
Country/Region Adaption: Enable ( this option should enable to get legal channel list as per country )
Country/Region: Choose your Country here
Channel: choose Channel from 1,6,11. If you are using more than 1 Hotspot router in the same home.
AP isolation: Off
WLAN auto-off Enable ( if this will on then router will auto off when charging disconnected.)
WLAN off Time: off (this is auto-off WiFi as per set time.)
Wi-Fi Bandwidth: Make to 20/40 as per user in the home.
WLAN Max-Access: choose the number of users in your home who can access 4g router(if you have 4 users make it 4user to be safe from unknown user access.
Click Apply to save changes.
How to Enable Roaming Data in Airtel 4G hotspot Router
This is a very important setting for travelers. Today every internet provider gives free access to internet access in roaming as per local plan. It means the same place will applicable also in the whole country. So whenever we move origin city to another city internet disconnects if roaming data access will disable. So make your Hotspot 4G router Roaming Data Access Enable always.
Settings – Dial-UP –Mobile Connection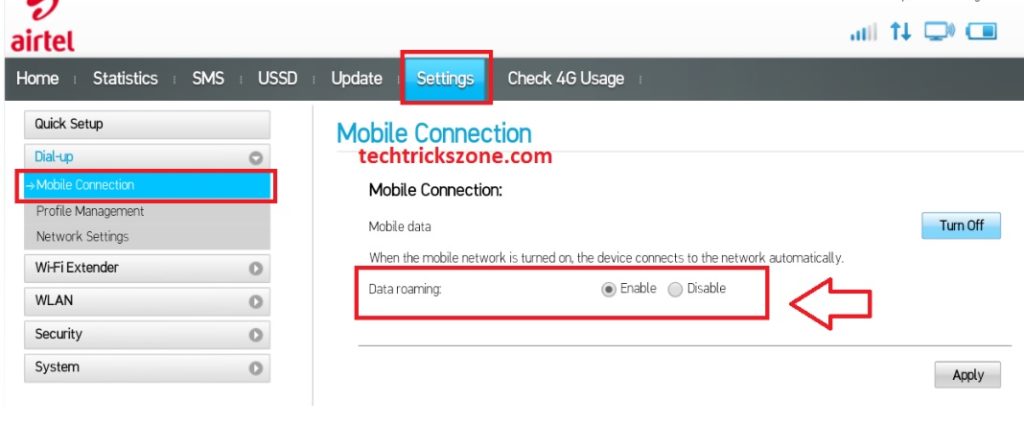 Mobile Connection: Mobile data – Turn off/Turn on
Data Roaming: Enable (Enable these settings to get access in roaming always)
 How to Configure DMZ settings in Airtel 4G hotspot router for NVR Access
DMZ settings use to create a secure tunnel to access any private network device publicly throw routers. So if you are looking to access any Device, CCTV, NVR, Server and other network device publicly you can use DMZ settings for the remote area where you can use the 4G network. see how to use DMZ configuration in Airtel hotspot router.
Settings –Security – DMZ settings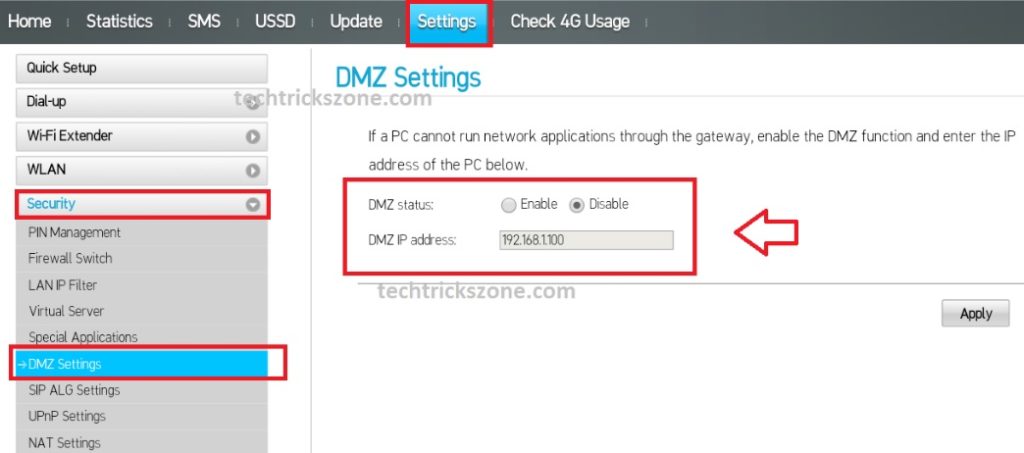 DMZ status: click on Enable option
DMZ IP Address: put the IP address of the network device you want to access from publicly
Apply settings
Airtel 4G Hotspot  Password Change
With changing default Wi-Fi settings it's also important to change the Wi-Fi router default login password to secure from unknown Wi-Fi users such as the guest user.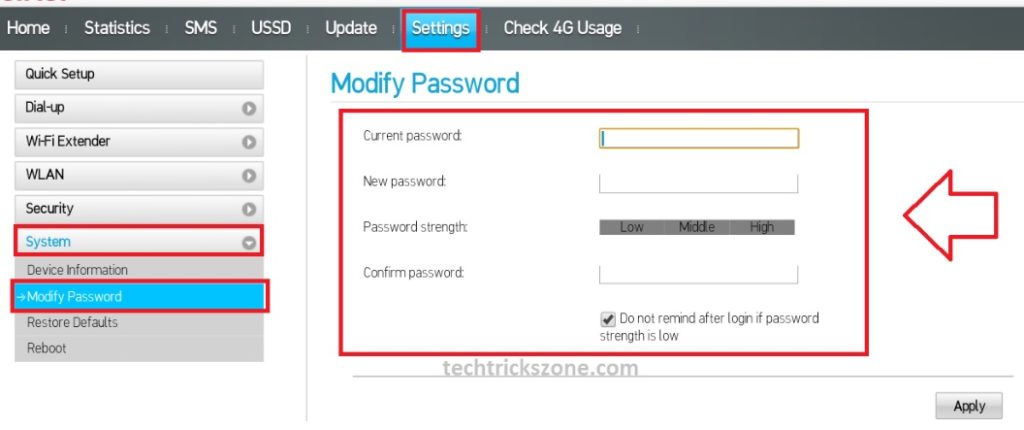 Settings –System –Modify Password.
Current password: admin (user default password here)
New password:  type new login password here
Confirm password: type a new password again
How to Factory Reset Airtel 4G Hotspot router Device
If you forgot Login password or Forgotten Wi-Fi password then no need to worry. just simple steps will reset your airtel 4g hotspot portable wifi router to default factory settings and you can reconfigure your router again to get help from the above post. Making factory reset of the 4G router can access airtel 4g hotspot default wifi password which mentions in the sticker. The method of reset 4g router only use if airtel 4g hotspot login password forgot or WiFi password forgot.
Airtel 4G hotspot Wi-Fi router Reset process.
Open device back cover.
see the reset button beside the battery.
Press  button for a 4-5 seconds with a needle
the router will reboot and you will get the default Airtel WiFi name in your wireless signal in the mobile
just reconfigure and enjoy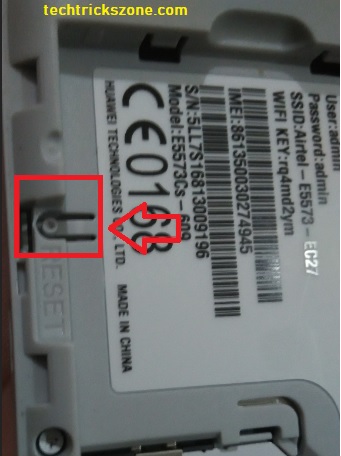 Once airtel reset done successfully then use the airtel 4g hotspot default wifi password to connect again from your mobile or Laptop.
Hope your Hotspot 4G router now protects from un-authorize after Airtel 4G hotspot router configuration first time while buying a new hotspot router. Always follow the buying guide and wifi network protection steps to ensure your home and office internet security.
Related Post-
       Airtel 4G hotspot Device Configuration  from Mobile
Download Airtel 4G Mobile Hotspot Router User Guide in PDF