How to Login AT&T Router to change WiFi Password?
You are using an AT&T wifi router or modem installed with your internet connection. You might be required to login ATT router to change WiFi SSID and password and configure other settings. In order to access at&t router settings, initial steps are to connect with router either wired or wireless. To keep secure and protect your home internet and data you must setup AT&T Uverse Router with a stronger wireless and login password as well.
This post provides you a simple guide to login AT&T router to prevent unauthorized access due to using default configurations. Once you successfully login to router settings you can configure security settings such as firewall, parental control, website block, Port forwarding, and more.
Steps to AT&T login to Web GUI
Power on ATT router with DC adapter comes with device box.
Use cat6 RJ45 LAN cable to connect wired connection to PC/Laptop LAN ports.
AT&T Default Login credentials
Default att router login IP address 192.168.1.254
ATT route default username: NA
Default password: attadmin  or admin or password (depends on the models and brands)
Access AT& T Settings page to web browser
Now open a web browser such as Chrome, Firefox, or any other.
Type http://192.168.1.254 or http://192.168.1.1 for some models in the URL bar and press enter key.
Use the password "attadmin" to log in to your AT&T WiFI router settings.
Once you access the control panel, now update wifi network name and password to keep secure your internet.
Inside at&t U-verse router go to the settings option tab from the top menu.
Go to the LAN option in the submenu and in the second submenu press Wi-FI option as shown below image.
Settings- LAN- Wi-Fi
User Network
Network Name (SSID): ATT0EHh5ve (change default SSID name to new wifi name as per your choice)
SSID Broadcast: Enabled
WiFI-Security– Enabled
Authentication Type: WPA1-PSK
Select the "Use custom Wi-Fi Network password" option and set the att password.
Enter Password: set your own wifi password for ATT network.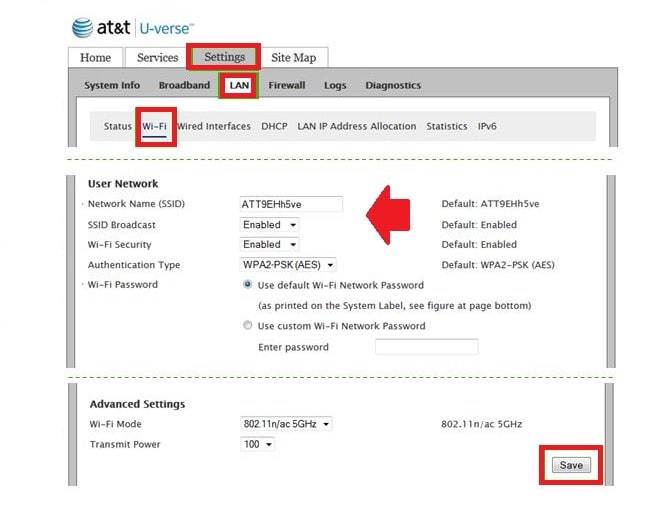 Advance Settings
WiFi Mode– 802.11 n/ac 5GHz
Transmit Power: 100 (you can adjust transmit power as per area size you want to use att router)
Press the Save button to confirm wireless settings.
If connected through WiFi connection with att router then you will disconnect from the network. Connect again with a new network name and password and login again for other settings.
Frontier Router Login IP Address 192.168.254.254
How to change the at&t Login password?
To Keep a secure network always recommended to update the default login password during the first time setup.
Go to the Service option to change the ATT login password.
Find the password option and create a new login password.
Tip to Change Password
While changing login or wifi password must keep in mind to things do and don't.
AT& T Router Login Troubleshooting
You might be facing an error while login to router due to network and other configuration issues.
ATT router login IP not working
If you are unable to login router or you cant access router settings you may follow steps to fix the login issue.
Make sure you are using default Login settings as printed to the router label.
Make sure your computer/laptop LAN settings configured to DHCP mode.
You can get ATT router gateway IP address using the command prompt.
Open a command prompt using start menu or press window key+ R
Type CMD and press the OK button.
Type "ipconfig" command in command prompt window and press enter key.
See the network adapter IP configuration detail will load
Find Gateway IP Address: 192.168.l.254  ( this gateway IP address is your AT&T LAN IP Address use to login router)
If you still facing issues while accessing the router web interface then you can make a router factory reset.
How to Factory reset AT& T Router and modem?
Making factor reset router erase all configuration saved to the router. Make sure you have download configuration backup file before using the hard reset option.
Follow steps to restore the router to default settings.
See a small tiny reset switch available in router beside Ethernet ports.
Use a small needle to press the reset button.
Press and hold the reset button for 10-15 seconds and release button when router led blinking and rebooting start.
After rebooting try access default settings again.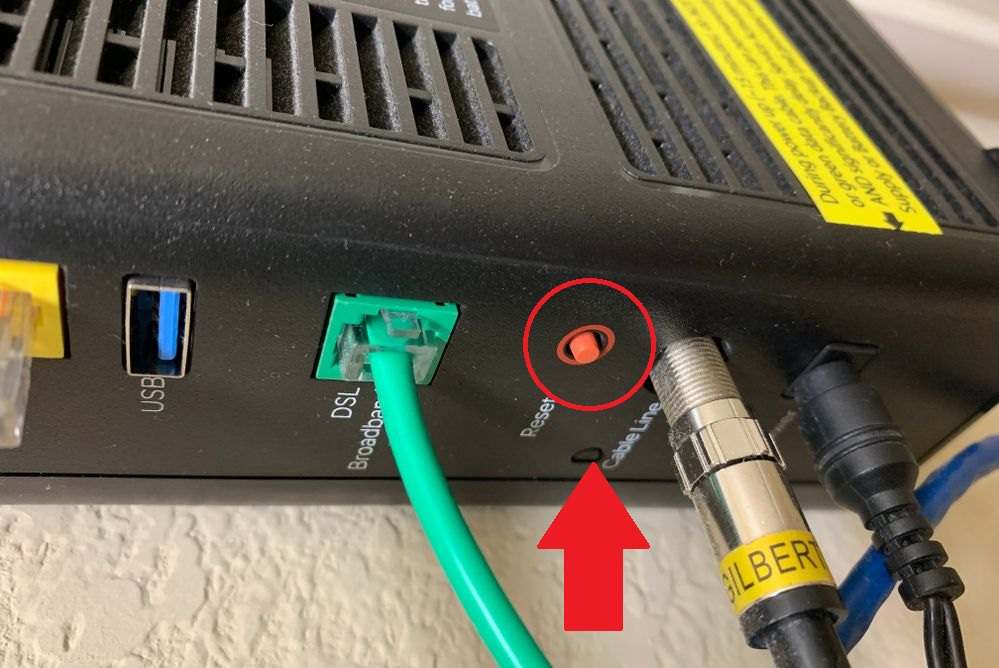 Final Words
I hope this user guide for uverse router login and setup first time to secure your home internet connection will helpful for you. You can set up more configurations once you are logged into router settings.
Related Post