An easy way to protect your wifi is to enable mac address filter list in Ubee Modem Block User those do not belong to your family.
Ubee Modem Block User to Connect WiFi
Ubee modem uses to deliver internet connection at the last mile. Ubee cable modem supported by a lot of leading internet service providers such as Xfinity, Spectrum, TWC and many more. The Ubee modem is available with wired and wi-fi router and modems. The Ubee modem one of the finest and stable SMO modem with advance security features such as parental control, Port forwarding, Mac address filtering, Firmware upgrade, Backup and restore and many more.
Mac address filtering one of the best security features to block mobile and laptop wifi devices to connect your wifi network. Although everyone uses the WiFi security key to secure wifi network, enabling the Mac Access list can add one more security layer on your home internet. You can block or allow any Wi-Fi device to connecting from your WiFi networks. You need to login to Ubee modem settings to enable the Mac access list to create a black and white list. If you have a Ubee WiFi router or wifi modem you can follow this user guide to enable mac filtering to prevent the unknown user to connect wifi.
 Steps to Enable Mac Filtering in Ubee
The first step is to log in to the Ubee router web interface using mobile or desktop to setup Ubee Modem Block User to access wifi network.
Connect your Ubee router using WiFi or Wired connection from mobile or computer device.
Use Ubee router login IP address to open router settings.
If you are using default settings  than Ubee default Login IP is 192.168.I00.1
Ubee default username: admin
Ubee router password – check router label or you can try  admin,  password
Open Web browser and access http://192.168.1.1 or http://192.168.100.1
If you already change Ubee router password during the first time setup then you need to use the same login password to open Ubee settings.
Once you logged into the router settings page now follow steps to enable mac address blocking in Ubee router.
Block Mac Address in Ubee
Enable Mac filtering feature comes under wireless settings.
Go to the Wireless tab from the top mainu.
Access Control option as shown below image.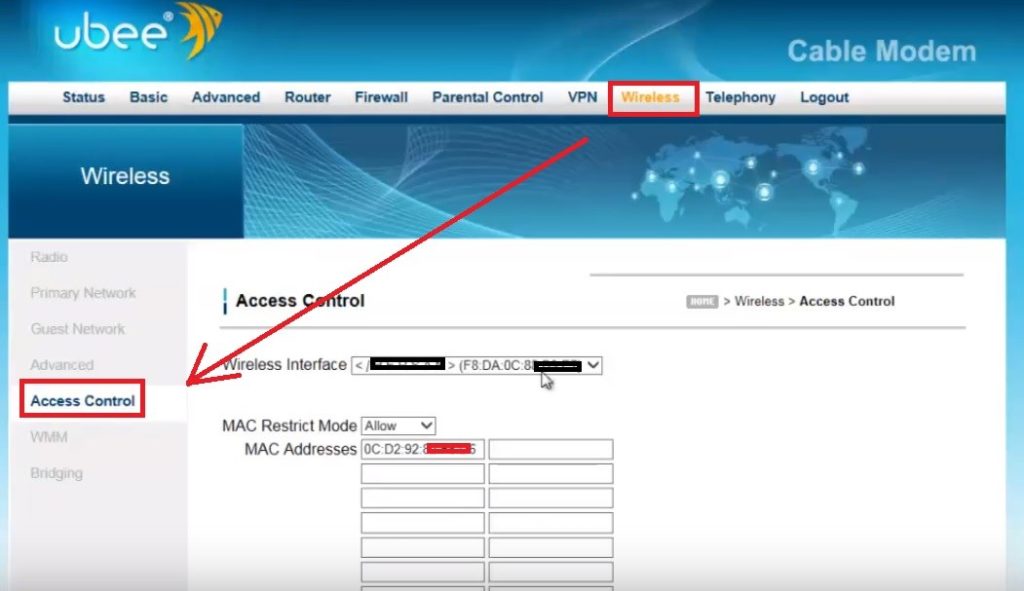 In ever WiFi router and modem Mac restriction mode divided into two restriction modes
Allow:  In Allow mode WiFi user only can connect to WiFi network that are added to MAC access list.
Exp: you can only add mobile and other wifi devices related to your family to connect your WiFi networks.
Deny: Deny list also can say blacklist. User added to deny list cannot connect to wifi network until removed from the blacklist.
If you think any WiFi device connected to your WiFi network not belongs to your family then blacklist to deny wifi networks.
1: Create White Mac Address List-
Go to Wireless- Access Control
Wireless interface: 2.4GHz 
For the dualband wi-fi routers add the mac address to both band wifi. Select wireless interface one by one to enable mac filter list in both bands.
Select the Mac Restrict Mode: Allow
Add the mac address of users you wish to allow in your wifi network.
You can find the connected WiFi device list below as shown image. Copy mac address and add to
Mac Addresses list.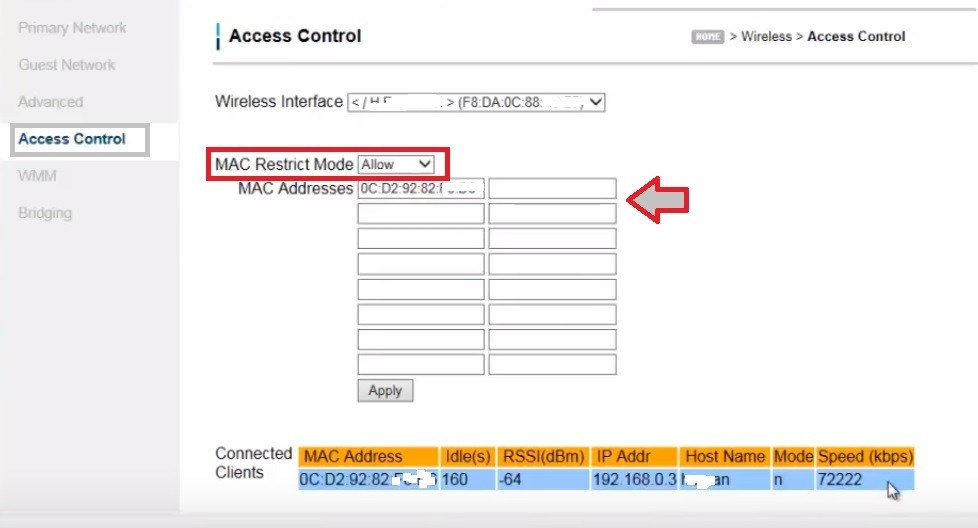 Apply settings to save changes. Adding mac address to allow list consider as the White list.
2: Mac Address Black List
The second option is to add unknown connected wifi users to deny list so wifi network dis-allow to join your wifi internet.
Access Control
Mac Restrict Mode: Deny
MAC Addresses: Add the mac address you want to block in your wifi networks.
You can add multiple mac addresses as showing in the list below.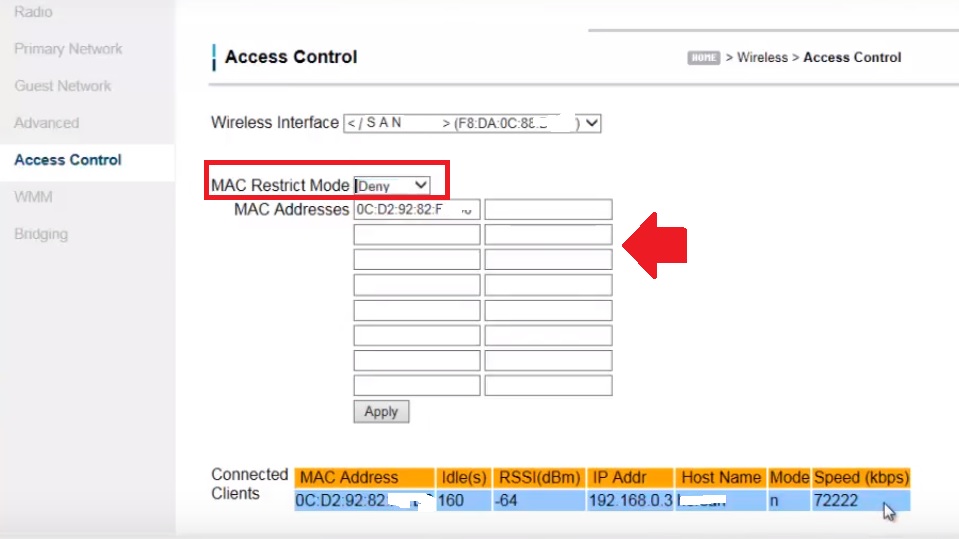 Every WiFi router MAC address list support different size depend on the router memory and flash size.
Enabling the MAC filter list the best way to give extra protection to your home wifi internet. Mac address filtering will secure your wifi network in case your neighbors got your wifi password, but can"t use your wifi until you not allow from MAC access list. This Ubee user manual makes with Ubee ubc1302 wifi modem, however, you can use this guide for other Ubee routers and modems.
Related Post