Use security option URL filtering to enable website and apps block in-home wifi router. read the simple user guide to Block Website in Asus WiFi Router and user block using mac filtering option.
How to Block Website in Asus WiFi Router
The WiFi network provides portability and freedom to use the internet without sitting in a single place. To making a secured and reliable network Wifi router configuration should proper and all security layers should be enabled. Every router having many features to prevent wifi networks from unauthorized access as well as protect your kids and family from browsing the unusual and harmful website.
In-home and office, you can allow only website useful in office and for family. With simple configuration, you can block website and Apps in the wireless router which not useful for kids. To protect home wi-fi and kids always enable parental control configuration in the wireless router.
WiFi router with blocking website also gives you the power to control internet access time and limit as per your choice. This post will disclose the way to block the site and enable Internet to schedule an Asus RT-N12 N300 WiFi router. You need to access the Asus RT-N12 router settings page to enable content filtering to block apps.
Site and User Block in Asus router
To block unknown user and site Asus wifi router needs to the login settings page.
Connect the Asus router LAN port to PC/Laptop Lan port and access the default IP address.
Asus RT-N12 Default IP Address: http://192.168.1.1
Asus default username and password: admin/admin
 Open a web browser and access Asus WiFi router default IP Address.
On first login router will open on the Status page as shown below pic.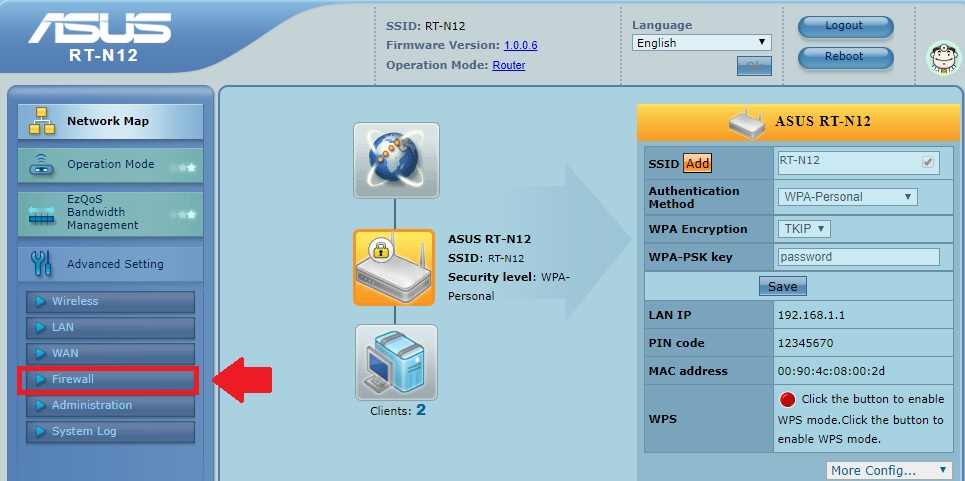 You can see the internet connection status and WiFi user connected client list n status bar.
To block website and mobile application such as block Whatsapp, Facebook youtube need to enable content filtering option.
Go to Firewall – URL Filter option as shown below image.
1: Enable URL Filter: Yes
2: Date to enable URL filter: Set the scheduled day you want to block or unblock websites and apps added in URL filter policy.
3: Time of Day Enable URL Filter: you can also enable website blocking in a specific time as per define by block schedule.
4: URL Keyword List: Type website name or domain name or Apps you wish to block in scheduled time and day.
EXP: want to block Facebook than add Facebook.com, www.facebook.com, Facebook
Want to block Whatsapp add web.whatsapp.com, Whatsapp. Etc.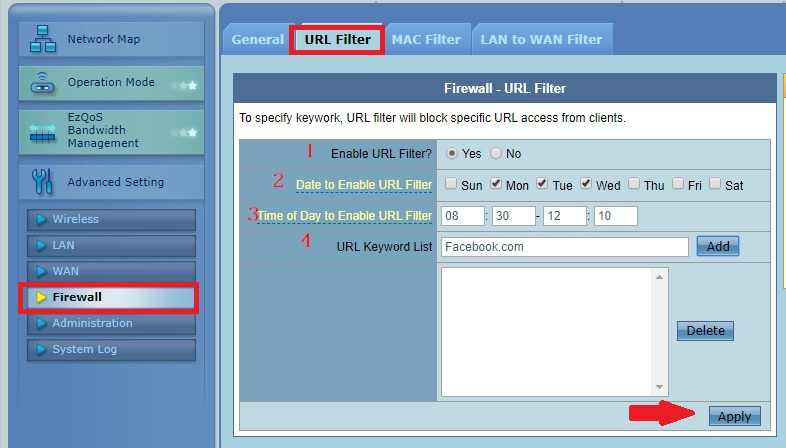 You can add multiple websites, apps to block or allow in a certain time schedule.
Click Apply button save settings.
How to block User in Asus WiFi Router?
Mac Access list or mac address filtering another best security options available in WiFi router. Enabling mac access-list let you decide which user can allow or disallow connecting your Asus router.
To block WiFi user in Asus RT-N12 Mimo wifi router follow steps.
Go to Firewall- Mac Filter
Mac Filter Mode: Reject or Accept. (reject will not allow accessing device whos Mac address added to list and Accept will only allow connecting wifi those are added to Mac list.
To Block user select Reject option.
Add Mac Address of mobile, PC you want to block acing internet from Asus wifi router.
To Find a Mac address if use connected to router go to status and see connected user details. If user not connected to wifi than Go to about the phone to get the Mac address or in PC go to a network connection to get Mac address details.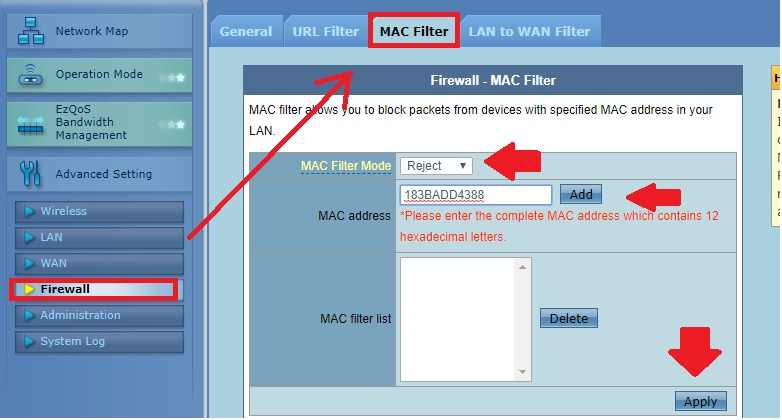 Once the Mac address added to list click Apply button to save settings.
To unblock WiFi user just select Mac address from the Filter list and click the Delete button. Apply to save settings and check user will allow connecting WiFi router.
This is the simple steps to control internet access and time schedule for your home and office WiFi router. Enabling URL filter option will protect your kids from visiting the harmful websites and only allow useful content and apps in your wifi network.
Download Asus RT-N12 Datasheet and user guide in Pdf.
Related Post