How to Block User and Websites in Arris modem Router?
Arris cable modem and Wireless modem installed in various internet and voice service providers such as Comcast Xfinity, TWC, Cox, Spectrum and many more. You may subscriber to cable internet providers and Arris modem router installed with your connection. In an earlier post, we have published the Arris modem login manual to change WiFi password and login password. However, to add more security layers in your home internet network you can block unknown users to access the WiFi network and block inappropriate websites in networks.
You can create a White and block user list to allow and deny to connect your internet. Blocking Apps and Keywords in arris modem you can secure your kids to visit spamware and bad websites. Login Arris modem using Wireless or wired to setup website block and Mac access-list configuration.
Arris modem login to Block WiFi Users
For Arris cable mode connect RJ 45 LAN cable to Ethernet port and if you have arris sbg7580ac wireless cable modem you can use the wireless connection to login arris modem.
Connect your Arris modem router using Wifi or LAN port from a computer or Laptop. If you are using LAN cable to connect modem check arris modem lights for LAN blink to confirm wired connected.
Open Web browser and access default Arris modem IP address http://192.168.0.1  or 192.168.1.1 in some Models
After a few seconds you will Arris login username and Password windows to authenticate to access router control settings.
Default arris username "admin" and arris modem default password is "password" if you didn't change during first time login. If you have changed the login password already use the same password to login to your arris modem.
After login, you can restrict wifi users to connect your WiFi network.
Steps to Block WiFi User in Arris Surfboard
Block wifi user required mac address of the device you want to block or allow internet.
In Arris dual band wifi router modem needs to create a mac access-list for both 2.4Ghz and 5.8Ghz wireless network.
Go to the Wireless 2.4 GHz tab from the top menu as shown below SBG6700-ac WiFi router.
Wireless 2.4 GHz- MAC Access Control
Mac Address Filtering
Mac Address Filter Type:
Whitelist: If you want to only allow known users to connect your network you can use Whitelist and add all Mac address of the device you want to allow internet connection.
Blacklist: In the blacklist, you can block the specific users to deny connect your wiFi internet.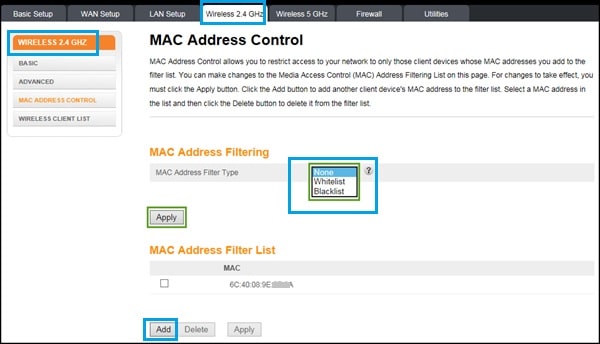 Block Mobile Device in Arris router:
Choose Blacklist
Press Add button to add the Mac address of the user you want to disallow from your internet.
To find Mac address of the user
Go to Wireless 2.4 GHz- Wireless Client List
If you want to unblock wifi user from block list select the mac address from the Mac Address filter list and delete to unblock.
Repeat the same steps to block use in 5.8 GHz Wireless network so the user can block permanently from both wifi networks.
How to block Websites and Apps in Arris?
Blocking websites and apps is a good idea to keep the network safe from viruses and spamware sites. These steps will show you the Arris modem manual to block keywords and websites.
Enable Parental control settings in Arris modem to restrict any specific website and apps to block access from the internet.
Go to Firewall tab
Firewall- Parental Control
1: Parental Controls:  Check the box to enable parental control settings.
2: Trusted MAC: you can add a trusted device that you don't want to block website list added to parental control. Suppose you don't want to apply this block filter list to parents mobile but block in kids mobile and pc. Add parents Mobile Mac address to the trusted mac list to by pass-blocking list.
3:  Keyword Filtering: Add keywords to block in your internet. Such as Block Youtube, Instagram, Facebook or any other you wish to restrict in the network.
4: Website filtering:  
Add website name you want to block in networks.
You can block as per day and time schedules.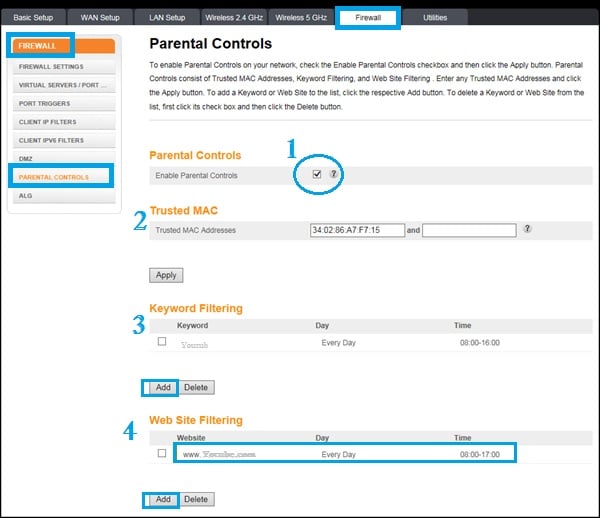 Press the Add button to create a website list to block.
Web site: www.youtube.com
Day: ALL Week or select specific days you want to block these websites.
Time: All Day or set time period when you want to block sites and apps in your networks.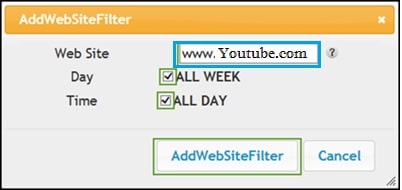 press Add website filter button and save settings.
Reboot the router and check if website blocking working for your network as well as user restriction work.
Hope, Arris Router parental control user manual will help you to prevent unauthorized users accessing your wifi internet as well as restrict inappropriate websites to access in your child devices.
Related Post