Wavlink N300 WiFi Router Setup First time
Wavlink N300 Smart Wireless router setup first time for any internet service provider to turn wired internet into Wifi internet. WL-WN529R2P is 300mbps wireless speed and 3(1WAN+2LAN) Physical 10/100 ethernet port for wired connection to NVR, DVR, Network printer and Desktop.
4*5dBi external Omni antenna gives the long-range signal for seamless wifi connectivity and performance.              wavlink router setup can be done with web interface as well as mobile apps from mobile. Settings up Wavlink smart wi-fi router quite easy and simple with Wavlink android and iPhone mobile apps. Wavlink N300 support Router, Access Point, repeater as well as WISP mode.
If you have more than one wavlink wifi router you can use a second Wavlink wifi repeater mode to boost wireless signal coverage and connectivity. This post will assist you to step by step Wavlink n300 wifi router setup in router mode for PPPoE, Static IP as well as Dynamic internet type.
Wavlink Smart WiFi Router Connection
The physical connection needed to setup the Wavlink router first time in router mode.
Connect internet cable coming from Internet provider to Wavlink WAN port (Blue)
Use Cat6 Lan cable to connect from Wavlink router LAN port to PC/Laptop LAN port.
The power on wi-fi router adapter comes with the box.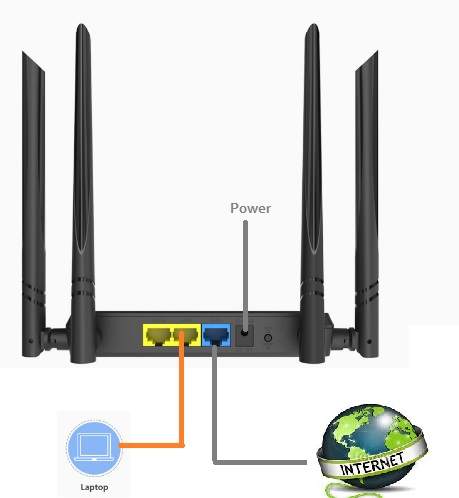 Login Wavlink WiFi Router Settings
Before proceeding to login wave link wifi router settings, you should know Wavelink default IP Address and username passwords.
Wavlink Default IP Address: 192.168.10.1 or access URL:  http:wifi.Wavlink.com
Default Wavlink username: NA
Password: admin
PC / Laptop LAN IP address configuration: change your Laptop/PC LAN IP address as DHCP mode.
Now Open Web browsers such as internet explorer, Firefox Mozilla or Microsoft Edge.
type http:/192.168.l0.1 login ip and hit enter key.
User admin to  Wavlink login in default mode.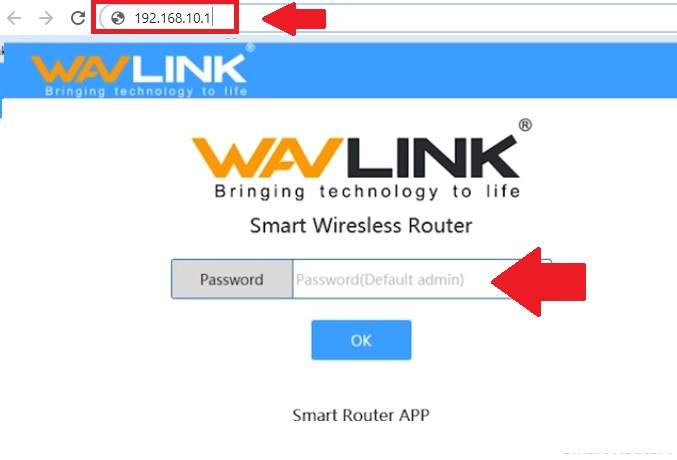 Click OK button to start Wavlink setup in router mode.
Click the Advanced button to enter in the router settings page.

During first time login select your region to compliance with country telecom regulatory.
Choose Global and click OK if your country not specified.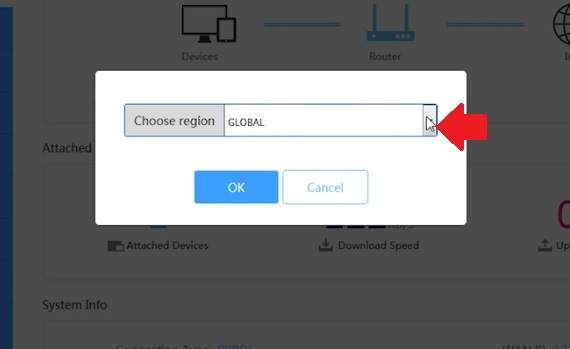 Wavlink WAN Port Configuration
The first step of Wavlink n300 setup in router mode need to configure WAN network settings as per internet type.
Wavlink support PPPoE, Static, Dynamic,  internet type so make sure you have the detail of wan port configuration.
To set up Internet in Wavlink smart router follow steps.
Go to Internet
1: Connection Type: PPPoE, Static IP or Dynamic.
Select your internet type and fill details provided by the internet provider.
I am using PPPoE connection type so I have provided username and password for PPPoE connections.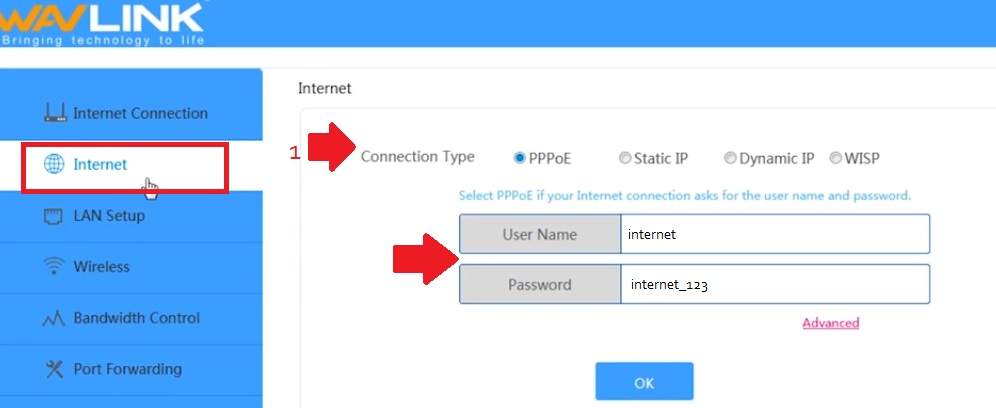 Select your internet type and fill settings accordingly.
Click OK button to save Internet settings.
Wavlink WiFi Name and Password settings
Now change the default WiFi name and password for wavlink access point with your own WiFi name and password.
Go to the Wireless tab from the left side menu.
WiFi name and Password:
WiFi Name: type wifi name for Wavlink wireless router.
WiFi password: type password for wavlink wifi router.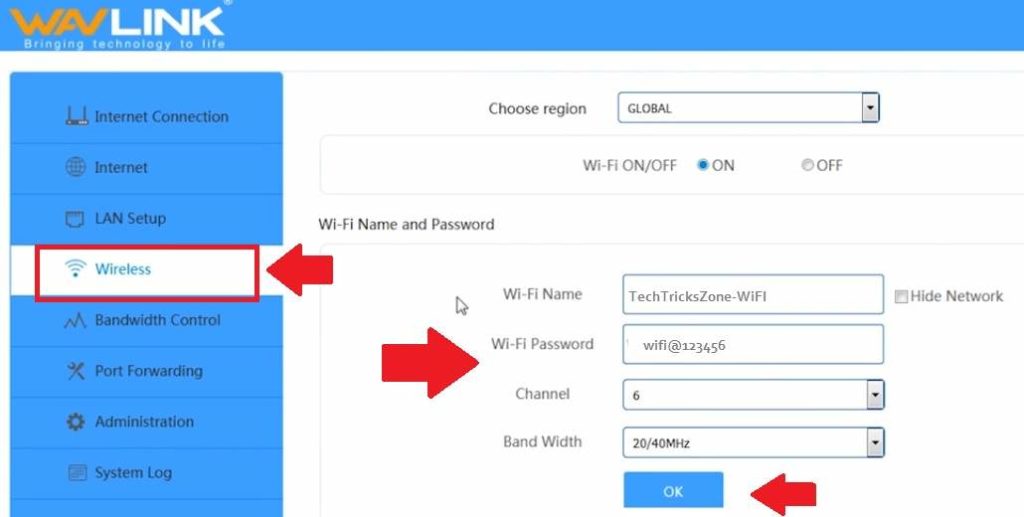 Channel: use 1,6 or 11 channel number to avoid overlapping to avoid any wifi interference.
Band width: choose 20/40 to auto-adjust speed as per internet plan and load running over wifi network.
Click OK button to apply.
WavLink LAN  Network configuration
If you are using multiple wave link n300 wifi router or using any other wifi router. Change the Default LAN IP address to avoid IP conflict issue.
Click on LAN port change default LAN ip address and click OK button to save settings.
After router reboot access again with new ip address changed.
Wavlink N300 Default Login password Change
The router comes with default login details so must be change default login password.
To security and access level settings go to Administrator Option as shown below image.
Go to Administration
1: Login Password– to change the default login password for Wavlink router follow steps.
Old password: use old password (default is admin)
New password: type again new password
Re-type new password: Confirm  login password again and click OK button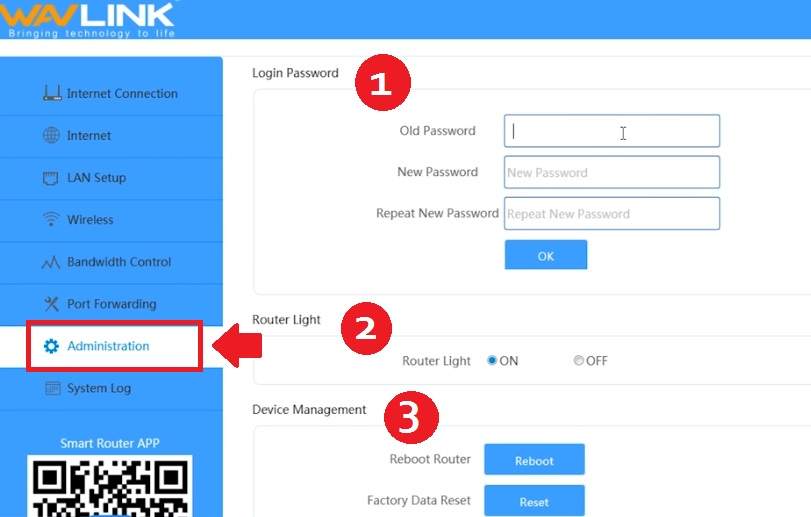 2: Router Light
You can control the LED light of the Wavlink router from administrator settings.
Router ling: ON  and Off ( choose off if you want to turn off light.
3: Device Management
TO factory reset of Wavlink wifi router go to the Administration tab.
Reboot Router: to reboot the router with the same settings click the reboot button.
Factory Data Reset: To reset Wavlink router to factory settings mode press reset button.
Note: Make sure you have download configuration backup file.
After making factory reset to Wavlink router will remove all configuration and you have t setup again.
Related Post