Installation and setup Hikvision iVMS client software to monitor Hikvision IP Camera Live View from PC without using the NVR device.
Hikvision IP Camera Live View from PC without NVR
HIkvision well-known brand name in security and surveillance products. It provides a multi-type security product for home and office protection. Hikvision CCTV camera brand is also popular for home security as well as business. This is a demanding brand in CCTV camera which produced DVR and NVR CCTV surveillance solution for personal and commercial. To setup Hikvision CCTV camera for home and office simple using DVR (Digital video recorder) and NVR (Network video recorder) technology.
If you are already using Hivision IP camera and want to monitor it on the computer without using the NVR device then this post will help you. You can view all CCTV IP cameras from a computer or laptop using iVMS software. Hikvision DS-2CD2032 view from PC or any other Hikvision IP and WiFi camera can manage from single iVMS software. In this post, we used the Hikvision ds-2cd1043g0-I IP camera to add in iVMS4200 software in Windows 10.
How to Add Hik vision IP Camera in Computer with iVMS software
CCTV Access with Intelligent Video Monitoring System (iVMS) is cost saving for NVR device and you can directly record and monitor security cameras in PC/Laptop using iVMS software.
Hikvision iVMS-4200 v3.1.1.13 is available for Windows and Mac OSX free of cost. The configuration of hikvision ivms 4500 for pc software same for Windows and Mac PC. It is a 100% free tool to monitor up to 16 cameras without using NVR.
Download and Install iVMS 4200
Download iVMS4200 client software for Windows or Mac from Hikvision official download page.
Install the software and wait to finish the setup.
Once iVMS4200 client software installation done now connect ip camera to computer follow the below steps.
Connect your All IP camera to the network switch using Cat6 cable to monitor from the computer without using NVR.
Connect PC/Laptop using LAN cable from the same network switch all IP cameras connected.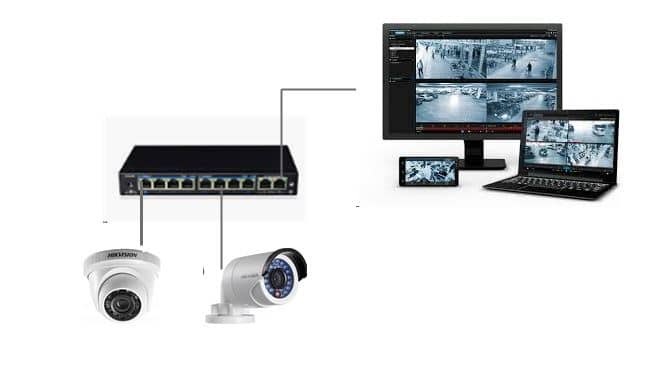 Setup and configuration Hikvision iVMS4200 for Windows
Setup ivms client software in windows open iVMS software and create superuser during first time setup.
Register Administrator
Superuser: type username (create Admin user to manage iVMS software and CCTV monitoring)
Password: create a strong password for iVMS4200 Login and confirm the password to avoid any mistake.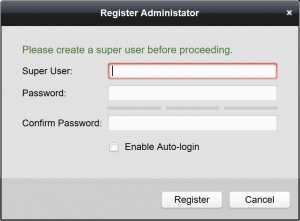 If you don't want to input username and password every time enable the auto-login option.
Make sure your computer access only you have so your iVMS software can be secured.
Add IP Camera to iVMS software to Monitor live View
Hikvison IP camera default IP address is http://192.0.0.64.
The default username is admin and the password 12345.
If you are adding multiple cameras in the same iVMS than must change the default IP Address of all IP camera to avoid ip conflict.
To Add IP camera in iVMS software go to Device Management.
See the online device list of a camera showing with IP address and serial number.
Press Add to the client button to add the camera.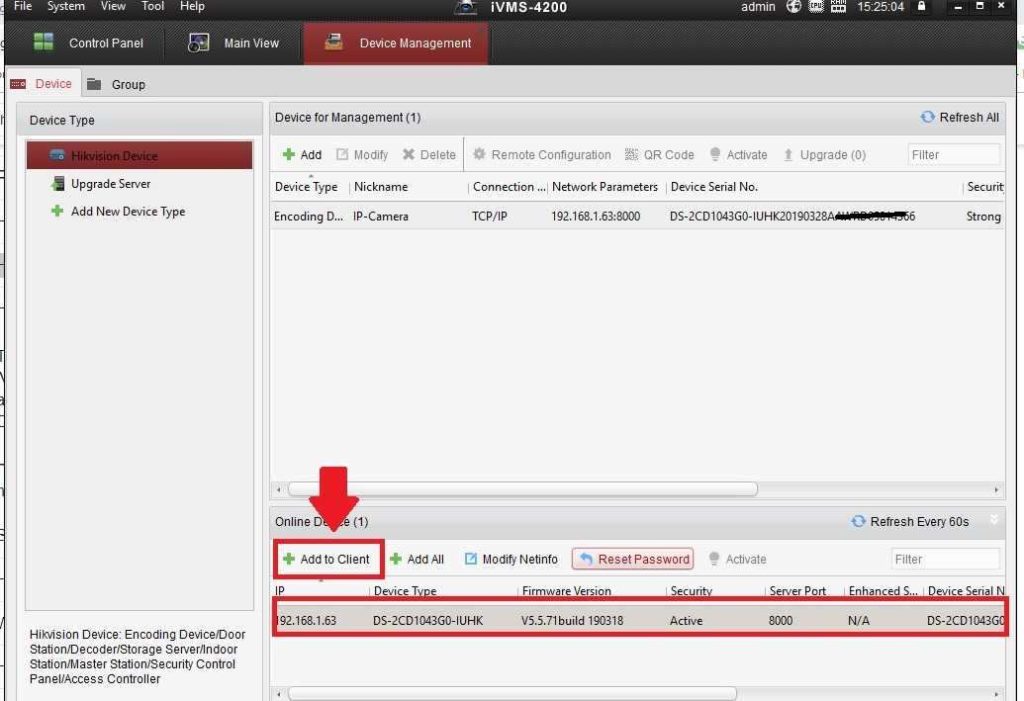 If showing more than 1 camera please change the IP Address before adding to client software.
Change Hikvsion IP camera IP Address using iVMS software
Go to Device management
Online device– Press Modify Netinfo.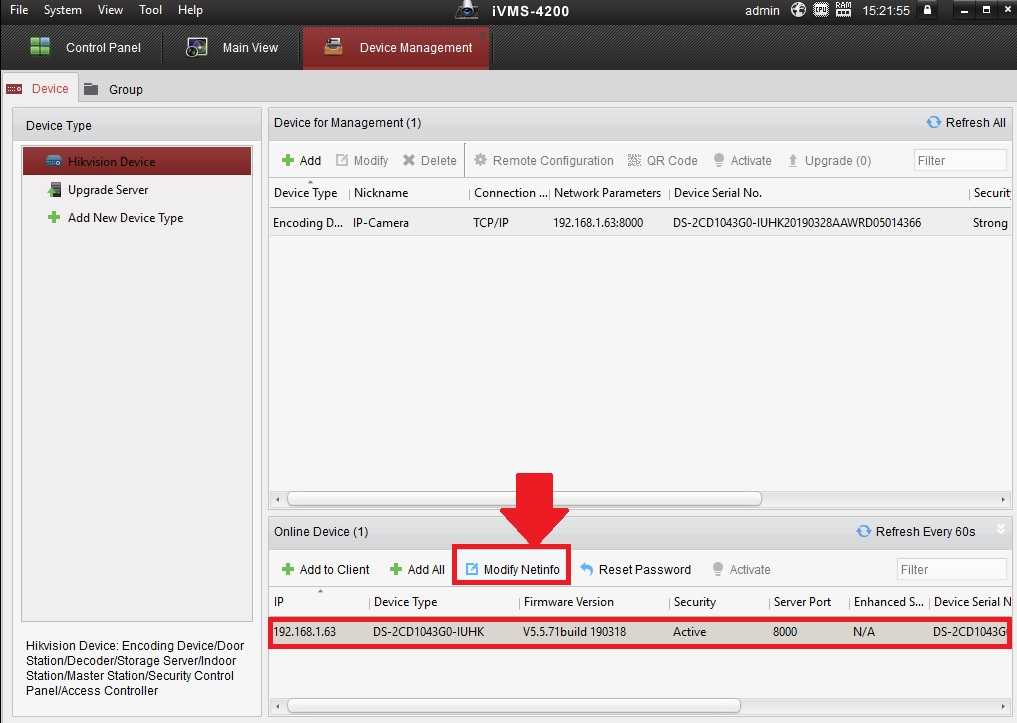 Modify Network Parameter:
Change the IP Address of IP camera and provide Password to allow settings to save and changes.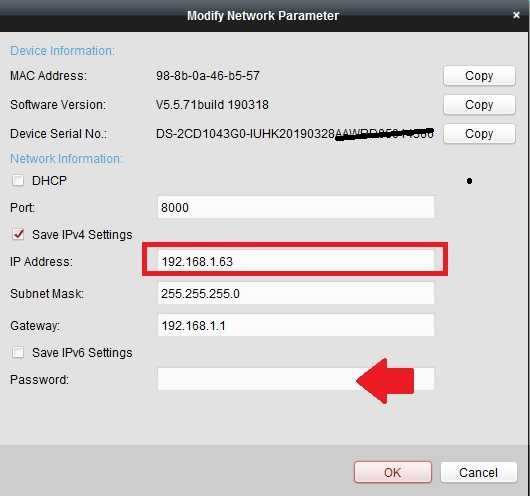 Press the OK button to confirm settings.
Once all cameras added to the IVMS device management list.
Monitor all cameras using the Live view option.
Go to the Main View tab as shown below image.
Select the Default view screen from 1 screen, 4 Screen, 9 screen or 16 screens.
Go to Camera section and see the list of all cameras added.
Double click camera one by one or press play all to run all cameras on the screen.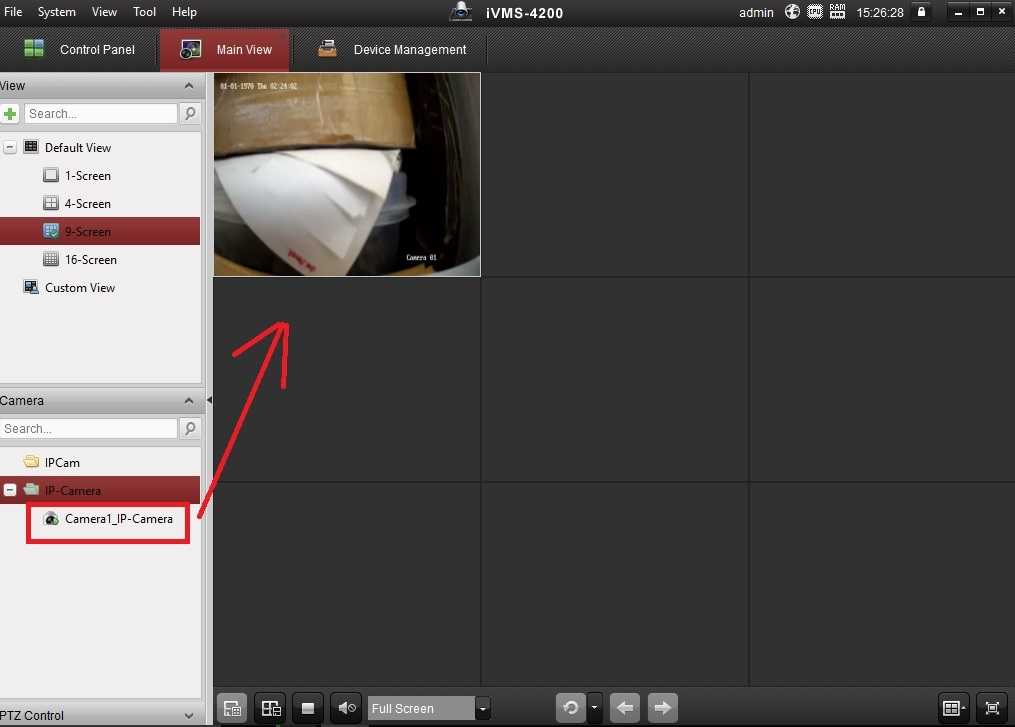 You can make the full screen any camera with a double click on the camera display.
This is the simple manual for hikvision ivms4200 CCTV camera monitoring from the computer without using the NVR device. In this software, camera recording will save to the computer hard disk and you can attach the external hard disk to increase storage size.
Related Post