A common issue with Mac mini stuck at apple logo with progress bar black screen. you may try several methods to solve it but still facing stuck on Apple logo. just follow the 3 different solutions to solve Mac mini stuck on Apple logo one by one and keep safe your data as well as hardware.
Mac mini stuck on Apple logo Loading progress bar 100%
Ah! When I power on my Mac mini basic model, with "plain vanilla" and waiting for loading progress bar but my waiting not end. I was really surprised when my Mac mini taking more than usual loading time to open Mac OS and progress bar keep going on with the apple logo. I tried 3-4 time but every time my Mac mini stuck at apple logo and progress stop at 100% but no operating system getting open. It seems your Mac mini also stuck at Apple logo and looking for the solution "How to fix a Mac Stuck on Apple Logo Progress Bar". Don't worry now you are just landed to the right place where you will get a fearless solution to recover mac mini operating system without taking it to the Apple service center.
There are many different options to solve Mac mini stuck on Apple logo loading screen which can use inside "macOS utilities". In this post, I will describe all the options one by one to recover your mac mini OS in the previous model.
Mac mini stuck on apple logo Loading screen Solution
First of all thanks to Apple Company who has given an outstanding tool for operating systems recover macOS utility. I will describe to you all the way to recover your operating system and solve the problem of Mac PC stuck at the apple logo every time. This method also can work if your Mac Pro not turning on or MacBook pro stuck on the apple screen. Follow the instruction below one by one to safely solve mac mini stuck at the progress bar.
1: Mac Mini Boot in Safe Mode
2: Restore from Time Machine Backup (Recovery Mode)
3: Reinstall macOS
Disclaimer- Please before proceeding these steps with your Mac min and other Mac computer make sure you're all data backup already. Just do it at your own risk.
Now ready your Mac mini with you connect the power cable and proceed to hit and trial one by one solution to resolve the issue of apple logo stuck in the mac mini.
1: Mac OS Boot in Safe Mode
Safe mode is the safer way to resolve most of the problems in Mac as well as Windows PC. Trying one by one solution will save time as well as the data store in Mac mini.
So try booting your Mac mini in safe mode with the following steps.
To open Mac PC in Safe mode power-off the Mac mini first.
Now press and hold "Shift key" and turn the power on Mac mini.
While Apple logo shows with a progress bar you can release the "Shift key"
Once the computer loaded successfully try rebooting Mac mini and open in normal startup.
If it works then Enjoy otherwise try Method 2.
---
2: Restore from Time Machine Backup (Recovery Mode)
To restoring Mac OS from time machine backup Mac mini should boot in recovery mode and your Time Machine backup settings should be enabled before and only it can restore from backup files.
Using Mac Keyboard follow the instruction to boot in recovery mode.
Power off the Mac mini and power on and press Command (⌘) + R keys.
Apple logo with progress bar start and will open into recovery mode.
Using Non- Mac Keyboard follow the instruction to boot in recovery mode
Power off Mac PC and press Windows key + R key to activate recovery mode.
After successful enter in recovery mode now you can restore Mac OS from Time Machine Back (it similar to Windows Restore point created and restore windows)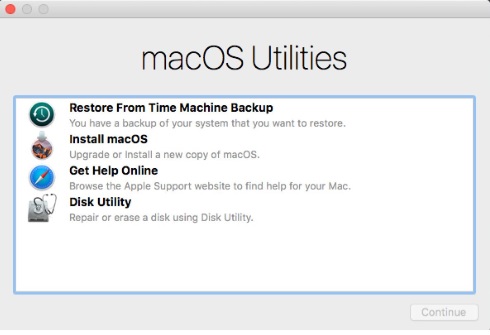 Now select "Restore from Time Machine Backup" and press the continue button.
You will get all the restore points to create in Time machine backup with the date. Just select the recent backup from the list.
Choose backup and press the continue button to start the restoring process of Mac OS.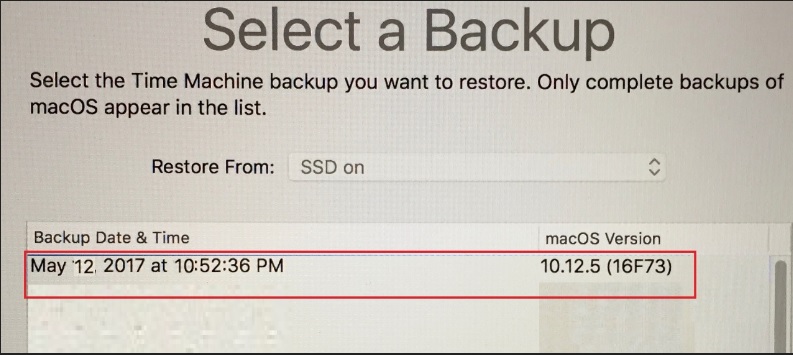 After restoring the backup it will take few minutes to restore your Mac OS on the previous mode it was work well on when backup created.
Hopefully, if your restore process is done successfully than your problem should solve and Mac mini start normally.
If still your mac mini stuck on Apple logo now try the final steps reinstalling Mac OS freshly. 
---
Read More
Method 3: Reinstall macOS
The final method is reinstalling the Mac OS to get rid of the mac mini stuck on the Apple logo loading problem on Mac notebook as well as mac mini pc.
Note: Mac OS  required the connection between Apple server to reinstall OS in Mac PC so make sure you should have an active internet connection and Mac mini connected to the internet before starting reinstalls Mac OS option.
To reinstall macOS open Mac PC in recovery mode. Follow Method 2 to activate recovery mode.
Select the Reinstall macOS option from the macOS utility menu list.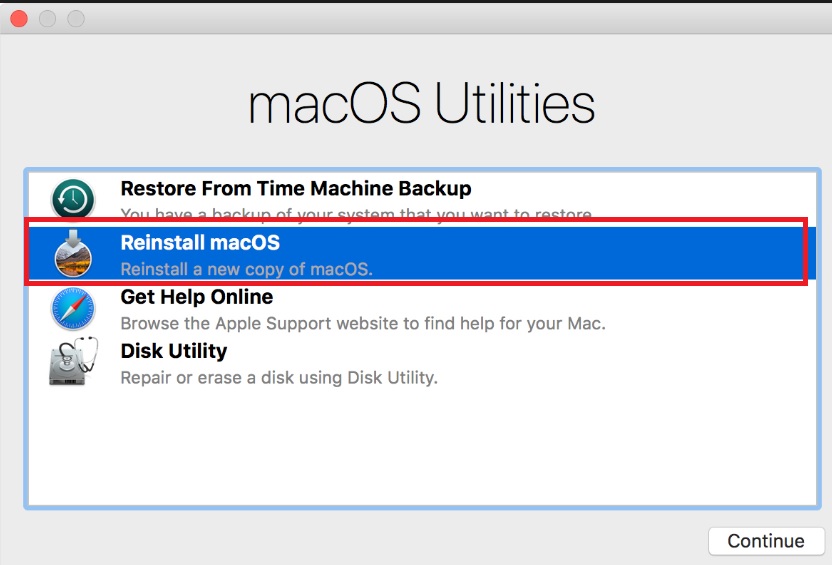 In the next steps, you will get the Mac OS version details and option to process continue.
The latest version of "macOS Sierra"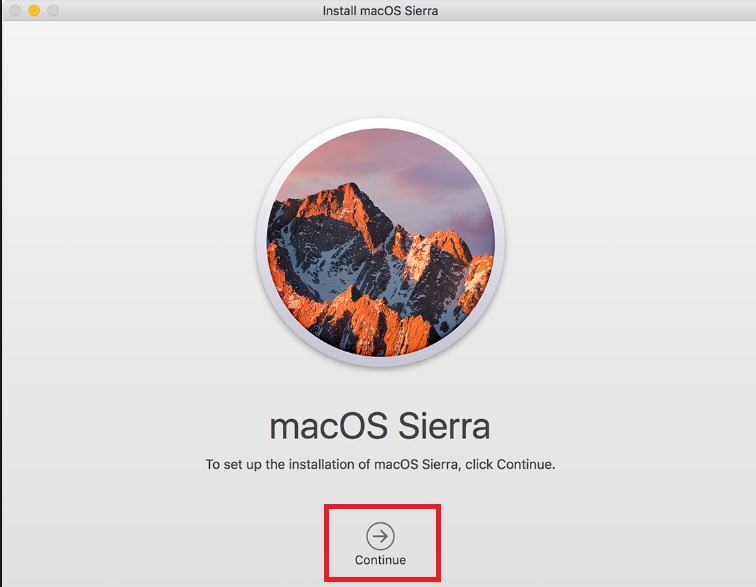 This step will for the Software license Agreement for macOS High Sierra.
Agree button will be disabled until you read the agreements. So scroll down the agreement to enable agree button
Press the Agree button to further steps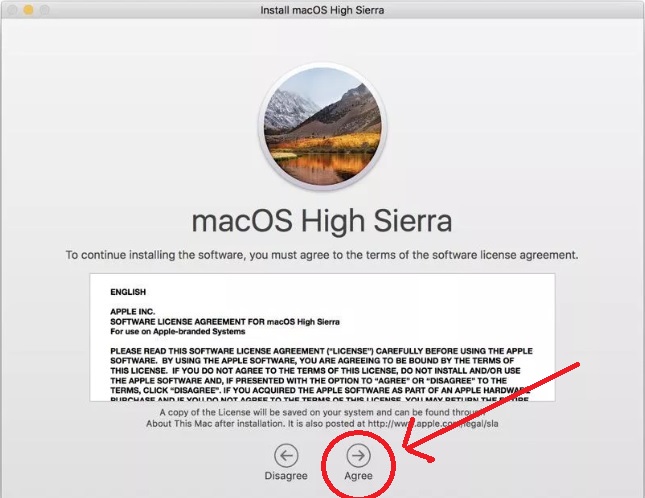 After accepting the License agreement you will go to the next option where you have to choose the drive partition to install Mac OS High Sierra.
IF your installation proceeds without any error than sit back and wait until installation finish.
But If you got error Drive Locked and install button not enabled to proceed ahead.
High sierra – "Disk Locked" Problem during macOS reinstall.
Are you facing "This Device is locked" issue during Sierra installation on Mac mini? You Can't reinstall MacOs because the disk is locked until the drive not unlocked. So tried reinstalling High Sierra, but says the disk is locked, then follow the instruction to solve the locked issue on Mac OS.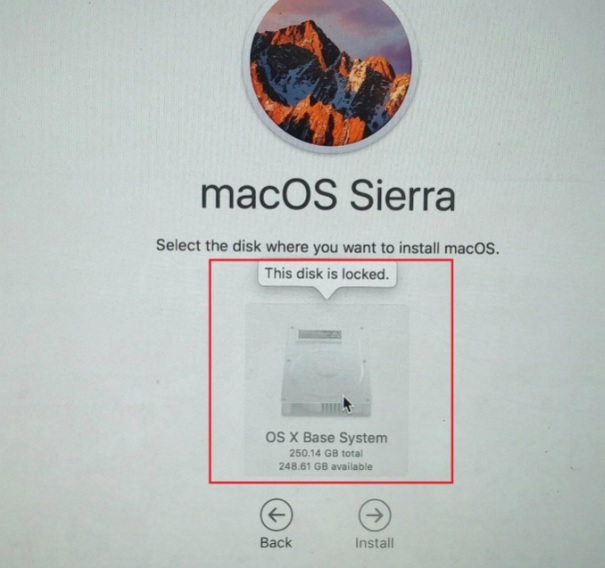 Steps to unlock the Device while reinstalling macOS sierra in Mac mini
Go to back cancel the installation steps first and choose the option from macOS utilities.
Note: Make sure you don't have important data in your Mac mini before erasing the drive. It can be lost all your saved data so only do at your own risk. If you think data is important then take to the service center and take data backup first.
Select the "Disk Utility" and press the Continue button below.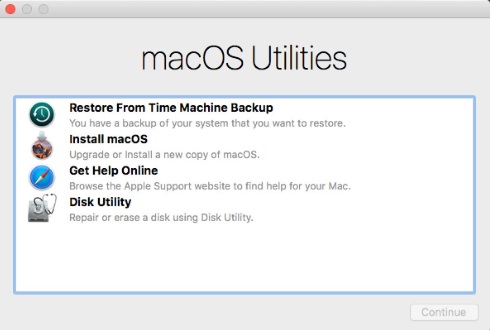 1: Select the partition from the left side drive details.
2: press the Erase button to open the partition selection option.
3: Choose the Format:  Mac OS Extended (Journaled) from the list.
4: press the Erase button to format the drive.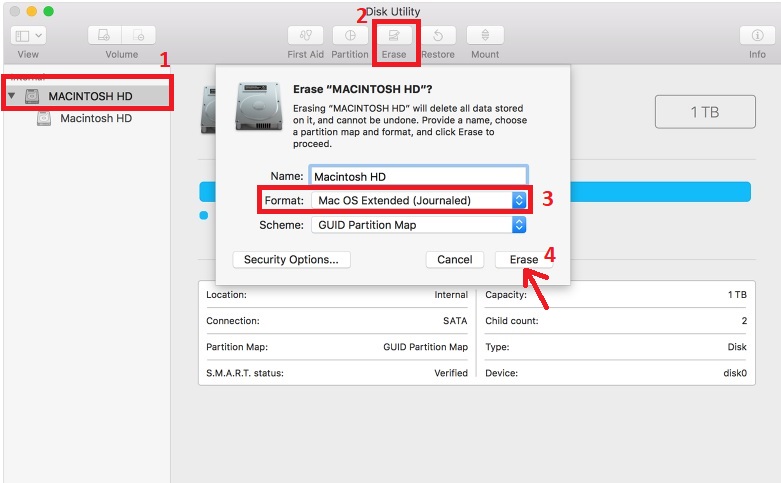 Once these steps finish again follow the Method 3 – reinstall macOS and after agreement with the option you will get drive option like below image.
Recovery HD partition will be disabled and the second drive will be enabled.
Choose the second one and see install button will be enabled (highlighted)
Press Install button and you will get the total time to reinstall Mac OS again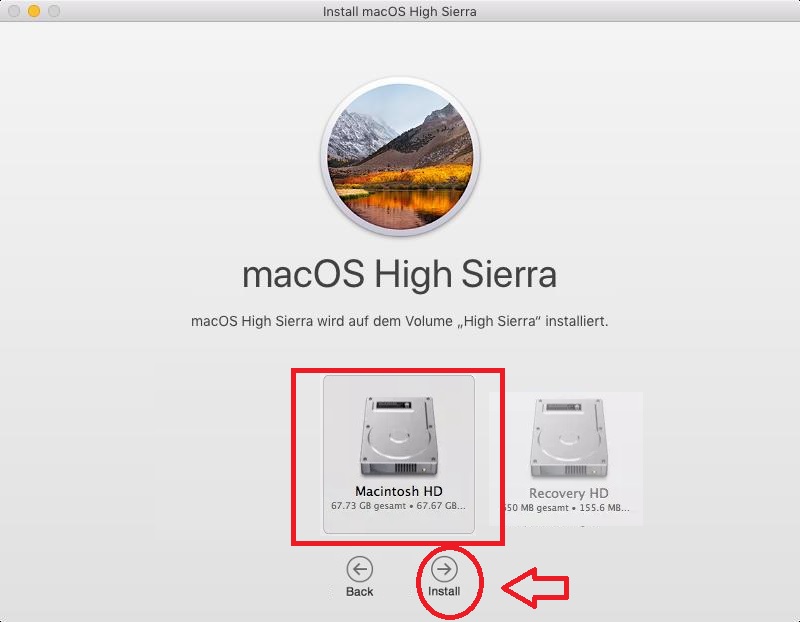 Wait for the installation progress bar finish and restart your Mac mini PC.
In the next steps, you will get an option to create the user for Mac mini and internet configuration
And other basic settings on first time loading Mac mini OS.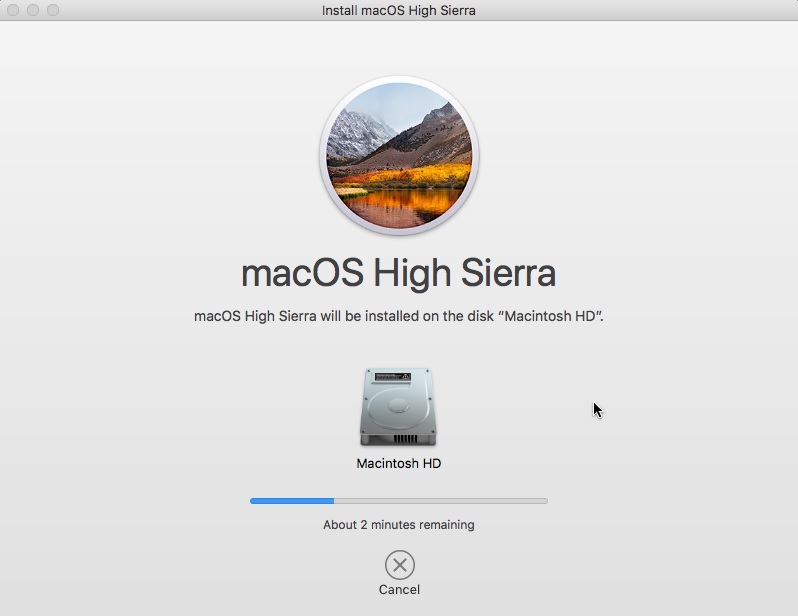 Congratulation! You have done restore your Mac mini PC successfully while stuck on the apple logo with progress bar.
Hope this post helpful for you to get rid of Mac mini stuck on the Apple logo and taking too long time to progress bar.
Related Post