configure Medialink gigabit wireless router as a range extender to increase wifi signal in office and home. read the full article to understand step to step Medialink AC1200 WiFi Router repeater mode.
Medialink AC1200 Range Extender Mode Configuration
Medialink ac1200 is a gigabit wireless router with 1Gbps wired speed and 1200 Mbps WiFi. MLWR ac1200 is a dual-band wifi router with many security features. It is the best WiFi router for gaming and lives streaming experience. Mediabridge Medialink AC1200 Wireless Gigabit Router supports all mode such as Access Point, Repeater mode, WISP mode, and Gateway mode.
Turn your MediaLink WiFi router as range extender to boost wifi signal in dark spot. Follow the step to enable repeater mode in the Medialink ac1200 wifi router. To use Medialink router as range extender need to access Medialink ac1200 firmware web interface to configuration.
Medialink MLWR AC1200 Gigabit WiFi router Connection
MWLR AC1200 having 1 WAN port and 4 LAN port for wired connection.
To configure as repeater mode connect LAN port to Laptop or Desktop LAN port.
Power on Device with Medialink Ac1200 DC power adapter comes with box.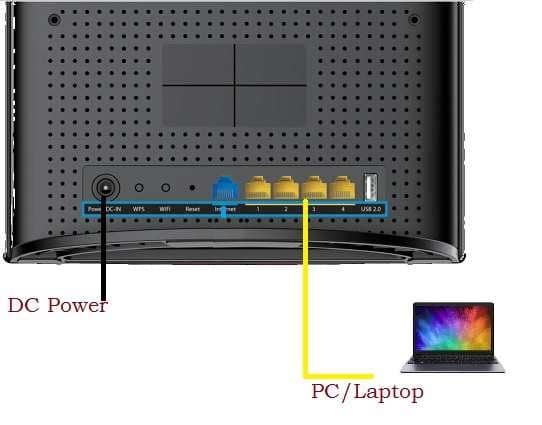 Login Medialink AC1200 Router
Next step to login Medialink Wireless router is configured PC/Desktop LAN port.
Medialink AC1200 Default IP is 192.168.8.1
Go to Laptop LAN settings and configure IP Address 192.168.8.10 to make an accessible Medialink router web interface.
Open Web browser and access Medialink Ac1200 default IP address http://192.168.8.1 or  medialinksettings.com
Click the Start button to Login Router.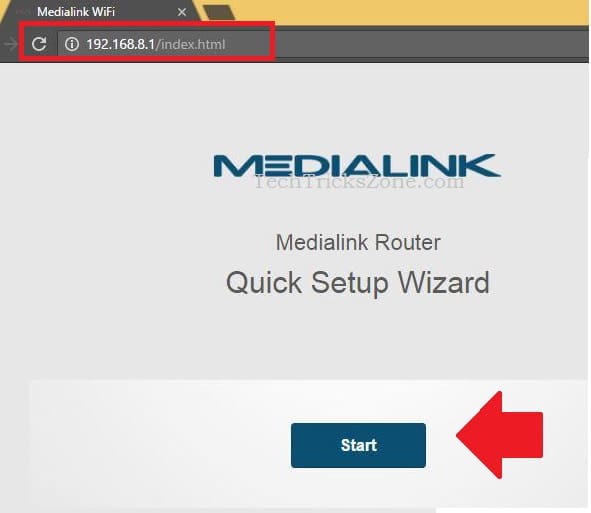 WiFi SSID and Password Setup First Time
During first time login, you need setup a WiFi name, WiFi password, and Login password to protect the wifi router.
Default Medialink SSID – Medialink_3052E0 ( change this name as per your choice for WiFi)
Password: Set your own WiFi password and delete the Medialink default Wifi password.
If you wish to set WiFi password also use for login Wifi router then check the box
"setup to login password to the same as WiFi password"
To set a different Login password type the new password on Login password box.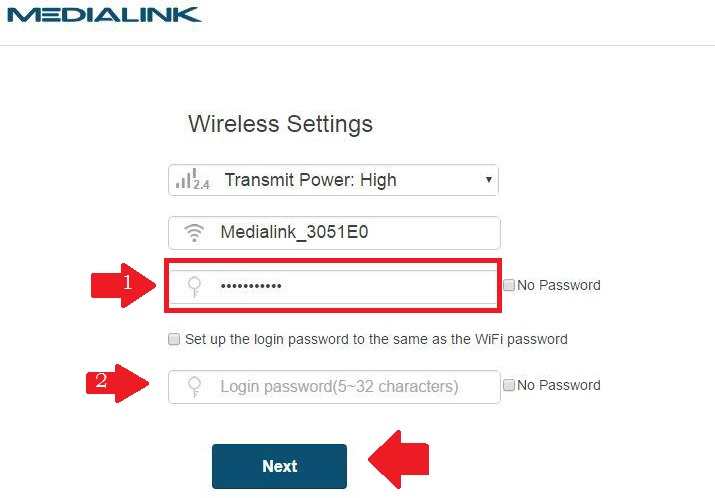 In the next step, you will get "Plug the Ethernet cable into the internet port"
Click the Skip button to proceed for next steps.
You are all set.
Now click the link "medialinksettings.com" to login router.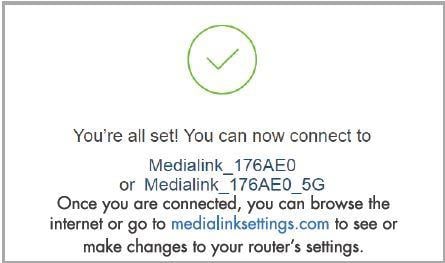 Use Login password you have set in the last step during startup of router settings.
Click Login to enter in settings.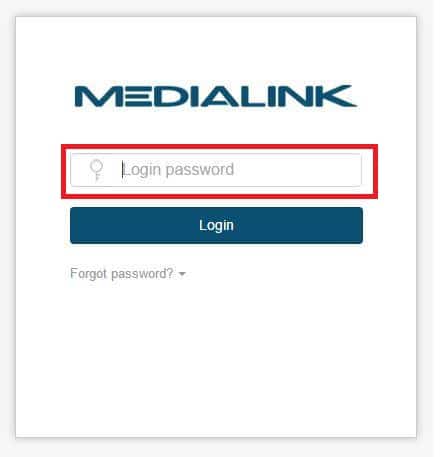 Enable Medialink router Range Extender Mode setting
To turn the media link router into a range extender mode follow steps.
Access Medialink software control panel as follows above steps.
Go to Wireless Settings- Wireless Repeating option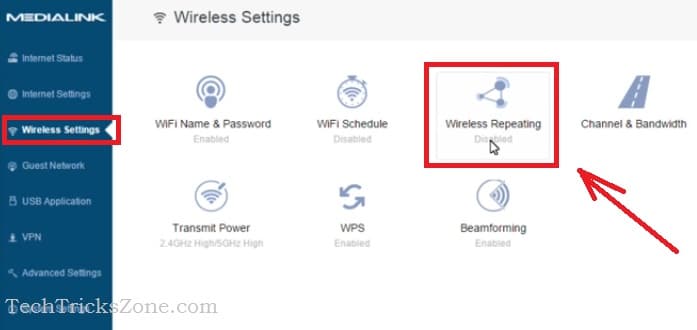 1: Drag Button to the right site to enable Repeater mode.
2: Select Universal Repeater.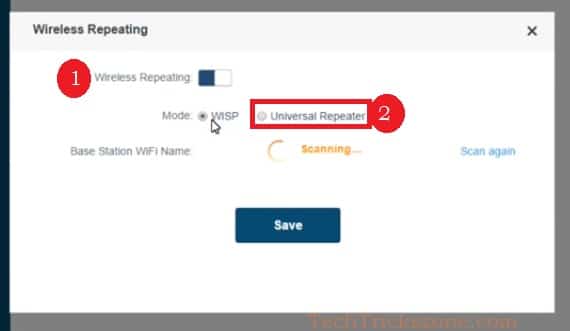 Wait for unit Router Scanning…
After scanning finish you will get all Wifi name running on the location.
Find your main Host AP name to connect from Medialink repeater device.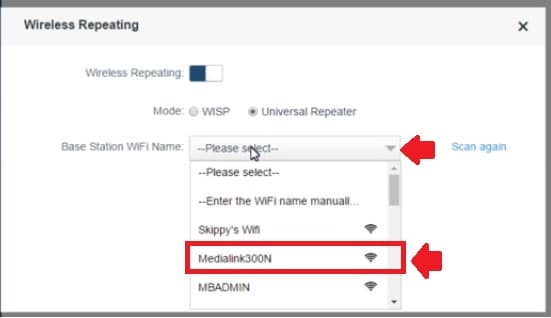 Base station WiFi name: Select from the list.
Base station WiFi password: Type password of your main WiFi router.
Click the Save button to apply settings.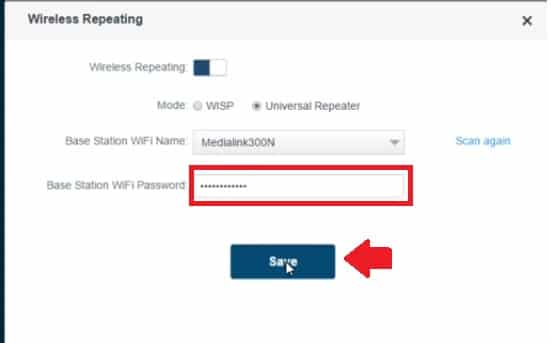 The router will take few minutes to join Main host WiFi router.
Re- Login Medialink router again and see the status page showing wireless repeating status up in green color as shown below image.
Bridge Successfully on universal repeater mode.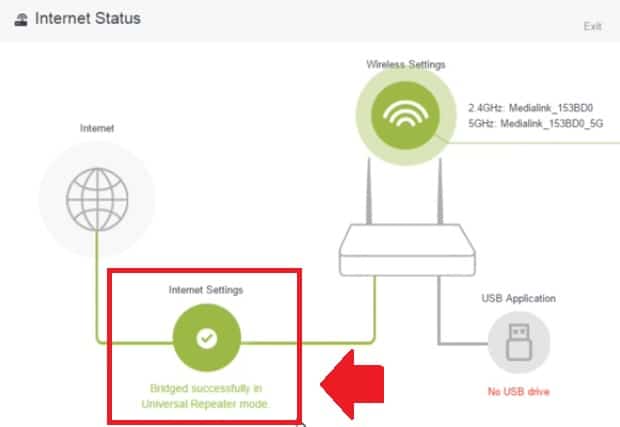 Great! You have successfully completed steps to configure Medialink ac1200 wireless router as a range extender.
Now connect the WiFi name configured in the Medialink router during startup steps and check the internet should work.
Placement of Medialink AC1200 Range Extender
Always choose a centralized location to place the range extender device. Repeater router should get at least 40% signal from the main wifi router to boost up to 100% with proper internet speed.
 Download Medial Link AC1200 latest Firmware
Related Post