Login Netgear CM1000 to activate internet connection and change the default login password to secure your broadband connection.
Login Netgear CM1000 Cable modem to change Password
Netgear CM1000 Cable modem is compatible with Comcast Xfinity internet services. CM1000 is a coaxial cable modem gigabit residential gateway used to deliver the internet and client end. It is CableLabs and Comcast certified DOCSIS 3.1 Cable Modem with 1 Gigabit Ethernet port for connecting WiFi router and network switches. Netgear CM1000 Works with XFINITY® from Comcast but not supported cable bundled voice services. If you have subscribed to Comcast Cable broadband Internet service then you can upgrade your older cable modem with Netgear cable modem high-speed gateway.
You are an existing Comcast subscriber and CM1000 Cable modem installed at your home. You may require a login modem to change the default password and setup other configurations. Login into Netgear CM1000 router using wired connection bit simple from a web browser. Follow the Netgear cm1000 manual to access the modem web interface to upgrade Netgear cm1000 firmware and other settings.
Netgear  Cable modem Physical connection for Login
Netgear DOCSIS 3.1 modem CM1000 supports 1 Ethernet gigabit port and 1 coaxial cable port for internet connection from ISP.
Use RJ45 LAN cable to connect Netgear modem cm1000 Ethernet port and other side connect computer /Laptop LAN port.
Power on the modem and proceed to further steps to access the modem default IP.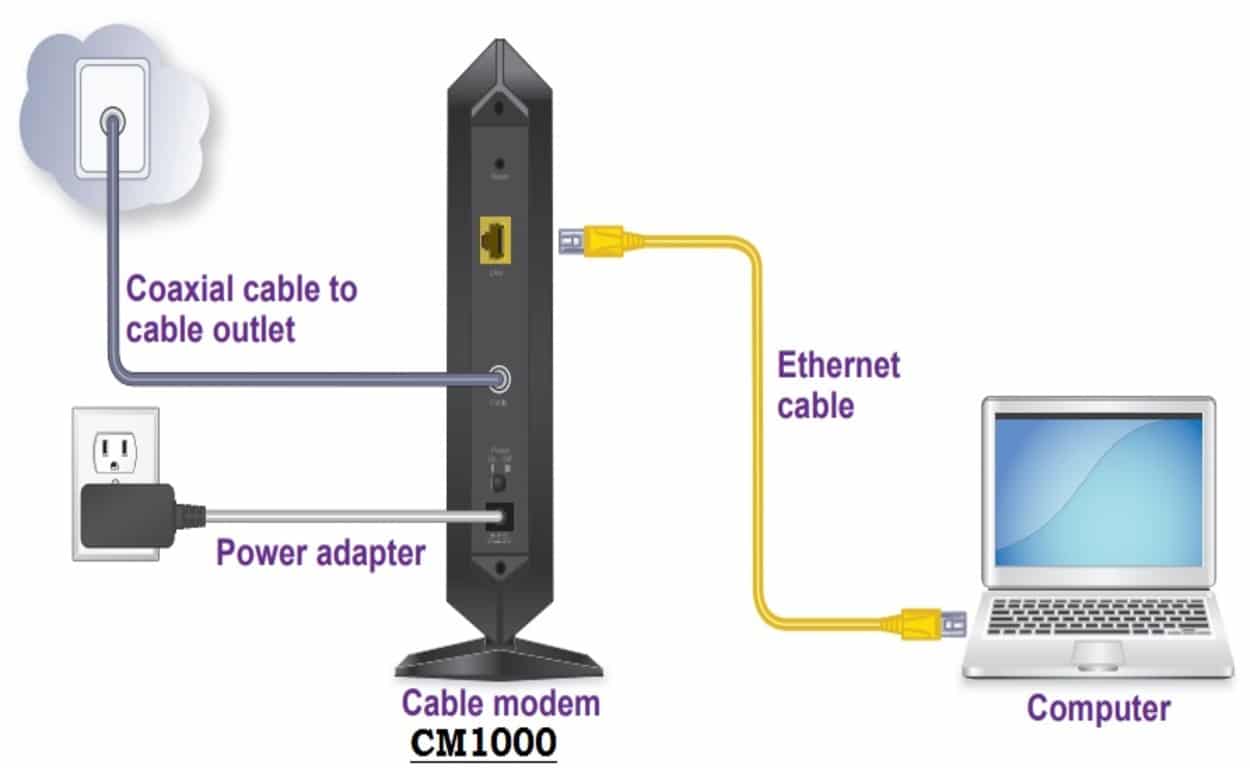 Activate Your Internet Service With Cox Cable
Setup Netgear CM1000 cable modem first time required to activate internet connection.
You required a Modem Mac address and Serial number to activate your internet connection.
Cable modem Mac address and serial number details printed to sticker available over a modem.
To activate your Internet service, get the following information:
Your Cox account information
Modem router model number – Netgear CM1000 (also printed to box and sticker)
Modem router serial number (get the information printed to sticker pasted over the router)
Modem router MAC address (available over Box as well as sticker pasted over a modem)
Once everything is ready with you now visit "https://www.cox.com/myprofile/registration/account.html"  and follow the steps to activate the internet connection.
Note: If you are unable to activate your Internet service or getting an error while activating an internet connection you should contact the Comcast support number to get help.
 Comcast Netgear CM1000 Modem Default Login Settings
Every cable modem comes with a pre-defined login IP address and a login username password.
The purpose of login router settings is to change the default password to secure your internet connection.
Netgear CM1000 default login IP address 192.168.l00.1
Default login username – admin
Default password – admin
Desktop / Laptop LAN IP configuration
Access modem LAN IP address from the computer needs to set up the same series IP address configuration in computer LAN. Follow the steps to manually configure an IP address or use DHCP mode.
Right-click on the Network icon showing in Windows 7, Windows 8, and Windows 10.
Go to the properties option.
Now go to change Adapter settings
Right-click on the Ethernet icon showing and go to properties.
Select Internet Protocol version TCP/IPv4 and press the properties button.
Choose option use the following IP address.
IP Address: 192.168.100.254
Subnet mask: 255.255.255.0
Or
For auto-configuration from cable modem DHCP use "obtain an IP address automatically"
Press OK and close settings.
Login Netgear Docsis 3.1 cable modem
Open a web browser such as Microsoft Edge, Chrome, and opera.
Type http://192.168.100.1  in the URL bar and press enter key.
If all configurations working then you will get a login username and password window after a few seconds.
Use default login credentials to access modem settings.
Once you are successfully log in to the router control panel you can set up and customize your internet connection. You can setup port forwarding, parental control, enable Mac access list to Netgear cm1000-1aznas to restrict internet access to unknown devices.
Change Login Password for CM1000 Cable modem
Login password should change timely to avoid any un-authorize access to your internet connections.
You can update the login password for Netgear Xfinity cable mode from advanced settings options.
Go to the Advanced tab
Administrator – set Password.
Old Password: admin (or provider if you already change)
New password: create a new password.
Confirm password: confirm the password again to avoid spelling mistakes.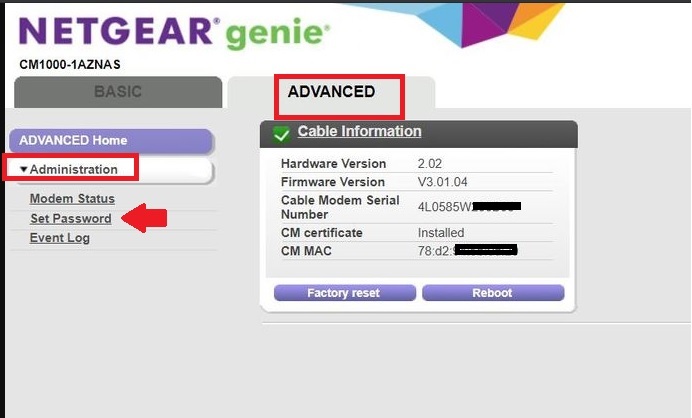 Tips to Change Password:
Always use a strong password combination of Alfa numeric and special characters.
Never use a login password about your personal information that is easily guessing. Like mobile number, home address, date of birth.
Select a password easy to remember and hard to guess.
How to Factory Reset Netgear CM600 Cable Modem
How to Factory reset Netgear CM1000 cable modem?
Factory reset option available to use in the fail-safe mode in case router login username and password forgotten.
If you are facing issues login in to Netgear cable mode you may use the reset to default option.
Before making a factory reset follow the below steps.
Netgear CM1000 Cable modem Default IP not working!
Make sure you are using the correct login IP address and correct form.
Use http://192.168.100.1  instead of using http//:192.168.100.1   is an incorrect format.
Confirm the default IP address printed over the modem sticker.
Make sure your computer/ Laptop Lan IP in DHCP mode as shown above steps.
If you still login IP not responding you can proceed to the factory default modem.
Steps to Hard reset Netgear Cable modem
See the reset button available backside modem beside the Ethernet port.
Use the needle to press the button.
Press and hold the button for about seven seconds and release the button until all LED blinks.
Release the button and wait to reboot modem.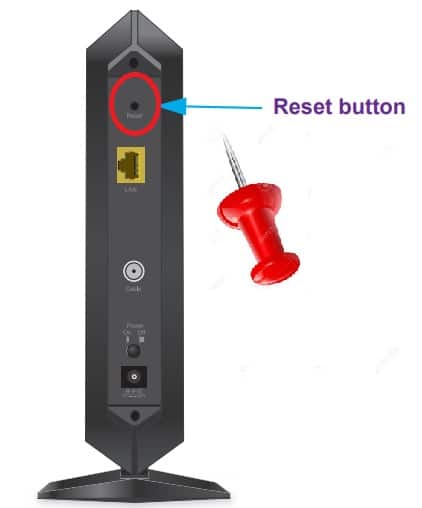 After the factory reset, you can follow the above steps to login to modem settings to change the password and other configurations.
Related Post