TP-Link CPE210 2.4Ghz Outdoor Device Repeater Mode Configuration
I already posted a user manual for TP-Link CPE210 Access Point mode configuration. Now I will show how to configure TP-Link CPE210 2.4Ghz Outdoor Device Repeater Mode Configuration to extend your existing weak wifi signal. As in the last post already describe basic hardware and software specification of CPE210 device.  TP-Link CPE210 support multi-mode so in this post, I have cover Configuration in repeater mode or Range extender mode. Tp-link Pharos cpe210 is an outdoor device your best option for outdoor wifi range extender for the campus, hotel, swimming pool area, park area, and any other outdoor location.
TP-Link CPE210 and Binatone C200 both are the same devices with only logo difference. So if you are looking for a manual how to configure Binatone C200 as wireless repeater mode than use this manual for the same. TP-link cpe210 device can be extended your weak signal strength up to 100% in every area of your home and office where main Wifi signal can't reach.
After configuration of CPE210 as the repeater mode second important step is the placement of the Range extender device to boost wifi signal everywhere. So always use the centralized location from where main internet AP and other areas of equal distance.  Now enjoy the configuration manual for tp link pharos cpe210 as range extender to boost your internet speed and connectivity every corner.
TP-Link CPE210 High power CPE device Connection diagram
Connect CPE210 Lan 0 port with PoE adapter PoE Port. Now Poe Adapter LAN port to PC/Laptop LAN port and power on Adapter as shown below image.
Always use PoE power adaptor comes with the device.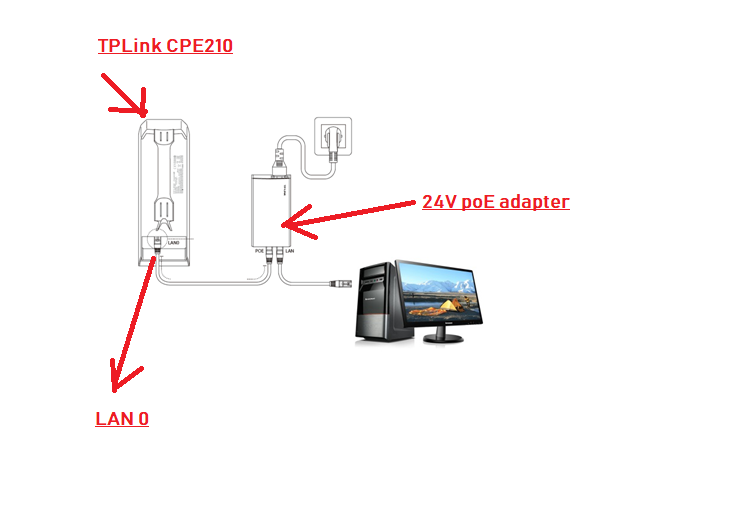 TPLink CPE210/CPE220 2.4Ghz Device Login First time
To login the device, you should know the default IP address and username password. You can get the default setting details backside sticker of the device.
TP-Link CPE210/CPE220 Default IP – 192.168.l.254  
Default username / password: admin/admin
Binatone C200 also the same configuration as CPE210 so for Binatone C200 default IP will be 192.168.10.1    Login username password – admin/admin
Use Default IP series IP Address in your PC/Laptop Lan.
EXP- 192.168.1.10 (use in PC/Laptop LAN)
Open the browser and type default IP and hit enter.
Username/password- admin/admin ( change language as per your country)
I agree to these terms of user- check this option
Click Login button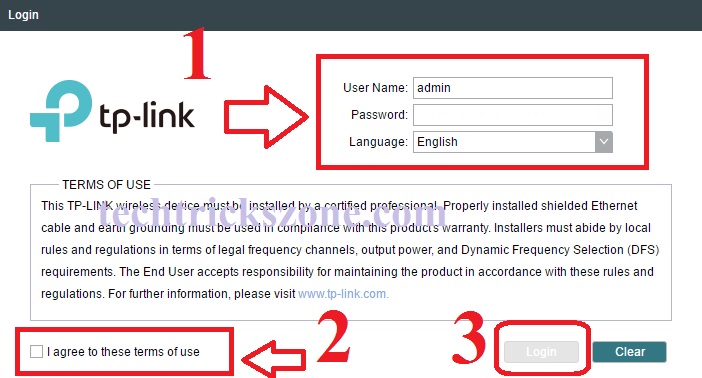 TP-Link CPE220/CPE210 Password Change
New userame – you can set the new username
New password – type new password
Confirm password- type new password again
2: Press the finish button to save settings and login to the device.

TP Link CPE210 Repeater Mode Configuration
After login first changes the CPE210 operation mode Repeater.
Click top Operation Mode option and choose the Repeater mode from the list.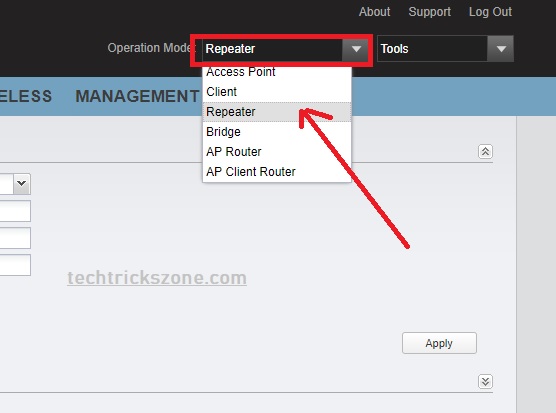 Confirm Repeater mode change
Are you sure to switch the operation mode to Repeater – press yes button?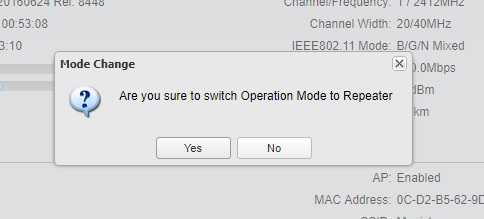 You will see the green color notification to save changes. Press save changes to apply settings.

Now your CPE210 in Repeater mode.
TPLink CPE210 Connect to Access Point in Repeater mode
After change repeater mode you have to join the existing Access point network to repeat your wifi signal and work TP-Link CPE210 as the range extender.
Go to Wireless Tab
Region- select your country here
Mode- keep with 802.11 b/g/n
Channel Width- 20/40MHz
Max TX rate – MCS15-270/300
3:- Click  "survey" button to scan your Main WiFi name.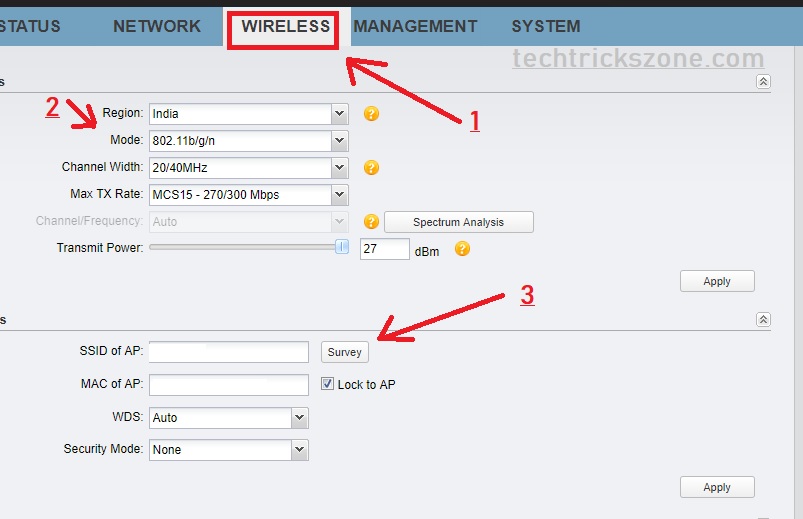 Select your Main WiFi name from list and press Lock AP.
Lock AP will fix the repeater device to connected always with same AP if more than one Access point running with same WiFi name Password.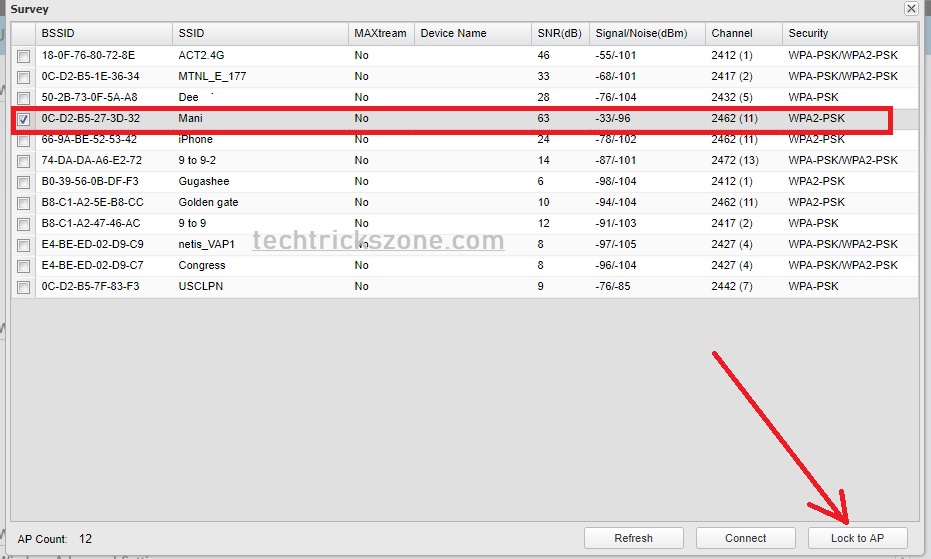 Lock to AP will auto selected when we choose during AP selection on the survey page.
PSK Password- type your Main AP password in this box
Apply settings to join CPE210 repeater to your main WiFi network

Click Save Changes to  reboot the device to join the wifi.

TP-Link CPE210 Repeater Mode Connected status
After rebooting the CPE210 device you can see the repeater connection status and signal strength on the status page.
In Status option, you can see Mac address of Host AP
SSID name
And Connected Station to Repeater device.

This is the simple steps for TP-Link CPE210 2.4Ghz Outdoor Device Repeater Mode Configuration with the Non-TP-link Access point. Repeater mode also called range extender so you can be extended your weak wifi signal to every corner of your home and office up to 100%. If you have any question about this configuration steps please comments of contacting us with mail.
Related Post 
Buy TP Link CPE210 @ 2000 Only UP to 30% Off 
Video – TP-Link CPE210 2.4Ghz Outdoor Device Repeater Mode Configuration