Make your TP-link Pocket Nano WiFi Router Range Extender Mode to increase wifi range with any brand wifi access point.
TP-link TL-WR802N Nano Router Range Extender Mode
TP-link TL-WR802 is a Pocket nano wireless router with 300Mbps wifi speed. TP-link Wireless N router support multi-operation modes such as Wireless router, WISP, Range extender mode, Hotspot mode and client mode as well. IT is a pocket router best for traveling purpose and fit with your pocket. You can turn any wired internet to wifi hotspot zone using this nano wireless router with WR802N nano wifi router.
If you own WR802N wireless router and want use as wifi signal booster mode than reading the full article to set up your router into a range extender. TP link small pocket router support wired and wireless connectivity so you need to connect either wired or wireless to change the operation mode to range extender.follow the steps to setup tp link n300 repeater mode to boost wifi range.
Login TP-link Nano Wireless Router
Power on WiFi router and connect using WiFi network or wired from Ethernet port.
Make sure your computer/Laptop TCP/IPv4 network settings in DHCP mode or
Use a static IP 192.168.0.2 to access 802N nano router.
TL-WR802N default Login settings
Login IP address– 192.168.0 1
Default username – admin
Default password– admin
Setup TL-WR802 As Repeater Mode
Open web browser and access http://192.168.o.1, after a few seconds you will get login page asking for username password.
Use "admin" as a username and password to login router.
Change Operation Mode to Range extender
Once you logged into the router settings page. You will find all configuration settings menu where you can setup router settings as per requirement.
Operation Mode- Range Extender (select range extender and press save button)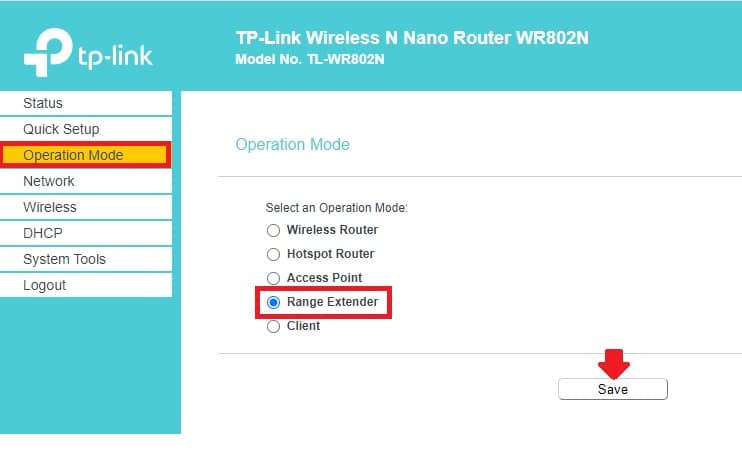 After save settings router will reboot and after rebooting it changed to repeater modes.
Connect Repeater device to main WiFi Network
The next step is site survey for wifi signal of host router so make sure you have wifi password to connect from extender device.
Go to Wireless- Connect to Network
Press the Scan button to search your existing wifi signals.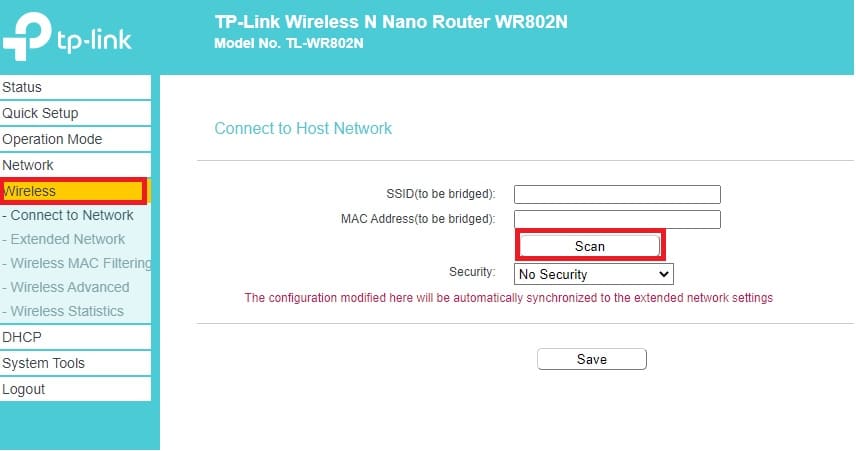 After a few seconds, you will get a list of all running wireless networks nearby.
Just find your wifi SSID name and press connect button as shown below image.

After choosing your wi-fi network you will be redirected to the wireless page. Provider WiFi security key for your main wifi network.
SSID (to be a bridge)– TP-Link_A090 (this will auto-fill from your existing network, Don't change)
Password– existing wi-fi password (provide your existing network password)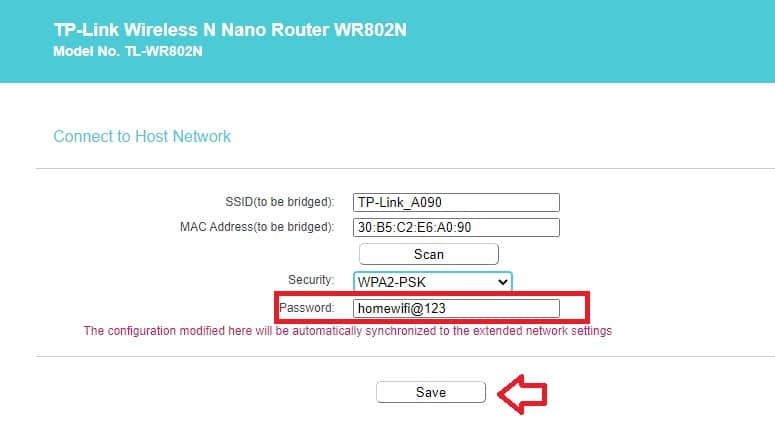 Press the Save button and wait until router rebooting and finish configuration saved.
You can check repeater connection status with the main wifi network from the Status page.
Next steps it configures Wireless name and password for Extender Networks.
Configure Extender SSID and Password
The extender network is where you will get boost wifi signal to connect from mobile and laptop wifi devices. you can either use the same Extender SSID or different from Existing wifi name.
Go to Wireless- Extended Network
Extended 2.4 GHz SSID– WIFI-Extender ( if you want to use same SSID name as host wifi press "Copy Host SSID" button)
Extender 2.4 Ghz Security– WPA-PSK/WPA2-PSK
Extended 2.4 GHz Password– create a strong password for the repeater WiFI network.

Press the Save button to confirm configurations.
Once configuration saved now go to mobile/laptop WiFi settings and scan for the network.
You will get extender SSID name with 100% signal strength, Connect and check the internet should work.
Range extender Trouble shootings
If you are facing any error while connecting to wifi network then you may read the below steps to fix the issue.
Repeater WiFi connected but no internet issue
If your mobile and laptop wifi connected to repeater SSID but no internet or limited internet issue then it seems repeater connection with host wifi router not established.
Login repeater device again and check if wi-fi password of the main wi fi router is correct.
Scan and check if getting at least a 50% signal from your existing wifi roter.
You can log in to the host router to check the security type and wifi password to confirm using the correct password while connecting to the repeater device.
TP-link TLWR802 Login IP Address Not working
If you are unable to login your router or IP not working then follow steps to fix the issue.
• Make sure you are connected LAN port No WAN port.
• Router default Login IP address printed to sticker already not changed.
• Make factory reset if default IP address not working.
• Computer/Laptop LAN port network should be in DHCP or the same series IP address of TL-WR702/WR802.
Hope this Manual will help you with tp link wr702n repeater mode as well as any other TP-link wifi router support range extender mode. you can make TP-link any model Nano WiFi Router Range Extender Mode using this configuration guide.
Download TP-Link Nano Router Manual in PDF.
Related Post