Asus RT-N12 WiFi router Setup in Repeater Mode Configuration
Earlier I already post many other brand repeater mode posts like TP-Link, D-Link, Netgear, Tenda, etc. Asus a popular name in the computer and networking accessories brand.  In this post, I will give the best and easy way for Asus RT-N12 WiFi router Setup in Repeater Mode Configuration with any brand AP device. Repeater mode uses to extend your existing Wi-Fi network to boost wifi signal on every area. WiFi repeater also is known as a wireless extender or wifi range extender.
Before going to start Asus repeater mode configuration see brief detail about Asus RT-12N D1 Wifi router.
Asus RT-12N Wireless Router Specification
Asus RT-12N is 300Mbps Wireless Router with 2 No. 5dBi Omnidirectional antenna to give your stronger Wi-Fis signal range. Both wireless antenna detachable so you can remove the antenna from the router. Asus RT12N support a 2.4 GHz signal band with 300Mbps wireless speed. Physical 1WAN and 4 Lan port available for the internet as well as a wired PC connection.
Asus RT12N WiFi router supports Access Point, Repeater, and wireless router mode (Default Mode).
To start Asus rt n12 repeater setup from LAN cable from Laptop ready your laptop with a wired connection as given below. Asus RT-N12 Wireless router can be configured with any brand WiFi access point in repeater mode to extend wifi signal.
Asus RT-N12 Repeater Setup LAN connection.
Avoiding poor Wi-Fi connectivity in your home and office repeater is the best way to extend WiFi router signal. The configuration of any Asus WiFi router model is the same. If you are looking user manual for Asus AC repeater mode for dual-band router then this post also works with Asus AC router repeater configuration.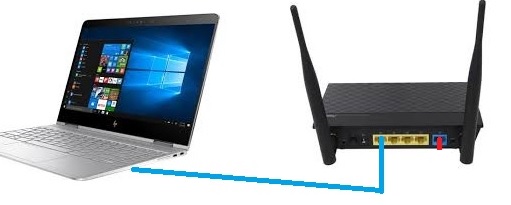 Asus Wireless Router Login First Time
After the physical connection of wifi router next step is to access web interface in a web browser. To access Web interface your Laptop/ Desktop must be in the same series IP Address as Asus Default IP Address.
Asus RT-N12 Default IP Address is – 192.168.1.1
Default username – admin
Asus WiFi router default setting also mentions the backside of the router sticker. You can find the Router model number, IP Address, Login detail of the Router, and Mac address with serial number.
Configure Laptop Lan IP address in 192.168.1.l0.
See here how to configure Laptop LAN IP address
Now Open a Web browser and Type http://192.168.1.1 IP to access the Asus wireless router.

Click on Manual Setting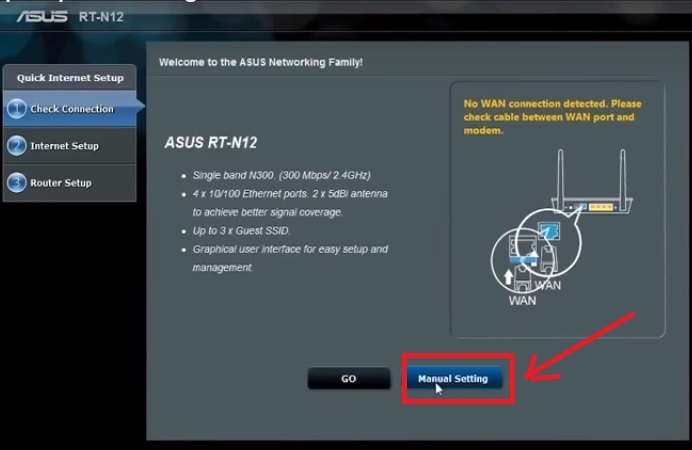 Asus RT-N12 Wireless router Password Set the first time
On the first-time login of the Asus router, there is no password configured so on the first login you required to create a new password for access the Asus WiFi router.
New Password–  type password for Asus router
Retype New password– type again new password to confirm
Click the Next button to save and proceed to further steps.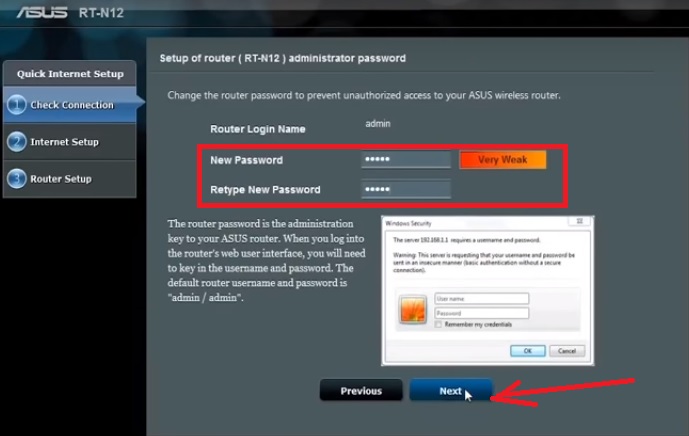 Asus RT-N12  300Mbps Wireless router  Repeater Mode Setup
In this step, you will get the option to choose the mode you want to configure the Asus router. As these tutorials for Asus router repeater mode so choose the center option Repeater mode here.
Click Next button after select Repeater mode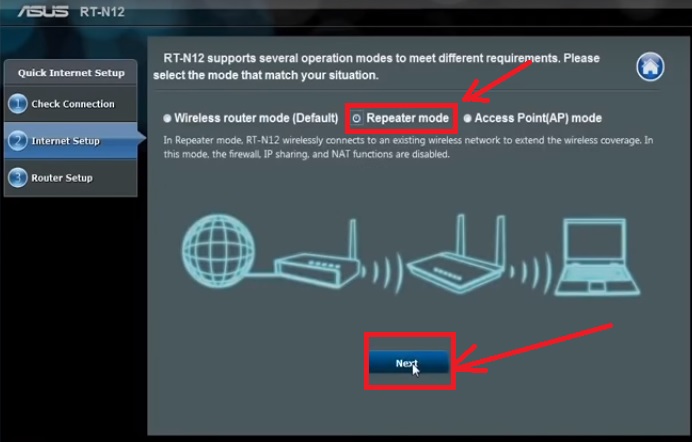 Join the Main  Access Point from Repeater Device.
In this step, router will take a few seconds to scan all the wireless access point name broadcasting on the area you configure your repeater device.
You will get all the available wireless name.
Choose your Main WiFi name and type the password to connect it from the Asus Repeater device.
After type the password click the connect button to save settings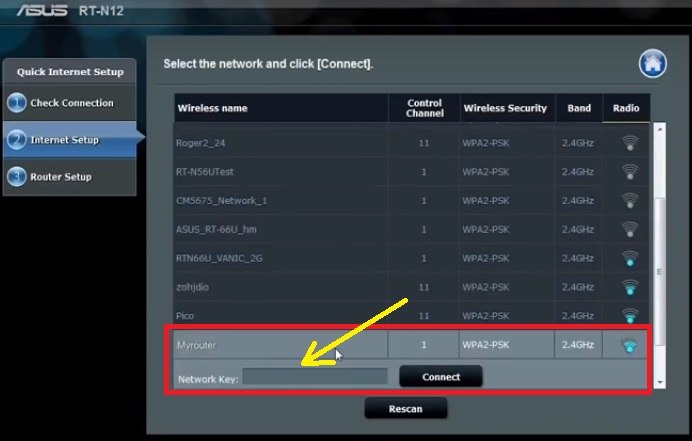 Asus RT-N12 Wireless router  set Repeater SSID and Password
After connection with the AP device in this step, you will get the option to configure the WiFi name and password for Range extend. Means if you want to use the same SSID name and password as using existing router than keep the setting showing in the repeater. You can use different SSID and password for the extended network name. so configure here repeater wifi name and password
Network Name (SSID) – use Range Extended Name here
Network key – password for range extended.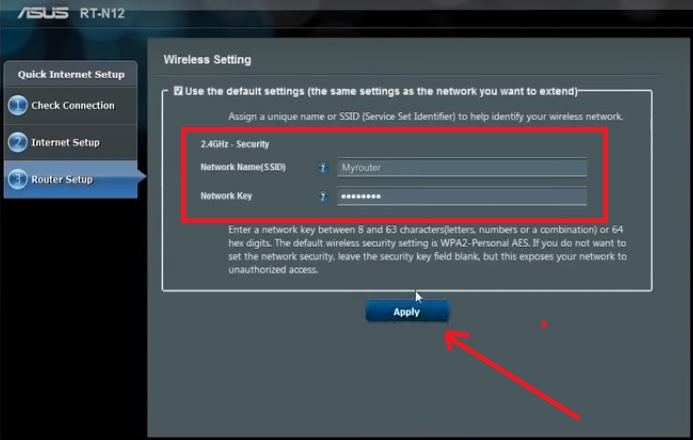 The device will take 20-30 seconds to reboot the router. wait until router rebooting.

Your Wifi router will come to these windows where you can see router hardware information.
Click the Go button to enter in connection status.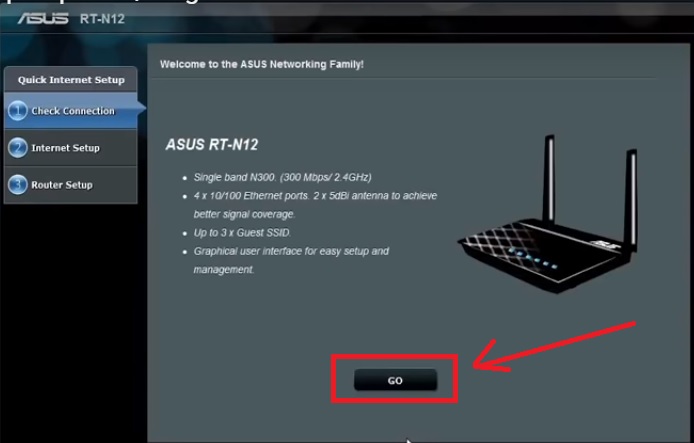 In this status page, you can see the Repeater connection status and Rang extended Wireless name with password details.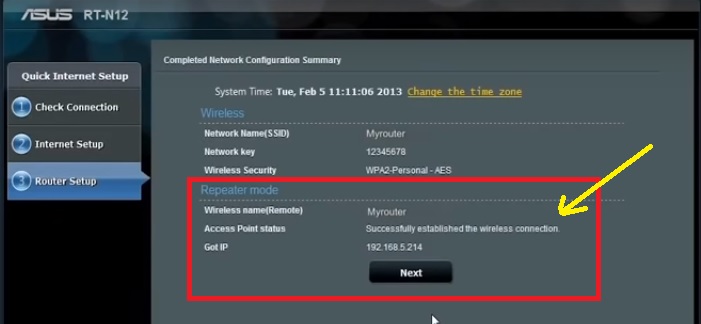 This is the basic and simple tutorial for Asus RT-N12 WiFi router Setup in Repeater Mode Configuration for extended your existing WiFi network to the entire home and office area. Using the best repeater device will give your real-time connectivity with stable speed and seamless connectivity everywhere.  If you facing any type of configuration issue during Asus Range extender setup with your wifi router please comments problem we will reply asap.
     

buy Asus Router Now  30% Discount

    |   Coupon code
Related Post