Are you an internet service provider or using UBNT device for personal networks. This post for your to avoid speed and stability issue due to wrong configuration and channel selection with your UBNT Rocket Prism device. see the simple UBNT Rocket Prism 5AC Gen2 Configuration and make your wireless connectivity stable and stronger.
UBNT Rocket Prism 5AC Gen2 Configuration first time
UBNT Rocket Prism 5AC is the new base station device with up to 500+ Mbps speed for ISP. Rocket prism device can be used for the base station, point to point and point to multipoint connectivity. It is an upgraded version of Rocket 5AC device with a gigabit interface for more than 300+ Mbps wireless speed. UBNT Prism based on airMAX ac Base Station with airPrism Technology to fully optimize throughput in high interference areas. Rocket prism comes with 2.4G and 5 GHz both band with model number R2AC‑Prism and RP‑5AC‑Gen2. UBNT 5AC Prism loaded with latest AirOS8 so configuration is simple and performance are best with the latest software.
If you are using UBNT rocket 5 for the base station but cannot increase the internet plan due to throughput limitation on rocket 5, then Rocket prism is the best upgrade for your base station with Giga interface to provide bigger internet plan with limitation. The configuration of Rocket Prism in Access point is simple using Web interface as well as UBNT mobile apps. In this post, I will give you a simple and best configuration guide for UBNT Rocket Prism 5AC Gen2 Configuration as Access Point Mode as well as Point to Point mode.
Rocket RP-5AC-Gen2 and R-2AC-Prism Specification
Rocket 2AC and 5AC only having band differences. Prism-2AC supports 2.4GHz and R-5AC prism support 5.8GHz. See the common and important specifications below.
Ethernet– 1nos 10/100/1000 Mbps
Wireless– 2AC – 2.4G and 5AC-5.8GHz
Speed– RP-5AC-500+Mbps / R2AC-Prism- 330+Mbps
GPS Syn– support both devices
Antenna– 2SMA-RP MIMO Ext Antenna connector and 1 GPS Antenna Connector.
Software– AirOS 8
Transmit Power– 27 dBm
PoE support- 24V, 0.5A Gigabit PoE
LEDs – Power, LAN, GPS, (4) Signal Strength
Max. Power Consumption– 8.5W
UBNT Rocket 5AC Prism Default Settings
UBNT all device having same default settings and username password which is also mention in sticker paste in the backside of the device as well as Quick user guide comes with box. Anyhow, see the default login setting of UBNT Prism 5AC and 2AC device below.
Default IP – 192.168.1.20
Prism default username– ubnt
Password– ubnt
---
Read More:
---
Rocket RP‑5AC‑Gen2/R2AC-Prism Connection Diagram
1-      Open the backside cover
2-      Use the PoE adapter PoE port to Device Ethernet port and PoE adapter LAN port to Laptop/Desktop LAN port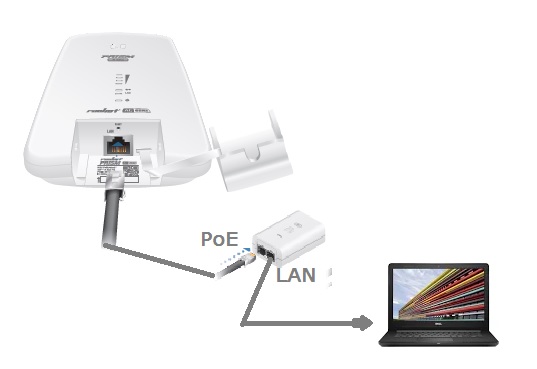 PC configuration- use the 192.168.1.10 to your PC/Laptop LAN port to access rocket prism device in the web browser.
See here how to configuration PC/Laptop LAN IP Address
UBNT Rocket Prism Access Point Mode configuration
After the physical connection of UBNT Rocket Prism device now you can access and configure for the base station or point to point. To configure the Prism device in Access Point mode follow the below steps.
Access point mode used for the Base station as well as point to point connection local side device.
Login Rocket Prism Device
Type http://192.168.1.20 in the browser and hit the enter key.
1: Username- ubnt | Password- ubnt
2: Country- select your Country and Language.
3: Accept the Ubiquiti firmware license agreement and click the Login button.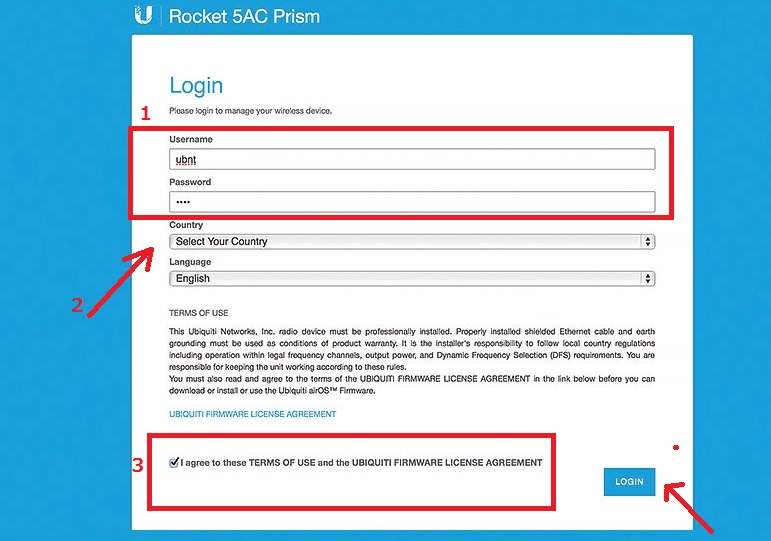 Configure Rocket 5AC prism as AP mode now
Click on left side setting icon and go to Wireless tab
1: Basic Wireless Settings
Wireless Mode: Access Point PtMP airMAX AC
SSID– type your network name here (This will identify to connect client device during scan)
2: Wireless Security
Security – use WPA2PSK (Recommended)
3: Antenna 5G10-10db-
Output Power– Max 27 tx power you can reduce according to distance
Distance– drag button to set distance of connectivity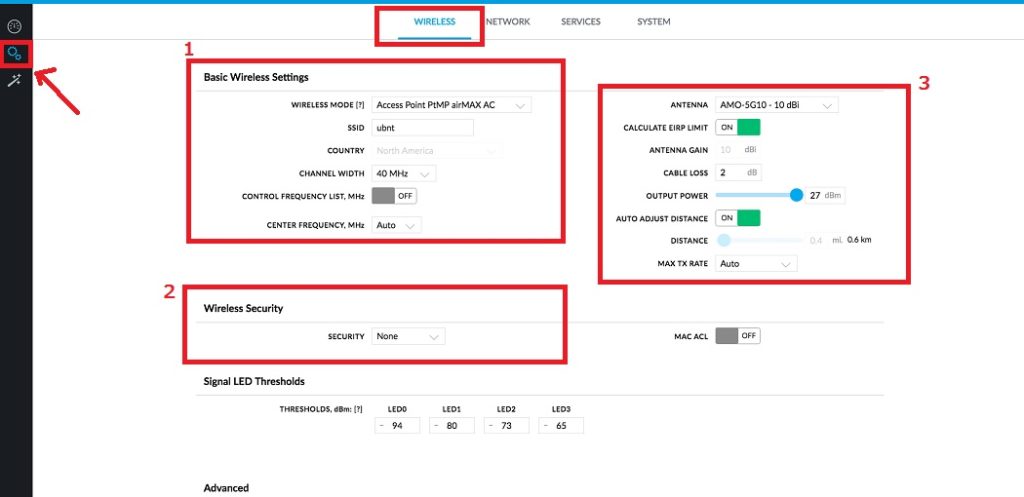 Additional you can enable MAC ACL to increase the security of your Rocket 5AC Prism connection with the client device.
After all settings press "SAVE" button in the bottom to apply settings.
---
Read Also:
---
UBNT Rocket Prism 5AC Gen2 Configuration of LAN Settings
As the default IP address of all UBNT device same so highly recommended to change the default IP address before using in the network.
To LAN configuration of Rocket prism follow the steps.
1-    Click on the left side Settings icon and go to Network tab
2-    Management network settings-
Management IP Address- Static
IP Address: change the new IP in this box and fill the other details as per IP series.
If your network running on VLAN then you can enable the management VLAN.
By default Management VLAN off.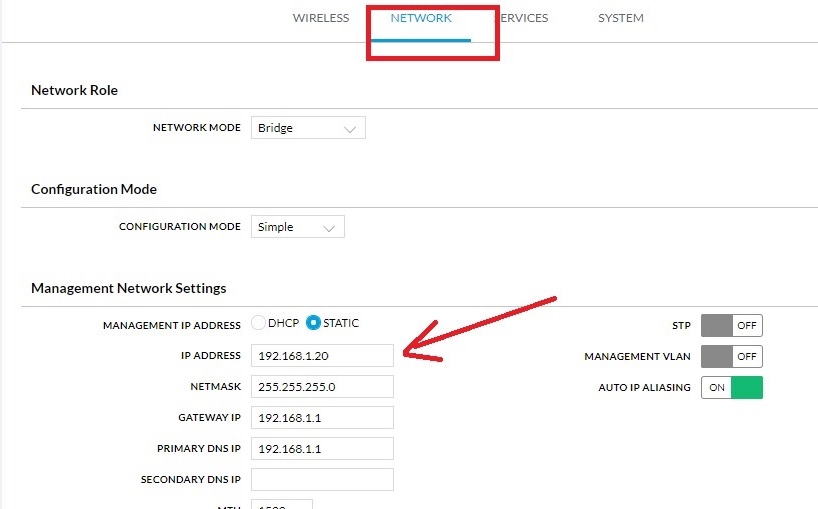 UBNT Rocket 5AC Prism connection with NanoBeam 5AC as Client
UBNT Rocket Prism 5AC Gen2 Configuration as Access Point for base station and now rocket 5ac lite as sthe tation for the client site.
1: Login NanoBeam 5AC with default settings as shown above steps.
Go to settings gear left side option and click WIRELESS tab as followed below image.
Basic Wireless Settings-
1: Wireless Mode – select Station ptMP
2: Select– click the select button to scan Rocket 5AC prism AP device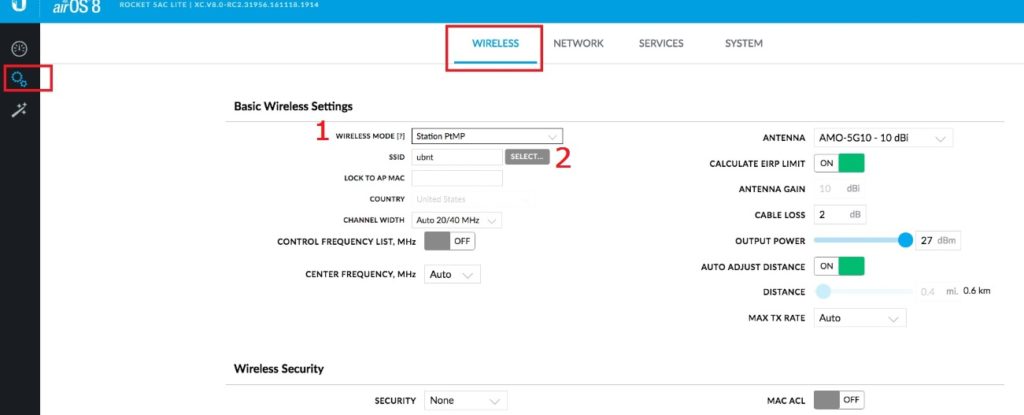 After a few second you will get scan AP list running near your location.
Find the SSID name and select and press LOCK to AP button.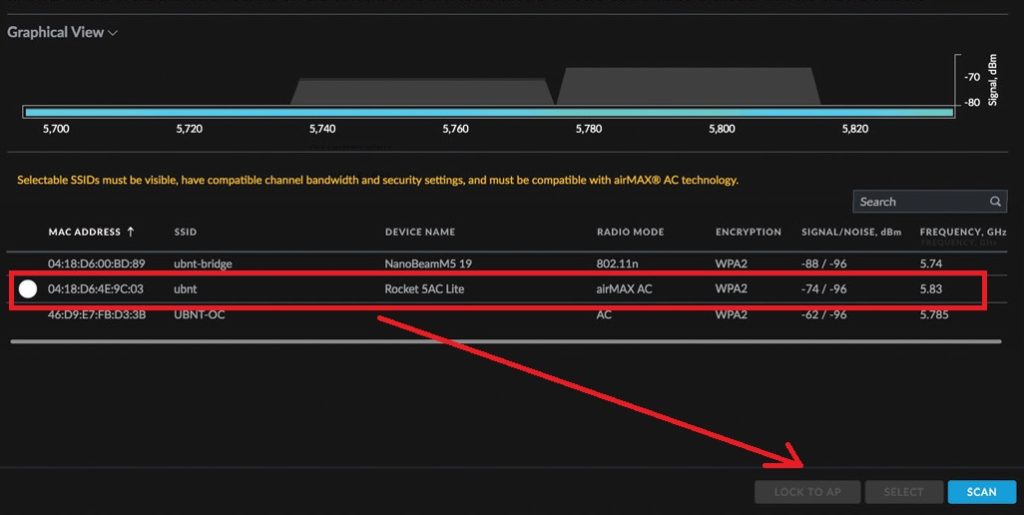 Put the Prism AP device password in the Wireless Security option and press SAVE button to apply settings.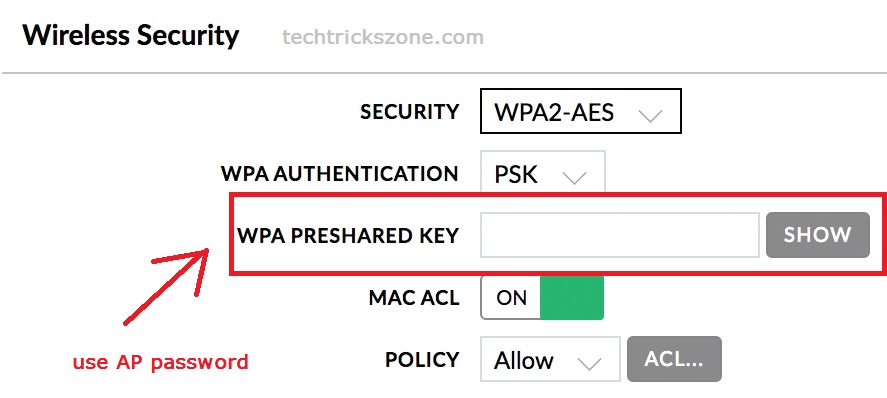 After Save settings device will reboot and you can get the Link status in the status page.
1: Local- Rocket Prism 5AC Gen2 Link signal status
2: Remote – remote site Nanobeam 5AC Gen2 signal status.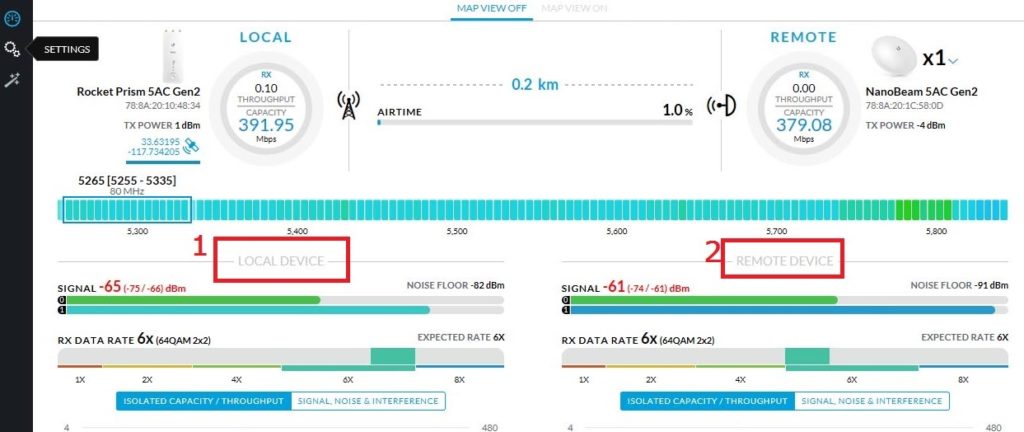 Rocket Prism 5AC point to point configuration with UBNT Nanobeam 5AC Gen2 configuration.
Download Rocket R5AC Prism Gen2 Latest Firmware AirOS 8
Conclusion
Rocket Prism 5AC and 2AC is the best 11AC device for the base station to distribute internet plan with high speed. This device can be connected with any UBNT device as client mode device 100+ Mbps internet speed. Looking for upgrade your existing Fast Ethernet network with high-speed internet speed than Prism 5AC is the best option.hope this user guide for UBNT Rocket Prism 5AC Gen2 Configuration make your UBNT prism network and speed more stable and faster than default settings you were using before.
Related Post: