How to Factory Reset Jio Fiber Router?
JioFiber router used in Jio Giga fiber internet connection to deliver internet connections to client end. If you are JioFiber internet subscriber, you must have a Jio Fiber router installed with your fiber internet line, Jio fiber router brands can be different for each subscriber depends on the internet plan and router models. You probably need to update your wireless SSID network name and password after some time to keep your Wi-Fi network secure. If you are unable to log in JioGiga fiber router or you forget login password after change the default Jio Router then making router resetting will help you. read the full article to know Factory Reset Jio Fiber Router to restore settings.
However, Jio Fiber router factory reset helps you to restore settings into default mode if you forget password or router frequently giving problems. There are two ways to reset the Jio fiber ONT modem using the login method or without login to router settings. Making Jio Fiber reset from web interface a bit safe because you can download configuration files before restoring the router to default mode. But if you are unable to log in due to the wrong username or password error after changing default login settings then only a hard reset is the way to access the router again that delete all configurations and restore the router into default mode. Follow below both ways two reset Jio fiber modem router into default mode.
Factory Default JioFiber Router using the Web interface
Making factory reset router or modem erase all configuration and required to set up again as per internet settings. You need to login Jio-Fiber router web interface to reset from the browser.
Note:- Before resetting JioGiga fiber router take configuration backup to restore settings again so your router can work with your internet connections.
Power ON Jio Router with DC adapter.
Connect Jio WiFI router using WIFI or Wired LAN cable from Jio Giga Fiber router Ethernet port.
Check Jio Router default IP address and username password printed to sticker.
Open the web browser and access http://192.168.29.1 to the URL bar and wait to load jio login page.
Provide Jio Fiber default username "admin" and password "Jiocentrum" for the first time or if you already change the admin password then use the same to log in to your router.
Once the router control panel access you will get all settings.
Go to Administration-Maintenance- Backup/Restore.
Press the "Default" button to reset the JioFibr router to default mode.
You will get confirmation to restore the router into default mode.
Your router will reboot and take a few minutes to restore settings to default mode. You can access the router using the default username and password.
Go to Administration-Maintenance- Backup/Restore and restore the router configuration backup file you have saved before making a reset.
If you can't log in Jio Fiber router because forgotten your username or password then you can use the hard reset method to reset Jio without login into settings.
Reset Jio Giga Fiber Router using Reset Button
Every router, and modem comes with a provision to access router settings if forget the password and lock it. Reset switch is a way to restore router to default mode if forget login settings. Follow the steps to restore Jio ONU router to default mode.
Power on your Jio Fiber router if it's not connected to power.
Find a small reset switch near the power button or Ethernet port depending on Jio router models.
Use the paper clip to press the reset switch which is mostly inside and a small hole is available to push the button.
Press and hold the reset button for 10-15 seconds and release the button when the router automatically restarts.
This process takes a few minutes to restore the Jio router to factory mode.
Ping 192.168.29.l IP address to confirm the status of the reset router.
Login router again with default settings and set up again router as per your internet connections.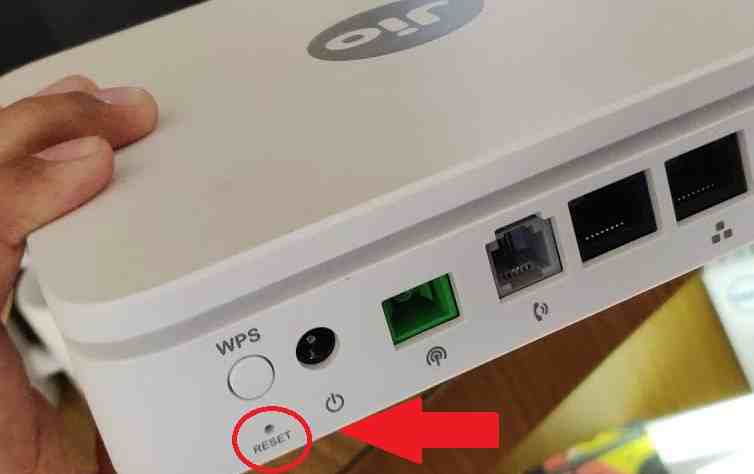 Making a hard reset needs to be physically available near the router but resetting from the web interface can be possible remotely you may lose connection once the router reset and restored to default settings. Do not try resetting the router remote because you need to restore the configuration again to get access remotely again.
Related Post