How to Change Facebook Page Name?
Facebook page one of the most preferred platforms for marketing and promotion through the social networking site. Not only small and large company even personal skills marketing going to do with only Facebook page. Facebook page gives you the power of spreading your skill, product, and service more than thousands of people just in seconds.  In several articles, I try to use tricks and guide for Facebook accounts. How to invite all friends once for like the page, how to accept and reject all friends request once. enjoy the easy steps to change Facebook page name now for your official and personal page. One more important tips are disabled Facebook video auto play to save data as well as battery.
In this post, I will try to give you a best and easy guide for how you can change your Facebook name with simple steps. Sometimes we decide page name quickly but later we realize we can be set a good name but you feel that it's not done now because page published already. It's possible to change your Facebook name any time as per Facebook policy and guidelines follow-up.
How to Rename Facebook Page Multiple Time?
 Before going to change Your Facebook page name please go through the Facebook policy guideline and check the new name you decided will not avoid any policy terms. Many people ask why unable to change the Facebook page name, why Facebook reject to change the new Facebook name. This type's situation comes only when you don't follow the guideline. So to avoid rejection of Facebook page rename for your official and personal page read do or don't steps.
To change your Facebook page name you must login to the account you have created your page inside.
Now go to the page you want to change the name.
Click on setting down arrow and click the page name. You can also directly go to from right side page list inside YOUR PAGES.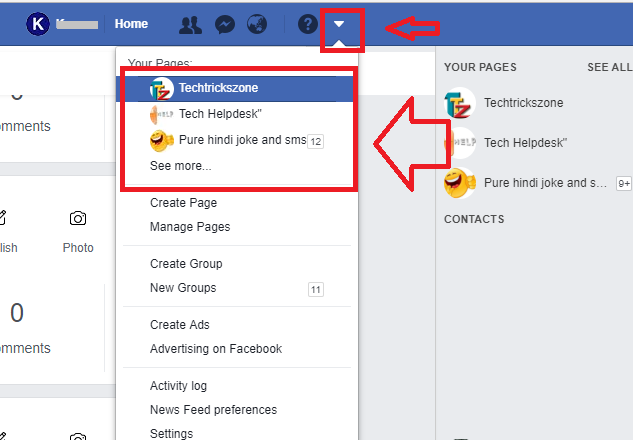 Now click on the page and then about the option from left side settings menu list.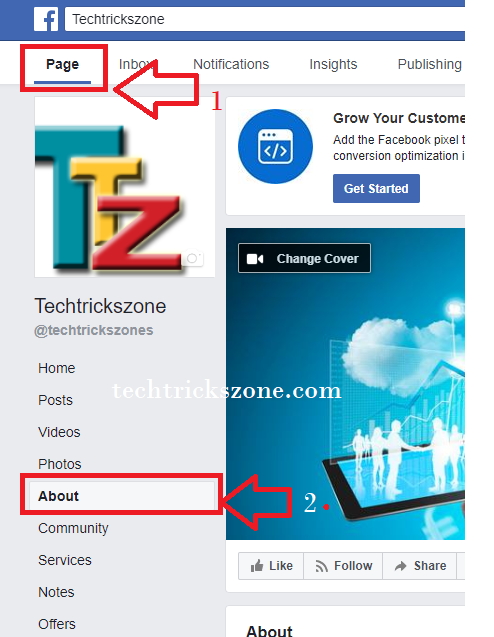 1:- Name- your page name
Click the Edit button to change the Facebook page name.

Next step will show you confirmation about your New Page name
Current Page name –  your current page
New Page name- here type the new name for your Facebook.
Click Continue to change Facebook page name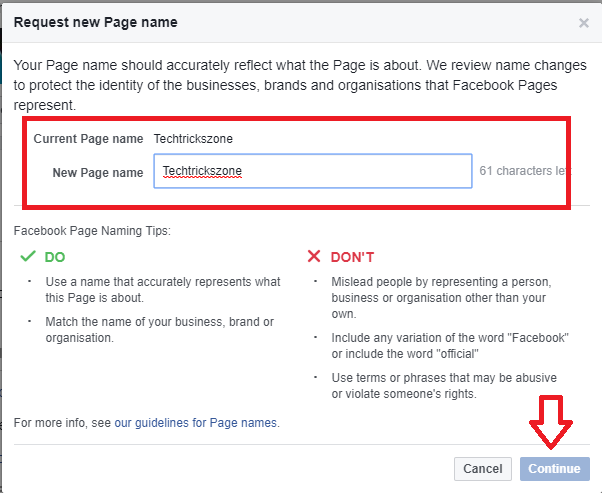 Please read Do and don't tips to get successfully change your Facebook name.
Confirm name change request –
Please check your new FB page name for final confirmation before sending the request to Facebook.
If you confirm click Request Change.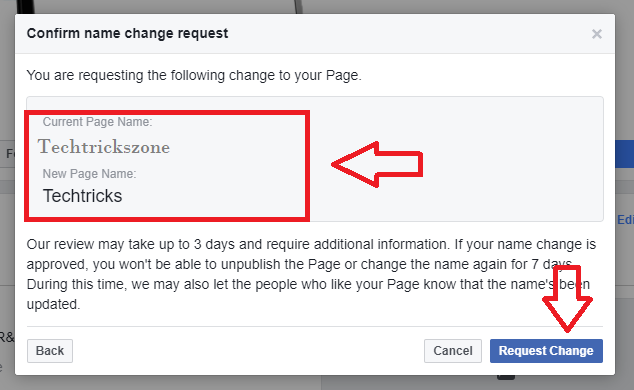 You will get a pop-up message
"We're reviewing your name change request"
"We're reviewing your page name change request now. We'll send you're a notification within 3days when our review complete"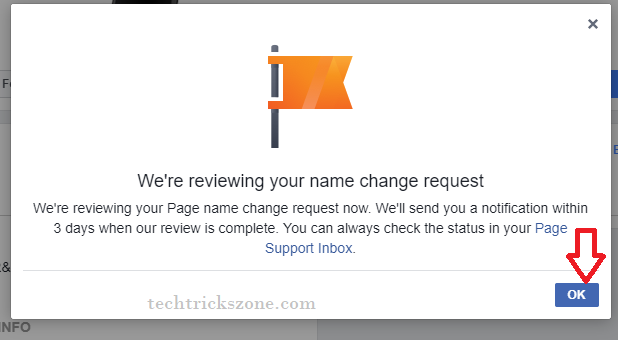 Now, wait for 3 days to get a notification from Facebook about your Facebook name change or rejection. If it's accepted then enjoy your page. If it is rejected then you have to wait for some time to again send a Facebook page request until the change name option enables in your Facebook page.
How to Set Facebook page username?
If you are maintaining Facebook page but did not set any username for your page then see the simple steps how to set a username for the Facebook page. To change Facebook page name follow the steps below.
Facebook Page look like

See Also –  How to Change Facebook Background Image Font Style, Size and Color
Go to your Facebook page you want to set a username.
1-Page
2:- About-
Username – Click Edit button and type username for your page.

The changing page depends on the availability of the name you are going to set. If it not available you can try some mix combinations to get a matching Facebook page username.
Related Post