Simple steps to setup point to point links to Connect Airgrid M2HP with OpenWRT in bridge mode.
How to Connect Airgrid M2HP with OpenWRT Router
Airgrid a popular wireless device of UBNT brands. It is a cost-effect wireless device for point to point as well as CPE device to provide last-mile connectivity. OpenWrt also a popular open-source platform developed by a large team under GNU licenses. OpenWRT is the best router firmware to improve your OEM firmware performance double.
OpenWRT firmware is fully compatible with any brand wireless device connection in Access point as well as client mode. This post will assist you in the configuration in bridge mode with the Airgrid M series device. UBNT Airgrid M2HP and M5HP device support Access Point, Station mode which can connect with Openwrt firmware in both mode. In this article, OpenWRT device configured as Access point WDS mode and Airgrid will work as station mode in pure bridging. However, both devices can also work vice versa.
To setup, OpenWRT Point to Point with Airgrid M2HP or Airgrid  M5HP device needs to physical connection one by one to configuration.
OpenWRT Configuration As Access Point
The first device will be configured as AP mode to work as a base station.
OpenWRT supports multipoint connection sho more than one Airgrid can easily connect with OpenWRT device in bridge mode.
Connect the OpenWRT device to a Laptop or Desktop.
Access default IP 192.168.1.1 if the first time accessing the device.
Default username- root and password – NA (blank)
Note: I have already change the default IP to 192.168.1.222.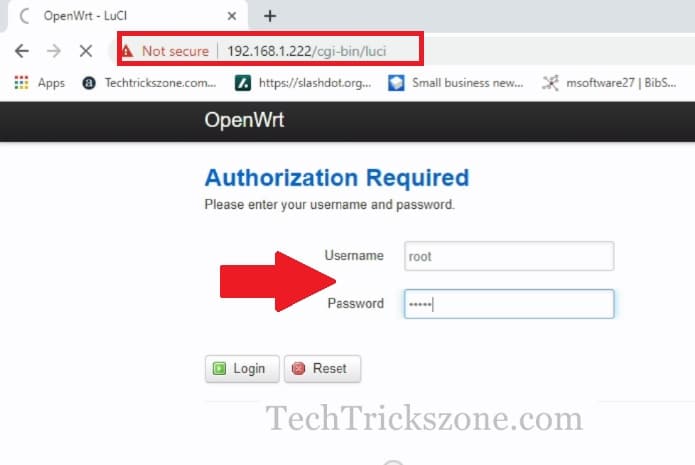 Open Web browser and access default IP http://192.168.l.l
Login OpenWRT device and with default login settings.
Change the Wireless Mode to Access Point
Go to Network- WiFi
Click the Edit button to configure OpenWRT Operation mode to Access Point.

1: Operating Frequency: select the Channel number and Width.
2: ESSID – Type OpenWRT AP device name ( this name will search on the client device)
Mode: Select Access Point (WDS)
Network Check the LAN if it's unchecked.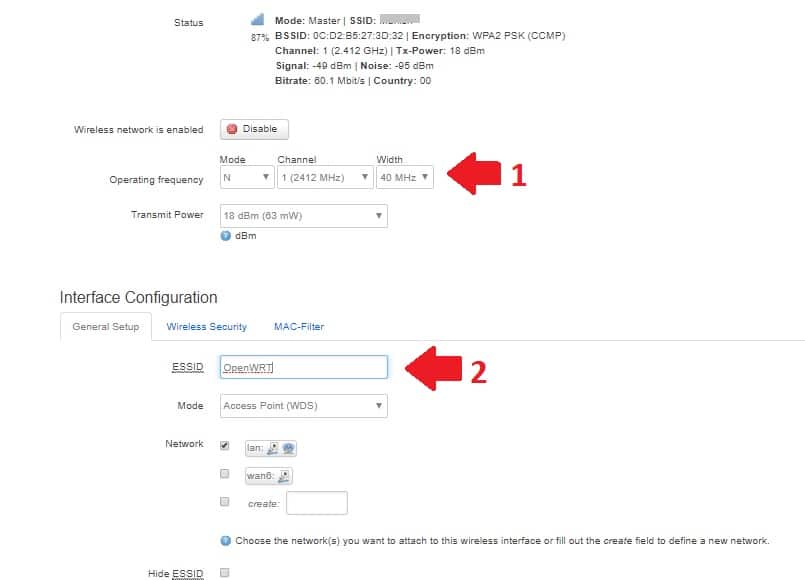 Click the save button and setup the wifi security key to protect the OpenWRT device.
To configure the WiFi password click the Wireless Security tab next to the General setup.
Encryption: WPA2-PSK (Recommended)
Key– Type password for AP device.  ( This Password will use to connect from client device).

Click the Save & Apply button to confirm settings on the OpenWRT device.
If your OpenWRT device running in default IP Address then change it to different IP Addresses to avoid IP conflict issues.
Change OpenWRT LAN IP Address & DHCP server Disable
Go to Network- interference
Click the Edit button on LAN (Green ).
See the Default IP – 192.168.1.1 and change this IP Address.
See below DHCP server settings.
Ignore interface: Check the box to  Disable DHCP for this interface.
Click Save Apply and re-login device with the new IP Address.
Setup AirGrid M2HP as Station Mode
Now to setup airGrid device as client mode to connect with OpenWRT base station.
Connect Airgrid device to PC/Laptop using a PoE adapter comes with box.
UBNT airgrid default IP Address: http://192.168.1.20
The default username and password is "ubnt"
Login your Airgrid device and follow steps to set up as the client.
Go to Wireless tab
Wireless Mode: Sation (select the mode from the list)
Click the Select button to scan for OpenWRT Networks.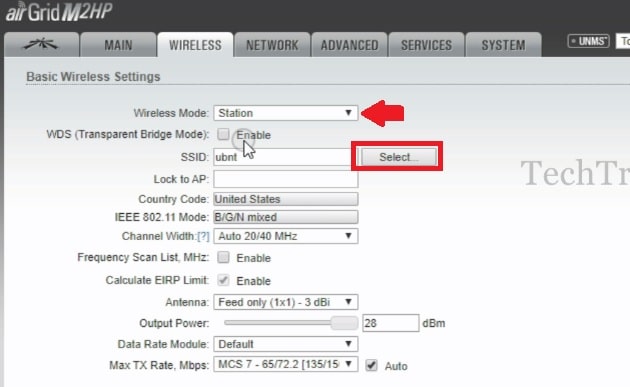 Find your device SSID in the list select circle in starting.
Press lock to AP button to connect Airgrid.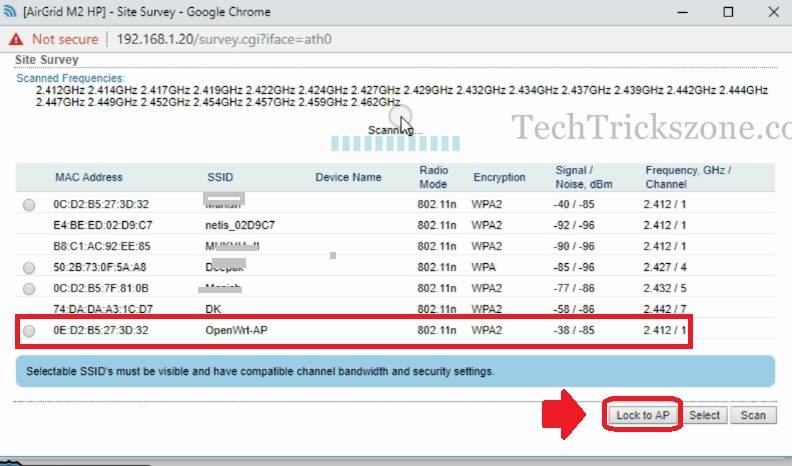 In the next steps, you have to provide the OpenWRT AP WiFi security key to allow connection from Airgrid CPE.
SSID: OpenWRT–AP
Lock to AP: Mac address of OpenWRT AP.
Wireless Security: WPA2-AES ( This security type will auto-selected as per OpenWRT security type.
WPA passphrase key: type password configured in OpenWRT Access Point device.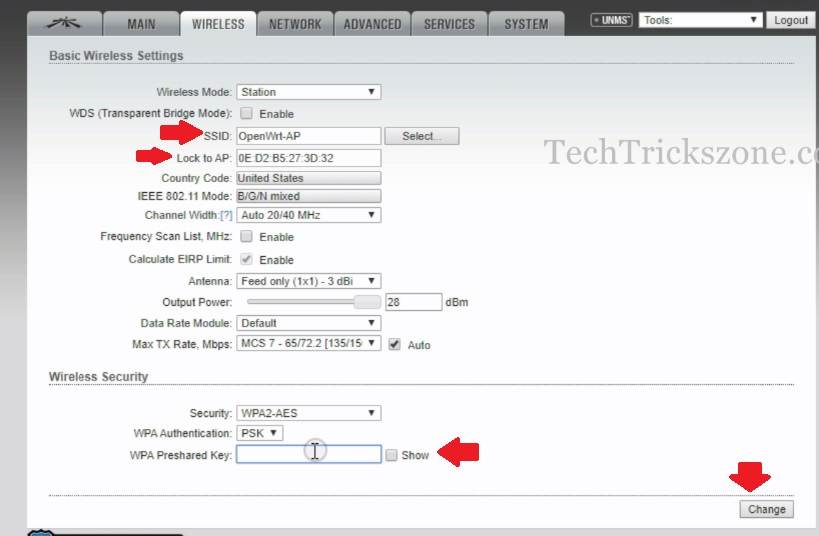 Click Change button and Press Apply button to notification showing top after press change button.
The device will take a few seconds to connect with OpenWRT Access Point WDS.
You can check connection status as followed steps.
Go to the Main tab and see the Signal Strength, AP Mac and as below image.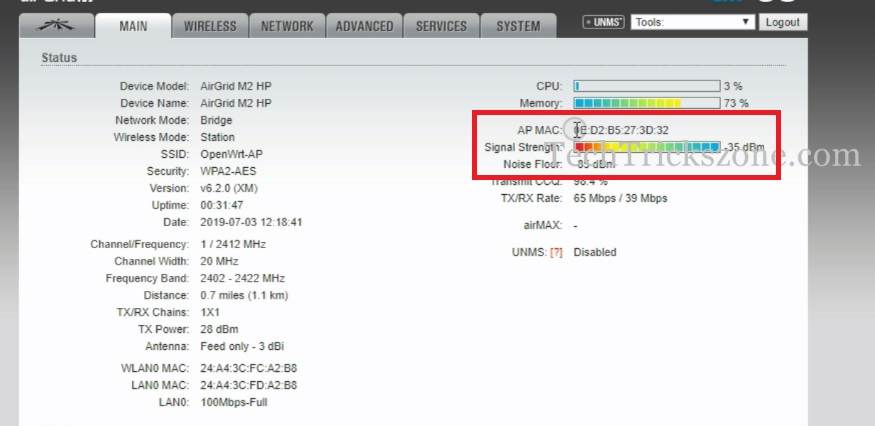 If signal strength showing 0 in airgrid it means device not connected.
Successfully configured point to point with OpenWRT and airgrid will show Signal strength and color signal quality bar.
Change Airgrid LAN IP Address
To change Airgird Default network IP Address follow steps.
Go to Network tab
See the current IP Address and subnet mask
Change the IP Address and click the Change button in the bottom.
Press the Apply button on the save notification alert. Wait for device reboot.
Access air grid with a new IP Address again.
This is a simple UBNT configuration manual for Airgrid and OpenWRT point to point and Point t Multipoint connectivity. To connect more than one air grid repeat the second configuration with the new airgrid device again.
Related Post