Keep update Mikrotik RouterOS using regular updates. within a few minutes, Mikrotik RouterOS and Firmware Upgrade can be done online and offline.
Mikrotik RouterOS and Firmware Upgrade Using Winbox [Online & Offline]
Mikrotik is a popular and wide range of products used worldwide. It is a brand that keeps research and consists of hard work to make the product better and bug-free. The benefits of using Mikrotik Wireless and the wired product is they will never let you alone in any bugs while they have a large intelligent team to developing and troubleshooting any firmware problems.
The best way to keep device bug free is to keep it to update with the latest firmware version released by the brand official website. In this post, you are going to know Mikrotik firmware up-gradation online and offline from Winbox tools. Upgrading firmware also upgrades the MikroTik Hotspot login page with new features.
MikroTik RouterOS package up gradation simple using the direct update from package settings but sometimes if any issue comes than switch to offline methods. Updating RouterOS firmware will add additional feature as well as fix any bugs comes in the last version.
Before upgrading firmware please take configuration backup of Mikrotik RouterOS.
Once all set now proceeds to the online firmware upgrade process using Winbox.
MikroTik RouterOS & Firmware Upgrade Online
The difference between online and offline upgrade is simple. In the online method, the router will be auto download the latest firmware version available in the server and upgrade it.
In the offline method, we have to download the firmware version from MikroTik downloads as per the router model supported and upgrade it manually offline.
The online process is a bit simple than offline methods. It is safe and not any risk to upgrade the wrong firmware version which miss-match router hardware.
Login MikroTik device from Winbox
If you don't have Winbox than Mikrotik winbox download first.
Connect Router board or Wireless device to PC/Laptop
Open Winbox and connect your device showing in Winbox with default login IP 192.168.88.l.
How to Reset MikroTik CCR Router from Reset Button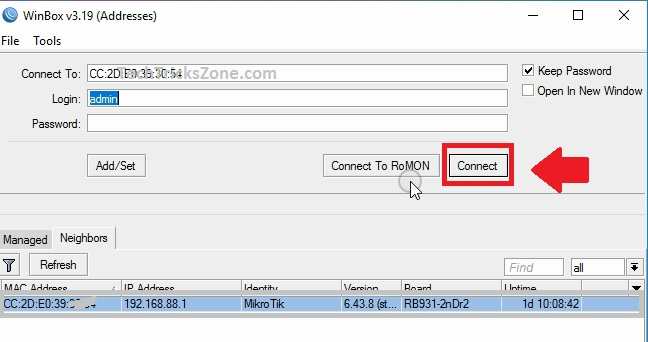 Check MikroTik Firmware version installed
While upgrading MikroTik RouterOS and firmware must check the firmware version of currently installed. This will help you to downgrade firmware again in case new firmware having any bugs or instability compare to the older version.
Go to System- Packages option from the left side menu.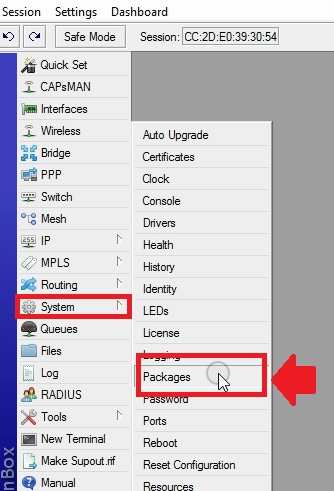 To confirm currently installed firmware and available upgrade package click the "Check for Updates"
You will see Installed Version: 6.43.8
Latest Version: 6.45.6 (New version is available)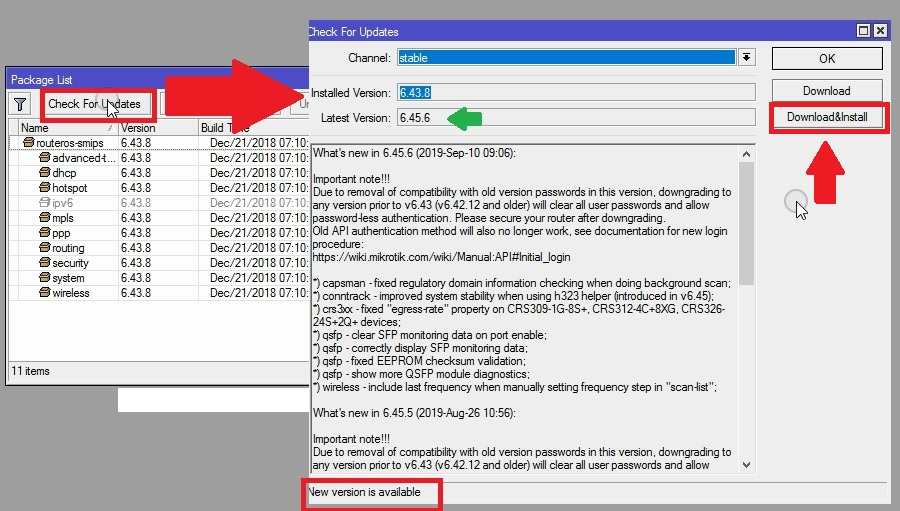 If you only want to download the file and plan to upgrade later than use the download only button.
If you are ready to update the firmware and install then use the Download & Install button.
After Press Download & Install button firmware will start downloading file inside Microtik Router Files.
You can see the download process at the bottom of the windows.
Once MicroTik RouterOS and firmware upgrade process finish router will reboot and access again with Winbox.
Check Firmware upgraded Version
To confirm that the new firmware version successfully installed in Routerboard follows the steps.
Go to System Packages again
Click Check for Update.
See the Installed Version: 6.45.6
Latest Version: 6.45.6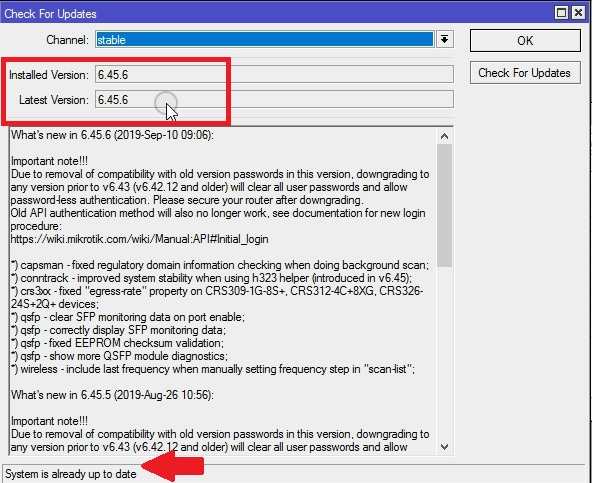 "System is already up to date"
The router upgraded successfully with the new version using online methods.
Upgrade MikroTik RouterOS Firmware Offline
In this method, you need to get the right firmware version from the MikroTik official website first.
Check your Router model showing above Winbox top bar.
Go to Mikrotik Downloads.
Search your router listed in the download category to get the right firmware.
Check the MIPSBE option to confirm your router listed category.
Click Floppy icon to download the latest MikroTik CCR firmware or any Router you are planning to upgrade.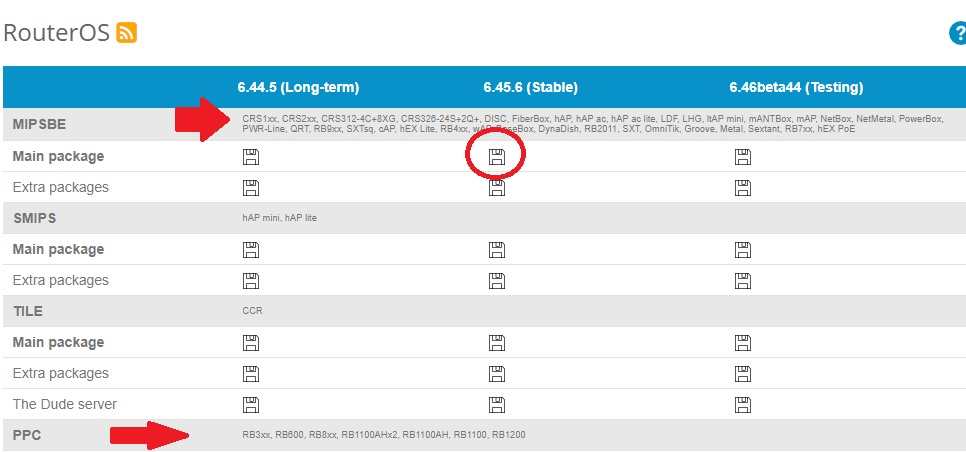 Copy Downloaded Firmware file to Desktop or any place to keep it safe.
Copy Download firmware package and past to file option inside the router.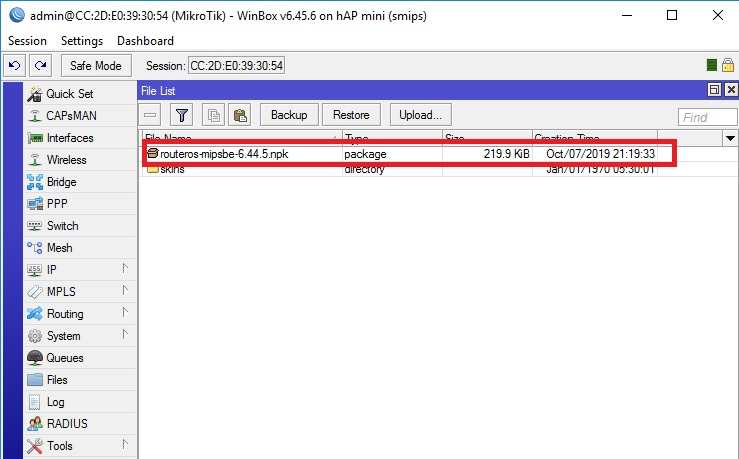 Once the file is uploaded reboot the router using a soft reboot option.
Go to System- Reboot
Click Yes button to reboot and upgrading the firmware package.
This method you need to get correct firmware version which supported your router.so while downloading the firmware file from the MikroTik website confirm the Route model listed in the same category.
Related Post