How to Reset MikroTik CCR Router from Reset Button
Mikrotik CCR (Cloud core Router) is a bestselling Hotspot router for ISP and service providers. CCR Router configuration steps bit simple like other MikroTik Router configurations. The router having many different hardware variants with the price difference based on the user load. We already did MikroTik CCR Configuration step by step and How to configure Hotspot in Mikrotik CCR for WiFi user Authentications.  There is a lot of situation that comes when we stuck due to unable to access CCR router. This post will assist you to step by step How to reset MikroTik CCR router when forgetting login password and username.
Simply restore the MikroTik CCR router using the Reset button to access from Winbox and Web page. Although the article title is reset MikroTik CCR but these steps support reset MikroTik RB750 series, MikroTik Base box reset, and any other Mikrotik device in Wireless and Wired. Reset method can completely restore settings into factory settings configuration mode.
Note: Before making Factory reset Mikrotik Configuration make sure you can able to reconfigure your router again. After resetting Mikrotik CCR all settings will delete and restore in fresh factory settings mode. You need to configure again to run in the network like before.
Steps to Reset the MikroTik Router using Different Methods
As the Mikrotik Router OS is an excellent software loaded with all features. MikroTik Router reset can be done using different ways depending on the situation and settings you want to restore.
1: Hard Reset using the Reset button
2: Soft reset from Winbox
3: Soft Reset from Web login
1: MikroTik CCR Hard Reset
You need to reset router if forget login password or username. To reset MikroTik router there is a physical tiny reset switch available in the router. You can use the reset button to factory reset router in case lost access due to forgetting login detail.
Follow the steps to Factory Reset Mikrotik Device
1: Power on MikroTik CCR
2: Press the Reset button on the front side.

3: Router will make a beep sound, release the button and wait until CCR reboot and comes in factory reset mode.
This method called Hard reset because the physically reset button used.
Method: Reset MikroTik Without reset button from PCB Jumper
If you have older router series of MikroTik RB433, RB733, RB411 then you may follow this jumper reset method to factory reset.
Open Enclosure of MikroTik router board.
Find the Two jumper with "Soft reset"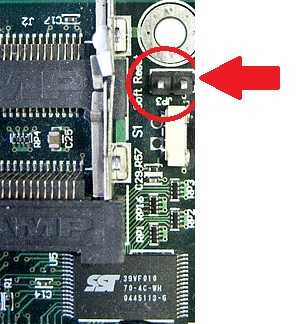 Power on Router Board and Touch both jumper together with any metal things like screw drive.
The router will give beep sound and reboot once reset process done.
Method: Reset MikroTik from PCB Reset Metal Print point
Some MikroTik loose PCB router board comes without reset button. So if you have any device without reset button you can follow these steps.
Take out PCB board.
Power ON the PCB router board.
Find the two golden color point as shown in the below image.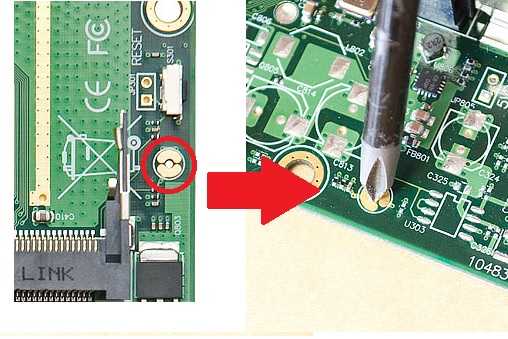 Touch both points together with a metal screwdriver or any other.
The router will make beep sound once the reset process is done and rebooting.
2: Soft Reset Using Winbox
Soft reset method used when there is misconfiguration did or Router miss behaving. To execute soft reset you need a login username and password to access the web interface and run reset command.
To soft reset MikroTik CCR router using terminal command follow steps.
2.1: Login CCR Router from winbox.
2.2: Open Terminal from the left side menu.

2.3: run command is given below.
[[email protected]] > System reset-configuration  ( Press Enter )
Dangerous! Reset anyway? [y/N]:  ( to confirm reset press "Y" or to cancle press "N"
After confirmation CCR will reboot and reopen with factory settings.
3: MikroTik CCR Factory reset from Web Login
MikroTik CCR Router web login needs to configure LAN IP address in the Lan of the Desktop or Laptop.
MikroTik CCR Default IP Address: 192.168.88.1
Username: admin
Password: NA
Note: if you have changed IP Address of CCR router use the same IP address to Access Web interface.
LAN IP Settings: Use 192.168.88.10 in PC/Laptop LAN Static IP to access MikroTik CCR Default IP from Web browser.

Go to Quick Set tab as shown above image
.Scroll the page and find the right side bottom option "Reset Configuration"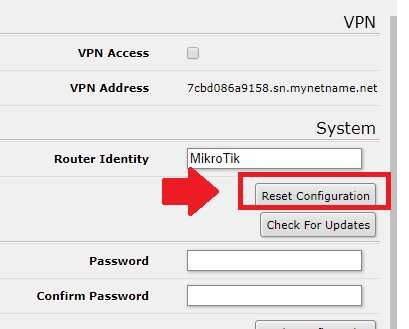 Click the button and Confirm OK to reset all settings to factory mode in MikroTik.
These all methods can be used as per situations. Always try to access router using a login password and avoid hard reset if you are not MikroTik configuration expert.
Related Post